Clarence Thomas accepted several luxury trips paid for by GOP megadonor – ProPublica
Justice Clarence Thomas and his wife, conservative activist Ginni Thomas, have gone on several luxury trips involving travel subsidized by and stays at properties owned by Harlan Crow, a GOP megadonor, according to a new bombshell ProPublica report which also says the hospitality was not disclosed on Thomas' public financial filings with the Supreme Court.
Where did Clarence and Ginni Thomas travel? How luxurious were the trips? How big were the yachts and jets used? Who is the billionaire Harlan Thomas? What are some the cases Clarence Thomas ruled on? Who funs Ginni Thomas lobbying efforts? Follow along with this relationship map.
Jet setting Supreme Court Justice Thomas
For more than two decades, Thomas has accepted luxury trips virtually every year from the Dallas businessman without disclosing them, documents and interviews show. A public servant who has a salary of $285,000, he has vacationed on Crow's superyacht around the globe. He flies on Crow's Bombardier Global 5000 jet. He has gone with Crow to the Bohemian Grove, the exclusive California all-male retreat, and to Crow's sprawling ranch in East Texas. And Thomas typically spends about a week every summer at Crow's private resort in the Adirondacks.
These trips appeared nowhere on Thomas' financial disclosures. His failure to report the flights appears to violate a law passed after Watergate that requires justices, judges, members of Congress and federal officials to disclose most gifts, two ethics law experts said. He also should have disclosed his trips on the yacht, these experts said." – ProPublica
Trips paid for by billionaire GOP mega-donor
"Thomas, nominated by former President George H.W. Bush in 1991, is the senior-most justice on the court… he has also been the subject of scrutiny for the political activities of Ginni Thomas, his wife, including for texts she exchanged with key players in former President Donald Trump's attempt to overturn the 2020 presidential election.
Crow, a Dallas businessman with deep connections to Republican politics, has contributed more than $10 million in publicly disclosed political contributions, ProPublica reported. ProPublica documents a painting that hangs at the Crows' Adirondacks property depicting Thomas, Crow and other influential figures in Republican politics, including Leonard Leo, the former Federalist Society head who played a crucial role in Trump's makeover of the federal bench.
Executives of major corporations as well as heads of prominent conservative organizations have been in attendance on trips with Crow that Thomas has joined, the ProPublica report said. "I am unaware of any of our friends ever lobbying or seeking to influence Justice Thomas on any case, and I would never invite anyone who I believe had any intention of doing that. These are gatherings of friends," Crow's statement said." – CNN
Potential corruption of politics
"Federal judges sit in a unique position of public trust. They have lifetime tenure, a privilege intended to insulate them from the pressures and potential corruption of politics. A code of conduct for federal judges below the Supreme Court requires them to avoid even the "appearance of impropriety." Members of the high court, Chief Justice John Roberts has written, "consult" that code for guidance. The Supreme Court is left almost entirely to police itself.
Lifestyle funded by rich and famous
Virginia Canter, a former government ethics lawyer who served in administrations of both parties, said Thomas "seems to have completely disregarded his higher ethical obligations. When a justice's lifestyle is being subsidized by the rich and famous, it absolutely corrodes public trust," said Canter, now at the watchdog group CREW. "Quite frankly, it makes my heart sink."
Thomas' approach to ethics has already attracted public attention. Last year, Thomas didn't recuse himself from cases that touched on the involvement of his wife, Ginni, in efforts to overturn the 2020 presidential election. While his decision generated outcry, it could not be appealed.
Follow the money
Follow the money to see how billionaires have stacked the Supreme Court with extremist right wing justices. How does a stacked Supreme Court impact you?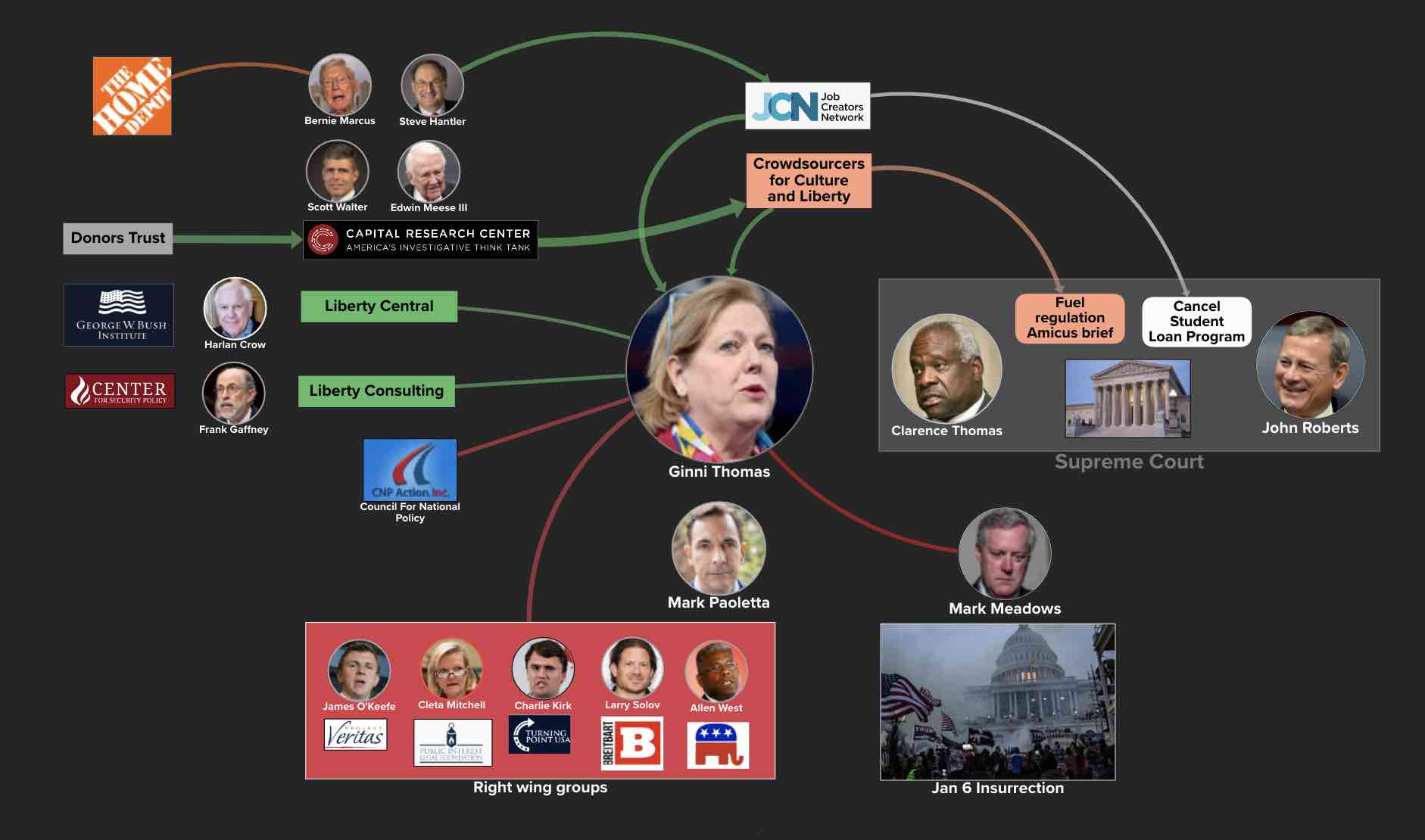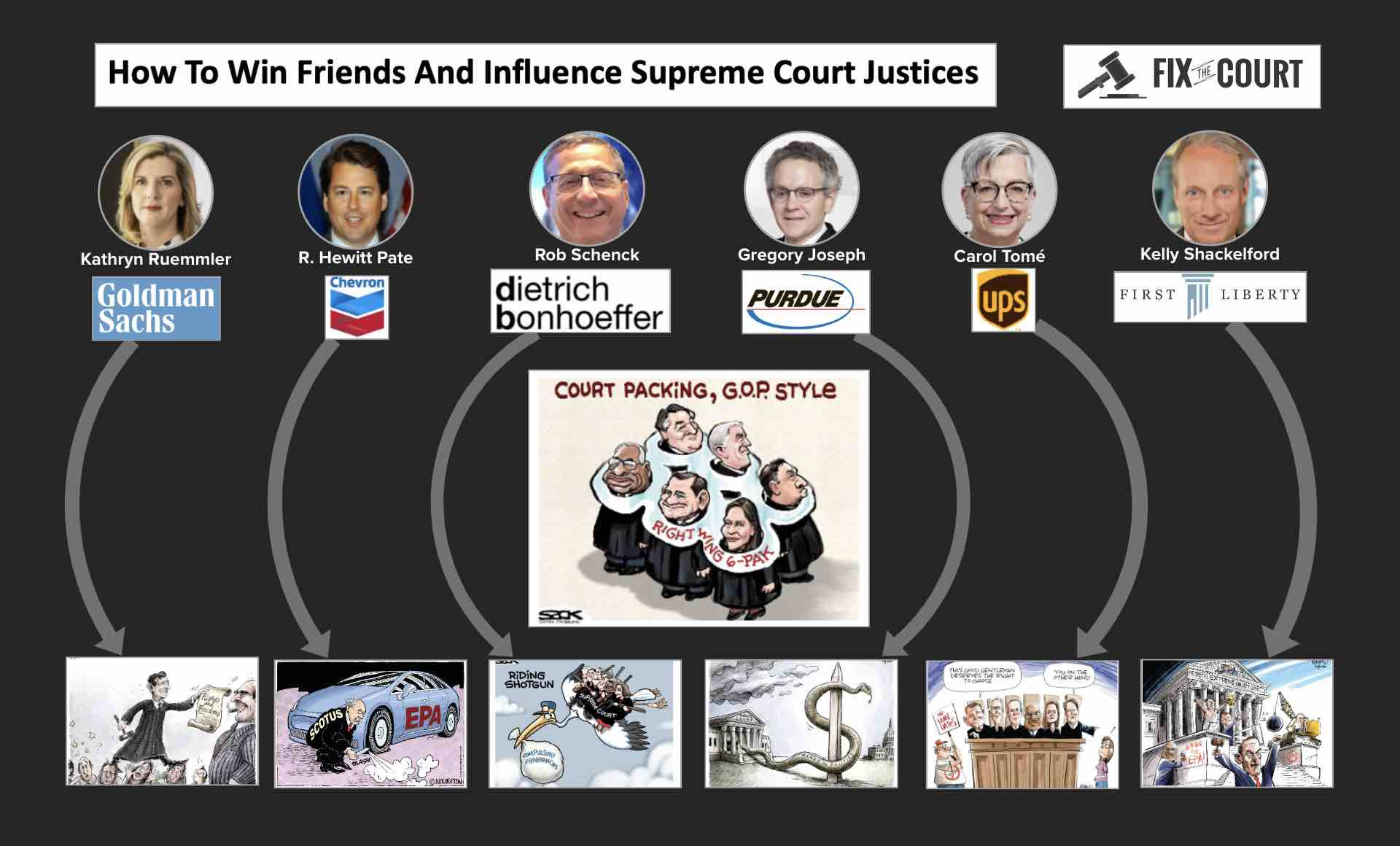 TakeAway: Call your Senator to demand a Supreme Court Code of Ethics and enforced recusal of Justices beholden to billionaires.
Deepak
DemLabs
DISCLAIMER: ALTHOUGH THE DATA FOUND IN THIS BLOG AND INFOGRAPHIC HAS BEEN PRODUCED AND PROCESSED FROM SOURCES BELIEVED TO BE RELIABLE, NO WARRANTY EXPRESSED OR IMPLIED CAN BE MADE REGARDING THE ACCURACY, COMPLETENESS, LEGALITY OR RELIABILITY OF ANY SUCH INFORMATION. THIS DISCLAIMER APPLIES TO ANY USES OF THE INFORMATION WHETHER ISOLATED OR AGGREGATE USES THEREOF.
Reposted from Democracy Labs with permission.
---
DemCast is an advocacy-based 501(c)4 nonprofit. We have made the decision to build a media site free of outside influence. There are no ads. We do not get paid for clicks. If you appreciate our content, please consider a small monthly donation.
---