Urgent: Help Elect Brandon Johnson
In Chicago's April 4 election, a few votes may determine who becomes our next mayor: a candidate with a history of failure as a manager and ties to right-wing fascist groups or a progressive candidate who has a plan to build public safety through equitable services to communities.
What can YOU do?
It is critical that we elect Brandon Johnson: a leader with a plan to make all Chicago communities thrive. Your efforts, great or small, can make the difference in ensuring that Brandon Johnson is our next mayor.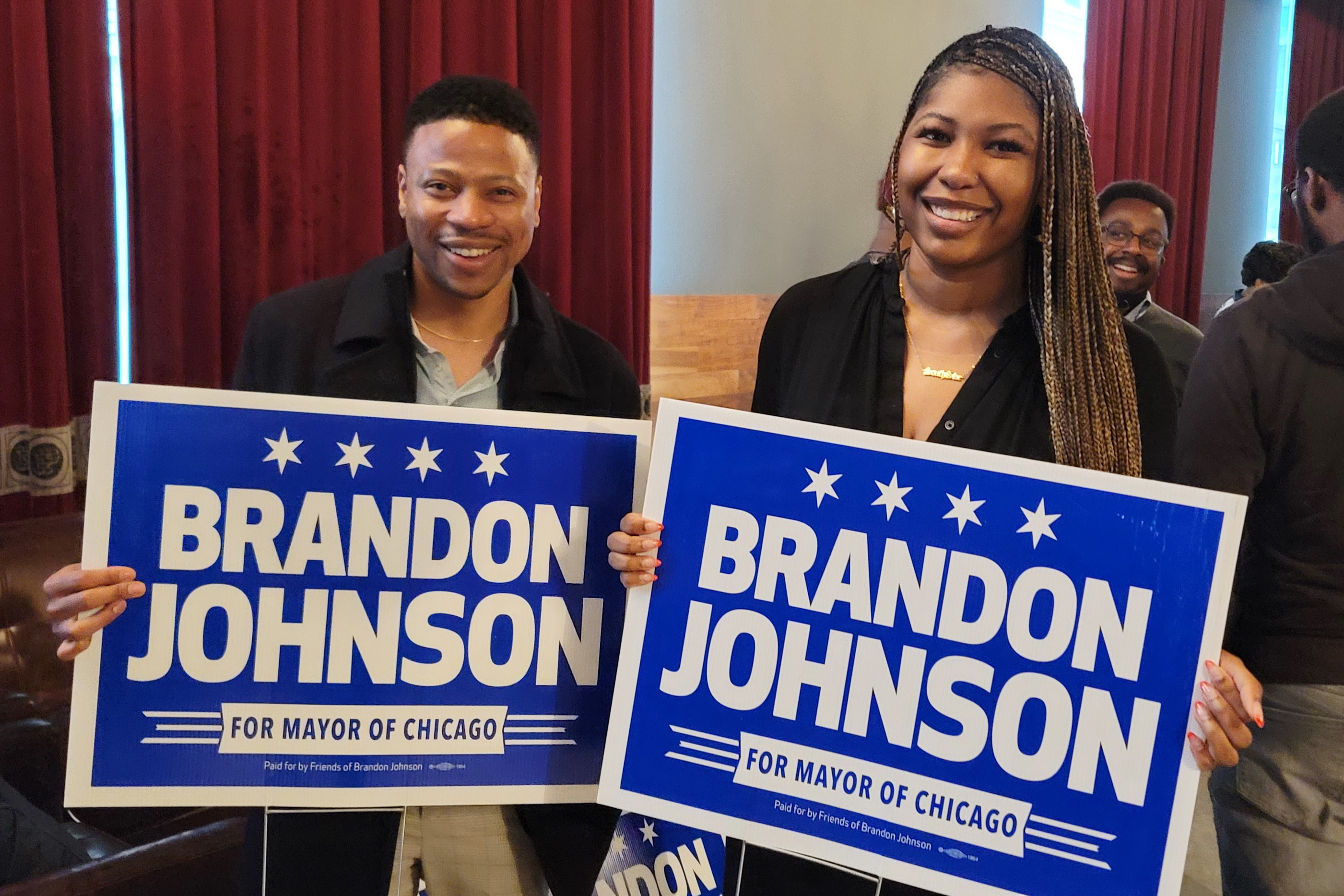 ACT TO ELECT BRANDON JOHNSON:
1. Vote NOW in the April 4 runoff election. Brandon Johnson needs massive turnout in wards and precincts that tend to vote progressive. Let's all be sure to vote.
Vote early! Be sure nothing stands in the way of casting your ballot. Early voting is underway – it's quick & easy. Here are 3 convenient sites:

South Side YMCA – 6330 S. Stony Island Ave.
King Center – 4314 S. Cottage Grove Ave.
Board Supersite – 191 N. Clark (Clark & Lake)
Find more Early Voting locations here.

Other ways to vote:

If you're voting by mail, submit your ballot ASAP via US Mail or via an official drop box.
If you plan to vote at your precinct-specific polling place on Election Day (April 4), check the location, as some have changed since February.
2. Volunteer (or donate) to elect Brandon Johnson. Support the vision of Brandon Johnson for a safer, stronger, more prosperous and equitable Chicago for all.
3. Spread the word that Brandon Johnson will benefit Chicago communities, while Paul Vallas is a threat. In conversation and on social media, urge your friends and family to vote in the April 4 runoff election to put Brandon Johnson in the mayor's office and keep Vallas OUT.
---
NOTE: In the weeks before the runoff, the Indivisible Chicago-South Side chapter is not undertaking a separate, formal endorsement for Brandon Johnson, but we know our progressive membership overwhelmingly prefers Johnson over his right-wing rival.
Join ICA & WisDems to Help Wisconsin
In Wisconsin, our help is critically needed to elect liberal Judge Janet Protasiewicz* to the WI Supreme Court in the state's April 4 election.
Whether in your Chicago home or by traveling to nearby Kenosha, Racine, Milwaukee, or other places, you can join friendly organizers to get Democratic voters out to the polls.
---
Volunteer with ICA & Indivisible Evanston
Look for Sarah Lincoln & other familiar faces at ICA events for Wisconsin
Indivisible Chicago Alliance (ICA) is known for its efficient, clear, and friendly training and support. Same with Indivisible Evanston. Join ICA in these actions for Wisconsin:
---
Volunteer with WisDems
National Indivisible knows the importance of electing Janet Protasiewicz – as do we!
---
*Protasiewicz is pronounced "pro-tuh-SAY-wits. Judge Protasiewicz was one of two winners of the WI primary for Supreme Court, and she now faces a far-right candidate on April 4. For more info on Janet Protasiewicz and why her election to the Wisconsin Supreme Court race is critical for democracy, see our Feb 27 newsletter and this OpEd by Mandela Barnes.
Tell Sen Durbin NO on Vallas
We were appalled to learn that Dick Durbin has endorsed Paul Vallas for Chicago mayor. It's hard to comprehend why Senator Durbin would support a candidate–a failed manager–who:
If you are as dismayed as we are, we encourage you to contact Senator Durbin's office to express your shock and disappointment.
ACT: Contact the office of Senator Durbin to send the message that you were shocked/dismayed/appalled/horrified to learn of his endorsement for Paul Vallas. You can cite one or more of the reasons we listed – or add your own (our list is not comprehensive).

Note: If you can't get through by phone to a person at his Washington, DC or Chicago office, try one of his other offices around the state.
Organizations and Opportunities
Indivisible Chicago-South Side shares information and actions from other organizations on issues important in our country, state, city, and communities.
---
What's Next with ECPS & District Councils?
Empowering Communities for Public Safety: Chicago's ECPS ordinance toward police accountability is now in effect.
BACKGROUND

The ECPS ordinance established two new bodies:
1. the appointed Community Commission for Public Safety and Accountability (CCPSA, or "the Commission") and
2. the 22 elected District Councils (one District Council per Chicago police district).
The Commission will have the power to advance systemic reform, and the District Councils will provide the link with the community in that work. A critical role of the District Councils is to nominate candidates for appointment to the Commission (see below). They also will work to improve policing and public safety in the district.
The CCPSA website explains that the "Commission and District Councils will bring police officers and Chicago residents together to plan, prioritize, and build mutual trust; strengthen the police accountability system; give Chicagoans a meaningful new role in oversight; and explore and advance alternative effective approaches to public safety."

Read more about the Commission and the District Councils at the ECPS website and the CCPSA website.

WHAT'S HAPPENING NOW

On February 28, residents of each of Chicago's 22 police districts elected three people to serve on their own District Council. In other words, there are 22 District Councils, each with three newly elected Councilors.

The current Commission is still on interim status, but soon the 22 District Councils will nominate candidates for the Commission; then the Mayor will appoint seven Commissioners from the pool of nominees, and the City Council will have final approval.

YOUR DISTRICT COUNCIL

To find out which police district you are in, check this page. Hyde Park, Kenwood, and most of Bronzeville are in the 2nd District.

UPDATE ON THE 2nd DISTRICT COUNCIL

In the 2nd police district, voters chose these three candidates to serve on the District Council: Ephraim Lee, Julia Kline, Alexander Perez (left to right below).
Newly elected District Councilor Julia Kline writes:
Three of us are your new Police District Council – myself, Ephraim Lee & Alexander Perez.
We get sworn in on May 2nd.
The very moment we're sworn in, the clock starts ticking to nominate the 7 Commissioners to the appointed Community Commission for Public Safety and Accountability(which up until now has been serving on an interim basis). We will need public input to make our recommendations!
We also have important work to do in the area of community-based safety – increasing access to and knowledge about support services of all kinds: mental health professionals, city and county resources, restorative justice practitioners, etc.
How you give input: We, the Council, are required by statute to hold one open meeting per month. We will very likely end up holding more than that. If you would like to be notified about any meetings we hold so that you can participate or even just listen, please email me at juliakline@gmail.com
---
Recorded 4th Ward Forum
South Loop Neighbors (SLN) held a 4th Ward runoff forum, with a thematic focus on the South Loop. Both candidates – State Rep Lamont Robinson and Prentice Butler – participated. Prentice Butler responded to all questions in person. Rep Robinson had to return to Springfield but was able to stay long enough to present an opening statement and then provided written answers to questions provided by SLN. Watch the event here.
Newsletter Notes
SUBSCRIBE: Did someone forward this newsletter to you? If you'd like to subscribe and get our newsletter every Monday morning, click here to subscribe.

SUGGEST: Got an event or resource to suggest for the newsletter? Email us here.
Indivisible Chicago-South Side
Email: Indiv.Chi.South@gmail.com
Follow IC-SS on Facebook, Twitter, Mastodon, Post
Co-Leaders: Sarah Lincoln, Esther Peters,
Betsy Rubin, Teri Watkins
About: Group & Co-Leader Statements
---
DemCast is an advocacy-based 501(c)4 nonprofit. We have made the decision to build a media site free of outside influence. There are no ads. We do not get paid for clicks. If you appreciate our content, please consider a small monthly donation.
---