Citywide Indivisible Chicago: Vote Brandon
The Indivisible Chicago Alliance, a progressive coalition of neighborhood chapters throughout the Chicago area, has announced its robust endorsement of Brandon Johnson for mayor. Our independent chapter, Indivisible Chicago-South Side, applauds and supports Indivisible Chicago in the effort to elect Brandon Johnson.
Indivisible Chicago writes: "Brandon Johnson stands alone in this race as a leader whose progressive policies will create opportunities and a Chicago that works for us all. This is why the Indivisible Chicago Alliance Council has voted unanimously to endorse Brandon Johnson for Mayor.
"His opponent, Paul Vallas, would trample civil rights with failed policing strategies, has a catastrophic record of mismanagement that runs educational systems into the ground, and is backed by right-wing extremists. He is a dangerous choice for Chicago." Read the full statement.
---
What can WE do?
In the mayor's race, a few votes may mean the difference between electing a mayor with ties to right-wing fascist groups or electing a progressive mayor who wants to build public safety through equitable services to communities.
Several Indivisible Chicago-South Side folks joined this big groupknocking doors for Brandon Johnson on Saturday
To protect our city, we can:
1. Volunteer or donate to elect Brandon Johnson. Support the vision of Brandon Johnson for a safer, stronger, more prosperous and equitable Chicago for all.
2. Vote in the April 4 runoff election. Brandon Johnson needs massive turnout in wards and precincts that tend to vote progressive. Let's all be sure to vote … and keep Vallas out.
3. Spread the word that Brandon Johnson will benefit Chicago communities while Paul Vallas is a threat. In conversation and on social media, urge your friends and family to vote in the April 4 runoff election to put Brandon Johnson in the mayor's office and keep Vallas OUT.
NOTE: In the weeks before the runoff, the Indivisible Chicago-South Side chapter is not undertaking a separate, formal endorsement for Brandon Johnson, but we know our progressive membership overwhelmingly prefers Johnson over his right-wing rival.
Join Our Letter Parties for Wisconsin!
In Wisconsin, our help is critically needed to elect liberal Judge Janet Protasiewicz* to the WI Supreme Court in the state's April 4 election.
---
Attend our Next Letter Parties – March 23 & 27
We had way too much fun at last week's Vote Forward letter party. Won't you join us again on Thurs, March 23 + Mon, March 27? RSVP.
Who knew writing letters could be a blast?
Last week, 12 members of IC-SS joined us at Steve's and wrote 180 letters to likely Democratic voters in Wisconsin, encouraging them to get out and vote in the state Supreme Court election.
Thanks to last week's partygoers, we wrote to 180 Wisconsin voters.
Join us again to sip wine (BYO), nibble pizza, and write Vote Forward letters to Wisconsin. Together, we'll help get out the vote for the state Supreme Court election. Come to our letter-writing parties next week and the week after: Thursday, March 23 + Monday, March 27, 6:00-8:00 pm.
BONUS: For added impact, at the March 23 party, we'll be giving out packets of postpaid postcards for you to take home and write to Wisconsin voters via Voces de la Frontera.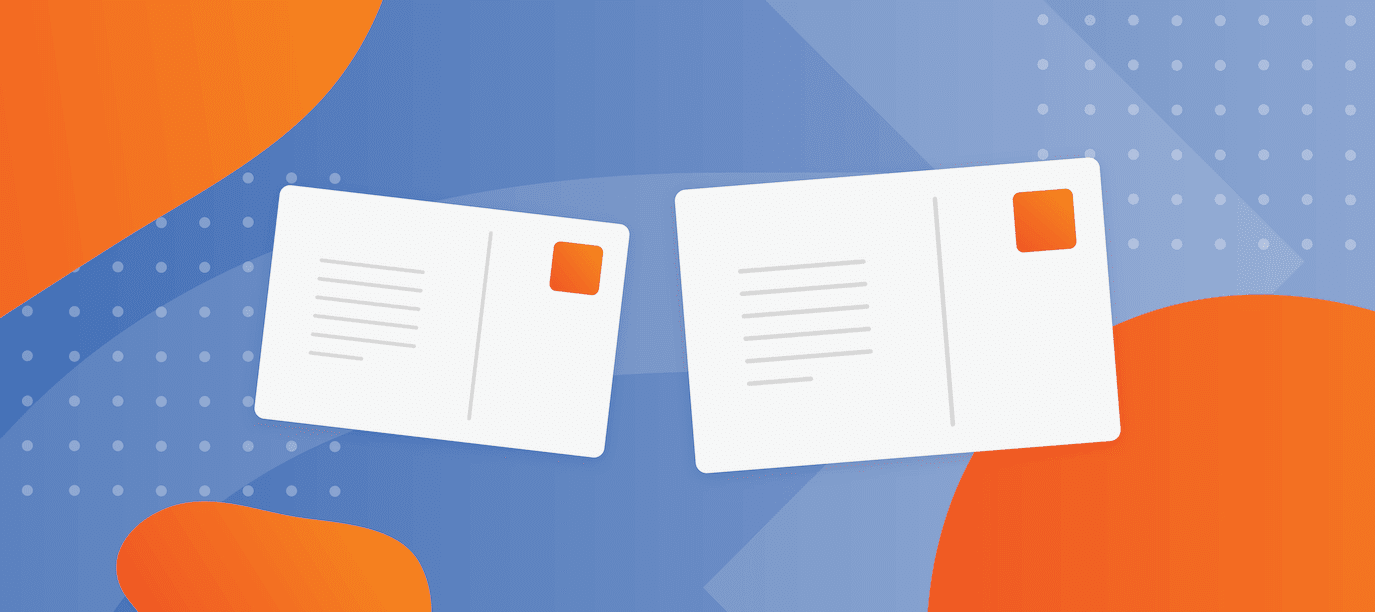 Other Ways to Help Wisconsin

Whether in your Chicago home or by traveling to nearby Kenosha, Milwaukee, or other places, you can join friendly organizers to get Democratic voters out to the polls:
National Indivisible knows the importance of electing Janet Protasiewicz – as do we!
*Protasiewicz is pronounced "pro-tuh-SAY-wits. Judge Protasiewicz was one of two winners of the WI primary for Supreme Court, and she now faces a far-right candidate on April 4. For more background on Janet Protasiewicz and why her election to the Wisconsin Supreme Court race is critical for democracy, see our Feb 27 newsletter and this OpEd by Mandela Barnes.
CANCELED: 4th Ward ForumThe League of Women Voters-Chicago has canceled its planned March 18 candidate forum for the 4th ward because candidate Lamont Robinson declined to participate.
March 16: Recap of the Mayor's Race
Thursday, March 16, 5:00 pm (doors open 4:30): Blue Beginning, a local chapter of Indivisible Chicago Alliance, will hold a Political Happy Hour event at The Hideout: Blue Thursday Mayoral Recap.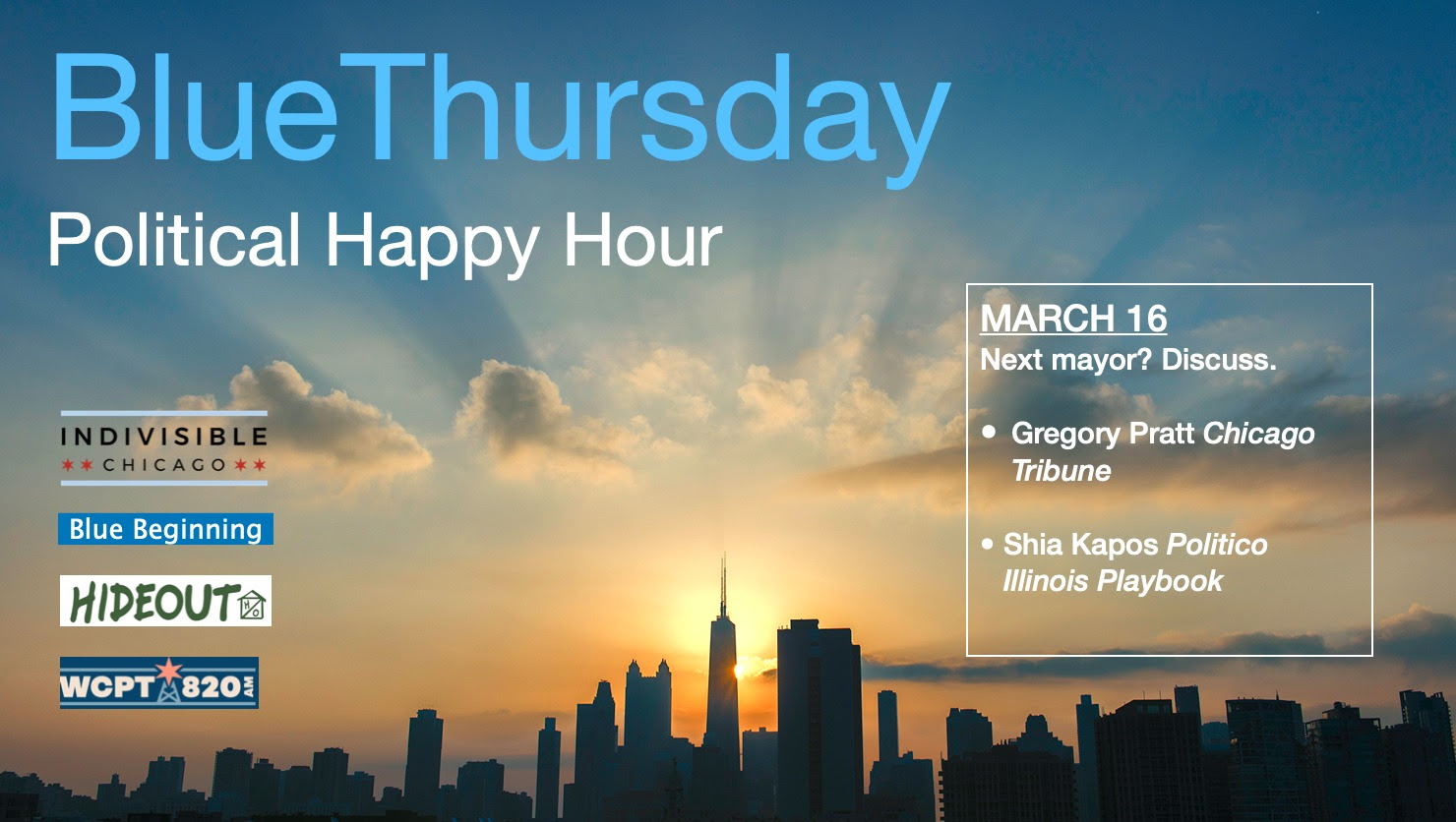 At this Blue Thursday event, you'll hear Gregory Pratt, the Tribune's man in City Hall, and Shia Kapos, author of the must-read Politico Illinois Playbook. Admission is free, but please get a ticket. More info, tickets here.
Organizations and Opportunities
Indivisible Chicago-South Side shares information and actions from other organizations on issues important in our country, state, city, and communities.
---
Brandon Johnson Virtual Volunteer Night – TONIGHT
From United Working Families: Join us tonight, Monday March 13, 6:00-7:00 pm, for a virtual volunteer night with Chicagoans across the city invigorated about the runoff. We'll talk about why voters from all over Chicago are coming out strong for Brandon for mayor, what our volunteers are hearing at the doors, on the phones and over text, and what the next step is to play a role in our plan to victory! RSVP here.
---
South Side Meetup for Brandon Johnson
From United Working Families: Come out on Thursday, March 16, from
6:00-8:30 pm for a South Side for Brandon Johnson get-together! We'll talk about why we're supporting Brandon for mayor, what the campaign's plan to win is, and how folks can get involved to help win the mayor Chicago deserves. The event will be held at St James Church, 8000 S. Michigan. RSVP here.
Stop Walgreens' Support for the Right-Wing Agenda
From DemCast:Walgreens is caving to religious extremists and denying women access to abortion pills (mifepristone). They are donating money to anti-choice politicians as well as members of the sedition caucus, They're undermining our democracy and freedoms.
Act: DemCast makes it easy for you to send a message to Walgreens' leaders, letting them know that you will take your business elsewhere until Walgreens agrees to dispense mifepristone in states where it is legal and stops funding members of Congress who voted to overturn the free and fair 2020 election. The action takes only a minute – go here to send a message to Walgreens!
Newsletter Notes
SUBSCRIBE: Did someone forward this newsletter to you? If you'd like to subscribe and get our newsletter every Monday morning, click here to subscribe.

SUGGEST: Got an event or resource to suggest for the newsletter? Email us here.
Indivisible Chicago-South Side
Email: Indiv.Chi.South@gmail.com
Follow IC-SS on Facebook, Twitter, Mastodon, Post
Co-Leaders: Sarah Lincoln, Esther Peters,
 Betsy Rubin, Teri Watkins
About: Group & Co-Leader Statements