Thursday! Join Our March 9 Letter Party
In Wisconsin, our help is critically needed to elect liberal Judge Janet Protasiewicz* to the WI Supreme Court in the state's April 4 election.
---
Free this coming Thursday? Joinus for another letter-writing party at the Kenwood home of our Vote Forward leader, Steve Kagan, to sip wine (BYO), nibble pizza, and write to likely Democratic voters in Wisconsin. Together, we'll help get out the vote for the state Supreme Court election.
Thanks to last week's partygoers, we wrote to dozens of Wisconsin voters.
Last week, we wrote 70 letters. Let's see how many letters we can write this week! Join our letter-writing party this coming Thursday, March 9, 6:00-8:00 pm. Let's connect, have fun, make a difference.
RSVP: To register and get the party address, please email us your full name and cell phone #: RSVP here. (If you already registered for March 9, no need to register again.)
Donate stamps: No time to write but want to help? You can donate first-class stamps to the effort! Let us know and we'll arrange to get them from you. Email us re stamps here.
Other Ways to Help Wisconsin
National Indivisible knows the importance of electing Janet Protasiewicz – as do we!
Whether in your Chicago home or by traveling to nearby Kenosha, Milwaukee, or other places, you can join friendly organizers to get Democratic voters out to the polls:

When you canvass or phone, you may see Sarah Lincoln or other IC-SS friends
---
*Protasiewicz is pronounced "pro-tuh-SAY-wits. Judge Protasiewicz was one of two winners of the WI primary for Supreme Court, and she now faces a far-right candidate on April 4. For more background on Janet Protasiewicz and why her election to the Wisconsin Supreme Court race is critical for democracy, see last week's newsletter and this OpEd by Mandela Barnes.
Say YES to Johnson & NO Paul Vallas
Brandon Johnson has been a leader in our communities in the fights for fully funded public schools, affordable housing, green jobs, and access to mental health care. As mayor, he will advance smart, innovative solutions that address the root causes of violence and poverty.
~ From Brandon Johnson website
 Paul Vallas is a danger to Chicago. Paul Vallas is a failed administrator, leaving budget messes wherever he's gone. He promotes plans that destroy public education and good government. And, most dangerous of all, he's welcomed the embrace of hate groups and right-wing extremists.
~From Indivisible Chicago statement on Vallas
What can WE do?
In the mayor's race, a few votes may mean the difference between electing a mayor with ties to right-wing fascist groups or electing a progressive mayor who wants to build public safety through equitable services to communities.
To protect our city, we can:
1. Support the candidacy of Brandon Johnson. You may have voted for Brandon Johnson last week – or you might have chosen a different candidate. Given the stark choice before us now, we urge you to support the vision of Brandon Johnson for a safer, stronger, more prosperous and equitable Chicago for all.
2. Vote in the April 4 runoff election. We know Vallas will have an intense ground game to turn out his voters. Let's all be sure to vote … and keep Vallas out.

3. Spread the word that Paul Vallas is a threat – and encourage all your contacts to vote against him. In conversation and on social media, urge your friends and family to vote in the April 4 runoff election to keep Paul Vallas OUT of City Hall.
NOTE: In the weeks before the runoff, Indivisible Chicago-South Side is not undertaking a formal endorsement for Brandon Johnson, but we know our progressive membership overwhelmingly prefers Johnson over his right-wing rival.
February 28 Election Results
Chicago's election was Feb 28, and now we're on to the runoffs. The runoff election for mayor and many City Council seats will be April 4. Here's info:

1. Mayor's race. ICYMI: progressive Brandon Johnson will face FOP-endorsed Paul Vallas, whose support was concentrated in conservative white wards – some with high turnout compared to other wards.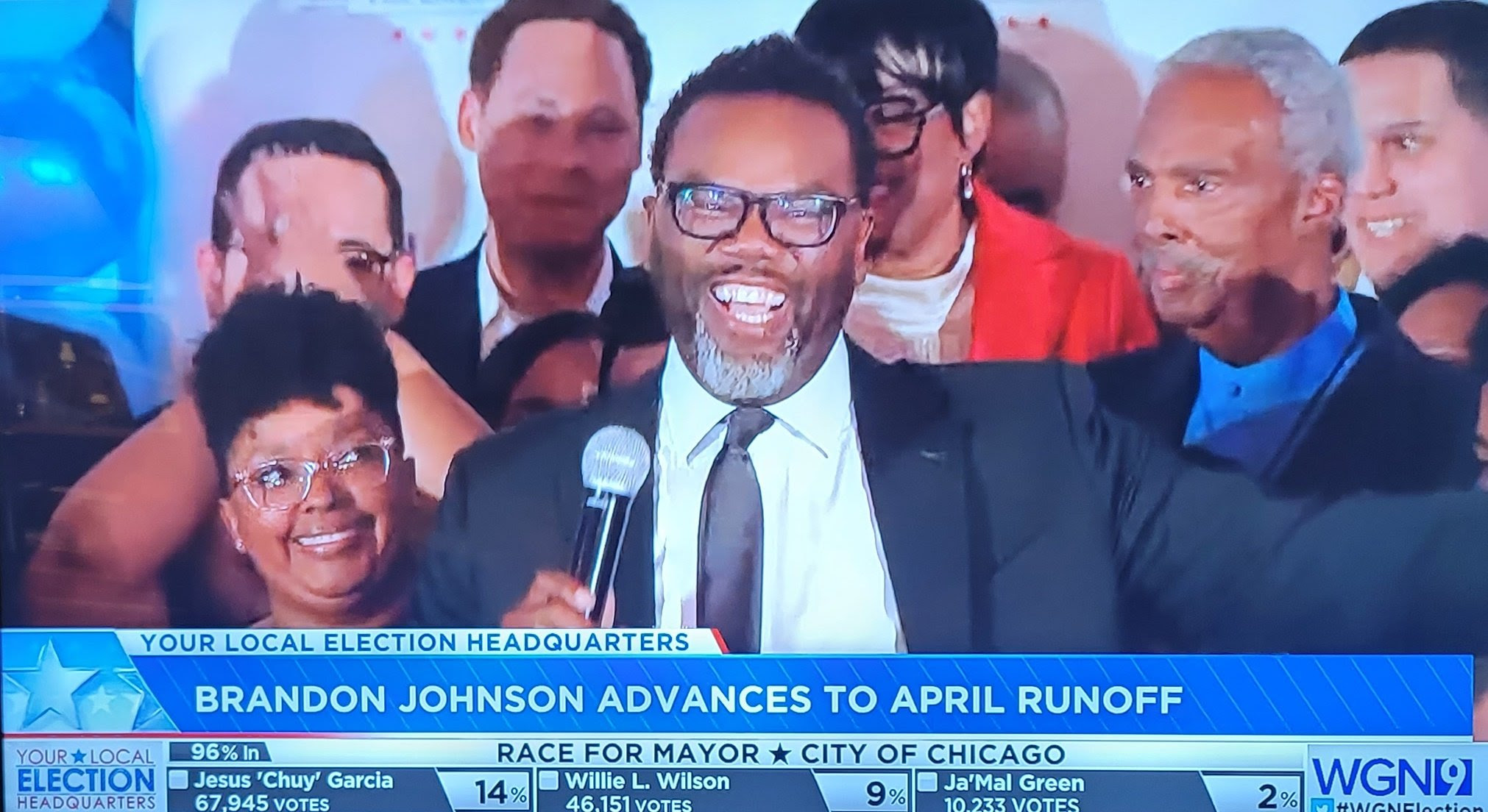 While South Side voters went heavily for Lori Lightfoot, there was strong support for Brandon Johnson as well. Get granular – see how your ward & precinct voted here or here.

2. City Council races. In the 20th ward, incumbent Jeanette Taylor was re-elected. In the 5th ward, Desmon Yancy received the most votes and will face Tina Hone in the April 4 runoff. In the 4th ward, Lamont Robinson was the highest vote-getter, and he'll face Prentice Butler in the runoff. See more City Council results here.

3. District Council races. Under the new ECPS ordinance for police accountability, Chicago voters in each police district have elected 3 representatives to their respective District Council – in other words, three elected representatives for each of 22 District Councils, with one District Council per police district.

In the 2nd District Council, Alexander Perez, Ephraim Lee, and Julia Kline were elected. In the 3rd, winners were Anthony David Bryant, Janice Jones, and Kenya Franklin. See District Council results here, and read this election report from The Triibe.
Save the Date 3/18: 4th Ward Forum
Do you live in the 4th ward? In April's runoff election for alderman, you'll be choosing betweencandidates Lamont Robinson and Prentice Butler.
Candidates Lamont Robinson (l) + Prentice Butler (r) will speak at March 18 forumMARK YOUR CALENDARS. On Saturday, March 18, 11:30 am to 1:00 pm, at Rainbow PUSH Coalition, the League of Women Voters-Chicago will hold a 4th ward aldermanic forum, featuring both runoff candidates. Indivisible Chicago-South Side is proud to be a partner in this event.
Final details are pending. Visit LWV's forum page to check for any announcements. Once it's available, we will share registration information via social media and our next newsletter. For now, save the date!
March 16: Recap of the Mayor's Race
Thursday, March 16, 5:00 pm (doors open 4:30): Blue Beginning, a local chapter of Indivisible Chicago Alliance, will hold a Political Happy Hour event at The Hideout: Blue Thursday Mayoral Recap.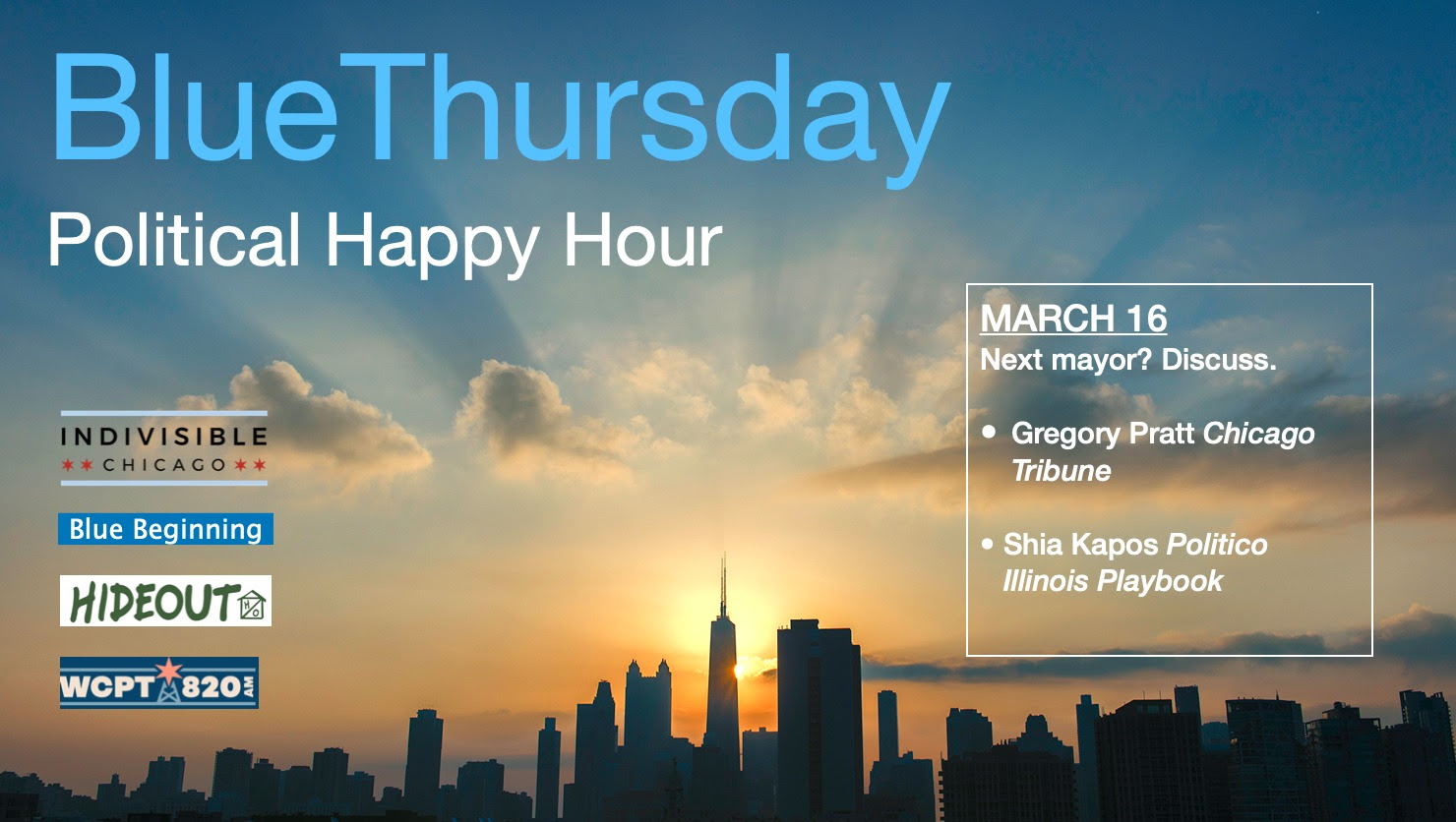 At this Blue Thursday event, you'll hear Gregory Pratt, the Tribune's man in City Hall, and Shia Kapos, author of the must-read Politico Illinois Playbook. Admission is free, but please get a ticket. More info, tickets here.
Organizations and Opportunities
Indivisible Chicago-South Side shares information and actions from other organizations on issues important in our country, state, city, and communities.
---
Help Survivors of Police Torture
How can we address torture by police and protect survivors? Read up, then take action with CAARPR's Campaign to Free Incarcerated Survivors of Police Torture (CFIST)
What is the TIRC Act?

According to the Public Interest Law Initiative, "the Illinois Torture Inquiry and Relief Commission (TIRC) was formed by the Illinois General Assembly in 2009 to investigate claims of torture by former Chicago Police Commander Jon Burge or officers under his supervision.

"TIRC examines claims of tortured confessions and determines whether sufficient evidence of torture exists to merit judicial review. [Convicted people] whom the Commission refers to court then receive a new hearing on whether their confessions were the product of torture and whether they deserve a new trial."

Photo from CAARPR's Facebook page
What is SB1276, and how does it amend TIRC?
SB1276, a proposed amendment to the TIRC Act, is now before the Illinois General Assembly. CFIST shares information on how you can support it to address torture by police and help survivors.

SB1276 amends the Illinois Torture Inquiry and Relief Commission (TIRC) Act, which was established in 2009 to address Illinois's history of police torture.

As it currently stands, the TIRC is underfunded and limited in scope, leaving hundreds of torture survivors trapped behind bars. SB 1276 expands the TIRC to help more wrongfully convicted individuals have a chance at freedom. See the official bill summary and text.
What Can I Do?
Through the organizing work of CFIST, Indivisible Chicago-South Side joins a long list of organizations that have endorsed SB1276.

And, as individual citizens who want to stop police torture, we can all:
Get informed, and spread the word.
Send a customizable letter to your Illinois state legislators, asking them to support SB1276. Use CFIST's easy form.
What's Happening with IL's Pretrial Fairness Act?
"Every year, a quarter of a million people cycle through Illinois jails. Most of them are incarcerated not because they pose a threat to their community, but because they cannot afford to pay a money bail. This unjust practice is coming to an end," writes the Coalition to End Money Bond of the Pretrial Fairness Act (PFA), which was supposed to go into effect at the beginning of 2023.
Watch an informative 1-hr 2023 webinar from the IL Coalition for Pretrial Fairness
Unfortunately, a Kankakee judge ruled the PFA was unconstitutional with regard to the Illinois state constitution. As a result, the implementation of the law has been temporarily paused, an appeal has been filed by Attorney General Kwame Raoul, and the Illinois Supreme Court will be considering the matter.
Oral arguments will be held in March, and a decision by the Illinois Supreme Court is expected in May or June. Want to know more?
Newsletter Notes
SUBSCRIBE: Did someone forward this newsletter to you? If you'd like to subscribe and get our newsletter every Monday morning, click here to subscribe.

SUGGEST: Got an event or resource to suggest for the newsletter? Email us here.
Indivisible Chicago-South Side
Email: Indiv.Chi.South@gmail.com
Follow IC-SS on Facebook, Twitter, Mastodon, Post
Co-Leaders: Sarah Lincoln, Esther Peters,
Betsy Rubin, Teri Watkins
About: Group & Co-Leader Statements
---
DemCast is an advocacy-based 501(c)4 nonprofit. We have made the decision to build a media site free of outside influence. There are no ads. We do not get paid for clicks. If you appreciate our content, please consider a small monthly donation.
---