"Twitter stands to make millions from ads on just ten toxic reinstated accounts" – Counter Hate
"Musk has reinstated tens of thousands of Twitter accounts, including neo-Nazis, white supremacists, misogynists and spreaders of dangerous conspiracy theories. The Center for Countering Digital Hate (CCDH) estimates that just ten reinstated accounts renowned for publishing hateful content and dangerous conspiracies will generate up to $19 million a year in advertising revenue for Twitter."
How does Musk's money-from-hate scheme work? What can you do to counter online hate, racism and conspiracy theories online?
Musk's Money-From-Hate scheme
Center for Countering Digital Hate analysis shows that the "ten accounts have already amassed 2.5 billion tweet impressions since Twitter rolled out publicly visible impression-counts on 15th December 2022, putting them on track to reach 20 billion impressions over the course of a year. Brands such as Apple, Amazon, and the NFL put their brand safety and consumer trust at risk by continuing to advertise on Twitter by ads appearing next to the toxic content from each of these reinstated accounts." See the list of ten reinstated accounts below.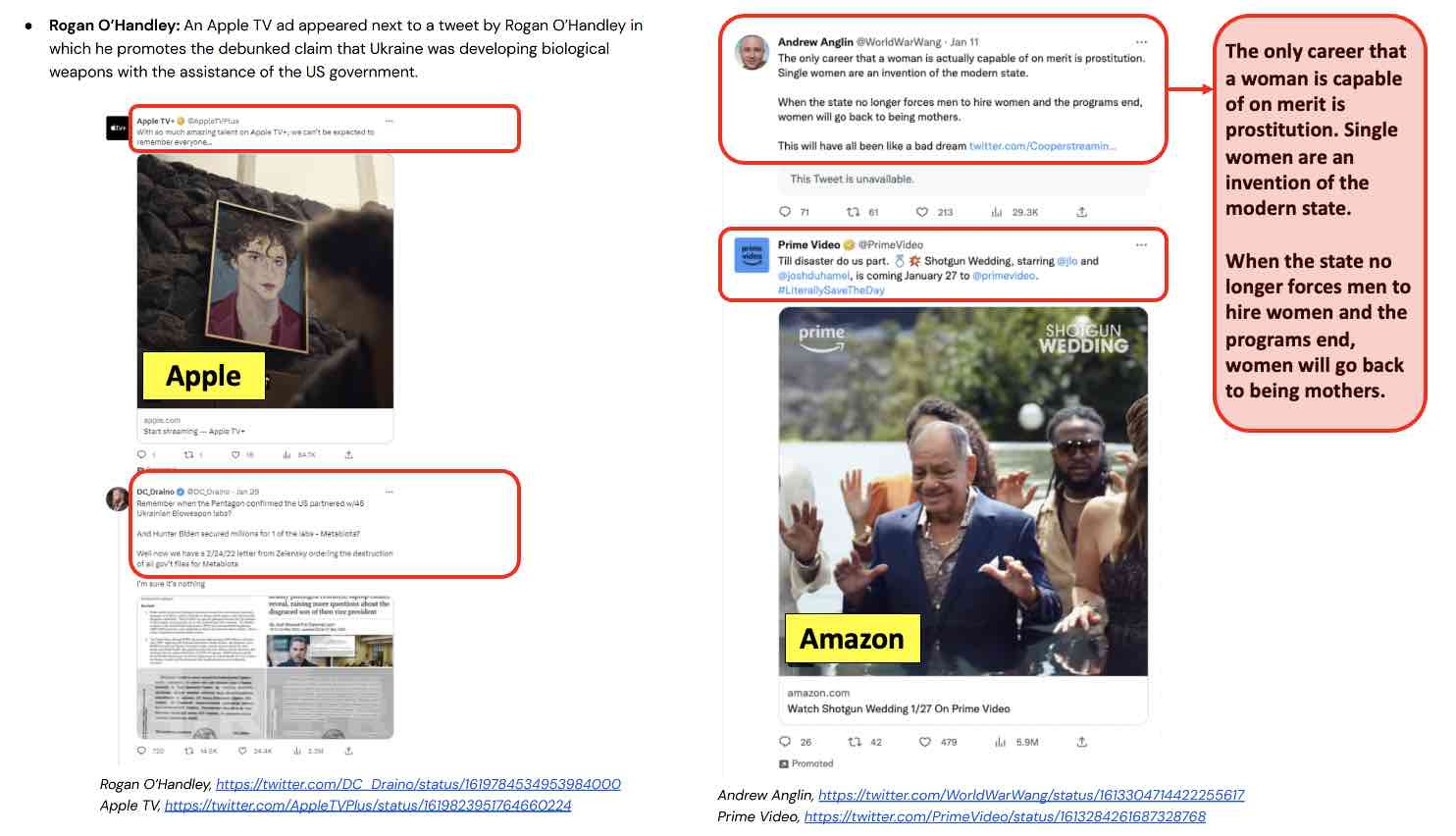 Advertising supported hate
– Tweets from these ten accounts are estimated to get 54 million impressions every day which translates to 20 billion impressions over a year.
– The Center set up three accounts to estimate how often Twitter shows ads next to these reinstated accounts.
– An ad appeared at an average rate of once every 6.7 tweets.
– At this rate the ten accounts can be estimated to generate 2.9 billion ad impressions for Twitter annually.
– Twitter ads cost an average of $6.46 per 1,000 impressions according to Brandwatch.
– CCDH estimates that $19 million in estimated annual ad revenues across the accounts. (2.9 billion ad impressions x $6.46 per 1,000 ad impressions).
– Read the CCDH report
Center for Countering Digital Hate
The Center for Countering Digital Hate is a non-profit that counters hate and disinformation, by disrupting the online architecture enabling its rapid worldwide growth. The Center's work encompasses research, campaigns and policy to increase the economic, reputational and political costs of all parts of the infrastructure – the actors, systems and culture – that support and often profit from hate and disinformation. Its public education campaigns such as Don't Feed the Trolls and Don't Spread the Virus help consumers understand how to navigate social media in a way that reduces inadvertent amplification of harm.
Support the Center For Countering Digital Hate
STOP TOXIC TWITTER
STOP TOXIC TWITTER is a coalition of 60+ civil rights and civil society groups calling on Twitter advertisers to demand a safer Twitter for their brands and for users.
"Sweeping layoffs at Twitter make it impossible for Twitter to uphold brand safeguards and content moderation. Companies should immediately stop advertising on Twitter in response. Unless and until Musk can invest in and prioritize teams that can robustly enforce Twitter's existing community standards, the platform is not safe for users nor advertisers."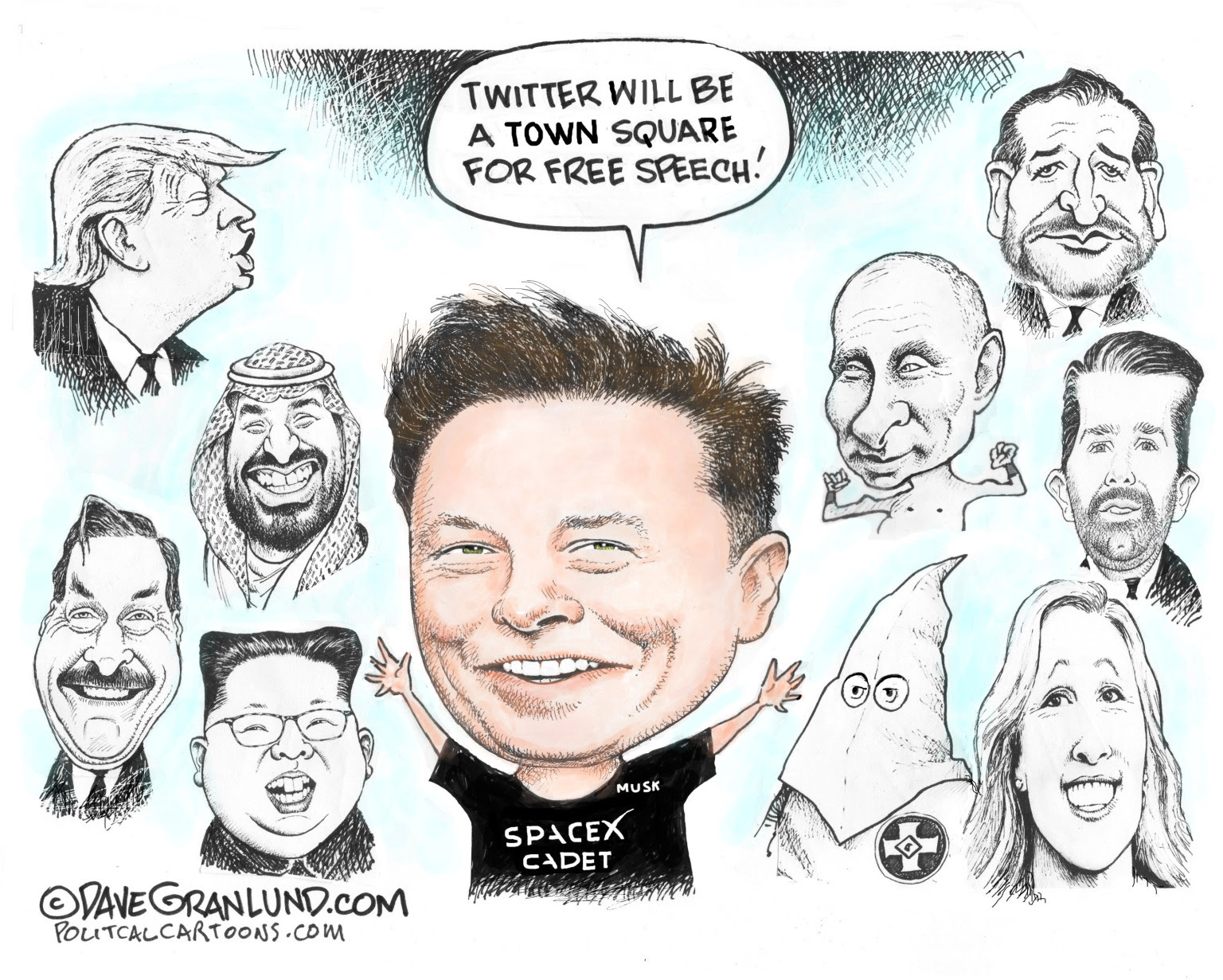 Choose a better platform
DemLabs is on Twitter https://twitter.com/TheDemLabs, but we've also started sharing content on these excellent non-Twitter platforms:
Mastodon: Newsie is a fast and secure Mastodon server that is open to the general public. It has a large population of professional journalists, news people, journalism educators, and communications pros. Content and posts trend heavily on news and current events. Join DemLabs on Mastodon at: https://newsie.social/@DemLabs
Post: A Social Platform for Real People, Real News, and Civil Conversations. Remember when social media was fun, introduced you to big ideas and cool people, and actually made you smarter? Remember when it didn't waste your time and make you angry or sad? When you could disagree with someone without being threatened or insulted? We want to bring that back with Post. "We believe that all humans are created equal, endowed with unalienable rights that include life, liberty, and the pursuit of happiness, regardless of their gender identity, religion, ethnicity, race, sexual orientation, or beliefs." Join DemLabs on Post at https://post.news/@/demlabs
Spoutible: Christopher Bouzy's Spoutible is the first Black-owned viable competitor to Twitter launched on the first day of Black History Month. It aims to compete with and replace Twitter as a go-to social media gathering place for users who instant information, follower engagement, trending pop stories and breaking news, and immediate access to the famous and infamous celebrities, athletes, and government officials. Join DemLabs on Spoutible at https://spoutible.com/DemLabs
Take Away: Don't support hate with your purchases or ad dollars. Move to a better content sharing platform.
Deepak
DemLabs
DISCLAIMER: ALTHOUGH THE DATA FOUND IN THIS BLOG AND INFOGRAPHIC HAS BEEN PRODUCED AND PROCESSED FROM SOURCES BELIEVED TO BE RELIABLE, NO WARRANTY EXPRESSED OR IMPLIED CAN BE MADE REGARDING THE ACCURACY, COMPLETENESS, LEGALITY OR RELIABILITY OF ANY SUCH INFORMATION. THIS DISCLAIMER APPLIES TO ANY USES OF THE INFORMATION WHETHER ISOLATED OR AGGREGATE USES THEREOF.
Ten toxic accounts re-instated by Musk – CCDH
– Andrew Tate, the influencer and former kickboxer known for posting extreme misogynistic videos. He has said that rape victims "bear some responsibility" for being raped and that he would threaten women who accuse him of cheating with a machete.
– Robert Malone, a doctor who has built up a following by pushing falsehoods about Covid vaccines, while also claiming to have played a key role in their development. He has claimed that the "science is settled" that Covid vaccines "are not working".
– Andrew Anglin, an American neo-Nazi who founded the Daily Stormer website, which takes its name from the Nazi propaganda sheet known as Der Stürmer.
Gateway Pundit, an online media outlet notorious for its promotion of disinformation, including claims around vote tampering, climate denial and Covid misinformation.
– Emerald Robinson, the former Newsmax reporter who was sacked and suspended from Twitter in 2021 for claiming that the Covid vaccine contains a satanic marker.
– Rogan O'Handley, a Hollywood former entertainment lawyer turned far-right conspiracy theorist, who has been criticized for fanning the flames of vaccine conspiracies in the wake of the NFL athlete Damar Hamlin's heart attack.
– Peter McCullough, a doctor known for pushing misinformation about Covid. He has claimed that health officials withheld treatments for Covid in the early days of the pandemic in order to spread fear and push people into taking a vaccine.
– Stew Peters, a former bounty hunter who produced the film 'Died Suddenly', which promotes false claims about Covid vaccines.
– Ronnie Steven Islam, known as "Rizza" Islam, is an internet personality who regularly posts antisemitic, anti-LGBTQ+ and anti-vaccine rhetoric. He was named in CCDH's "Disinformation Dozen", listing twelve of the most influential online anti-vaxxers.
– Anthime Gionet, known as Baked Alaska, is a white supremacist internet personality who attended the 2017 "Unite the Right" rally and has been sentenced for his role in the Capitol insurrection.
Source: CounterHate
Read in browser »
Reposted from Democracy Labs with permission.
---
DemCast is an advocacy-based 501(c)4 nonprofit. We have made the decision to build a media site free of outside influence. There are no ads. We do not get paid for clicks. If you appreciate our content, please consider a small monthly donation.
---