Billionaires have rigged the system. Dodge taxes and pay Republicans to cut their taxes further!
Understand the billionaires' playbook to see how they get richer by not paying their fair share of taxes, while sticking the rest of us with the tab. The numbers are staggering! Billionaires dodge an estimated trillion dollars in taxes every year. How much is a trillion? A million, million dollars!
Divide a trillion dollars ( $ 1,000,000,000,000,000) in taxes that billionaires dodge by the estimated 334 million people in America. That means $3,000 that you are paying to support their lifestyle. Did you get a Thank You card?
This infographic based on 'Taxes' by Professor Scott Galloway which explains how billionaires dodge paying taxes.
Tax Avoidance – Understate or underpay how much you owe, or don't pay at all.
Tax Evasion – Minimize cash income and borrow money against their assets like stock or real estate instead. Loans aren't taxable, so you avoid paying taxes.
Corporate tax evasion – Report your revenues offshore to countries with low tax rates so you don't pay taxes in America.
Pay Republicans to cut taxes – Republicans have cut corporate tax rates from 35% to 21%, the lowest since 1939.
Dodging taxes
"There are two ways to not pay taxes: illegally and legally. The illegal method is called "tax evasion." This is where you understate or underpay how much you owe, or simply don't pay at all. The laws forbidding this behavior are barely enforced. The IRS officially estimates we lost $470 billion to tax cheats in 2019, and in 2021 the head of the IRS told Congress that the figure is likely much higher, perhaps as high as $1 trillion per year. Somewhere around the entire U.S. defense budget is stolen by tax cheats." – Prof Galloway in Taxes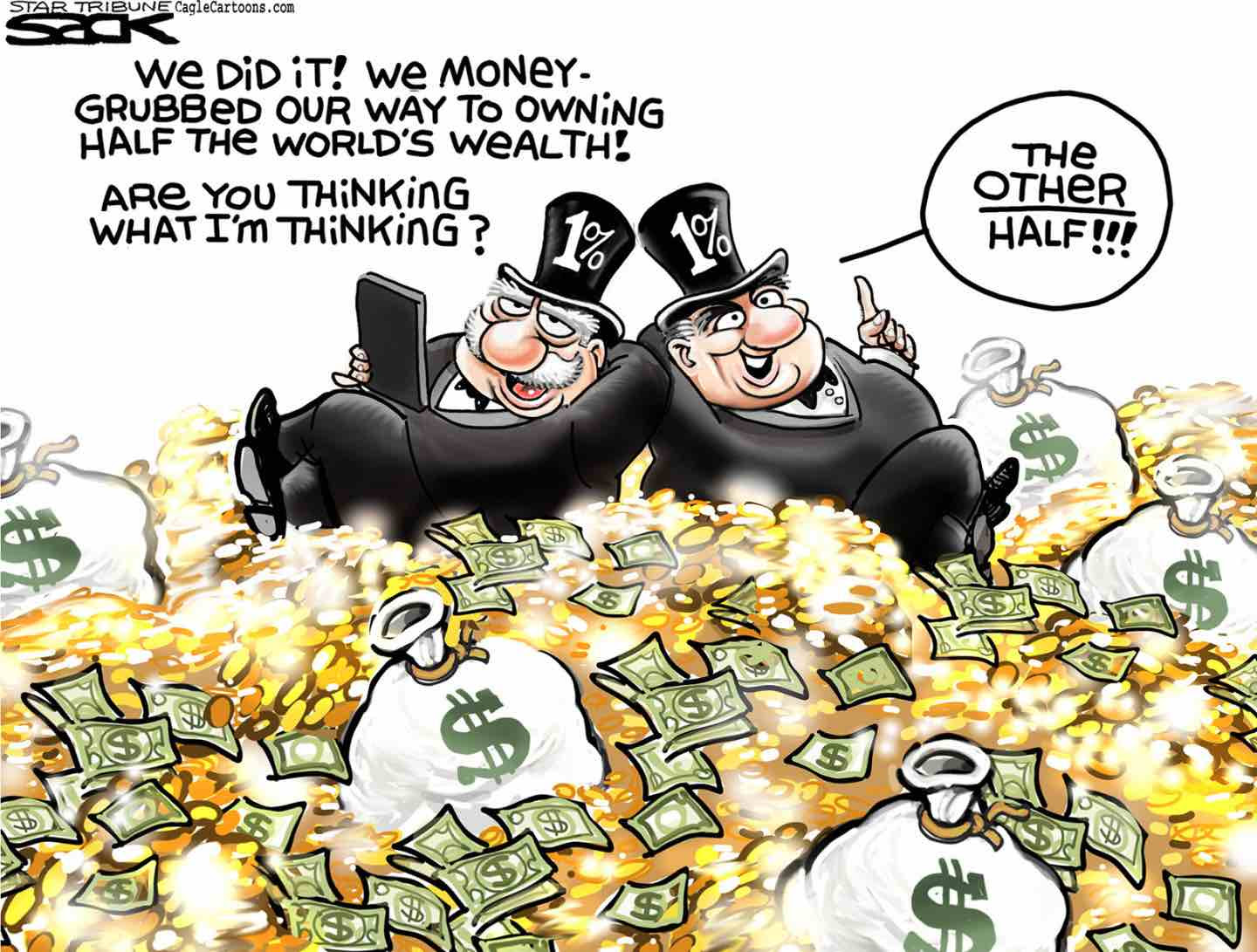 Wealthy tax cheats
"The lion's share of the problem lies in the tax returns of the wealthy, as that's where the money is. The top 5% of households by income lay claim to over a third of all income; the top 25%, two-thirds. And their income tax obligations make up the bulk of income taxes owed. One study by a team from the IRS and several leading universities found that 36% of evaded taxes are owed by just the top 1% of households." – Prof Galloway in Taxes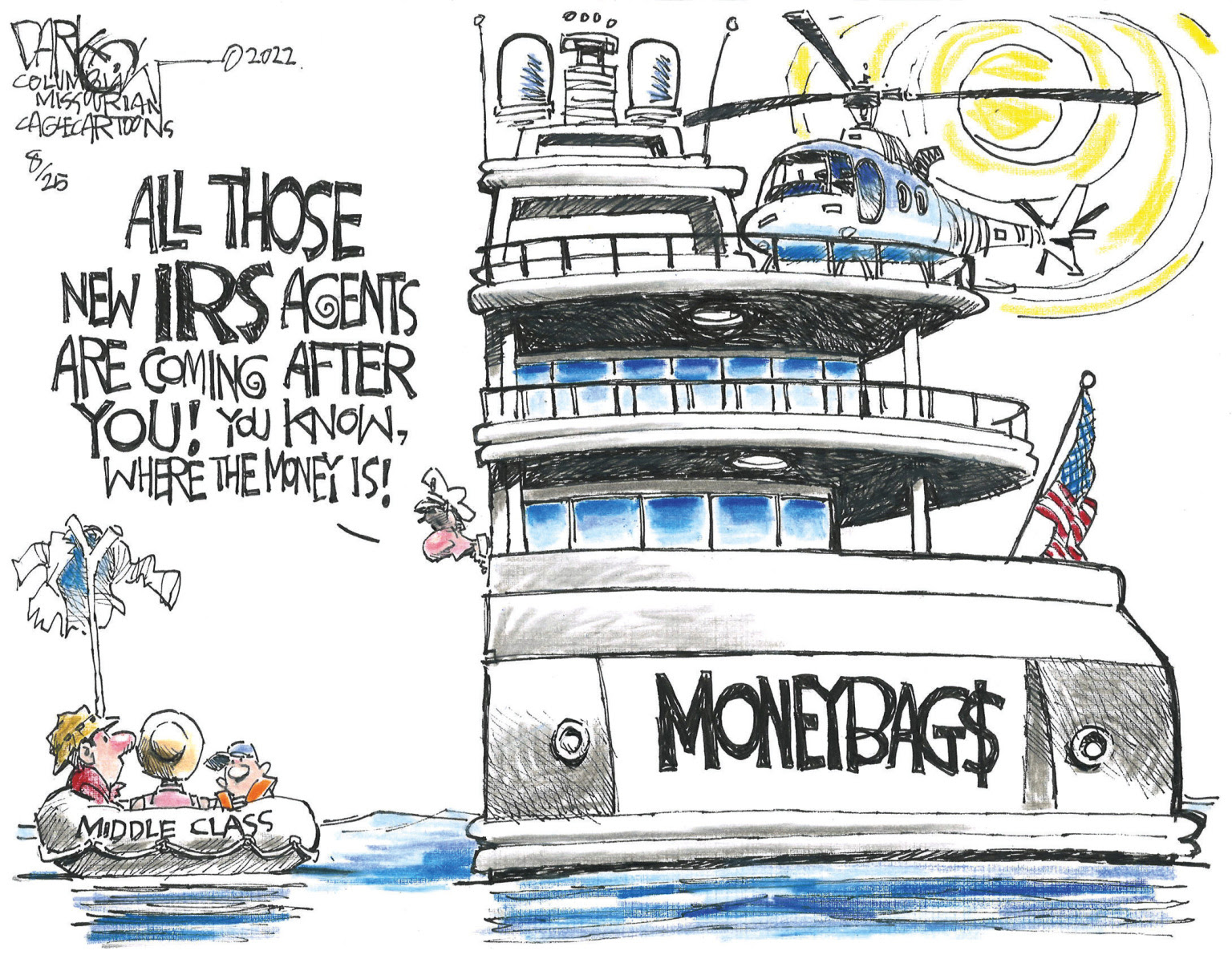 Crippling the IRS
"Demonizing the IRS gets votes. Especially Republican votes. From Reagan to Trump, the federal budget's relationship with the IRS has been an abusive one. The agency hasn't had enough money to do its job for years, which is reflected in its audit rates, now at all-time lows. For the wealthy, this is a feature, not a bug. Cutting the IRS's budget has effectively raised taxes on lower- and middle-income households, shifting the burden to fund the government from the wealthy to the less wealthy, even as debt stifles programs the less wealthy depend on." – Prof Galloway in Taxes
"The first legislative vote by the new House Republican majority scheduled for Monday evening, January 9, is to repeal nearly all of the $80 billion in new funding over ten years that was provided to the IRS in the Inflation Reduction Act last year. That $80 billion will increase federal revenue by $204 billion, for a net revenue increase of $124 billion." – Americans for Tax Fairness
What billionaire tax dodging costs regular Americans
Americans For Tax Fairness
Americans for Tax Fairness was established to help make the economy work for all — with adequate levels of investment in critical areas that create and sustain jobs and a balanced and equitable approach to decisions on the federal budget challenges we face. This requires raising sufficient revenues with everyone, including corporations, paying their fair share of taxes. Read more.
Support Americans for tax fairness
TakeAway: Vote for Democrats to make sure that everyone pays their fair share of taxes. Billionaires don't need a free ride.
Deepak
DemLabs
DISCLAIMER: ALTHOUGH THE DATA FOUND IN THIS BLOG AND INFOGRAPHIC HAS BEEN PRODUCED AND PROCESSED FROM SOURCES BELIEVED TO BE RELIABLE, NO WARRANTY EXPRESSED OR IMPLIED CAN BE MADE REGARDING THE ACCURACY, COMPLETENESS, LEGALITY OR RELIABILITY OF ANY SUCH INFORMATION. THIS DISCLAIMER APPLIES TO ANY USES OF THE INFORMATION WHETHER ISOLATED OR AGGREGATE USES THEREOF.
Reposted from Democracy Labs with permission.
---
DemCast is an advocacy-based 501(c)4 nonprofit. We have made the decision to build a media site free of outside influence. There are no ads. We do not get paid for clicks. If you appreciate our content, please consider a small monthly donation.
---