"Corporations are people too" said Mitt Romney. Let's hold them responsible for their actions and punish them just like other Americans.
Corporations have freedom of speech, thanks to a Republican packed Supreme Court. Corporations can give unlimited funds to politicians to get the laws they want thanks to the John Roberts Supreme Court.
You can be arrested for speeding, but a corporate exec can get away scott free for creating an environmental disaster that harms millions of Americans. Investors make billions from corporations and proclaim their ethics, but bear no responsibility for the harm they fund. How fair is that? It's time to start holding corporations accountable for their actions, just like any other criminal.
Follow the money, corporate execs and investors involved.
Which politicians got money from Norfolk Southern?
Who was behind getting train safety regulations watered down?
How big is the environmental disaster?
What role did making trains longer while cutting workers play in this?
Why was a reporter arrested while trying to report on the disaster?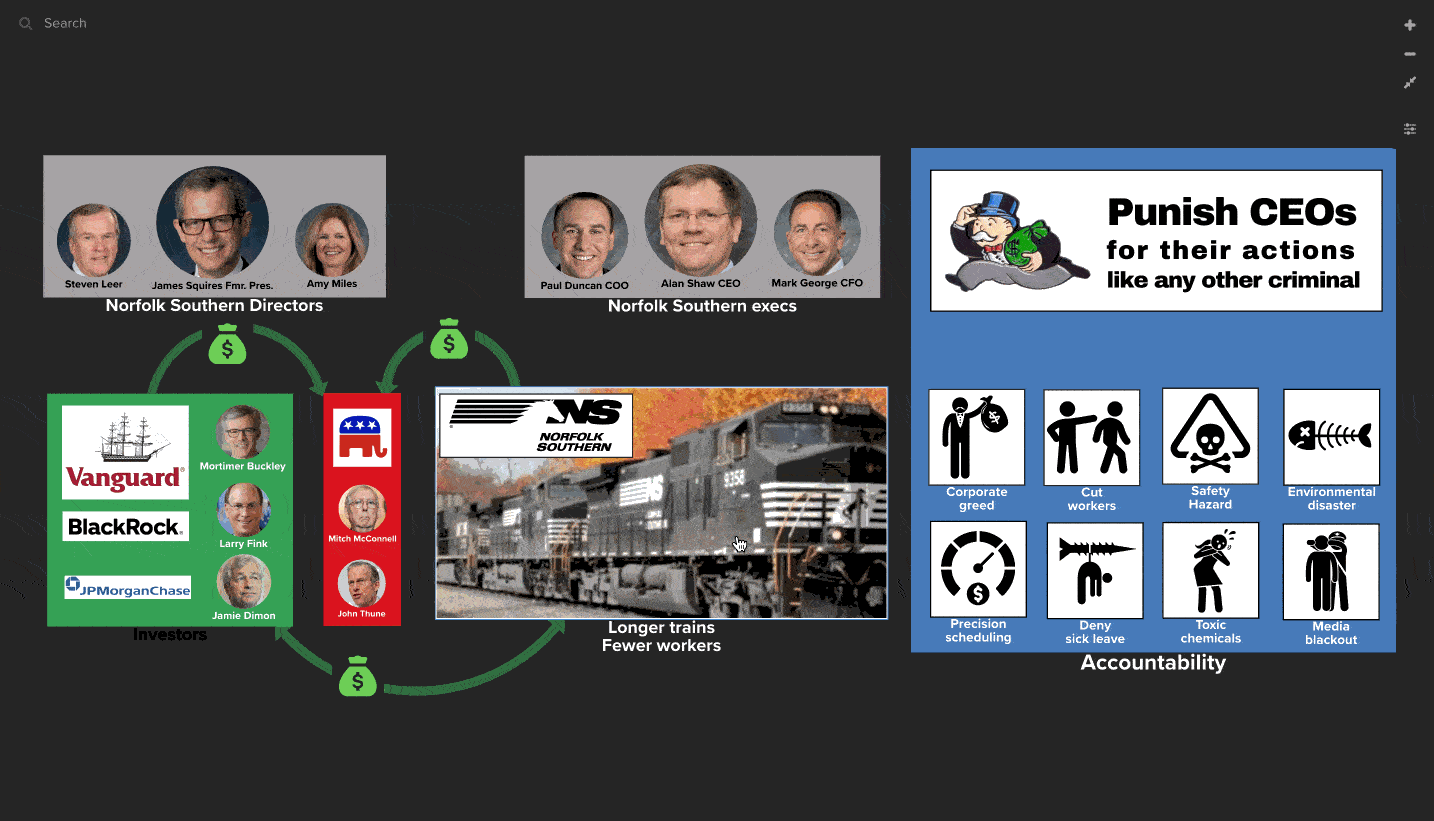 Corporate greed trumps safety
Freight rail has also become more dangerous because of fundamental changes to how companies like Norfolk Southern operate. Over the last five years, "22% of the jobs at railroads Union Pacific, CSX, and Norfolk Southern have been eliminated." Jobs were slashed as part of a broader cost-cutting system called "Precision Scheduled Railroading" that was pioneered by CSX and later implemented by Norfolk Southern and others. The system also involved increasing speeds and lengthening trains — with some trains stretching more than two miles.
There has also been a push to reduce the amount of time that the trains are not in motion, which means "the amount of time carmen have to inspect each car in a train has been reduced by more than half — from three minutes to just 60 seconds." The derailment in East Palestine was reportedly due to a "mechanical issue with a rail car axle."
Unions representing freight rail workers have warned for years that "with the stakes so high any time a train derails, the new system is risky."
Norfolk Southern has taken the higher profits from Precision Scheduled Railroading and used it to repurchase shares of its own stock — a practice that benefits executives and investors by increasing the price. In March 2022, Norfolk Southern announced a plan to spend $10 billion on stock buybacks. In 2021, Norfolk Southern CEO James A. Squires received $14 million in total compensation. About $9 million of Squires' compensation was paid in stock awards and options — assets that will likely increase in value as Norfolk Southern repurchases its shares. – Popular Info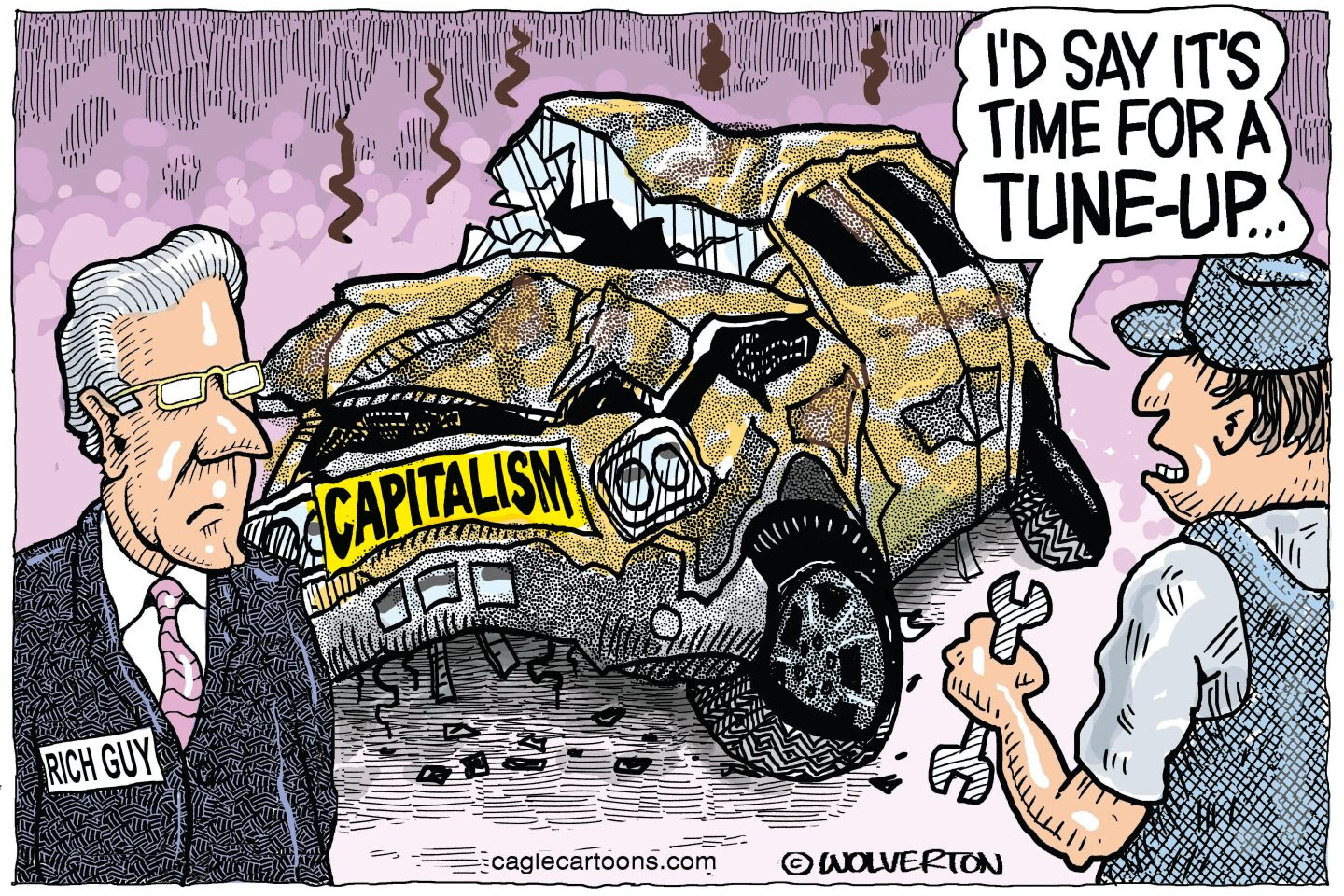 Big money exploits the little guy
Vanguard is a company that stands for something—something more important than market share, growth in assets, or industry leadership. We stand for stewardship.Vanguard shows up as a business leader, a steward in our communities, and a corporate citizen. We strive to uphold sustainable business practices that make us good stewards of the environment.The ethical standards, values, and investment principles to which we've adhered since our founding are solely designed to serve the interests of our clients, communities, and employees. Our Code of Ethics is built on our commitment to doing the right thing. – Vanguard Ethics
BlackRock. "Together with our clients, we're contributing to a more equitable and resilient world – today and for generations to come. We contribute to a more resilient economy that benefits more people. How can we empower investors to make better, safer decisions, and advocate for a financial system that is more inclusive and sustainable for all stakeholders." – Blackrock
J.P. Morgan Chase. We will work with fierce resolve to make this a company of which our customers, employees, shareholders and communities can be proud. From time to time, we may fall short in our efforts and if that happens, we will renew our commitment to these principles and re-double our efforts. What we can and will promise is to be truthful and give honest assessments of our businesses and prospects; act with integrity and honor; and do the right thing—not necessarily the easy or expedient thing. – JP Morgan Chase
TakeAway: Hold corporate execs and their investors accountable for their actions, just like other criminals.
Deepak
DemLabs
DISCLAIMER: ALTHOUGH THE DATA FOUND IN THIS BLOG AND INFOGRAPHIC HAS BEEN PRODUCED AND PROCESSED FROM SOURCES BELIEVED TO BE RELIABLE, NO WARRANTY EXPRESSED OR IMPLIED CAN BE MADE REGARDING THE ACCURACY, COMPLETENESS, LEGALITY OR RELIABILITY OF ANY SUCH INFORMATION. THIS DISCLAIMER APPLIES TO ANY USES OF THE INFORMATION WHETHER ISOLATED OR AGGREGATE USES THEREOF.
Resources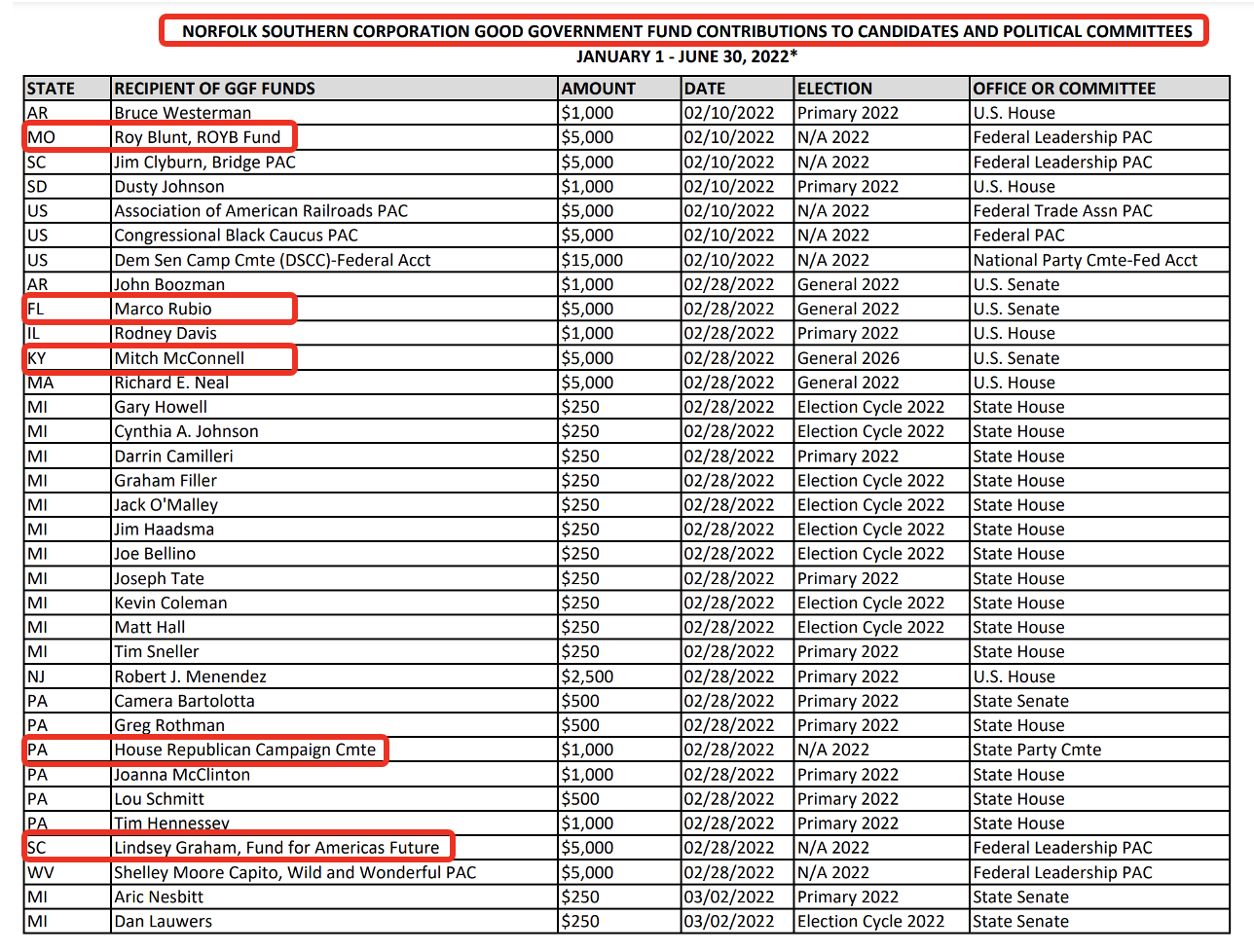 Reposted from Democracy Labs with permission.
---
DemCast is an advocacy-based 501(c)4 nonprofit. We have made the decision to build a media site free of outside influence. There are no ads. We do not get paid for clicks. If you appreciate our content, please consider a small monthly donation.
---