Toxic chemicals spread from the Norfolk Southern train derailment in Ohio.
Which way are the winds blowing the toxic fumes? Who is likely to be impacted? Who weakened train safety regulations? How much did the railroad lobby give Republicans? Who profits from loosened train safety regulations and slashing the number of railroad workers? Forget the talk about UFOs. Pay attention to the dark money political donations endangering American lives.
The derailment of a Norfolk Southern Railway train in eastern Ohio earlier this month has left some neighboring states concerned for their own residents' safety. Officials chose to conduct a controlled release of hazardous materials that were on board the 150-car train that derailed near East Palestine, Ohio, on February 3. The decision may have avoided a potential explosion at the crash site, but some of the harmful substances on board were released into the surrounding area… Nearby states have expressed concerns about how the release of hazardous materials may be impacting their own communities. – NewsWeek
Can you smell railroad political donations to Republicans in the air?
Just the facts
Who'll be hurt from the environmental disaster caused by the Norfolk Southern train derailment Near East Palestine in Ohio? Winds will determine which way toxic fumes will blow. Toxic chemicals are also spreading in streams and the Ohio river. It helps to know who is the proximity to assess the scope of an environmental disaster.
This map was created with ArcGIS Online using realtime weather data from the NOAA. "The wind speed and wind gust forecasts are depicted using different colors at 5 knots increment up to 115 knots. The legend includes tick marks for both knots and miles per hour. The same color scale is used for displaying the RTMA surface wind speed forecasts. The wind velocity is depicted by curved wind barbs along streamlines. The direction of the wind is indicated with an arrowhead on the wind barb. The flags on the wind barb are the standard meteorological convention in units of knots. The wind speed and wind velocity forecasts are available hourly out to +36 hours from 00:00 UTC on Day 1 (current day), at 3-hour intervals out to +72 hours, and at 6-hour intervals from +72 to +168 hours (7 days). The wind gust forecasts are available hourly out to +36 hours from 0000 UTC on Day 1 (current day) and at 3-hour intervals out to +72 hours (3 days)."
The map also includes a layer showing the Senators and how to get a hold of them with one click. The map is intended to help you get the facts and then call the politicians whose salaries your tax dollars pay for accountable, for their actions. Senators are paid $174,00 annually to represent your interests.
Political donations. Weakened safety regulations.
After rail industry donors delivered more than $6 million to GOP campaigns, the Trump administration — backed by rail lobbyists and Senate Republicans — rescinded part of that rule aimed at making better braking systems widespread on the nation's rails. – Lever News
In 2020, the Trump administration also authorized the transport of Liquefied Natural Gas (LNG) by rail–reversing a longstanding federal policy. According to one environmental group, "it would only take 22 tank cars to hold the equivalent energy of the Hiroshima bomb." Under federal guidelines, everyone within a one-mile radius of an accident involving LNG is advised to evacuate. But in a densely populated city, this recommendation is not "realistic." One proposal for an LNG port in New Jersey, for example, would have trains carrying flammable materials travel along Norfolk Southern rail lines and pass through Philadelphia neighborhoods. – Popular Info
"Republicans passed legislation to roll back safety regulation of the railroad industries. One provision would block a new Department of Transportation rule requiring that trains hauling crude oil are equipped with electronically controlled brakes that affect cars all at the same time, rather than sequentially. The bill calls for a study of the technology and puts off any regulatory mandate, which could delay implementation for years." – KTAR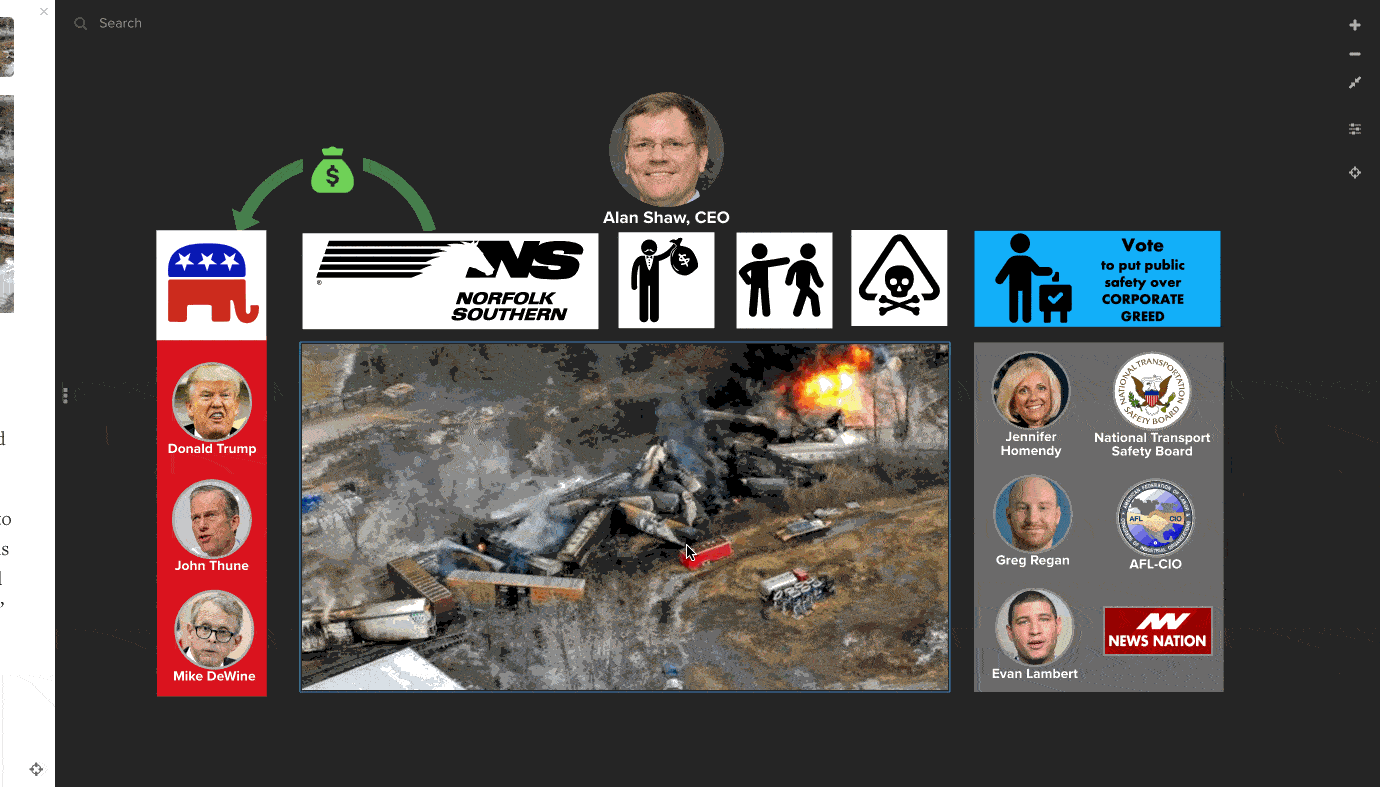 Corporate greed trumps safety
Freight rail has also become more dangerous because of fundamental changes to how companies like Norfolk Southern operate. Over the last five years, "22% of the jobs at railroads Union Pacific, CSX, and Norfolk Southern have been eliminated." Jobs were slashed as part of a broader cost-cutting system called "Precision Scheduled Railroading" that was pioneered by CSX and later implemented by Norfolk Southern and others. The system also involved increasing speeds and lengthening trains — with some trains stretching more than two miles.
There has also been a push to reduce the amount of time that the trains are not in motion, which means "the amount of time carmen have to inspect each car in a train has been reduced by more than half — from three minutes to just 60 seconds." The derailment in East Palestine was reportedly due to a "mechanical issue with a rail car axle." Unions representing freight rail workers have warned for years that "with the stakes so high any time a train derails, the new system is risky." – Popular Info
Environmental disaster. Corporate media silence.
The Ohio River, which serves over 10% of the US Population, has reportedly become contaminated due to chemicals from the East Palestine train derailment. The river supplies public drinking water to over 5 million people in addition to industries all the way to West Virginia, effecting over 30 million people who live in the Ohio River Basin. – RawsAlerts
TikTok becomes ground zero for toxic Ohio train derailment news as users push against 'media blackout'. Millions of people are now learning about world events from TikTok.
Fearing an explosion, Gov. Mike DeWine (R) ordered on Feb. 6 an "immediate evacuation in a one-mile by two-mile area surrounding East Palestine" while a "controlled release and burn of vinyl chloride in five cars" was conducted. Vinyl chloride, a colorless gas, is listed by the EPA as a Class A "known human carcinogen." Although residents have since been told that it is safe to return, many have reported seeing hundreds of dead fish as well as other dead animals. Fearing the issue was being overlooked, TikTok users such as entrepreneur and industrial designer Nick Drombosky have spearheaded coverage of the ongoing disaster. – Daily Dot
TakeAway: Hold politicians who endanger public safety for political accountable for their actions. Your life is worth more than their greed.
Deepak
DemLabs
Special thanks to Julia Bayer at esri for help with this map.
DISCLAIMER: ALTHOUGH THE DATA FOUND IN THIS BLOG AND INFOGRAPHIC HAS BEEN PRODUCED AND PROCESSED FROM SOURCES BELIEVED TO BE RELIABLE, NO WARRANTY EXPRESSED OR IMPLIED CAN BE MADE REGARDING THE ACCURACY, COMPLETENESS, LEGALITY OR RELIABILITY OF ANY SUCH INFORMATION. THIS DISCLAIMER APPLIES TO ANY USES OF THE INFORMATION WHETHER ISOLATED OR AGGREGATE USES THEREOF.
Read in browser »
Reposted from Democracy Labs with permission.
---
DemCast is an advocacy-based 501(c)4 nonprofit. We have made the decision to build a media site free of outside influence. There are no ads. We do not get paid for clicks. If you appreciate our content, please consider a small monthly donation.
---