Rail Companies Blocked Safety Rules Before Ohio Derailment – Lever News
Norfolk Southern helped convince government officials to repeal brake rules — and corporate lobbyists watered down hazmat safety regs.
Sen. John Thune (R-S.D.) — the Senate's third largest recipient of rail industry campaign cash — pushed to repeal the electronic braking rule outright, before settling for a measure requiring additional research and a new cost-benefit analysis of the technology. Under former President Donald Trump, the braking upgrades quickly became another casualty of his administration's slash-and-burn approach to regulatory policy. – Lever News
"A particular cause for concern were 14 giant tankers that were "exposed to fire" while full of hundreds of thousands of gallons of vinyl chloride. A chemical used in PVC, vinyl chloride is flammable, toxic, and a declared brain, lung, blood, and liver carcinogen. The federal government banned it from household spray cans in 1974. Breathing it "can make you dizzy or sleepy, or have a headache," a fact sheet released two days ago by the Ohio Department of Health alerts readers. "You can die from breathing extremely high levels of vinyl chloride." – Fast Company
Reporter arrested during Ohio Gov. Mike DeWine's East Palestine train derailment news conference – MSN
Rail companies making political donations to weaken safety regulations. Reporters being arrested while covering news of a train derailment. See how how corporate lobbying is a public health hazard with this infographic based on the article by Lever News.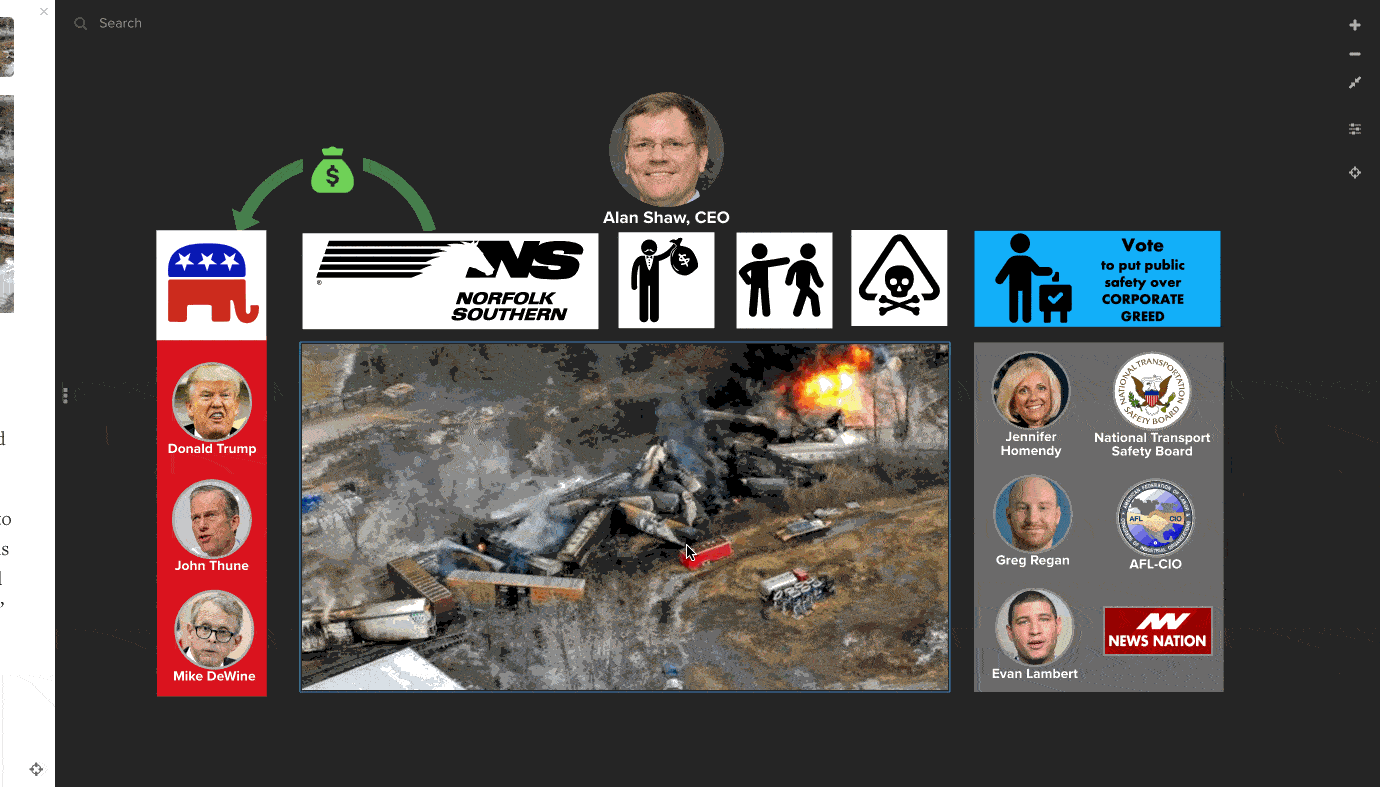 50 car pile up
"A train belonging to Norfolk Southern, one of America's leading rail operators, derailed near the Pennsylvania border, leaving what the Associated Press called "a mangled and charred mass of boxcars and flames" just outside the village of East Palestine, home to about 5,000 people. The crash created a 50-car pileup—half the train's length. According to Norfolk Southern, a fifth of the cars were carrying hazardous materials." – Fast Company
Norfolk Southern train derailment in East Palestine, Ohio
"Before this weekend's fiery Norfolk Southern train derailment prompted emergency evacuations in Ohio, the company helped kill a federal safety rule aimed at upgrading the rail industry's Civil War-era braking systems, according to documents reviewed by The Lever. Though the company's 150-car train in Ohio reportedly burst into 100-foot flames upon derailing — and was transporting materials that triggered a fireball when they were released and incinerated — it was not being regulated as a "high-hazard flammable train," federal officials told The Lever." – Lever News
Corporate profits over public safety
Instead of investing in the safety feature, the seven largest freight railroad companies in the U.S., including Norfolk Southern, spent $191 billion on stock buybacks and shareholder dividends between 2011 and 2021, far more than the $138 billion those firms spent on capital investments in the same time period.
The same companies also slashed their workforces by nearly 30 percent in that timeframe as part of what they called "precision scheduled railroading." Such staffing cuts are likely contributing to safety issues in freight railways. In a recent investor presentation, Norfolk Southern disclosed an increase in train accidents over the past three consecutive years.
"The massive reduction in the workforce, attendance policies that encourage people to come to work when they're sick or exhausted, lack of access to [paid] leave, the stress that is constantly put on workers because of how lean the workforce has become, it creates a negative culture in terms of safety," Greg Regan, president of the Transportation Trades Department of the AFL-CIO, told The Lever. – Lever News
Exploiting workers
Greg Regan, president of the AFL-CIO's Transportation Trades Department coalition, said he worries the chances of a catastrophic derailment are increasing because major freight railroads have eliminated roughly one-third of their workers over the past six years. Companies have shifted to running fewer, longer trains and say they don't need as many crews, mechanics and locomotives.
Before those operating changes, Regan said inspectors used to have about two minutes to inspect every railcar. Now they only get roughly 30 to 45 seconds to check each car. Signalmen who maintain crossing guards and safety signals along the tracks also have bigger territories, making it harder to keep up with preventative maintenance. "They're really just trying to squeeze as much productivity out of these workers as they can," Regan said. "And when you're focused on timing and rushing, unfortunately sometimes things can fall through the cracks." – Orlando Sentinel
TakeAway: Vote for public safety, workers rights and corporate accountability. Vote for Democrats.
Deepak
DemLabs
DISCLAIMER: ALTHOUGH THE DATA FOUND IN THIS BLOG AND INFOGRAPHIC HAS BEEN PRODUCED AND PROCESSED FROM SOURCES BELIEVED TO BE RELIABLE, NO WARRANTY EXPRESSED OR IMPLIED CAN BE MADE REGARDING THE ACCURACY, COMPLETENESS, LEGALITY OR RELIABILITY OF ANY SUCH INFORMATION. THIS DISCLAIMER APPLIES TO ANY USES OF THE INFORMATION WHETHER ISOLATED OR AGGREGATE USES THEREOF.
Read in browser »
Reposted from Democracy Labs with permission.
---
DemCast is an advocacy-based 501(c)4 nonprofit. We have made the decision to build a media site free of outside influence. There are no ads. We do not get paid for clicks. If you appreciate our content, please consider a small monthly donation.
---