TONIGHT: Police District Councils – Your Vote Matters
People in Chicago have a new opportunity to exert community control of the police, and our votes in next month's election will make a difference.

Tomorrow – Tuesday, January 31st, 7:00-9:00 pm – attend our online session Your Vote for City Council: Toward Community Control of Police. RSVP here for our Jan 31 event.
The info session will open with a teach-in on the ECPS ordinance by Frank Chapman of CAARPR, including an explanation of the role of the newly established police District Councils. Then we'll hear from the four candidates running for the three seats on the District Council in the 2nd police district: Coston Plummer, Julia Kline, Ephraim Lee, Alexander J. Perez. RSVP here.
NOTES:
Under the Empowering Communities for Public Safety (ECPS) ordinance, citizens in each of Chicago's 22 police districts will be choosing 3 council members to represent the community on their newly established District Council. In short, each of Chicago's 22 District Councils will have 3 council members representing the community in their police district.
If you're in Bronzeville, Douglas, Hyde Park, Kenwood, or Woodlawn, you're likely in the 2nd police district. Check your police district here – IMPORTANT: be sure to find the DISTRICT number, not "area" number.
Even if you don't live in the 2nd police district, our info session will still have important information for you about the ECPS ordinance and the election.
Make a Difference in Wisconsin, for Democracy
In the fight for democracy, Wisconsin is the front line. To move toward fair elections and hold back MAGA plans in the state, Wisconsin needs to flip the Wisconsin Supreme Court from conservative to progressive (Judges Everett Mitchell or Janet Claire Protasiewicz).
The non-partisan primary is on February 21, and the top two vote-getters go on to the Wisconsin general election April 4. YOU can help Wisconsin get out the progressive vote. Check out the following opportunities from WisDems.
Wisconsin 2023 Election Activities – Which Will You Choose?
Watch Recording: 2023 Indivisible Guide
LET'S DEFEAT MAGA.
1. Read the new Indivisible Guide for 2023.
2. Watch the recording of national Indivisible's 1/26/23 launch call here. (And get the slides here.)
To be ready for 2024, Indivisible says we must keep exposing MAGA extremism.
See the new Guide & watch Meagan Hatcher-Mays & other Indivisible leaders on the launch call.
Candidate Forums for City Elections
Chicago's municipal Election Day is February 28, but early voting has already begun downtown and will begin across the city on Feb 13. While IC-SS won't be making endorsements, we'll help you get the info you need to cast your ballot.
Mayoral Forums – In Person or Virtual
Here are opportunities to see the mayoral candidates from your home or in person.
Recorded Mayoral Forums
In-Person Mayoral Town Hall
Attend an in-person mayoral town hall in Beverly, presented by Illinois 123GO.
What: Illinois 123GO Mayoral Town Hall (in person)
When: Friday, Feb. 3rd; 6:00 fellowship hour + 7:00 pm town hall
Where: Bethany Union Church, 1750 W. 103rd St (accessible entrance on Wood St.)
Who: Brandon Johnson, Chuy Garcia, Kam Buckner, Mayor Lori Lightfoot, Paul Vallas, Roderick Sawyer, Sophia King
RSVP: Register here
City Council Forums
Find out about upcoming forums for various wards at this page of the website League of Women Voters of Chicago. And see below for recorded or live forums for the 4th and 5th wards:
5th Ward Forums – Recordings & Reports
Missed recent 5th ward forums? Watch the recordings here:
From Obama CBA Coalition and Not Me We, Jan 22: watch
From Save Jackson Park, Jan. 15: watch
4th Ward – Aldermanic Forum, Thurs., Feb. 9th
On Thursday, Feb. 9th, 6:00-8:30 pm, attend the 4th Ward Aldermanic Forum in person at Grace Place in the South Loop (637 S. Dearborn). The event will also be livestreamed on Facebook. All 7 candidates have agreed to speak. (Scroll to full list of 4th ward candidates here.) Tickets to the forum are free, but you must RSVPat this registration page.

Forum organizers include Grace Episcopal Church, Indivisible Downtown Chicago, League of Women Voters, and South Loop Neighbors.
Resources for You, the Voter
As a Chicagoan, you'll be voting for multiple races in the municipal election. Cast your ballot now through February 28 (Election Day).
Here are resources we've compiled for you:
Organizations and Opportunities
Indivisible Chicago-South Side shares information and action announcements from other organizations on issues important in our country, state, city, and communities.
---
Neighbors Who Vote: Feb Meeting Hosts Yvette Loizon
Neighbors Who Vote (NWV) shares the following flyer with information about their February meeting.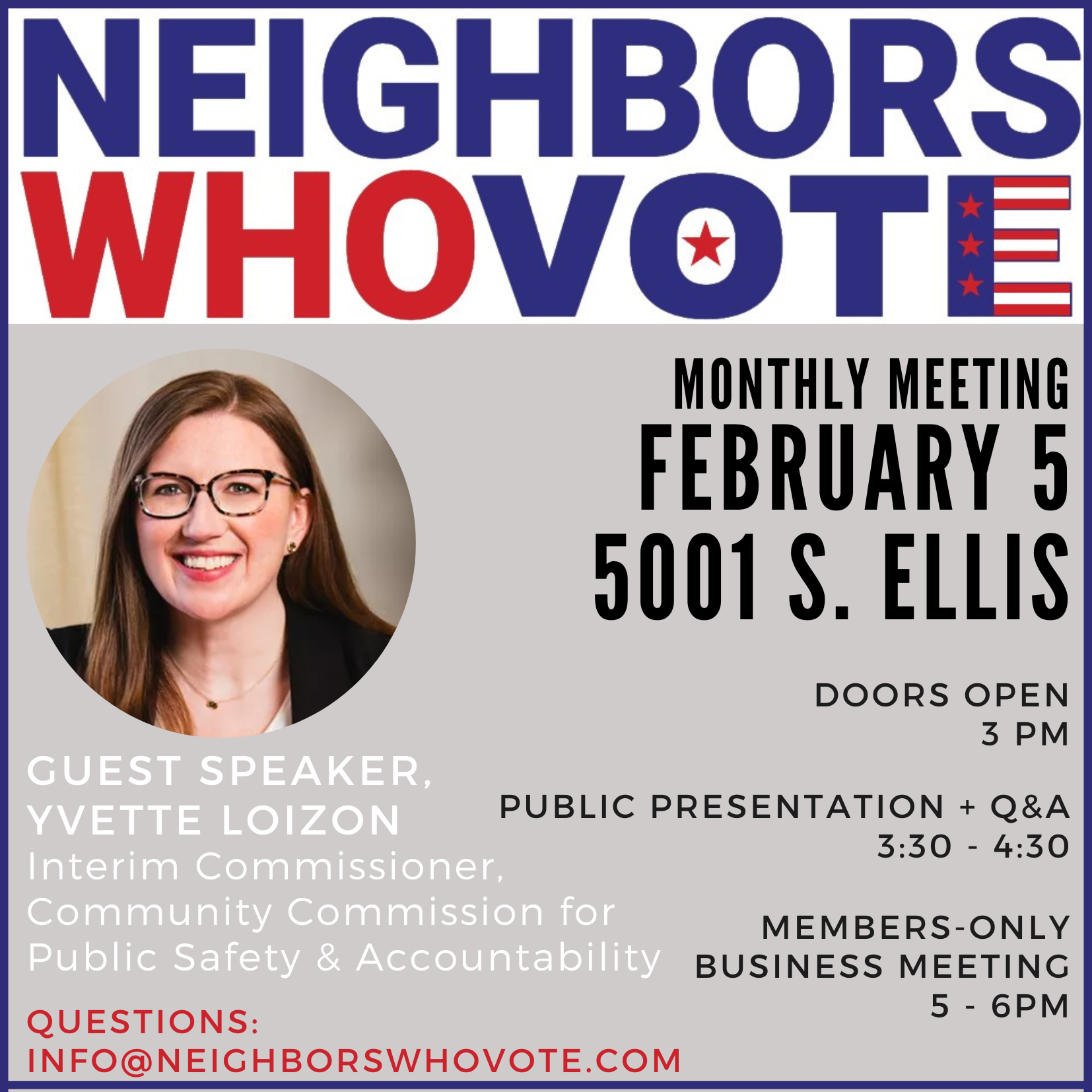 NWV Monthly Meeting: Sunday, February 5th at 5001 S. Ellis

Doors open 3:00 pm
Public presentation 3:30-4:30
Members-only business meeting 5:00-6:00 pm

Guest Speaker: Yvette Loizon, Interim Community Commissioner, Community Commission for Public Safety & Accountability (CCPSA)
Questions: info@NeighborsWhoVote.com
Support for Pretrial Fairness Filed with IL Supreme Court
No one should be jailed for being poor. We hope that the Illinois Supreme Court will swiftly rule that the Pretrial Fairness Act is constitutional.
Summarized from the Coalition to End Money Bond: Last week, the Illinois Network for Pretrial Justice and more than 400 signers filed an amicus brief supporting the Pretrial Fairness Act.
The brief supports IL Attorney General Kwame Raoul's appeal of a Kankakee County Judge's ruling that sided with 58 State's Attorneys and sheriffs suing Illinois leadership over the end of money bond.
The amicus brief presents social science research and other evidence rebutting two false premises underlying the Circuit Court's ruling: (1) that ending money bond threatens public safety, and (2) that requiring people to pay money bonds accomplishes any legitimate purpose of pretrial release.
More than 400 organizations and individual faith leaders, professors, and elected officials signed onto the amicus brief defending the Pretrial Fairness Act.
Get more info about the amicus brief from the Coalition to End Money Bond:
Indivisible Chicago-South Side, Indivisible Lakeview-Lincoln Park, and Indivisible Chicago Alliance were among the signers on the amicus. Thanks to Lori Ashikawa of Illinois Network for Pretrial Fairness, Nikkei Uprising, and Indivisible IL 9 for bringing the amicus to our attention.
Indivisible Chicago-South Side
Email: Indiv.Chi.South@gmail.com
Follow IC-SS on Facebook, Twitter, Mastodon, Post
Co-Leaders: Sarah Lincoln, Esther Peters,
Betsy Rubin, Teri Watkins
About: Group & Co-Leader Statements
---
DemCast is an advocacy-based 501(c)4 nonprofit. We have made the decision to build a media site free of outside influence. There are no ads. We do not get paid for clicks. If you appreciate our content, please consider a small monthly donation.
---