Talking-head videos engage more viewers.
How can groups with small budgets, few technical skills and tight deadlines create videos with talking heads? DemLabs volunteers created two 25 second about Banning Cash Bail with the Synthesia app on a MacBook in four hours.
The background includes both images and video clips from the app
The video include highlights and close captions
The video ends with a call to action of calling your Senator to End Cash Bail
Ban cash bail
"The cash bail system criminalizes poverty, as people who are unable to afford bail are detained while they await trial for weeks or even months. Cash bail perpetuates inequities in the justice system that are disproportionately felt by communities of color and those experiencing poverty. Spending even a few days in jail can result in people losing their job, housing, and even custody of their children. Studies show that pretrial detention can actually increase a person's likelihood of rearrest upon release, perpetuating an endless cycle of arrest and incarceration. The cash bail system often leads to the detention of people who do not pose a threat to public safety." – American Progress
How to make 'talking head' videos
These videos are entirely computer generated and did not require a spokesperson, camera or studio. A simple script was created and overlaid with visual chosen from the free Synthesia library of images and video clips.
Cash bail frees the rich before a trial but jails the poor.
The rich stay out of jail before their hearings by paying bail.
The poor who are mostly Black or Brown, can't afford bail and end up in jail.
Justice shouldn't be something you buy.
It's time to make the justice system work for everyone, not just the rich.
Two avatars speaking English and Spanish were chosen to appeal to different audiences. The avatars speaking and mannerisms are automatically generated by the app.
DemLabs evaluates affordable, innovative technology that can be used to message issues for social justice and voting rights. We share what we learn freely. Request pro bono help here.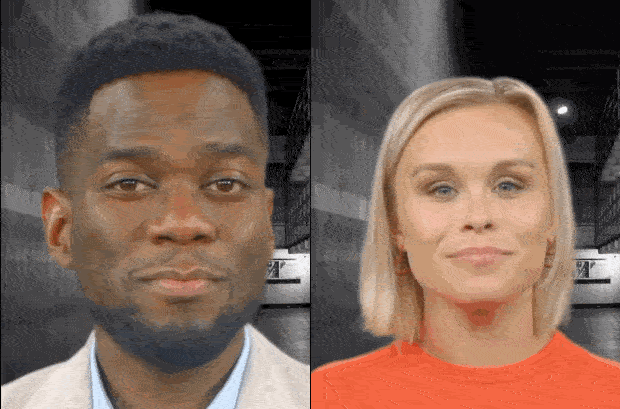 Preventing misuse of video creation technology
"Traditionally, content creation platforms do not moderate what you can create and what you can't. Anyone can open up Photoshop, Word, PowerPoint or any game engine like Unreal or Unity and create whatever they would like, even the most hateful and vile content. Synthesia takes a different approach and polices what content you can and cannot create. Customers don't get access to the underlying AI technology.
Their terms of service outline the allowed content standards. They don't want profanity and hate speech on their platform. This type of content gets filtered out automatically and warns a member of our content moderation team who will take the appropriate action. Their approach involves both machine moderation, and manual, human reviews." – Synthesia
Communicate better to spread the truth
"A lie can travel halfway around the world before the truth puts on its shoes" – Mark Twain.
"Fox is America's central clearinghouse for hateful conspiracies… Black people want to steal everything for which you've worked so hard. The problem with Fox isn't just what it puts on its airwaves, but the impact it has on others. It pressures the corporate media to give credibility to its lurid fairy tales. It provides oxygen to the even more paranoid fantasists to its right, turning individuals into stars and other outlets into sustainable projects. And amazingly, Fox has nonetheless managed to present itself as a normal news outlet… mimicking the form with radically different content." – The Intercept
How can small groups get their message heard in such a lop sided battle with billionaire owned media outlets? Technology can be an equalizer. Experiment with new, innovative technologies to reach more people helps. Businesses spend millions to improve their sales, advertising and training. Leverage the same tools for nonprofit advocacy. It's fast, easy and affordable.
TakeAway: Innovate!
Deepak
DemLabs
DISCLAIMER: ALTHOUGH THE DATA FOUND IN THIS BLOG AND INFOGRAPHIC HAS BEEN PRODUCED AND PROCESSED FROM SOURCES BELIEVED TO BE RELIABLE, NO WARRANTY EXPRESSED OR IMPLIED CAN BE MADE REGARDING THE ACCURACY, COMPLETENESS, LEGALITY OR RELIABILITY OF ANY SUCH INFORMATION. THIS DISCLAIMER APPLIES TO ANY USES OF THE INFORMATION WHETHER ISOLATED OR AGGREGATE USES THEREOF.
Read in browser »
Reposted from Democracy Labs with permission.
---
DemCast is an advocacy-based 501(c)4 nonprofit. We have made the decision to build a media site free of outside influence. There are no ads. We do not get paid for clicks. If you appreciate our content, please consider a small monthly donation.
---