A right wing billionaire with Saudi investors who knows where you went and what you said to whom? Can you trust Musk with your personal data?
Connect the dots for yourself with this power map. Follow the money and the data.
Follow the money and the data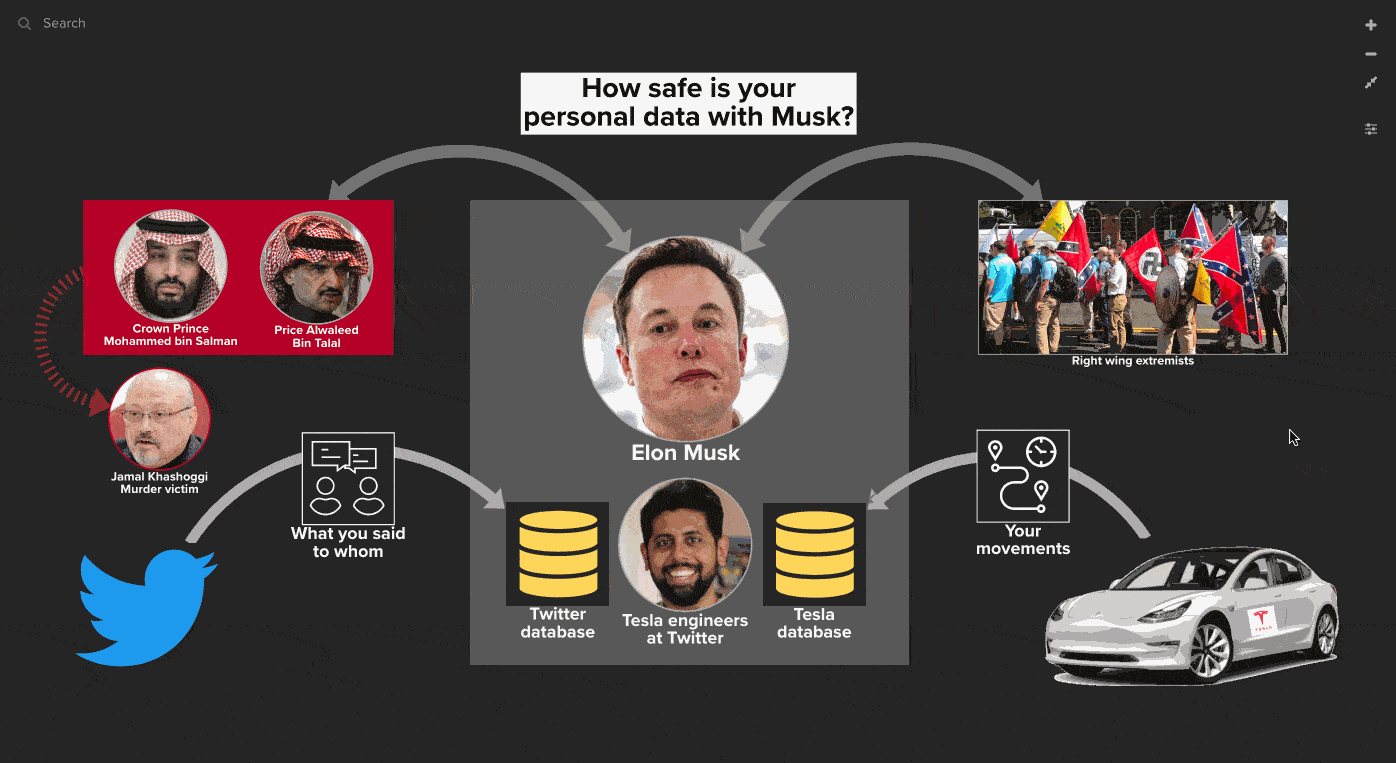 Misused personal data can be fatal
'A direct trail of blood drops' leads from a Twitter hack to Jamal Khashoggi's murder. The FBI first informed Twitter executives of the scheme in late 2015. And yet seven months later, the company's CEO, Jack Dorsey, met with MBS during his "charm offensive" tour of the United States. In the preceding months, another Saudi royal, Prince Alwaleed bin Talal — the fabulously wealthy Saudi had upped his stake in Twitter to $350 million.
That made him and his company, Kingdom Holding Company, one of the five biggest shareholders in the U.S.-based social media giant. All the more reason for Dorsey to stay on the Saudis' good side, as was clearly visible when the Twitter founder met the Saudi crown prince in New York, says Kleiman, Abdulaziz's lawyer. – Yahoo
Protect your privacy
Tesla collects a lot of information about you. So does Twitter. Musk has a handpicked team of Tesla engineers at Twitter. What does this mean for your data privacy? Especially with major foreign investors and right wing extremists flooding back onto Twitter? What data safe guards are in place to protect your privacy especially after Musk has purged most of the security engineers at Twitter? Your data in the wrong hands can have tragic consequences…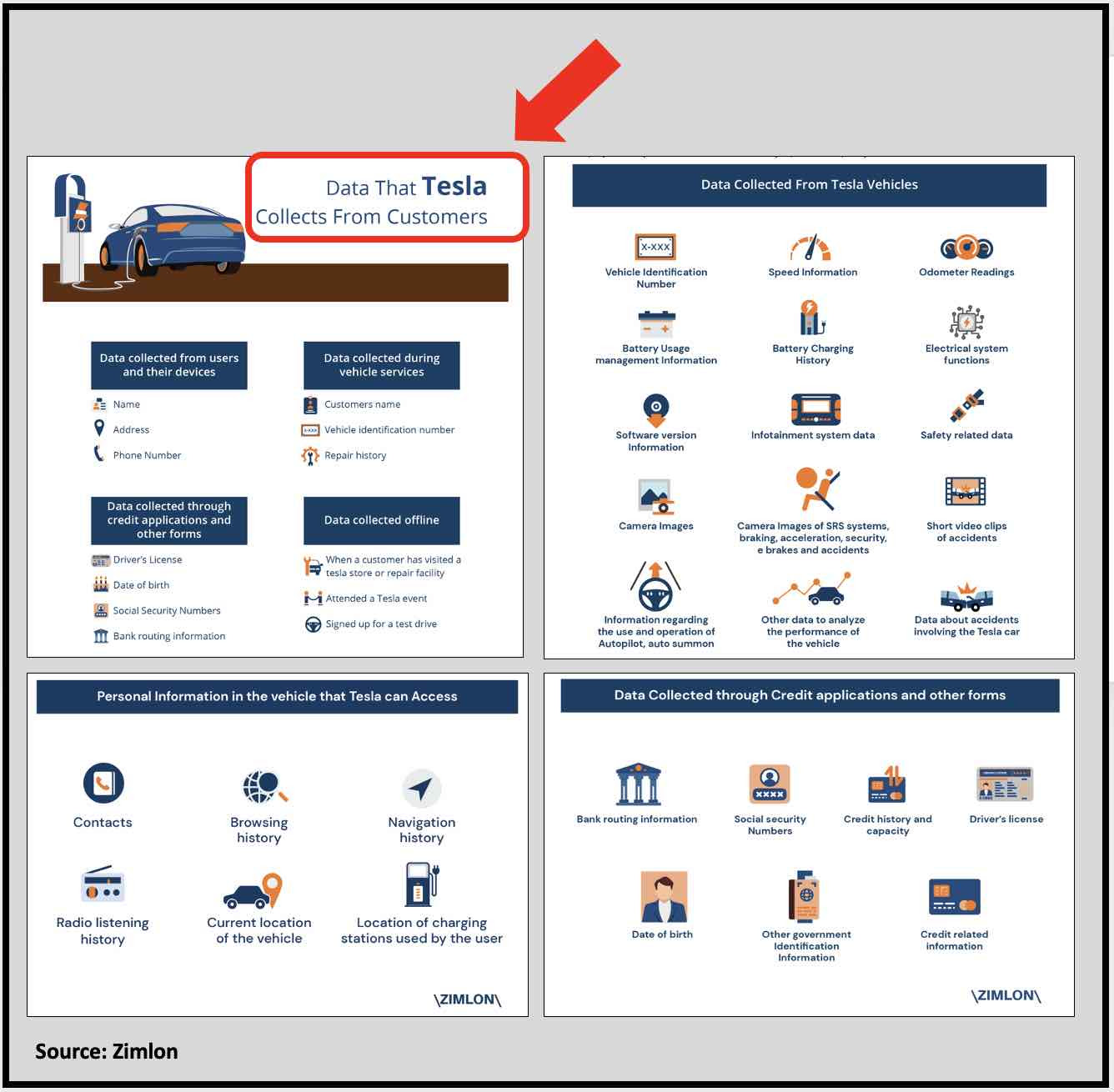 Every mile driven by a Tesla vehicle generates a trove of information that can reveal as much about you as about your car. The data they collect could include your vehicle's location and your car's personal settings, such as contacts you've synced from your phone, addresses you've plugged into the navigation system, and even your favorite radio stations. Tesla collects more information than most carmakers. – Axios
It knows your speed. Your mileage, and where and when you charge the battery.
Airbag deployments, braking and acceleration
Whether you have your hands on the wheel when Autopilot is engaged
Teslas use cameras and other sensors to log every detail about what they encounter while driving, even when Autopilot is turned off.
Short video clips from the car's external cameras
Tesla says the video snippets are not linked to the car's vehicle identification number, and there is no way to search its database for clips associated with a specific car. Information collected by one vehicle can easily be shared with others.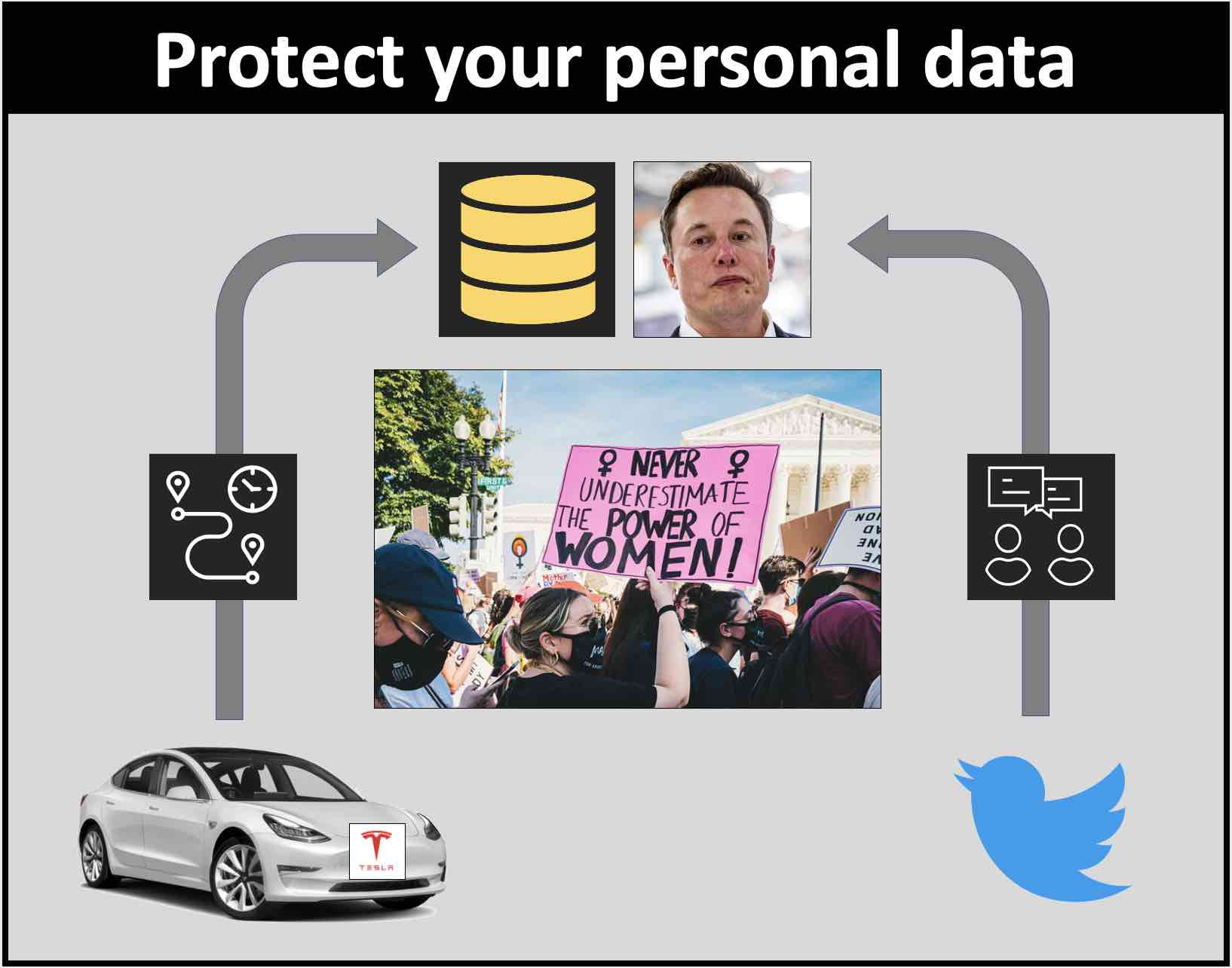 The danger of misused private data
Say for instance in a purely hypothetical scenario, you drive your Telsa to a rally to protect women's rights with friends. Your Tesla transmits your location to the cloud along with photos of people traveling with you and photos of people around your car.
You tweet a photo of the rally to friends on Twitter. Musk knows what you are saying and who you communicated with. How is that information being used? Who is it being shared with? Should you get a car made by someone other than a right wing billionaire indebted to a foreign government?
Take Away: Don't let right wing billionaires exploit your personal data for their political agenda.
Deepak
DemLabs
DISCLAIMER: ALTHOUGH THE DATA FOUND IN THIS BLOG AND INFOGRAPHIC HAS BEEN PRODUCED AND PROCESSED FROM SOURCES BELIEVED TO BE RELIABLE, NO WARRANTY EXPRESSED OR IMPLIED CAN BE MADE REGARDING THE ACCURACY, COMPLETENESS, LEGALITY OR RELIABILITY OF ANY SUCH INFORMATION. THIS DISCLAIMER APPLIES TO ANY USES OF THE INFORMATION WHETHER ISOLATED OR AGGREGATE USES THEREOF.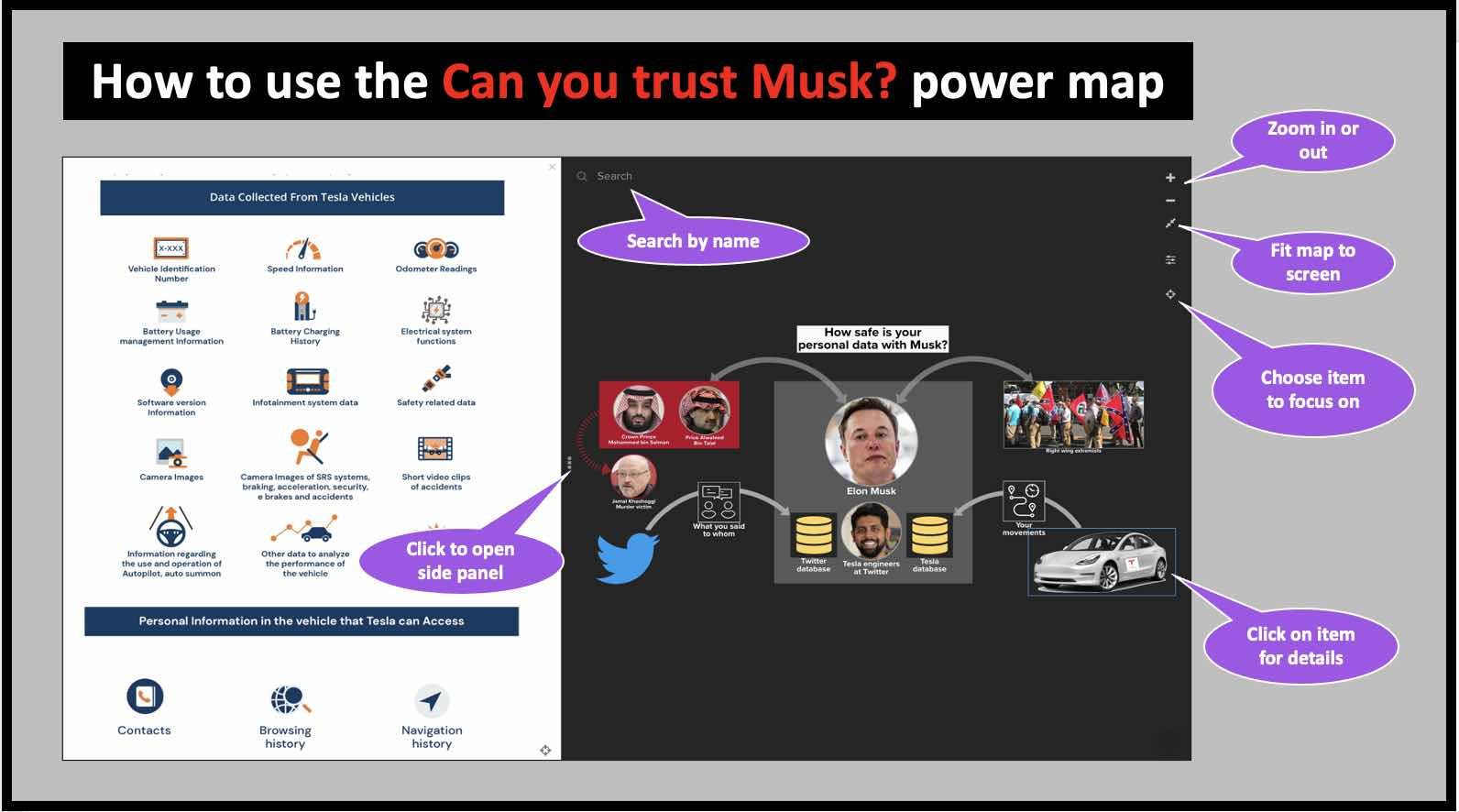 Visually speaking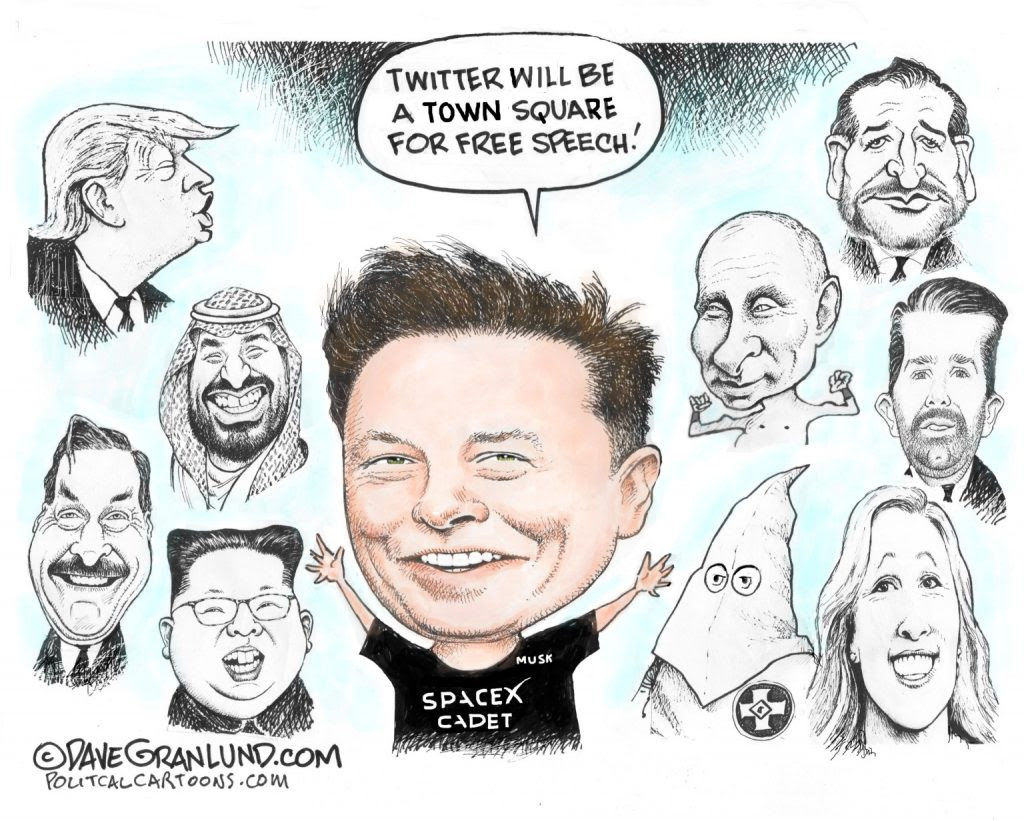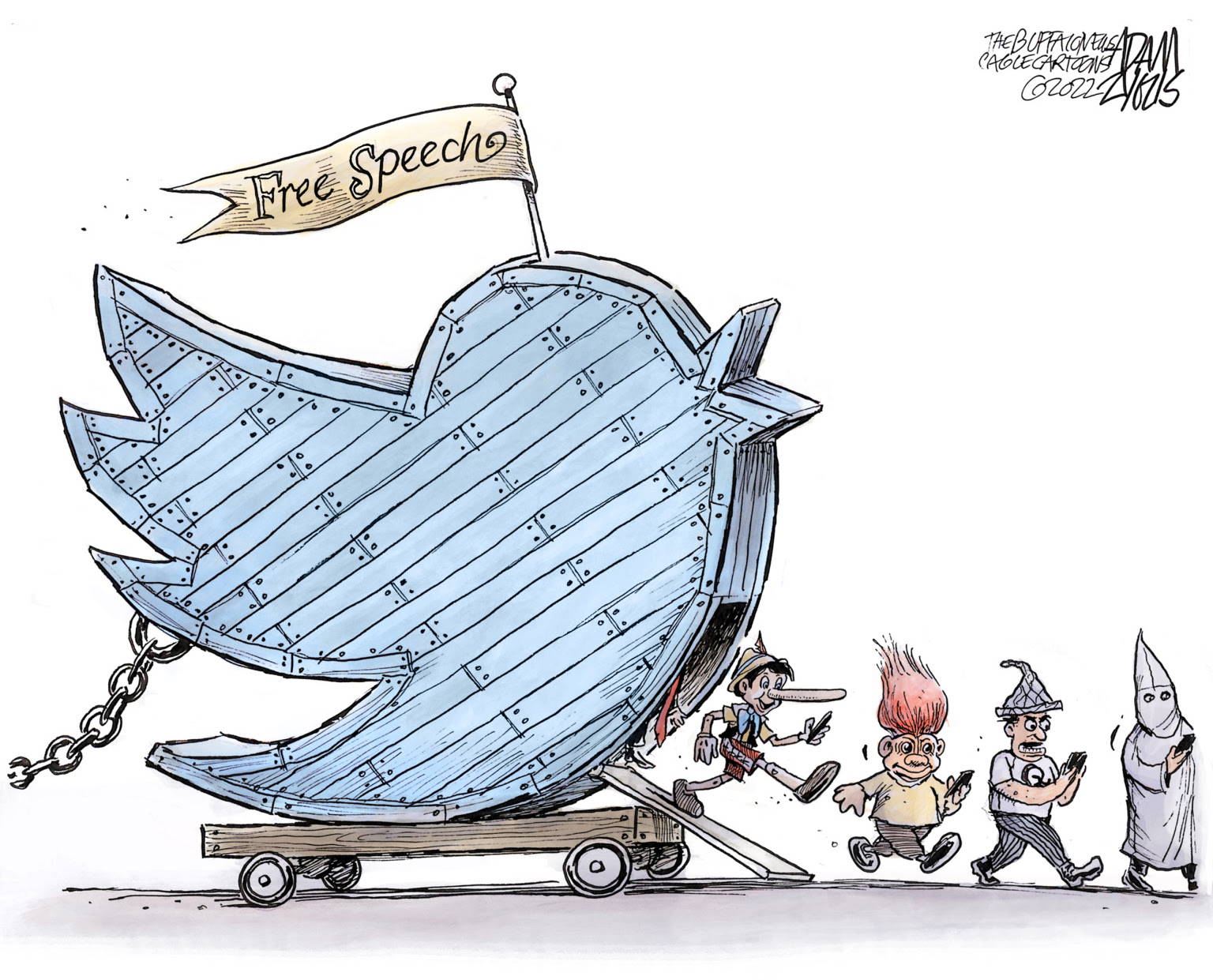 Reposted from Democracy Labs with permission.
---
DemCast is an advocacy-based 501(c)4 nonprofit. We have made the decision to build a media site free of outside influence. There are no ads. We do not get paid for clicks. If you appreciate our content, please consider a small monthly donation.
---