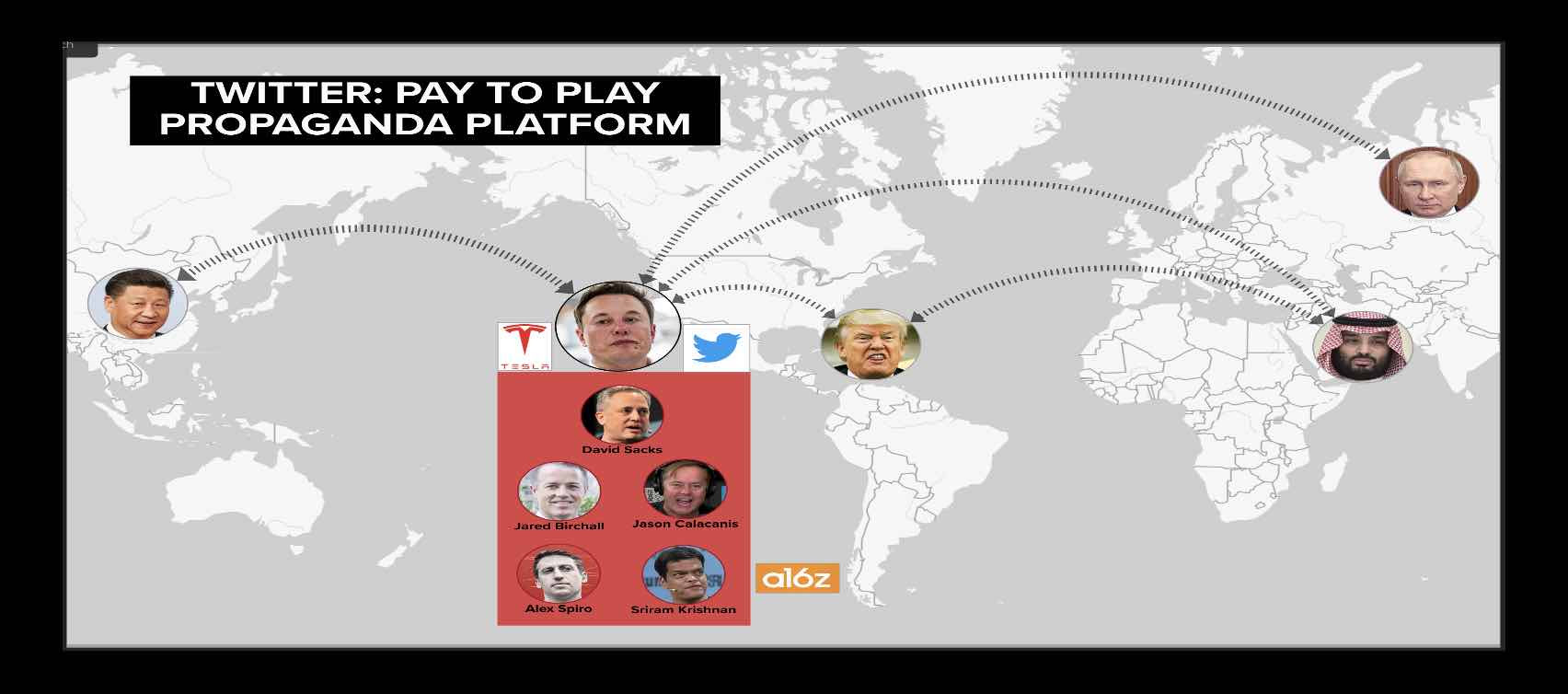 What does $44 billion get you? A pay to play propaganda platform that dictators love! Follow the money.
The Saudis bankroll Musk's purchase of Twitter making them its second largest investor. China is Tesla' second largest market and gets preferred treatment. Musk pleases Putin by proposing the Ukrainians negotiate with him...
How do you make friends and influence people these days? Buy a social media platform. Do away with content moderation. Plenty of dictators will want to be your friend…
President Biden says Elon Musk's relationships with other countries are worth looking into. "Elon Musk's cooperation and/or technical relationships with other countries is worthy of being looked at. Whether or not he is doing anything inappropriate — I'm not suggesting that. I'm suggesting it's worth being looked at and that's all I'll say," said President Biden – CNBC
How to make friends with dictators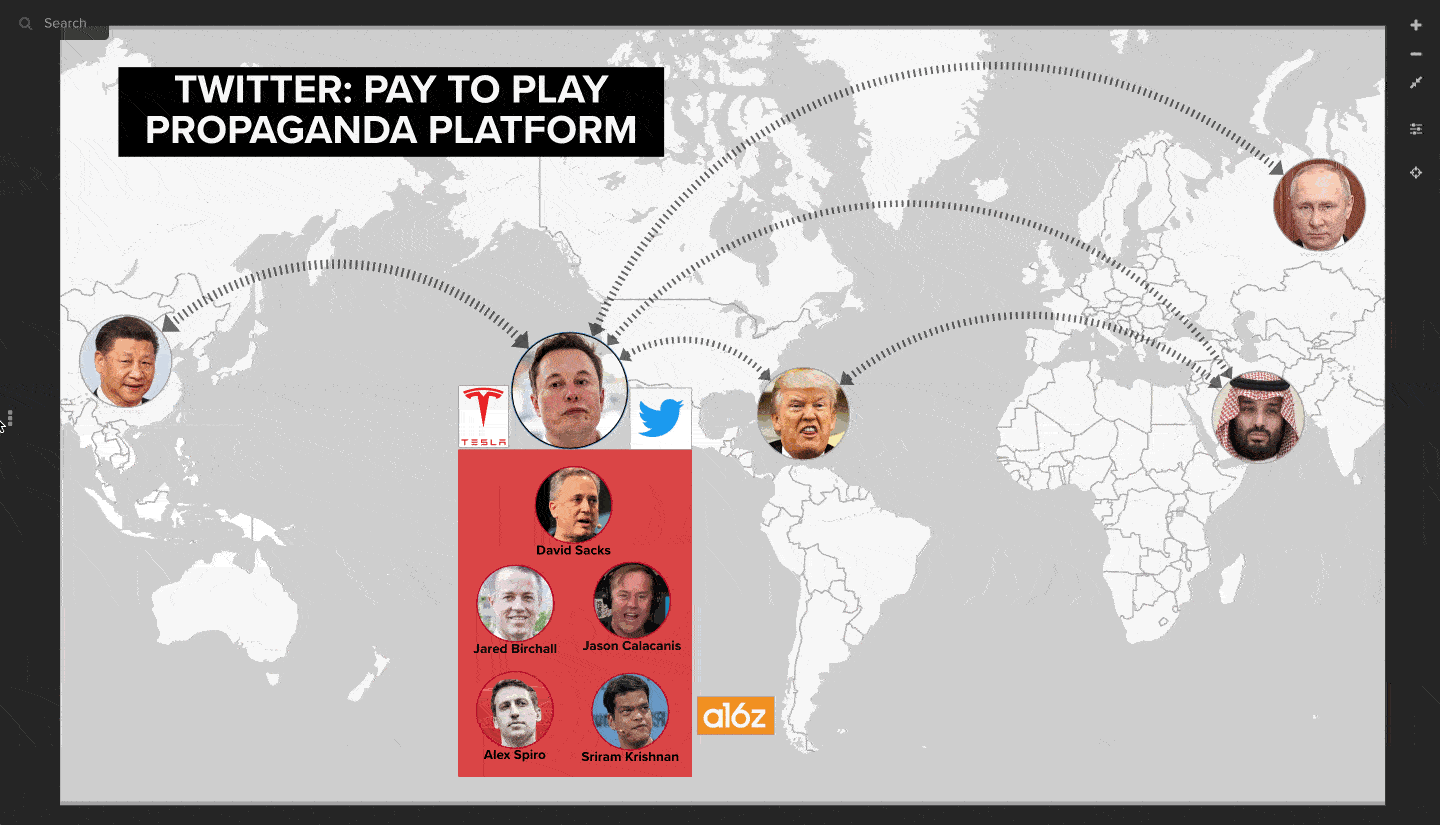 Musk roots for Putin
Musk proposed UN-supervised votes in Ukraine to determine whether certain regions of the nation should join Russia. He also said Ukraine should hand Crimea over to Russia and that the nation should then remain "neutral" rather than aligning with either NATO or Russia. Kremlin officials praised Musk for his opinion, but the entrepreneur drew sharp criticism from many others, including Ukraine President Volodymyr Zelenskyy. – CNBC
Musk roots for China
Elon Musk has sounded off about China and Taiwan and suggested that Taiwan become "a special administrative zone" of China with an arrangement that could potentially be more "lenient" than Hong Kong. Taiwanese politicians have previously rejected the idea of "one country, two systems" like Hong Kong, and immediately hit back at Musk. But his comments were praised by China's ambassador to the U.S.
The success of Musk's electric vehicle company, Tesla, hinges on its access to a range of suppliers and to the broader market in mainland China. – CNBC
Musk roots for Saudis
Six months after leaving the White House, Jared Kushner secured a $2 billion investment from a fund led by the Saudi crown prince, a close ally during the Trump administration, despite objections from the fund's advisers about the merits of the deal. Ethics experts say that such a deal creates the appearance of potential payback for Mr. Kushner's actions in the White House — or of a bid for future favor if Mr. Trump seeks and wins another presidential term in 2024. – NY Times
Prince Alwaleed bin Talal — the fabulously wealthy Saudi who 25 years earlier had paid Donald Trump $20 million for the superyacht once owned by Jamal Khashoggi's arms-dealer cousin Adnan — had upped his stake in Twitter to $350 million. That made him and his company, Kingdom Holding Company, one of the five biggest shareholders in the U.S.-based social media giant. – Yahoo
The Saudi kingdom's known use of the platform as a propaganda tool, and its harsh crackdown on dissidents or others who use the platform, are areas of concern for human rights experts. Prince Alwaleed bin Talal is one of the richest Middle East investors and second largest Twitter investor…. how much influence Alwaleed or Prince Mohammed may wield in their new relationship with Musk? – The Guardian
Team Musk
David Sacks – He has advocated for a referendum in Russia-occupied eastern Ukraine asking residents if they wanted to secede from Ukraine and join Russia, an idea Musk later tweeted himself.
Jared Birchall – Is one of Musk's closest advisers and manages the billionaire's personal fortune as head of his family office since 2016. He's a former Morgan Stanley wealth manager and helped set up the financing for Musk's Twitter buyout.
Jason Calacanis – In his private texts to Musk, Calacanis suggested that Twitter require employees return to the office for at least two days a week, which he said would reduce the workforce by 20 percent, through "voluntary departures." He also criticized Twitter's premium features and proposed expanding verified badges to more users, the messages show. In private texts, he told Musk that becoming the new chief executive of Twitter is his "dream job."
Alex Spiro – He helped Musk win a defamation lawsuit for his comments insulting a cave diver he got into a Twitter fight with over the rescue of a Thai boys soccer team several years ago. When Twitter sued Musk for backing out of his deal to buy the company earlier this year, Spiro helped lead the billionaire's defense.
Sriram Krishnan – Krishnan helps lead cryptocurrency investments at Silicon Valley venture capital heavyweight Andreessen Horowitz, which invested $400 million in Musk's Twitter acquisition. – Washington Post
TakeAway: Follow the money to see how billionaires manipulate the media to get what they want and silence critics.
Deepak
DemLabs
DISCLAIMER: ALTHOUGH THE DATA FOUND IN THIS BLOG AND INFOGRAPHIC HAS BEEN PRODUCED AND PROCESSED FROM SOURCES BELIEVED TO BE RELIABLE, NO WARRANTY EXPRESSED OR IMPLIED CAN BE MADE REGARDING THE ACCURACY, COMPLETENESS, LEGALITY OR RELIABILITY OF ANY SUCH INFORMATION. THIS DISCLAIMER APPLIES TO ANY USES OF THE INFORMATION WHETHER ISOLATED OR AGGREGATE USES THEREOF.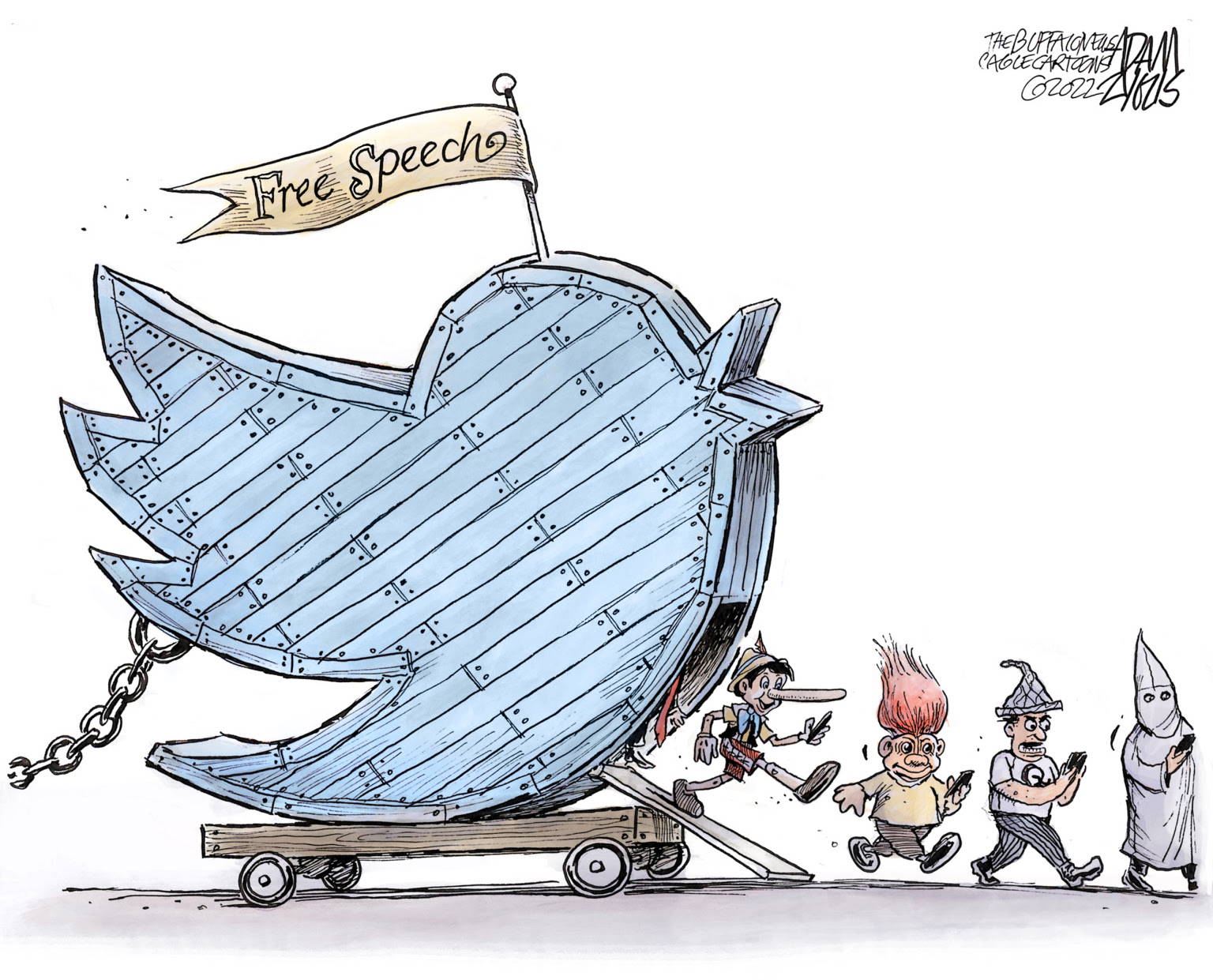 Reposted from Democracy Labs with permission.
---
DemCast is an advocacy-based 501(c)4 nonprofit. We have made the decision to build a media site free of outside influence. There are no ads. We do not get paid for clicks. If you appreciate our content, please consider a small monthly donation.
---