Defend Democracy – Win Wisconsin
We've got one week and one day. To defend democracy in Wisconsin and in the United States, we must see Mandela Barnes elected as senator and Tony Evers re-elected as governor. Sign up with Indivisible Chicago Alliance (ICA), Indivisible Illinois, or directly with Wisconsin Democrats. You can make a difference!
Senate candidate Mandela Barnes on Saturday at Indivisible Chicago's canvass in Racine
You can help elect Democrats in our neighboring state – by traveling to nearby districts OR volunteering from your own home.
ACT FOR WISCONSIN – Last Chance!
Only a few more opportunities to take action for Wisconsin. Seize the day!
Check the online listings for the time slots on the listed dates.

4 IC-SSers canvassed with Indivisible Chicago in Wisconsin this past weekend
& wow – on Saturday, actor KELLY McCREARY ("Dr. Maggie Pierce") joined in.
Michigan Matters, Too
Keep Gov Gretchen Whitmer in office and support other Michigan Democrats!
Phone Michigan voters from your home on the final Michigan Mondays phonebanks: TODAY/Mon, Oct 31 + ELECTION EVE/Mon, Nov 7.
Text Michigan voters at these online texting parties: TODAY/Mon Oct 31; Thurs, Nov 3; Sat, Nov 5; Mon, Nov 7; Election Day/Tues, Nov 8
Check the online listings for the time slots on the listed dates.

Our friend Bill Mengebier leads Michigan Mondays phonebanks
Canvass with Us for Rep Underwood Nov 6
Join Indivisible Chicago Alliance with Indivisible Chicago-South Side in Joliet on Sunday, November 6th at 12:00 noon to canvass for Rep. Lauren Underwood and for Mary Kay O'Brien for Illinois Supreme Court. Get info/sign up here.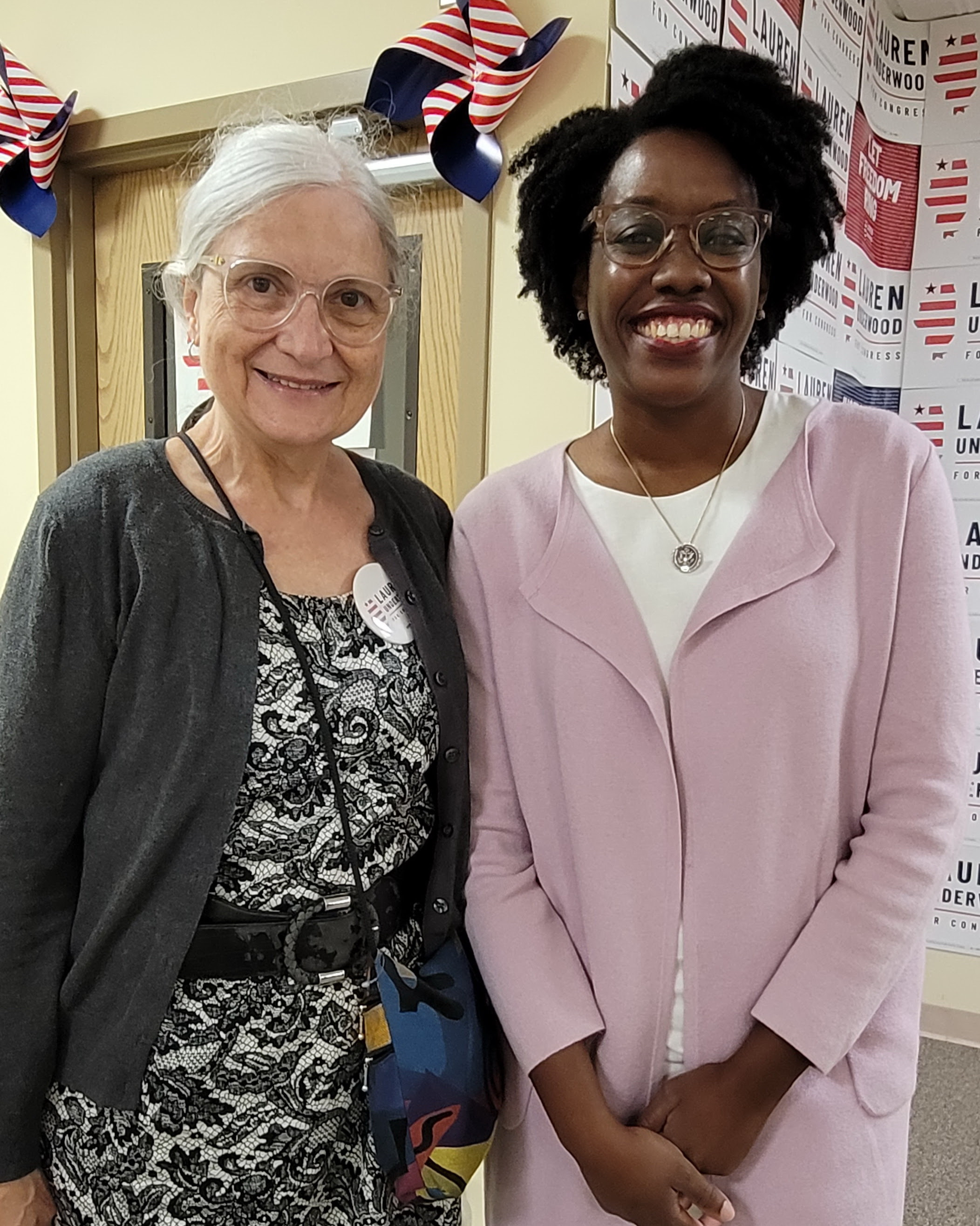 ---
Other Ways to Act for Key IL Races
Sean Casten, Lauren Underwood for Congress;
Elizabeth (Liz) Rochford, Mary Kay O'Brien for IL Supreme Court
Big Send: Our Letters Are Heading to Voters
BIG SEND – BIG THANKS. The 38 letter writers with Indivisible Chicago-South Side together wrote over 1,000 letters to voters in Wisconsin, Michigan, Pennsylvania, Texas, Florida, and other battleground states, as well as Illinois districts 6 and 14.
And that's not counting our Vote Forward champion and leader, Steve Kagan – Steve wrote a whopping 4000+ letters on his own!
Pix from last week.Thanks to all IC-SSers who wrote at our letter parties or from home
Altogether, we sent off over 5,000 letters to voters from the McGee Post Office on Oct. 29th, Vote Forward's Big Send day. (See a 20-second video of us!)
Thanks to everyone who wrote from home or who came to one of our eight Vote Forward parties from July to October. For this momentous 2022 election, our letters are helping get out the vote where it matters the most.
Extra special thanks to Steve Kagan for for supplying us with letters to write, using his own resources and materials, and for being our role model and mentor as well as indoor host.

The Big Send! Mailing thousands of letters penned by Steve Kagan with help from 36 other writers
On Your Ballot
Don't overlook anything on your ballot!
---
Vote for Judges
SHARE THIS INFO WITH YOUR FRIENDS. Want info on the judges who appear on your ballot?
VoteforJudges.org provides nonpartisan judicial voter education to people electing judges in Cook County. They report information on judicial candidates from local media outlets, 13 bar associations, and the judicial endorsements of local media outlets.
---
Vote YES for Workers' Rights
Are you an Illinois voter? You can protect the lives and well-being of workers in our state. In the November 8 election, vote YES for the Workers' Rights Amendment!

Vote for the Workers' Rights Amendment on Election Day!
The Workers' Rights Amendment will add language to the Illinois constitution guaranteeing employees the fundamental right to organize and collectively bargain for fair wages, meaningful benefits, and worker safety.
Read this WBEZ story on the amendment and get info at the Workers' Rights Amendment advocacy website. Vote for the Workers' Rights Amendment, and tell your friends!
---
Vote YES for Forest Preserves
There's a second referendum on the ballot for Cook County voters – you can vote YES to protect clean water sources, air quality, and wildlife in Cook County forest preserves for generations to come. Get more info about the referendum to protect Cook County forest preserves here.

Midterm Elections: It's Time to Vote!
These last days before the election, we're laser focused on getting out the vote … but let's remember to cast our own ballots. Have you voted yet?
---
Chicago, Early Vote in Person, Now thru Nov 8
Early voting is well underway. Chicago voters can choose among dozens of early voting sites. As a registered voter in Chicago, you can vote at any Early Voting site in the city.

NOTE: This year, the Early Voting site in the 5th ward is at the YMCA at 6330 S. Stony Island (across the street from the Jackson Park Field House).

Do your voting early – and feel good! Get ALL the Chicago early voting info here.
---
Chicago, Vote by Mail
If you are voting by mail, we suggest you drop your ballot envelope in a ballot drop box (though you can also send it by US mail). Each Early Voting site has a ballot drop box. Get vote by mail info here.
---
Chicago, Voting on November 8
While we encourage early voting in person or voting by mail, we know some folks will cast their ballots on Election Day (Tuesday, November 8). Ultimately, however you vote is the best way for you!

Be aware that Chicago polling places are changing. If you're a registered voter in Chicago, get all your voter information – including your new polling place – by filling in a quick online form here.
---
Live Outside Chicago?
Organizations & Opportunities
Indivisible Chicago-South Side shares information and action announcements from other organizations on issues important in our country, state, city, and communities.
---
Protect the Pre-Trial Fairness Act
Counter the disinformation being spread by right-wing leaders and groups in Illinois!

Illinois's Pretrial Fairness Act holds that people accused of a crime should be detained on the basis of the risk they pose to the community rather than their ability to pay bond. The Act was designed to protect an individual's right to the presumption of innocence and to address racial disparities in our pretrial system, writes the Coalition to End Money Bond.

But the Pretrial Fairness Act, which is part of Illinois's SAFE-T Act, is threatened by a proposed trailer bill SB4228, which would undermine the Pretrial Fairness Act.

LEARN MORE
Chicago Torture Justice Center shares a Twitter thread with articles explaining the Pre-Trial Fairness Act here.
Read more on this page of the Coalition to End Money Bond website.
More than 120 organizations from across Illinois have sent an open letter to the Illinois General Assembly calling on them to protect the Pretrial Fairness Act and oppose SB4228, the proposal for gutting this historic legislation.
TAKE ACTION
These actions are shared by the Coalition to End Money Bond and the Illinois Network for Pretrial Fairness.
Use a quick form to send a letter to your legislators and Governor Pritzker letting them know you want them to stand strong against calls to roll back or repeal the Pretrial Fairness Act.
Friday, November 16: Go to Springfield with the Coalition to End Money Bond. Pretrial freedom is under attack, get on the bus and help us fight back! Sign up now to join the Coalition to End Money Bond for lobby day in Springfield.
District Councils for Police Accountability – ECPS
A statement by Frank Chapman of CAARPR: Organizing and agitating got us the people's ordinance: Empowering Communities for Public Safety [ECPS]. Now we must bring to bear all our skills and determination to get our people on the ballot in all 22 police districts in February 2023, so we the people in our communities can hold the police accountable. To get this done, we need volunteers now to help us with petitioning to get people in our communities who are committed to making a difference to get on the ballot.
To get involved, contact Frank Chapman at 312-513-3795 or call the CAARPR office at 312-939-2750. See the Facebook post here.
Read more about ECPS at the ECPS website and the CAARPR website.
Newsletter Notes
SUBSCRIBE: Did someone forward this newsletter to you? If you'd like to subscribe and get our newsletter every Monday morning, click here to subscribe.

SUGGEST: Got an event or resource to suggest for the newsletter? Email us here.
Indivisible Chicago-South Side
Email: Indiv.Chi.South@gmail.com
Follow IC-SS on Facebook and Twitter
Co-Leaders: Sarah Lincoln, Esther Peters,
Betsy Rubin, Teri Watkins
About: Group & Co-Leader Statements
---
DemCast is an advocacy-based 501(c)4 nonprofit. We have made the decision to build a media site free of outside influence. There are no ads. We do not get paid for clicks. If you appreciate our content, please consider a small monthly donation.
---