How do the Murdochs manipulate public opinion with FOX to push their political agenda and get richer?
Understand how billionaires manipulate the public through their media outlets to get what they want. Manipulate elections. Topple governments toppled. Erode trust in elections. Support dictators. Spread COVID conspiracy theories. Appoint extremist judges. Stoke racism and violence. Ruin lives by character assassination.
What is the character assassination playbook? How was it used by Fox News against Seth Rich? How can billionaires who can topple governments be held accountable? Follow along with this PowerMap that explains the Seth Rich conspiracy theory spread by Fox News.
NEWS CORP: Profits and power from spreading conspiracy theories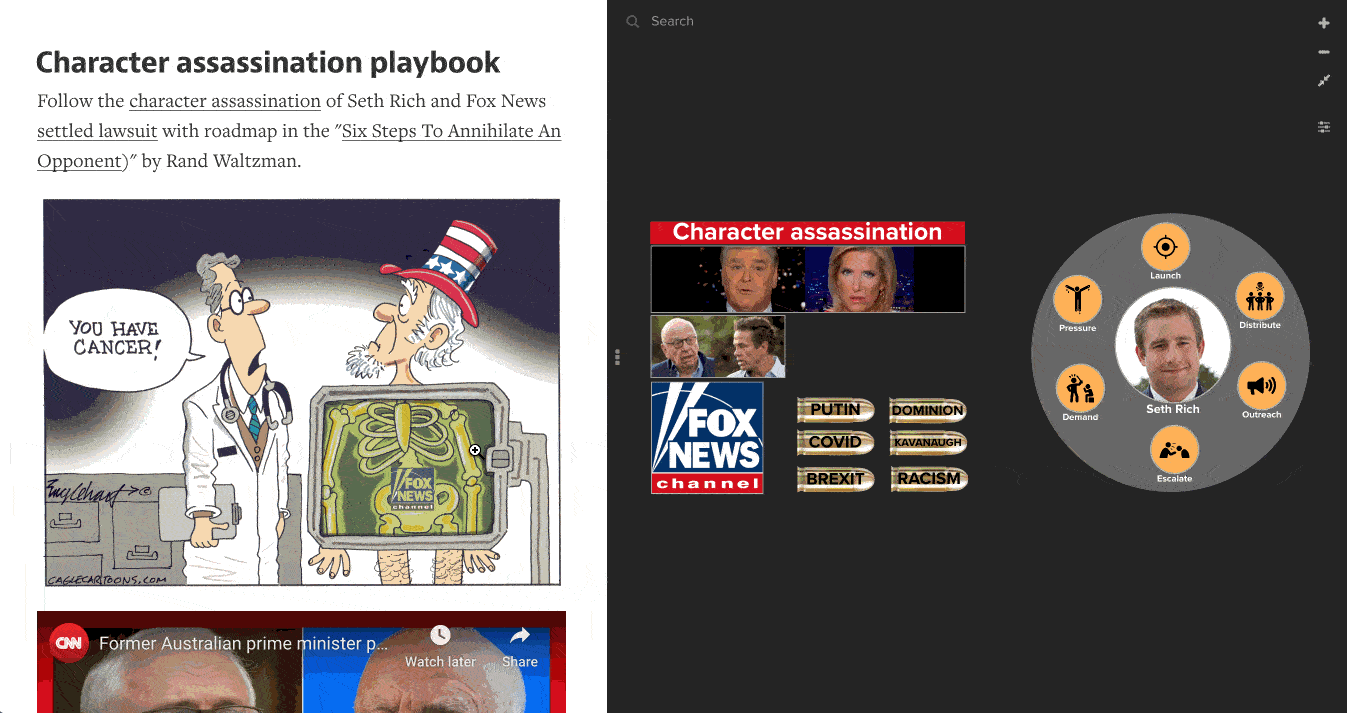 Character assassination
The malicious denunciation or slandering of another person, especially as part of an effort to ruin the reputation of a public figure.
Rand Waltzman is an expert in disinformation and the Founding Board Member at Information Professionals Association. He describes character assassination as a six step process. I used his model in explaining how Fox news attacked Seth Rich.
Launch: Amplify a remark that relatively few saw or heard. Publish a video and produce a headline that will activate supporters. Your strength is speed, volume and breadth.
Distribute: Circulate your news story to as many potentially cooperative reporters as possible. Reporters whose ignorance you can rely on.
Outreach: Identify and encourage like minded organizations to whip up outrage and spread your story.
Escalation: Bring in as many operatives you can to fan the flames when your story crosses from gossip or a one-line news note into mainstream.
Demands: Encourage those you have worked up to demand an apology from the target. Demand he be fired, resign or drop out of a race.
Pressure: Turn up the pressure by causing a rapid-fire succession of stories. Convince target's supporters to withdraw their support.
Fox News and Seth Rich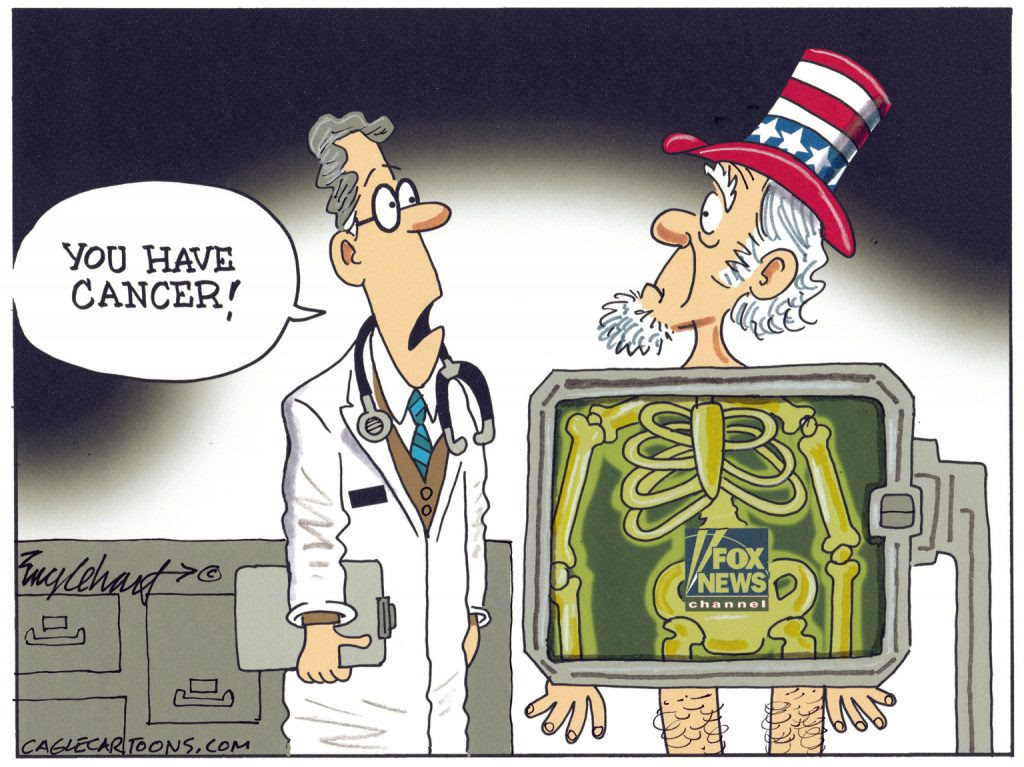 Public manipulation. Political agenda.
"The episode also demonstrated how fake news can be flung from fringe media to the mainstream. A conspiracy theory that began on pro-President Trump message boards — a theory that Rich was actually a mole who wanted to expose corruption at the DNC — was fed by Russian news outlets including RT and Sputnik. The Daily Mail, Fox News's website and several other mainstream outlets with large audiences churned through false information and leading questions, sowing confusion that Rich's family struggled to combat. In addition to Hannity, former House speaker Newt Gingrich on Sunday said on "Fox and Friends" that the story was worth investigating, a sentiment he repeated in a short interview with The Washington Post. – WaPo
Have media empire. Will manipulate.
Resources
TakeAway: Beware of billionaire owned media outlets manipulating the public to get whatever they want and install their chosen politicians. Understand the Fox News character assassination playbook to fight disinformation. Lawsuits help hold media outlets accountable for the lies they spread.
Deepak
DemLabs
DISCLAIMER: ALTHOUGH THE DATA FOUND IN THIS BLOG AND INFOGRAPHIC HAS BEEN PRODUCED AND PROCESSED FROM SOURCES BELIEVED TO BE RELIABLE, NO WARRANTY EXPRESSED OR IMPLIED CAN BE MADE REGARDING THE ACCURACY, COMPLETENESS, LEGALITY OR RELIABILITY OF ANY SUCH INFORMATION. THIS DISCLAIMER APPLIES TO ANY USES OF THE INFORMATION WHETHER ISOLATED OR AGGREGATE USES THEREOF.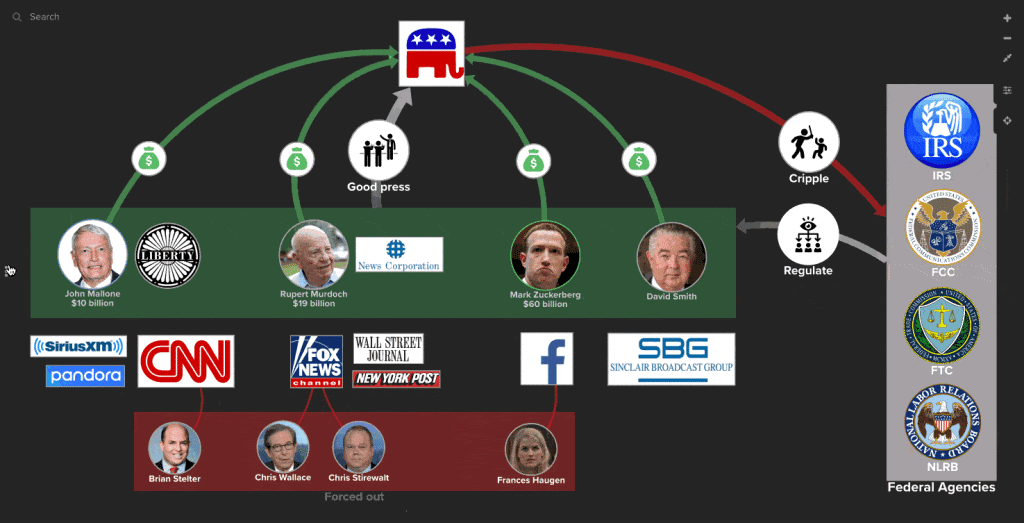 Reposted from Democracy Labs with permission.
---
DemCast is an advocacy-based 501(c)4 nonprofit. We have made the decision to build a media site free of outside influence. There are no ads. We do not get paid for clicks. If you appreciate our content, please consider a small monthly donation.
---