The midterm elections are in three weeks! With competitive House races all over New York State and the fate of Congress at stake, the November 8th election has long-term consequences when it comes to preserving our freedoms and the fate of our democracy. There are also multiple state races on the ballot, including a competitive one for governor. We must work to re-elect Kathy Hochul and keep NY in Democratic hands. Let's get to work!
The Environmental Bond Act
On November 8, 2022, New York voters have a once-in-a-generation opportunity to improve their quality of life, modernize infrastructure including roads, sewers, and drinking water pipes, safeguard clean drinking water and create job growth. Flip your ballot over to find Prop 1, also known as the Clean Water, Clean Air, Green Jobs Bond Act.
This week's podcast features NY Assemblyman Steve Otis and Julie Tighe, President of the New York League of Conservation Voters, discussing what the Bond Act will do and why you need to flip your ballot and vote YES. Click here to listen to the podcast.Click here for more information about Prop 1 – the Clean Water, Clean Air, Green Jobs Bond Act. Click here to watch a PSA from County Executive George Latimer about the Bond Act.Help spread the word to friends, family members, and allies. Promote via social @NYBondAct #NYBondAct #VoteYesBondAct.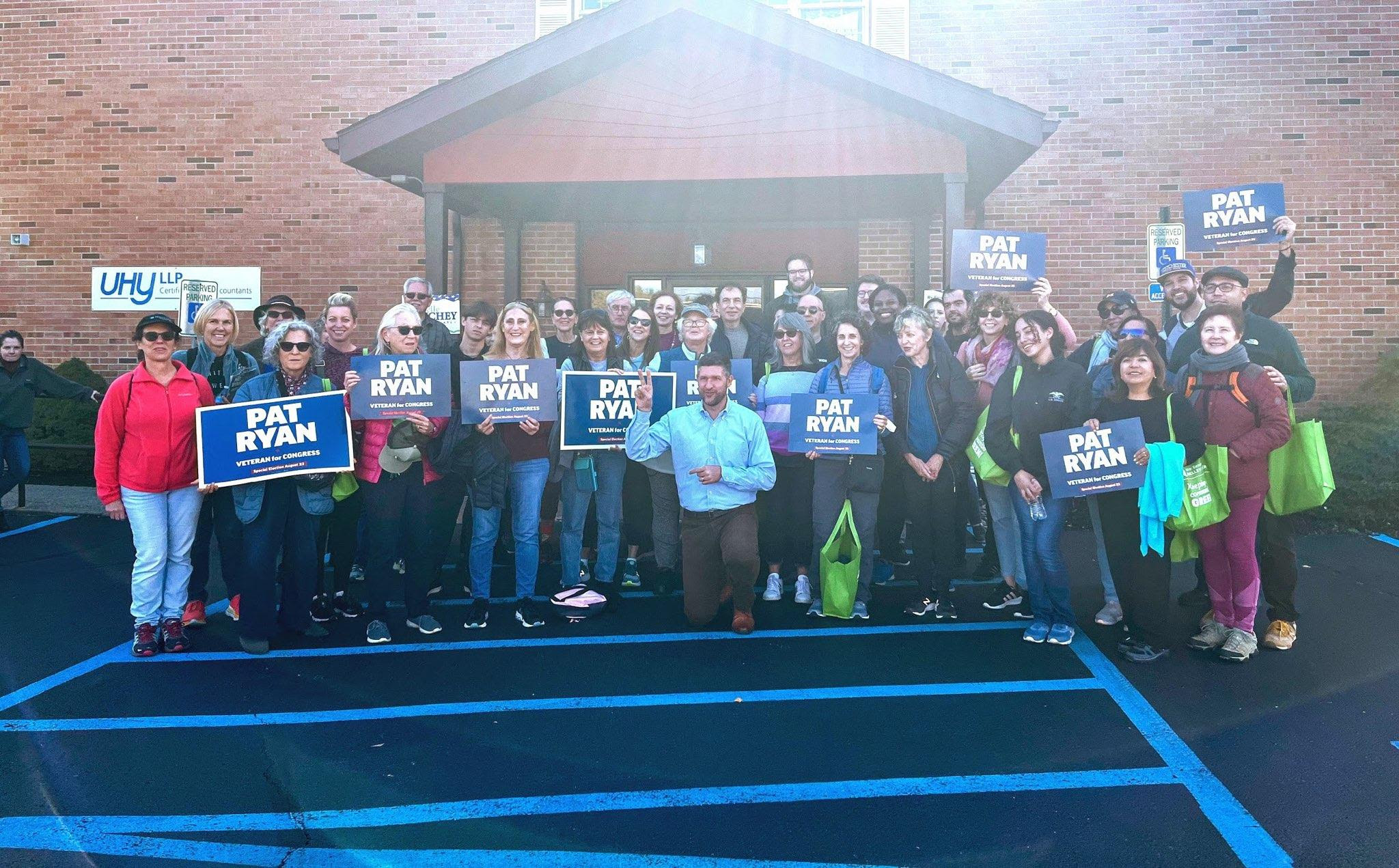 Battleground New York
New York has more congressional battlegrounds than nearly any other state. Races in seven districts, from Long Island to the Hudson Valley and Upstate NY, are now rated competitive according to the latest update from Cook Political Report.
Click here to donate to the candidates running in the most vulnerable districts. This bundle divides your donation between the six candidates running in the most competitive NY House districts.
Tour NY Phone Bank shifts are calling into NY19 to talk to voters about Democrat Josh Riley. Date: Monday, October 17th & October 24th from 6-7:30 PM on Zoom. Register here.
Join a joint texting party to benefit Josh Riley (NY19) and Tom Malinowski (NJ07) on Monday, October 31st from 2-4 PM on Zoom. Register here.
Postcard and Phonebank to support Democratic NY candidates with Women Democrats of Westchester on Mondays (10/17, 24, 31) from 4 -7:30 PM at WCDC HQ: 200 Mamaroneck Ave, Suite 301, White Plains.
Click here for voter information, including voting by absentee ballot and early voting dates (10/29-11/06).
Check out our updated website for more information and for other ways to help get out the vote!
Democratic Candidates for New York State Supreme Court
Seven Democratic New York State Supreme Court Candidates are on the ballot this November.
Watch and share this video here from County Executive Latimer about the Democratic candidates running for the NY State Supreme Court and vote Row A, All the Way.
The Court NY DeservesNew York is about to get a new Chief Judge. For the next 14 years, this judge will lead the Court of Appeals—New York's highest court—and the entire state court system. Check out the new campaign to fight for The Court New York Deserves. After years of decisions that have undermined the rights of the most vulnerable, tenants, and workers, it's time for change. Join TCNYD on October 19 at 6 pm for a town hall to learn about the Court's history, its regressive decisions, and our fight for a Chief Judge who will defend the rights of New Yorkers. Hear from impacted leaders, legislators, and other allies in this effort. Click here to register.
Postcard to NY Swing DistrictsEmail IWpostcarding@gmail.com for more postcarding information.
Join the Voter Protection Team
Help protect the vote. Volunteers are needed to staff hotlines and work as independent poll observers to make sure our rights are protected.
Sign up to volunteer here.
---
DemCast is an advocacy-based 501(c)4 nonprofit. We have made the decision to build a media site free of outside influence. There are no ads. We do not get paid for clicks. If you appreciate our content, please consider a small monthly donation.
---