Midterms Are Nov. 8 – Let's Get to Work
Whoa, Midterm Elections are NEXT MONTH. If you've been meaning to get active, now is the time to step up to defend our democracy… and defeat the GOP – the party that cares only about the top 1%.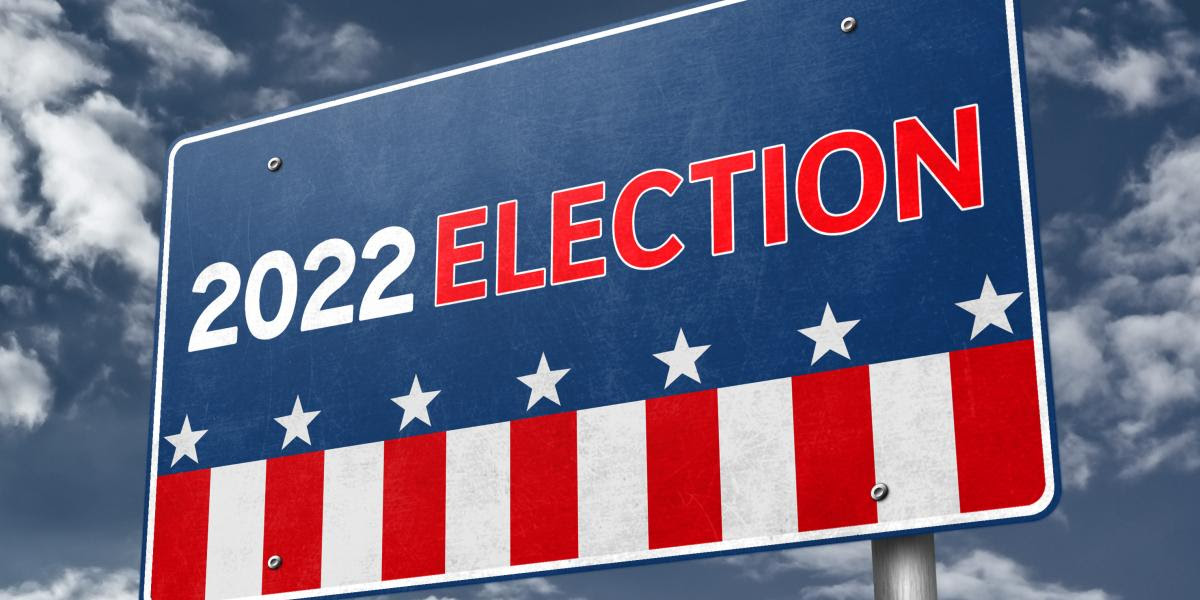 The Democratic Congress can deliver what we, the people, want. And now WE need to turn our full attention to electing Democratic candidates who will fight for our rights and protect our well-being and out freedoms. Find your way to act with Indivisible Chicago Alliance.
Knock Doors with Us for Key IL Districts
Join your Indivisible Chicago-South Side (IC-SS) friends this month to make sure Lauren Underwood and Sean Casten hold their seats in Congress.
---
Sun. Oct. 16: Lauren Underwood Needs YOU
On Sunday, October 16th,help send Lauren Underwood back to Congress! Indivisible Chicago-South Side joins Indivisible Downtown Chicago and Indivisible Chicago Alliance (ICA), heading to Joliet to introduce new parts of the 14th district to Lauren Underwood.

To win, Lauren needs these voters to come out in November. Sign up here!
Indivisible canvassers with Rep Lauren Underwood this summer – join us Oct 16!
We'll help arrange 11:00 am carpools from Chicago, or you can go straight to Joliet and meet us at Rep Underwood's HQ at noon. Either way, we'll pair you with a veteran canvasser if this is your first time or you need a refresher. Sign up here to canvass with us on Sunday, October 16.
Thanks to Sean Casten Canvassers!
Shout-out to all who knocked doors on Chicago's Southwest Side yesterday for Sean Casten. Since redistricting, 80% of the 6th district is new to Sean, so we helped voters learn all about him.
Thanks to IC-SS Co-leader and ICA Board Member Sarah Lincoln (below, at right) for organizing!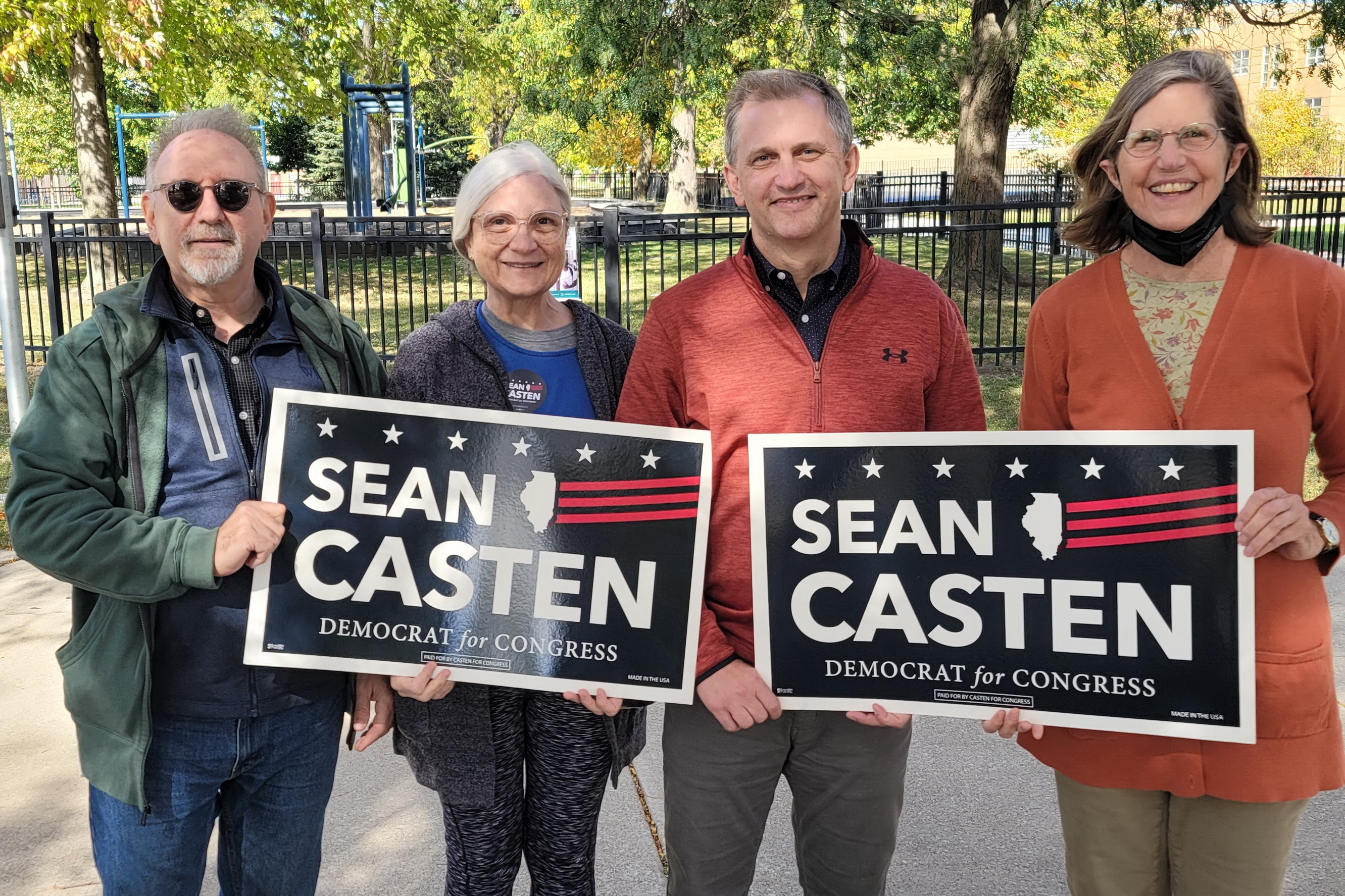 IC-South Side canvassers were among a dozen volunteers knocking doors for Sean CastenNext steps:
Help re-elect Democratic Reps Sean Casten (6th) and Lauren Underwood (14th)
Write Letters to Voters – Tomorrow & Later!
 Join your IC-SS friends on Thursday, Oct. 27th
Get Vote Forward Letters to Work On Anytime
IC-SS member Lizzie Cooke has been busy writing Vote Forward letters to voters from her home. She sent us this pic of the massive box of envelopes she'll need to send off her letters on the date of the Big Send (Oct 29).
Be like Lizzie. Sign up with Vote Forward, choose a state, then download and print your own letters to work on at home. For our Vote Forward parties, you can bring your own letters printed out via your free Vote Forward account OR work on letters that mentor Steve Kagan brings for you to complete.
The Big Send – Oct 29
So, when do we mail our Vote Forward letters? Nationwide, Vote Forward's Big Send is Saturday, October 29. You can mail your Vote Forward letters that day on your own, or you can join with us to Parade to the Post Office. More info coming soon!
Wisconsin is the front line in the fight for democracy. And Michigan matters too. You can make a difference in our neighboring states – by traveling to nearby districts OR volunteering from your own home.

So close to Michigan & Wisconsin, we can wave. Help our neighbors save democracy.
ACT
Midterm Elections: It's Time to Vote!
This month, we're laser focused on getting out the vote … but let's remember to cast our own ballots. Chicagoans can vote NOW.

Want to see YOUR sample ballot? If you're a registered voter in Chicago, just fill in the Chicago Board of Elections form here, and when your info opens up, click on the Sample Ballot tab.
---
Chicago, Vote in Person, Now Through Nov 8
Early voting has already begun – at two downtown Chicago locations! As of October 7th, residents of the city of Chicago can vote – early, in person – at the Supersite (191 N. Clark) or the Board of Elections Office (69 W. Washington). And, starting October 24, Chicago voters can choose among dozens of early voting sites.

Do your voting early – and feel good! Get ALL the Chicago early voting info here.
Vote early in person – now through Nov 8. All info here.
Chicago, Vote by Mail
Why vote by mail in Chicago?
Chicago vote by mail – all info hereChicago voters can still sign up to vote by mail in the November 8 election only… or permanently in the Nov 8 election AND all elections. If you've already signed up to vote by mail, you should receive your ballot soon.
Chicago, Voting on November 8
While we encourage early voting in person or voting by mail, we know some folks will cast their ballots on Election Day (Tuesday, November 8). Ultimately, however you vote is the best way for you!
Be aware that Chicago polling places are changing. If you're a registered voter in Chicago, get all your voter information – including your new polling place – by filling in a quick online form here.
---
Live Outside Chicago?
Oct 17, 5:30: Our Freedoms, Our Vote Rally
October 17th – join us to rally at Federal Plaza. Info here.

Trump and MAGA Republicans engaged in a violent criminal conspiracy to overturn an election they lost. They've shown they'll break the law and engage in violence in order to gain and stay in power. They must be held accountable.
Those who continue to support Trump's behavior are using their power to take away our freedoms and fundamental rights including reproductive rights, marriage equality, separation of church and state, gun safety, and more.

This is wrong. In America, voters decide elections.

We demand accountability for Jan 6 and the ongoing attacks on our freedoms. We must protect our elections – the voters, the election officials and a free and fair process.

Join us with the Indivisible Chicago Alliance to rally on Monday Oct 17th, the national day of action for #OurFreedomsOurVote: Monday, October 17th, 5:30 pm, Federal Plaza. Get info/sign up here.
Organizations & Opportunities
Indivisible Chicago-South Side shares opportunities to make a difference in key Illinois districts and in other battleground states. Join the efforts!
---
Vote for the Workers' Rights Amendment – Nov 8
Are you an Illinois voter? You can protect the lives and well-being of workers in our state. In the November 8 election, vote YES for the Workers' Rights Amendment!

Vote for the Workers' Rights Amendment on Election Day!

The Workers' Rights Amendment will add language to the Illinois constitution guaranteeing employees the fundamental right to organize and collectively bargain for fair wages, meaningful benefits, and worker safety.

Read this WBEZ story on the amendment and get info at the Workers' Rights Amendment advocacy website. Vote for the Workers' Rights Amendment, and tell your friends!
---
Chicago Turned Out for Abortion Rights

Chicago Indivisibles joined a coalition of organizations demanding reproductive rights

On Saturday, October 8th, Chicago showed up to defend abortion rights and reproductive freedom in Illinois and the USA. May the voices in the street inspire our work to get out the vote for the election.
Newsletter Notes
SUBSCRIBE: Did someone forward this newsletter to you? If you'd like to subscribe and get our newsletter every Monday morning, click here to subscribe.

SUGGEST: Got an event or resource to suggest for the newsletter? Email us here.
Indivisible Chicago-South Side
Email: Indiv.Chi.South@gmail.com
Follow IC-SS on Facebook and Twitter
Co-Leaders: Sarah Lincoln, Esther Peters,
Betsy Rubin, Teri Watkins
About: Group & Co-Leader Statements
---
DemCast is an advocacy-based 501(c)4 nonprofit. We have made the decision to build a media site free of outside influence. There are no ads. We do not get paid for clicks. If you appreciate our content, please consider a small monthly donation.
---