Rubio and Scott vote against storm aid. DeSantis fundraises from insurance firms while Florida residents struggle to get affordable property insurance.
Follow the money, flooding and storm damage with this map. Vote for leaders who put constituents above their own political ambitions.
Hurricane relief and property insurance not more Republican grandstanding
Counter political spin with the facts
Help voters see how Republican policies reward their corporate donors at their expense. Maps are ideal for exposing exploitation. Readers can quickly check local conditions to see how they are being affected personally. Florida Keys Dems created this map with pro bono help from DemLabs using ArcGIS Online to show flooding with real time NOAA data. Where were hurricane evacuations delayed vs the most damage took place? Which areas are still suffering the most from flooding?
Keep it short and simple
Use GIFs to encapsulate your message into a short animated message. This GIF was created with the free iMovie app and EZGIF to explain the Florida property insurance crisis, State Farm donations to DeSantis and how Rubio, Scott and DeSantis have all voted against hurricane aid in the past. And a call to action to vote for Democrats. All this in 10 seconds. Learn more about free apps to share your message: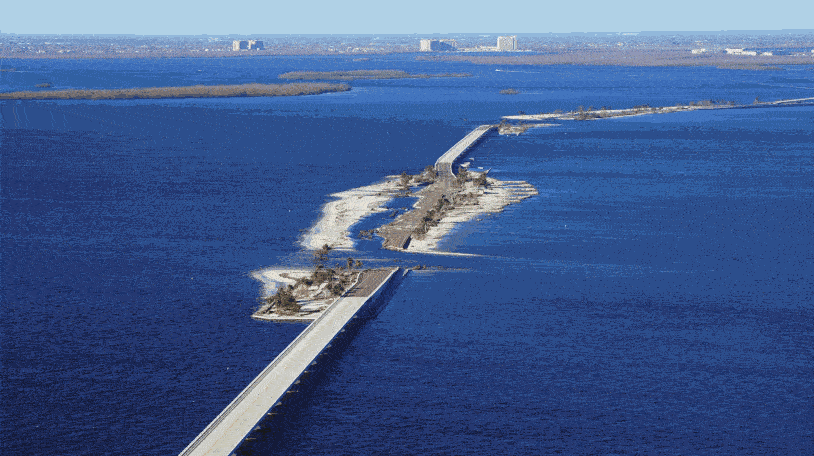 DeSantis gets $150K one-day haul from State Farm agents
Gov. Ron DeSantis got a huge wave of campaign cash from insurance agencies and entities aligned with State Farm, hundreds of contributions that come as insurance remains one of Florida's seemingly unsolvable policy quagmires. On Aug. 1 alone, DeSantis' political committee, Friends of Ron DeSantis, brought in nearly 200 separate checks from insurance agents or their firms, a huge single day amount from any one industry. The total haul was nearly $155,000, a sizable chunk of the nearly $700,000 DeSantis has received from the industry throughout the 2022 midterms. – Politico
Political donors override voters' needs
"Gov. DeSantis let these insurance companies double Floridians' rates and they're still going belly up when homeowners need them most," Crist told reporters . "You pay and pay and pay, and the insurance company isn't there for you in the end anyway." A new report shows that Florida has the HIGHEST property insurance rates in the nation. Under DeSantis, it's never been more unaffordable to buy or own a home in Florida. He took millions from insurance companies & doubled your rates. I held them accountable & lowered rates.- Charlie Crist
Florida Keys Democrats
The Florida Keys Democrats are guided by the principles of social, environmental, and economic justice. Our values reflect our belief that The United States is a prosperous and modern country that will leave no citizen behind. We are committed to the freedoms and rights guaranteed to every citizen in the Constitution. We believe working Florida residents need to thrive, not just barely survive. We are proud to recognize, honor, and support working people who are the bedrock of our economy.

TakeAway: Vote to stop Republican exploitation to reward their donors.
Deepak
DemLabs
Special thanks to Julia B. at ESRI for help with finding the right map data layer.
DISCLAIMER: ALTHOUGH THE DATA FOUND IN THIS BLOG AND INFOGRAPHIC HAS BEEN PRODUCED AND PROCESSED FROM SOURCES BELIEVED TO BE RELIABLE, NO WARRANTY EXPRESSED OR IMPLIED CAN BE MADE REGARDING THE ACCURACY, COMPLETENESS, LEGALITY OR RELIABILITY OF ANY SUCH INFORMATION. THIS DISCLAIMER APPLIES TO ANY USES OF THE INFORMATION WHETHER ISOLATED OR AGGREGATE USES THEREOF.
More information
Reposted from Democracy Labs with permission.
---
DemCast is an advocacy-based 501(c)4 nonprofit. We have made the decision to build a media site free of outside influence. There are no ads. We do not get paid for clicks. If you appreciate our content, please consider a small monthly donation.
---