Dear Friends,

Please note and take action on the Calls To Action below. Along with our Roevember elections and our motto: When We Vote We Win, we must stay ever diligent in communicating with our representatives and our neighbors, the voters! Democracy depends on you! Please put up your vote early signs* and share iwillvote.com In honor of Hispanic Heritage month, I have included a few "Calls" for Spanish Speakers, as well as information Elizabeth Guzman's 5th Annual Gala. Please share and let me know of other events you would like to promote.

Let's get loud and get it done, Rally for the ERA on Wednesday and contact Senator Chuck Schumer and your Senators to bring the ERA to the floor. Take action here.

We will have a timely discussion on the Friday Power Lunch – The Long Game of Color.Plan to get into the room to hear from Steve Phillips, National Political Expert, founder of Democracy in Color and author of How We Win the Civil War, about the state of American democracy and why a "race-conscious" lens is key to understanding the upcoming midterm elections, and Jay Jones – former Delegate and founder of Meet Our Moment. Register HERE.

ALL IN,

Stair
*PS: Remind your friends and family in Virginia, if they need to Vote by Mail, they should do it as soon as possible. Use this link to apply for a ballot online.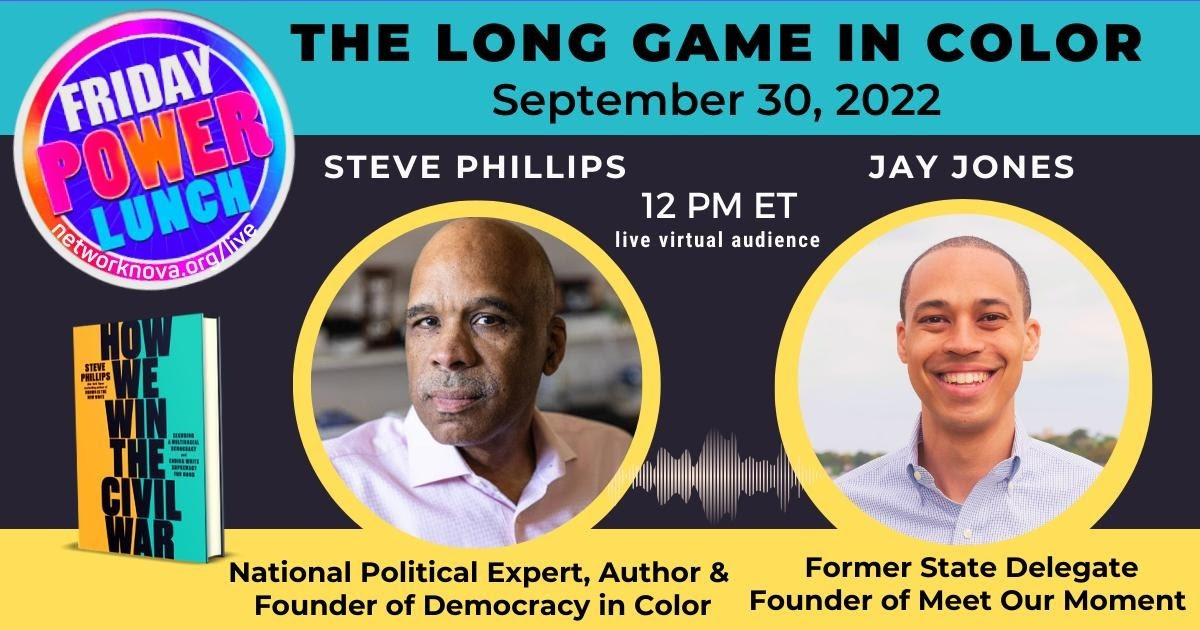 2022 Election Update Webinars – September 27 and October 4 at 1:00pm ET
Join Jackie Payne, founder of Galvanize Action and the One For All Committee for one (or more!) webinars to hear their latest analysis and how Galvanize Action and the One For All Committee, are poised to meet every moment. You'll see the newest ads from One For All—which are moving voters up to 30pp to support Senate candidates who will fight for progress in key states. Learn why they work, and hear how Galvanize Action and One For All are making a difference in this critical election year.
These webinars are open, and we hope you'll take a moment to think of two friends who might be interested in our unique approach and the work both Galvanize Action and One For All are doing to win the battle for the Senate. Sign up this link: ET Tuesday, October 4 – 1 p.m. ET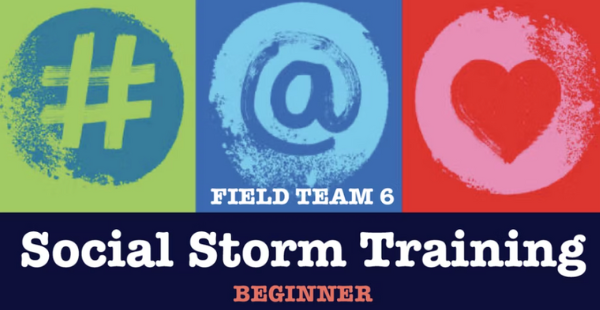 Every Wednesday 2 pm EDT
Basic Twitter Skills for Social Storming with Field Team 6
Topics: What IS Social Storming?, Social Storming steps, Setting up your Twitter account to attract followers, Understanding Twitter limits, and more. RSVP HERE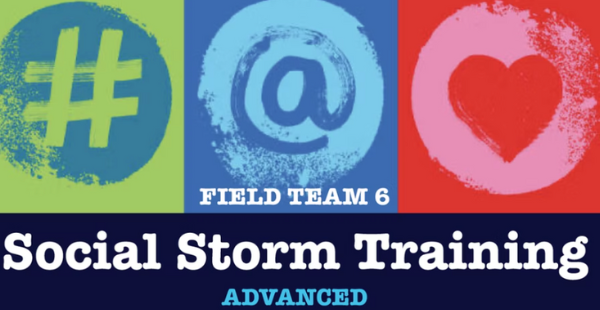 Every Wednesday at 6 pm EDT
Advanced Twitter Skills for Social Storming with Field Team 6Topics: Social Storming steps, Finding more followers, Using comments & quote tweets effectively, Managing multiple accounts, Using TweetDeck, and more. RSVP HERE
Tell the Democrats and Majority Leader Senator Schumer you want the Senate to vote on the ERA before the midterm elections.
CALL NOW: "Hello, my name is YOUR NAME and I live in YOUR ADDRESS. It is past time for the Senate to take action on the Equal Rights Amendment. I am calling to urge the Senator's support of a floor vote on the ERA before the midterm elections. Thank you." You can call Senator Tim Kaine at (202) 224-4024 and Senator Mark Warner at (202) 224-2023. Senate Majority Leader Schumer should also hear from you, call him at (202) 224-6542.
**Calls To Action**
CALL TO ACTION from the Virginia Grassroots Coalition Education Working Group in response to Gov. Youngkin's proposed Privacy, Dignity, and Respect policies, which are rooted in transphobia and only seek to further harm trans and non-binary kids and explicitly contradict the Virginia Values Act and thus are illegal. Make your comments HERE.
Call Your Senators NOW: 888-436-6478. Tell them you want fair elections and that they need to pass the DISCLOSE Act! When you call, here's what you might say: "Hello, my name is [YOUR NAME] from [YOUR TOWN]. Over a billion dollars in undisclosed money was spent in the last presidential election. To have fair elections, we must know the identity of political donors. It's time to require super PACs and secret money groups to make their donors public. Passing the DISCLOSE Act will rein in corporate spending, stop Super PACs from subverting the will of the American electorate, and close secret money loopholes. Will the senator support this important legislation?"
Volunteer with Rideshare2Vote – Rideshare2Vote is offering free rides to the polls for Democrats in Virginia. Training is available to drivers, phone banker, or dispatch operators. Please help make sure no Democratic voter gets left behind! Register to volunteer HERE. Contact: Tracy Scott – 713.922.0955. Tracy.Scott@RideShare2Vote.com
Join the Center for Common Ground to make 3.5 million calls to Black voters this fall! Right now, they are calling voters in Virginia and Georgia.
Stop the MVP!
Senator Manchin has released the "Energy Independence and Security Act of 2022," a bill that would attempt to ram through the Mountain Valley Pipeline and radically weaken safeguards for our communities and environment. The bill was released just days before Majority Leader Chuck Schumer will force a vote on the legislation. This is an unacceptable sacrifice of Appalachian communities and people living near fossil fuel projects. We need your help to stop it! Tell your members of Congress this dirty deal is unacceptable! Call Congress to oppose the deal and the Permit Reduction Act. Demand that Schumer keeps the deal out of the government spending bill and that he brings the Pipeline Fairness Act up for a vote: Call your own representative: 877-814-5667 AND share this hotline number widely – Call Senator Schumer: 855-980-2321 AND share this hotline number widely.Use this digital toolkit to take the above actions and more. Easy Retweet
Do you speak Spanish AND want to reclaim our democracy? This two-hour workshop for
canvassers and phone bankers will teach you strategies for engaging in meaningful conversations
with voters who are most comfortable speaking Spanish. We'll include strategies to help you
navigate the critical first 30 seconds of a conversation, including phrases that communicate
respect and help you earn voters' trust. This interactive, intermediate-level class will be conducted mostly in Spanish, and will be co-taught by Mayela Galindo, a native Spanish-speaking language instructor, and Elizabeth Chur, an experienced canvasser and phone banker. Some experience with canvassing or phone banking preferred but not required. Enrollment is limited.
Friday, September 30, 2022, 7:00pm-11:00pm
Delegate Elizabeth Guzman's Annual Hispanic Heritage Gala 2022
Red Rose Banquet Center
Manassas, VA
ACTIVISTAS BILINGÜES–¡ATENCIÓN!
Alzando Nuestra Voz (Raising Our Voice)Spanish-English phone banks
Do you speak Spanish fluently or know someone who does? Help get out the Latinx vote for Democratic candidates. Phone banks will promote candidates at all levels in more than 50 Congressional districts with substantial percentages of Democratic-leaning Latinx voters. If you are not bilingual but know people who might be able to participate, please share the sign-up.
Wed, Sep 28, 2022 7:00 PM – 8:00 PM EDT
Teach Truth FCPS Teach-In (Taller: Enseña la Verdad FCPS)
Free and Antiracist Minds (FAM) is a group of parents, teachers, and students connected to Fairfax County Public Schools. The goals of this event are to inform people about our campaign, share what we've learned about recent FCPS policies and practices surrounding antiracist education, and discuss how people can get involved if they are interested. This event will include Spanish interpretation. Este evento contará con interpretación al español. ¡Obtenga más información sobre la campaña Enseñar la Verdad FCPS de FAM, y aprende a apoyar un curriculo antirracista en FCPS!
Thu, Sep 29, 2022, 1:00 PM EDT
Combating Voter Misinformation: Tools for Election Officials and Advocates
Learn about evidence-based and behaviorally-informed strategies for effective messaging to inoculate voters against misinformation. Election officials and civic organizations can use these tools to combat misinformation, helping to ensure voters get to the polls on election day and to restore confidence in our democracy.
Sat, October 1, 11:30 AM – 2:30 PM
Fairfax Marriott at Fair Oaks
11787 Lee Jackson Memorial Highway
Fairfax, VA 22033
Join the Fairfax NAACP for their Annual Freedom Fund Luncheon to celebrate their 2022 community advocates and partners. The keynote speaker this year is Marvin Powell, Business Champion, Advocate, and Executive Coach. The emcee for the day is Nerissa Trindadea, transformational speaker and two-time international bestselling author. Enjoy a terrific lunch menu, music by DJ Zay, a silent auction and of course their community awardees.
Saturday, October 01, 2:00pm to 4:00pm
Celebrating the "Prevent A Gun Tragedy – Speak Up! Campaign
Sunday, October 2, 2:45 PM to 5:30 PM
World Premiere of Musical "Gabriel"
Firehouse Theatre
Join for the world premiere of musical "Gabriel" at Firehouse Theatre! Set in the summer of 1800, "Gabriel" tells the story of the biggest planned slave revolution in Virginia history! Based on the true and little known Richmond story, portrays the state-wide insurrection led by Gabriel, a literate enslaved blacksmith.
Williamsburg Women's Wave March/Rally 10/08/22
Williamsburg James City Courthouse, 5201 Monticello Avenue, Williamsburg
Unite with women for a National Day of Action to help us send the message: Women demand our rights. Women all around the country are uniting for a fall of reckoning. We will not sit back and accept the attacks on our families, future, and our freedom. RSVP for Williamsburg. Check other events here.
Be a BADASS, Power Map Yourself
---
DemCast is an advocacy-based 501(c)4 nonprofit. We have made the decision to build a media site free of outside influence. There are no ads. We do not get paid for clicks. If you appreciate our content, please consider a small monthly donation.
---