DeSantis used migrants as "props" in his political stunt.
How do you describe his scheme spanning different states, millions of dollars, secretive operatives and shifting storylines? With information across different publications, Twitter and YouTube? So that it is easy to read on a phone or laptop? And update the story with news details?
Use a Dynamic Interactive Multimedia Story (DIMS) like this one created with the free Kumu app. Why?
Details emerge gradually as the investigations expand. That's why it's important to be able to update the story. (DYNAMIC)
People want to explore the scam from different angles. Readers may want to start with the brochures used to trick the migrants onto a plane, the racist rant from Tucker Carlson or who the mystery operative 'Perla' might be. (INTERACTIVE)
Information comes from multiple sources. This story, for instance links to quotes from Popular Info, Washington Post, NY Times, Bulwark, Talking Points Memo, NPR, Politico and Letters From An American). It includes text, maps, images, maps and videos. (MULTIMEDIA)
People are busy and scams are complex. Avoid information overload. Readers should be able to understand the DeSantis stunt at a glance, and dive into the STORY for details based on their interests.
Where did DeSantis get $625,000 for his political stunt to trick 48 Venezuelan migrants onto a plane in Texas and fly them to Martha's vineyard? Follow the money.
Follow the money and politics behind the stunt
Using vulnerable human beings for political agenda
"Those planes were filled with actual human beings. People with dignity. People with hopes and dreams, problems and challenges. People with names and families. DeSantis who loves to quote the Bible used them as props. He didn't clothe the naked or feed the hungry as Jesus preached. He did the opposite: he evicted them. Not because he felt that he had to or because it was a requirement of the law. But because he saw that he could use them as a means to the ends of his personal ambition. Christians should look at this act and be revolted. They should be horrified. Because using vulnerable human beings for your personal gratification is evil." – Abstracted form Jonathan Last in Bulwark.
Storytelling with a purpose
Readers can branch off from the main dashboard into the story from the point that mosts interests them by simply click on a face, icon, connection on the map. Here are some of the story telling features: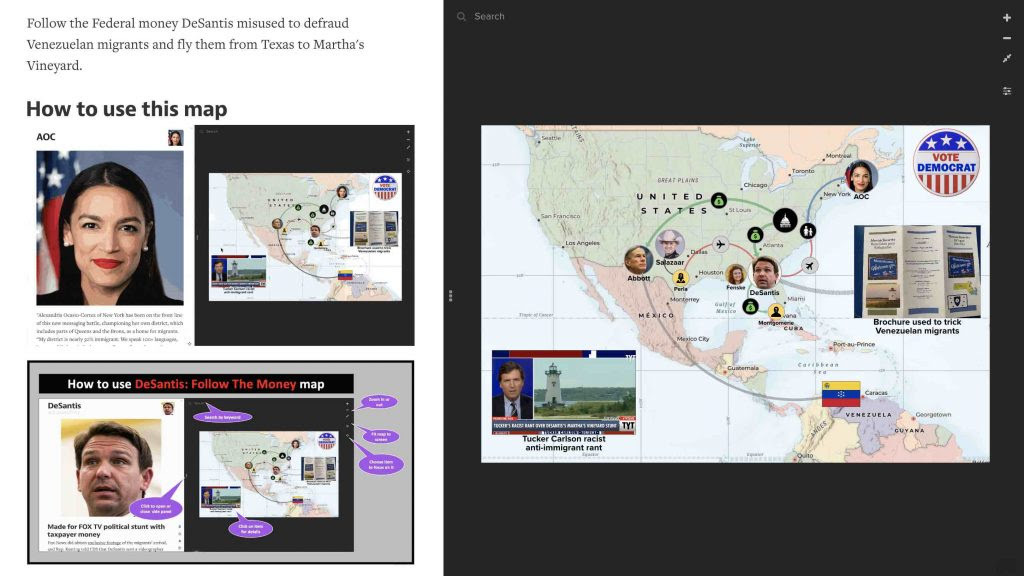 How to tips
Include directions on how readers can interact with the map. This shows up in a side panel and can include an interactive GIF.
Include videos in your story
Incorporate videos into your story so readers can easily see it with just a click. This story includes a link Tucker Carlson's racist rant video on YouTube.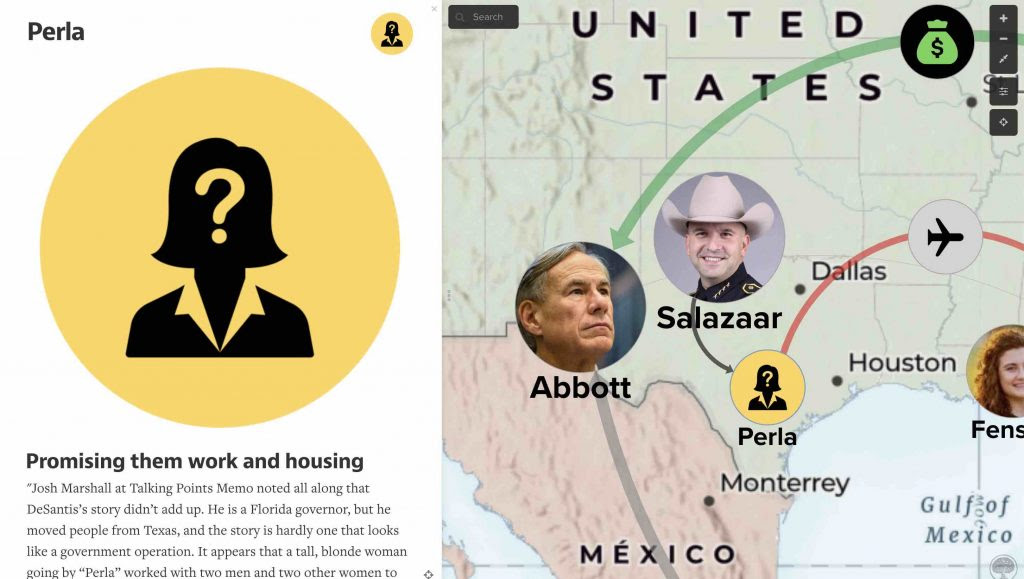 Profile the characters involved
Let readers know about the players in your story by including their profiles. The DeSantis story involves a mystery women 'Perla' who tricked migrants onto the planes.
Include documents
Incorporate documents, PDFs and GIFs in your story to make it easier for readers. This story includes links to the phony brochures reported by Popular Info which were used to trick the migrants.
Include Tweets
Incorporate tweets in your story with just a link. This story includes a Tweet announcing the Texas investigation into potential wrongdoing by Sheriff Javier Salazaar.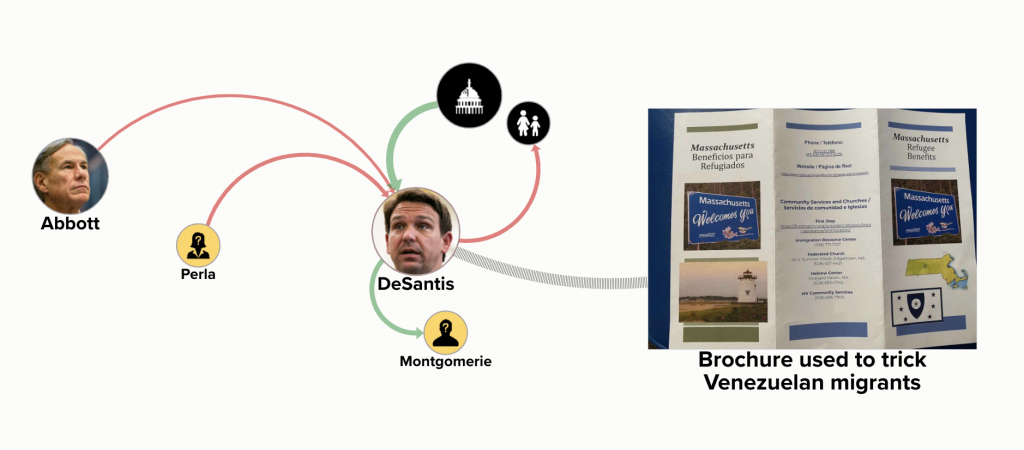 Show the relationships
Explain the connections between people, money and documents. This map shows the connection between Federal funds for COVID relief and how DeSantis misused them.
Follow the money!
Let readers see how money changed hands. This map shows how DeSantis paid $615,000 to Vertol Systems and the political contributions made by James Montgomerie, Vertol CEO. Two unrelated events.
Take the story for a test drive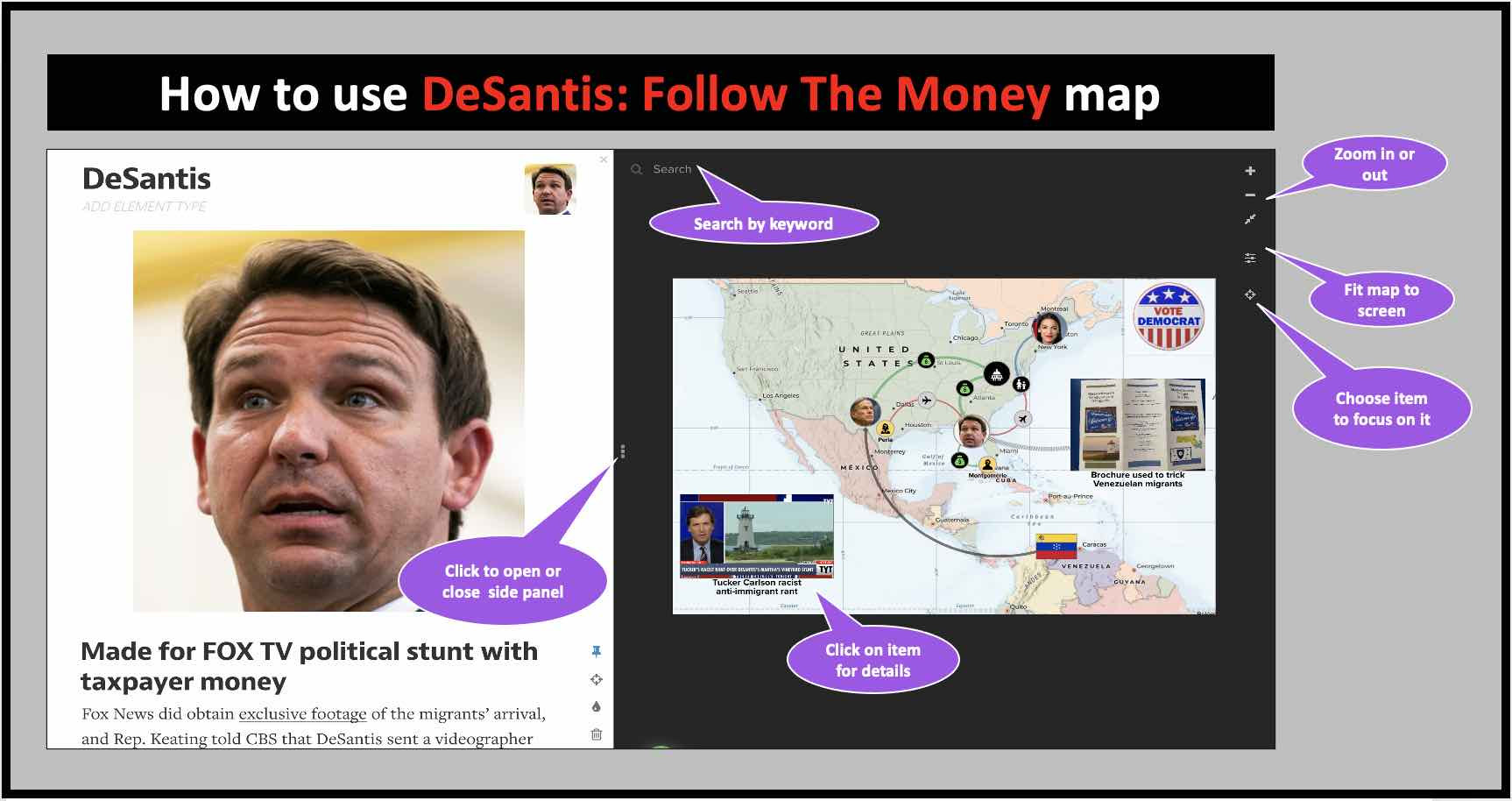 Federal covid aid enabled Florida to pay for migrant flights
"The Florida state budget took advantage of what some critics describe as a stimulus loophole —- prompting renewed calls for a federal probe. A little-noticed part of Florida's recent budget dedicated about $12 million to the relocation campaign, an escalating effort that saw the state send two planes filled with dozens of migrants — children included — to Martha's Vineyard, Mass. To set up the program, DeSantis took advantage of the fine print in the American Rescue Plan, a roughly $1.9 trillion stimulus law." – Washington Post
"If the problem is being able to care for illegal immigrants then maybe the state of Florida should have spent the $12 million on, you know, caring for illegal immigrants. Instead of using the money to get earned media for the governor." – Bulwark
DeSantis copies Trump Playbook
"Long considered to harbor presidential ambitions, Mr. DeSantis ripped this move directly from the playbook of Mr. Trump, whose rhetoric and political style he has adopted. The idea of transporting migrants to Democratic strongholds was considered by the Trump administration. Stephen Miller, the former president's policy adviser, and others in the Trump White House pushed the move as a way to strike back against sanctuary cities that refused to fully cooperate with federal immigration authorities. The plan was rejected by Immigration and Customs Enforcement officials over liability and budgetary concerns." – NY Times
Sheriff from San Antonio Opens Investigation
"Bexar County Sheriff Javier Salazar (San Antonio) opens criminal investigation into DeSantis/Martha's Vineyard flights. He says he's working with the lawyers representing the migrants who were shipped to Martha's Vineyard. "I believe there is some criminal activity involved here, but at present, we are trying to keep an open mind and we are going to investigate to find out and to determine what laws were broken if that does turn out to be the case," said Salazar. – Josh Marshall – Talking Points Memo
"It's very clear that being the biggest, meanest cruelest person on the block is the path to success in the Republican Party. And it's a strategy for which Republicans have suffered few (if any) consequences. Eventually, Democrats must make Republicans pay a price for performative, overly political cruelty." – Dan Pfeiffer in Message Box
TakeAway: Follow the money behind DeSantis' political stunt of trafficking Venezuelan migrants.
Deepak
DemLabs
DISCLAIMER: ALTHOUGH THE DATA FOUND IN THIS BLOG AND INFOGRAPHIC HAS BEEN PRODUCED AND PROCESSED FROM SOURCES BELIEVED TO BE RELIABLE, NO WARRANTY EXPRESSED OR IMPLIED CAN BE MADE REGARDING THE ACCURACY, COMPLETENESS, LEGALITY OR RELIABILITY OF ANY SUCH INFORMATION. THIS DISCLAIMER APPLIES TO ANY USES OF THE INFORMATION WHETHER ISOLATED OR AGGREGATE USES THEREOF.
Read in browser »
Reposted from Democracy Labs with permission.
---
DemCast is an advocacy-based 501(c)4 nonprofit. We have made the decision to build a media site free of outside influence. There are no ads. We do not get paid for clicks. If you appreciate our content, please consider a small monthly donation.
---