Meet 2 IL Supreme Court Candidates: Aug 30
The Illinois Supreme Court matters. For one thing, it can determine what happens with abortion access and reproductive rights. Join Jane's Army online next week – Tuesday, August 30th – for this important virtual event.
From Jane's Army and co-sponsors, including Indivisible Chicago Alliance:Tune in to hear from two candidates for the IL Supreme Court and organizers from Jane's Army to learn more about what the stakes are this November, why we need to elect these two progressive candidates, and how you can plug into the work.
What: You Be the Judge: Meet Two IL Supreme Court Candidates (an online event)
When: Tuesday August 30th, 6:30-7:30 pm
Info: See the Facebook Event page
Sign up: To get the link to the event, sign up here.
---
Writing to Voters – Summer & Fall
When voters receive handwritten envelopes and letters, they're more likely to actually get out and vote. That's why Indivisible Chicago-South Side has been working this summer on Vote Forward campaigns to get out the vote in key districts in Illinois and in battleground states across the country.
Glimpses from our July-August Vote Forward letter-writing sessionsPEEP OUR SUMMER STATS
4 Vote Forward letter-writing sessions, held on the Nile Restaurant patio
31 people attended one or more times in July/August
670 letters written – to be mailed Oct 29 to voters in states including Florida, Wisconsin, Michigan, Pennsylvania, Arizona, and Virginia, as well as key districts in Illinois
A big thank-you to all who came out to write on one, two, three, or four of our dates this summer. Shout-out to folks who've donated stamps, beverages, or cash or joined Vote Forward themselves and have been downloading their own letters.
Special thanks to Vote Forward expert writer and our mentor, Steve Kagan, who shares welcome advice and encouragement. He has also been using his own resources to print letters for us and to provide envelopes and stamps. Steve is our inspiration!

LAST WEEK, NEXT MONTH
Last week we set a record with 15 letter writers, who penned 250 letters. Enjoy these photo highlights:
Mark your calendar: Our next letter-writing dates will be Thursdays, September 15 & 29. Once again, we'll meet on the Nile patio, new time: 6:00-8:30 pm. Watch for the sign-up link in upcoming newsletters.
MEANWHILE… Sign Up with Vote Forward
Work on your own letters from home. Sign up with Vote Forward and you can choose a state, then download and print your own letters to work on at home.
Steve K recommends writing letters while watching football. Not a sports fan? Write letters while viewing your fave TV entertainment or while sipping wine or tea with a friend.
Do letters make a difference? YES.
Handwritten letters encourage people to get out and vote. And in many districts, a few votes can sway an election. Vote Forward is a leader in letter-writing campaigns. Want evidence? Read about the impact of Vote Forward letter campaigns here & here.
---
Helping Re-elect Rep Underwood!
This year, winning Congressional seats in Illinois is key to holding the House for the next two years. In her 4 years in Congress, Rep. Lauren Underwood has been an incredibly effective advocate for progressive issues, especially health care and Black women's maternal health. But, after redistricting, Illinois's 14th District is made up of 70% new territory. Many are Democrats not used to voting in midterm elections.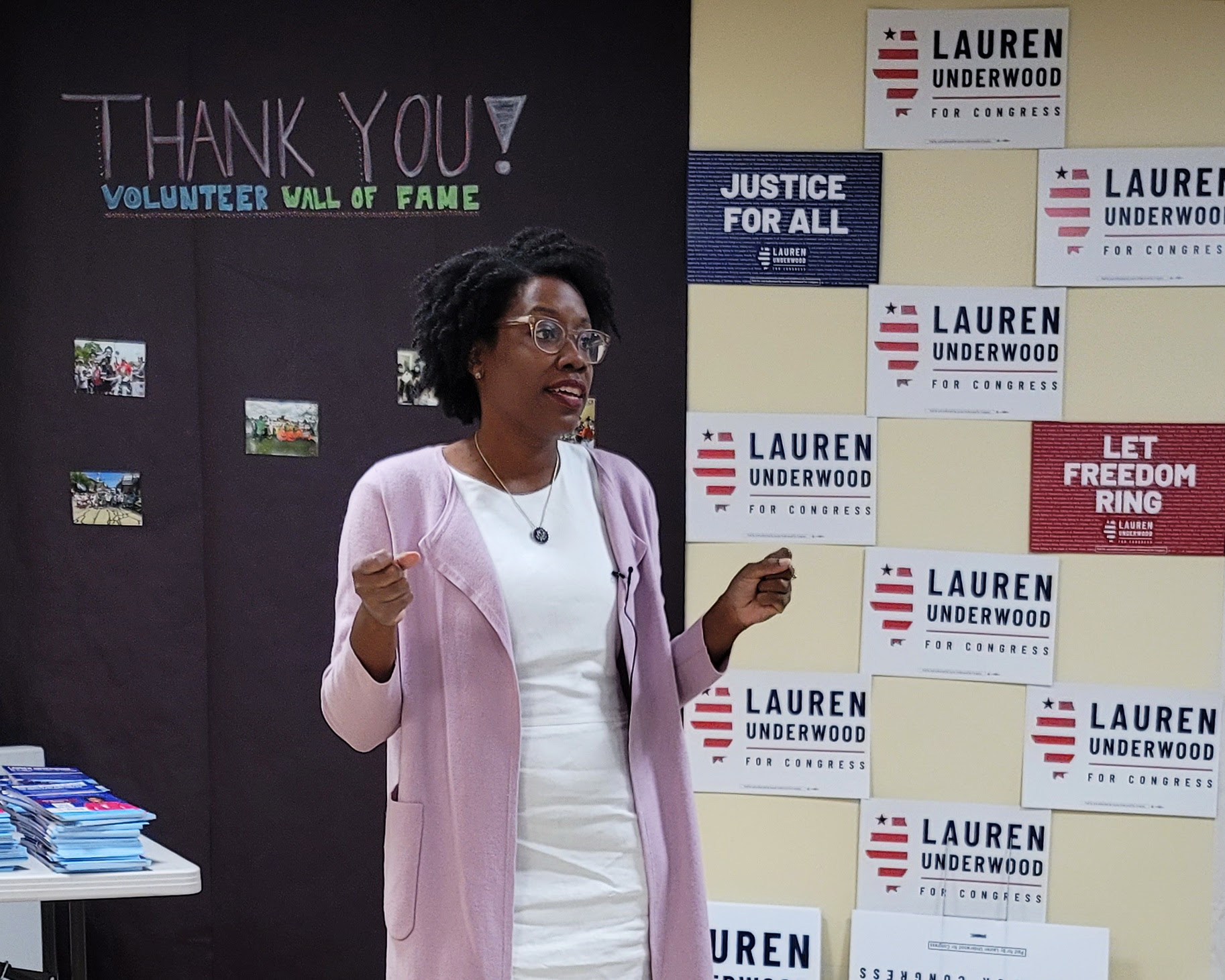 Congresswoman Underwood says talking one on one to Democratic voters is vital – if they know her, they'll vote for her
Indivisible Chicago Alliance (ICA) is working to make sure Lauren Underwood goes back to Congress. And Indivisible Chicago-South Side is part of this vital effort.

Over the weekend, 5 IC-South Siders joined more than 20 other activists with ICA to knock doors for Rep. Underwood in Joliet. Special guest canvasser was Delia Ramirez, Democratic candidate for Congress in Illinois's new 3rd district.


The Indivisible Chicago-South Side crew: Esther, Sarah, Betsy, Steven D, Michael
Lauren Underwood addressed the roomful of volunteers. She told us that the biggest threat to her re-election is voters not knowing her. The most important thing we volunteers can do is help Democratic voters in this new part of the district learn who she is so they'll want to get out and vote — for her!
We had an uplifting Saturday afternoon going door to door in Joliet neighborhoods — so many people we spoke to had never heard of Lauren Underwood but said they'd vote for her after we told them about her. Canvassing makes all the difference. Thanks, volunteers!
Phone Voters for Rep Underwood – Tuesday Evenings
You can also help Lauren Underwood win in 2022 by joining the Indivisible Chicago Alliance's weekly phone banks. We're dialing for Lauren every Tuesday from 6-8 pm from now until the election.
What do you need in order to phonebank from home? A laptop, a phone, and a comfy place to sit. You connect with phonebank leaders on Zoom, where you get all the training and support you need before – and during – the two-hour session. In the last 15 minutes, you get to debrief and share phonebank stories with the other callers.

To get the Zoom link to join one or more Tuesday evening phonebanks for Lauren Underwood, RSVP here.
---
Get Active in Vital Campaigns Across the USA
Indivisible Chicago-South Side shares opportunities to make a difference in key Illinois districts and in other battleground states. Join the efforts!
---
Make a Difference in Georgia: Phone from Chicago
From Georgia Dems: We are excited to "Keep Our Dem Senate"' with Reverend Warnock and elect Stacey Abrams as Governor! You're invited with front-row seats.

From now until our big win in November we will have phone bank events that welcome amazing volunteers and special groups across the U.S.
ACT: Phone Georgia voters from your home to help turn out the vote for Georgia's critical elections. Many dates, times to choose from. Sign up here.
---
Volunteer for Sean Casten – Keep IL-06 Blue
Rep Sean Casten is running for re-election in Illinois's 6th district, newly redrawn to include many new areas. Let's help keep this strong pro-environment, pro-choice Democrat in Congress! Learn more about Sean here.
ACT: Volunteer in person … or from your own home:
---
Organizations & Opportunities
Indivisible Chicago-South Side shares information and action announcements from other organizations on issues important in our country, state, city, and communities.
---
Advocate for the War Divestment Resolution – with Sue Avila
Join IC-South Side member Sue Avila in advocating for a resolution in the Chicago City Council to divest Chicago from war.

IC-SS member Sue Avila
Sue writes: Chicago is currently investing taxpayer dollars in the War Machine through its pension funds, which have millions invested in weapons manufacturers and military contractors.

These investments prop up violence and militarism at home. A Chicago Tribune analysis published August 19, 2020, found that Illinois law enforcement agencies received $4.7 million worth of surplus military equipment including several armored vehicles and assault rifles in a two-year period starting in 2017.
Sue continues: A group of us are working to pass a Resolution in the Chicago City Council to divest Chicago from war. Currently the divestment resolution, R2021-1305, has 9 co-sponsors including Ald. Jeanette Taylor (20th Ward). The resolution was moved last March to the Finance Committee. Ald. Leslie Hairston (5th Ward) is Co-Chair of that committee. We need your help getting the Finance Committee on board.
ACT: A group of us are organizing to meet with Ald. Hairston in the coming weeks to urge her to support the war divestment resolution. If you are interested in joining the effort, please contact Susan Avila at avila.susan@gmail.com.
---
Tomorrow: Tues, Aug 23, 6 pm: Community Control of Police!
CAARPR writes:Join us this coming Tuesday, August 23rd, at 6 PM on the corner of Randolph and Clark St. to DEMAND the immediate full implementation of the ECPS ordinance.
The Interim Community Commission for Public Safety and Accountability has yet to be appointed, and this shows the necessity to continue shifting power out of the hands of the Mayor and into the hands of the people when it comes to police accountability and public safety. That's why we're kicking off our efforts to get people into position in the District Council elections coming up in February of 2023. Come out on Tuesday and join us!
Check CAARPR's Facebook page for any updates on this event.
---
Take Action for Reproductive Justice: In Person, Aug 28Sunday, August 28th, 10:00-11:30 am: Come to an in-person event at Congregation KAM II in Hyde Park-Kenwood.
From Congregation KAM II: KAM Isaiah Israel and Congregation Rodfei Zedek are co-sponsoring a program at KAM II to help us find ways to take action for reproductive justice. Hear from speakers from organizations including Planned Parenthood of Illinois, the Chicago Abortion Fund and Men 4 Choice.
Help assemble post-procedure kits for the Chicago Abortion Fund, and find out where donations are most needed, how to sign up as volunteers and what the most urgent needs are to keep abortion safe and legal in Illinois.
Childcare will be provided in a separate room. Light refreshments will be served. More details about the program and speakers will be coming soon.
---
Newsletter Notes
SUBSCRIBE: Did someone forward this newsletter to you? If you'd like to subscribe and get our newsletter every Monday morning, click here to subscribe.

SUGGEST: Got an event or resource to suggest for the newsletter? Email us here.
---
Indivisible Chicago-South Side
Email: Indiv.Chi.South@gmail.com
Follow IC-SS on Facebook and Twitter
Co-Leaders: Sarah Lincoln, Esther Peters,
Betsy Rubin, Teri Watkins
About: Group & Co-Leader Statements
---
DemCast is an advocacy-based 501(c)4 nonprofit. We have made the decision to build a media site free of outside influence. There are no ads. We do not get paid for clicks. If you appreciate our content, please consider a small monthly donation.
---