Oh, Carmen!Hello, Indivisible Venturans. This has been a long, hard week. As many in this community know, Ventura County Supervisor Carmen Ramirez was killed in a traffic accident on Friday, August 12th. (https://www.vcstar.com/story/news/2022/08/12/supervisor-carmen-ramirez-dies-after-being-struck-vehicle/10317001002/) We don't have the words to fully convey the depth of this tragedy on us, on those she helped directly and on our community at large, so we're going to borrow some from Rep. Julia Brownley:
"Tonight, our community mourns the life and legacy of one of its most loved and admired citizens, Carmen Ramirez. Carmen was my friend, and I cannot put into words what this loss means to the many people who were fortunate to know her. My heart is broken.
She loved her community passionately, and she will always be remembered fondly for her kindness, her warmth, and her smile. She was a source of inspiration for so many, and a mentor to so many others. Her compassion, her caring conviction, and her unwavering optimism were contagious.

She cared deeply, and she lived to serve others. She challenged us to strive to be better, to be better neighbors, to better serve others.
Her partner, Roy, her family, her friends, and the community she loved so much are in my prayers."
Make her proud(Make sure your phone is programmed to make calls FAST! https://indivisibleventura.org/2017/07/30/tools-of-resistance-making-calls-faster/)
Viva Carmen Ramirez! – 3 actions to take in her name.
Action #1: Tell Governor Newsom to publicly support the Vision Act!
Action #2: Pass H.R. 1177/S.348 – U.S. Citizenship Act NOW!
Action #3: Carmen cared about families and children. Ask to pass H.R.2766/S.1375 – Families Belong Together Act in her name.
Post here:https://indivisibleventura.org/2022/08/15/viva-carmen-ramirez-3-actions-to-take-in-her-name/
What would Carmen do when faced with environmental injustice?

We know exactly what she would do.

But now it's on us to act in numbers strong enough to protect our environment and vulnerable communities.

We are grateful to those individuals and groups who put together these focusing actions today.

Action #1 (State): Call your CA state senator TODAY and tell them to vote "NO" on SB 396.
Action #2 (State) : Call/email your CA state legislators to vote "YES" on the following environmental bills…
Action #3 (Federal): Fixing the "Inflation Reduction Act" – Can you say "sacrifice zone?"

Post here: https://indivisibleventura.org/2022/08/16/what-would-carmen-do-when-faced-with-environmental-injustice/
"IG" stands for "Inspector General" and should stand for a lot more.

(This action was distributed before Carmen's accident. However, as someone well-versed in the workings of government, she would have appreciated an action to keep corruption out of its highest levels.)
The best civics instruction most of us have ever had is what we've learned through the corruption of the Trump regime.
– Action #1: Call the Department of Defense Inspector General's hotline.
– Action #2: Send a message to President Biden.
– Action #3: Tell your senators to dump Cuffari and O'Donnell and pass H.R.5633 – DHS Inspector Transparency Act.
– Action #4: Call your Representatives – Yes on H.R. 1301 – To direct the (NEW) DOD IG and the Comptroller General of the United States to submit to Congress reports regarding white supremacy in the Armed Forces.
Post here:https://indivisibleventura.org/2022/08/11/ig-stands-for-inspector-general-and-should-stand-for-a-lot-more/
Here's some news that she would have loved!


Free School meals to all CA K-12 Public School Students!
California has made history becoming the first state in the nation to transform school food by permanently providing free school meals to all K–12 public school students.
Free Breakfast and Lunch for All K-12 Students, Permanently
This landmark investment provides $650 million annually (beginning in the 2022–2023 school year) to nourish our children and support academic success. As the first state in the nation to provide free school meals to all public school students regardless of eligibility, California is paving the way for our country to make healthy school meals a part of every child's educational day.
Largest Farm to School Grant Program in the Nation
$30 million for Farm to School in both the 2021 and 2022 state budgets passed in September 2021, creating the largest Farm to School grant program in the country. This investment speaks to the initial success of California's Farm to School Incubator Grant Program, which began with $8.5 million in 2020.
Funding to Increase Freshly Prepared Meals
$150 million in one-time funding for training and equipment to serve freshly prepared meals at school was also included in the state budget. School kitchens are historically underfunded and often not equipped to prepare fresh food. This funding will provide the proper equipment and necessary training for school nutrition professionals to serve more freshly prepared and locally-grown food.
Source: California Food for California Kids
New CA program creates the nation's largest college savings program.
Today, thanks to @gavinnewsom & our Democratic leadership, California launched the nation's largest college savings program! 3.4 million college savings accounts have been created for low-income students across the state.
Visit calkids.org to activate your account!
Tri-county residents can check out electric induction cooktops from County libraries!
3C-REN (Tri-County Regional Energy Network), a partnership between the Counties of San Luis Obispo, Santa Barbara and Ventura that delivers energy-saving programs, is partnering with participating Santa Barbara and Ventura County libraries to provide electric-powered magnetic induction cooktops that local residents can check out and use at home.
This program offers residents the opportunity to try cooking with induction at home before making a permanent switch. Cooking with induction has many benefits over gas and electric ranges including faster, more precise heating, easier control of temperature, and the elimination of indoor air pollution from gas appliances. Residents can use the cooktop to test a variety of different recipes and when finished, return it to the library.
Get the details and find a participating library near you at www.3c-ren.org/diy-toolkit/.
Ventura Library: https://www.facebook.com/VenturaCountyLibrary/
EVENTS!
Thursday – 08/18/2022 – ONLINE – Briefing: Thow the Inflation Reduction Act will Cut Prescription Drug Costs, Lower Health Insurance Premiums and Expand Coverage with Special Guest Deputy Secretary of Health and Human Services Andrea Palm " (10:00 am PT)
The White House sent out an invitation to 4 different briefings this week, each one designed to explain a different aspect of the Inflation Reduction Act.
RSVP: https://pitc.zoomgov.com/webinar/register/WN_LfSsDsUVTxuSV5WvT-2qHQFriday – 08/18/2022 – ONLINE – "Briefing: How the Inflation Reduction Act will Benefit Rural Americans" (12:00 pm PT)
RSVP: https://pitc.zoomgov.com/webinar/register/WN_58SjeyOvS-SLh_4bkHK9zQSaturday – 08/20/2022 – VENTURA – "Ventura County Pride" (11:00 am – 6:00 pm PT) Plaza Park, Downtown Ventura
Ventura County Pride Festival is a weekend-long event in August with over 5,000 attendees that celebrates the LGBTQ community, supporters, and allies in Ventura County. All proceeds raised will sustain the Community Resource Center and Diversity Collective programs and services. These services include free anonymous HIV & AIDS testing, peer-support groups, cultural competency training, and Rainbow Umbrella Youth Group, a safe space for LGBTQ youth and their allies.
Our mission for Pride weekend is to educate, advocate, and celebrate the LGBTQ community while providing a platform for those most marginalized in our community. We promote diversity, education, and mental and physical health to the lesbian, gay, bisexual, transgender, queer, Latinx population, and the general public.
The work of Diversity Collective is essential 365 days a year, as we offer support and resources for a marginalized community. Pride Weekend is a time for Ventura County's LGBTQ+ Community to celebrate, stand out and stand proud.
Tickets for purchase: $5/students, military, first responders, essential workers, persons with disabilities(PWD) and seniors 55+, $10/ pre-sale, $50/VIP
Facebook link:https://www.facebook.com/events/3346468735630864Saturday – 08/20/2022 – VENTURA – "Ventura County Pride – Free Pop-up Monkeypox vaccine & HIV screening" (12:00 pm – 5:00 pm PT) Plaza Park, Downtown Ventura
Diversity Collective is partnering with Ventura County Public Health to ensure the safety and wellbeing of our community members by offering free Monkeypox Vaccines and Free HIV Screenings Saturday, August 20 at Ventura County Pride.

At this time the limited supply of vaccines coming from the California Department of Public Health (CDPH) is being administered through VCPH and prioritized for those who meet these eligibility requirements or who have been in close contact with a confirmed case.
If you feel you you meet the requirements, please email at edgar.euan@diversitycollective.org to let us know you're interested as vaccines are limited.
With two confirmed cases of monkeypox in Ventura County, we want to make sure our communities are educated to stay safe and reduce risk of infection! Check out Diversity Collective's Facebook page (https://www.facebook.com/diversitycollectivevc/) for posts in English and Spanish on myths and facts about monkeypox.Saturday – 08/20/2022 – OXNARD – "8th Annual Community Resource Fair" (10:00 am – 2:00 pm PT) 2640 Alvarado St, Oxnard
"It is with great excitement that we announce the date for our 8th Annual Community Resource Fair taking place at Revive Community Church on Saturday August 20th. The fair will have over 40 local vendors ranging from staffing agencies, financial firms, educational institutions, medical facilities, medical providers, medical clinics, county health agencies, among many others.
We will be distributing food, toys, clothes, and backpacks for all in attendance.
This event is only possible with the help from volunteers and sponsors, if you wish to volunteer and be of service to our community please click on the link and sign up!
We are open to receive donations from Tuesday – Friday between 10am and 4pm!
Link: https://www.go2revive.com/general-6Sunday – 08/21/2022 – OXNARD – "Summer of Love Community BBQ & Small Biz Cornhole Competition" (3:00 pm – 7:00 pm PT) Open Door Studio

Live music, art exhibit, free games & activities, & a BBQ dinner plate included with $15 donation at the door – all funds raised goes toward art education for underserved communities in Ventura county.
Facebook link: https://www.facebook.com/events/1219682572212367
Update on the Fair!NEXT OUTING – SWAP MEET JUSTICE CITIZENSHIP, EXPUNGEMENT & FAMILY RESOURCE FAIR returns to Oxnard College's Marketplace on Aug. 28 from 9:00 am – 3:00! We are located near the gym.
New website!:swapmeetjustice.org (Includes links to downloadable/printable flyers) 

Here are the numbers from last month's (July) social justice coalition fair:
– Ventura County Public Health: (96) people were able to get their next COVID vaccination from the county's great team. Here's a picture of the clinic set up and the DRC team.
– Disability Rights CA (DRC): (96) people received $50 gift cards and $10 dollar lunch vouchers at Juarez Tacos' food truck and were able to ask questions about disability rights.
– State Council of Developmental Disability (SCDD): (40) people discussed issues with developmental disabilities in their families, (250) families received free testing kits, and SCDD was able to take over (50) "vaccine hesitancy" surveys.
– Westminster Free Clinic – Oxnard: 78) people were able to get blood pressure and diabetes testing done on-site. Their volunteers had hoped for (60) participants and ended up using all the testing materials they had with them.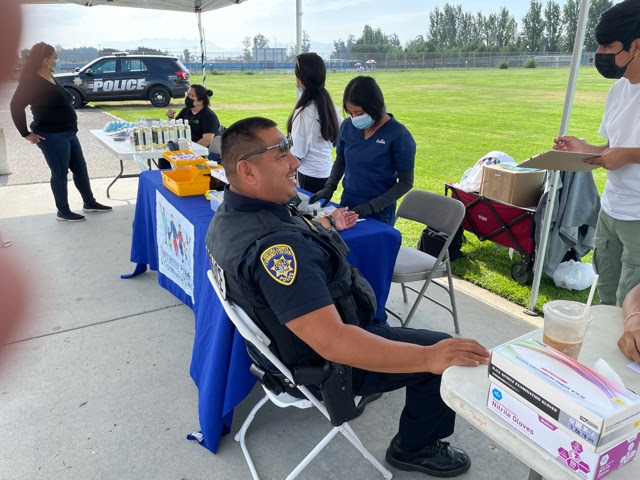 – Promotoras Y Promotores Foundation, Ventura County Behavioral Health program Logrando Bienestar and Fomat: (41) people were able to discuss mental and emotional health concerns.
– Ventura County Behavioral Health: (80) people stopped by to discuss issues with substance abuse.
– Interface Children and Family Services: (22) people were able to meet with Medi-CAL navigators from and sign up right there at the fair for benefits.
– Ventura County Public Defender: (3) people were able to consult with attorneys and one got his records expunged. This is currently the only free monthly expungement clinic available on a weekend in CA.
– Labor and employment attorney Xavier Villegas: (6) people were able to consult about problems they've encountered in their workplaces, with one being a serious issue.
– Swap Meet Justice: (45) people were able to talk to our immigration attorneys to get expert advice on their status issues and (6) people were able to finish applications for citizenship and green card renewals with our community volunteers and immigration experts.
– Promotoras Por Justicia Migratoria: (40) Swap meet shoppers/families were given educational information about notario fraud, where unqualified individuals scam thousands of dollars from families trying to accomplish their immigration journey.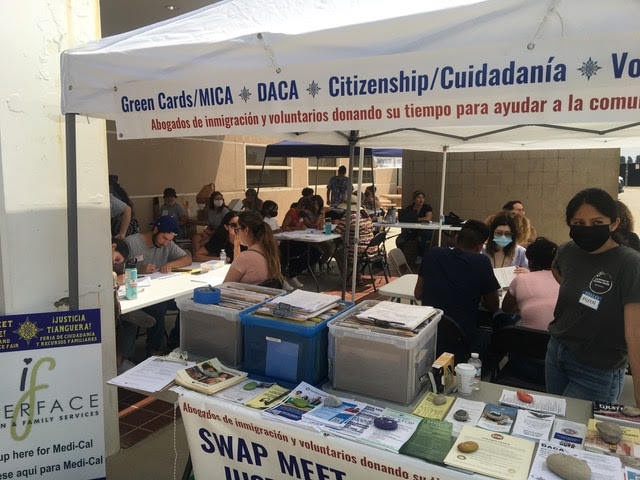 – Ventura County Department of Child Support Services: (6) people were able to discuss issues regarding child support.
– Ventura County Human Services: (65) people were given information about Medicare-Cal, CalFRESH, CalWorks and other county-administered programs.
– Gold Coast Health Plan: (75) people were able to discuss accessible health plans
– Tri-Counties Regional Center: (±50) people were able to discuss family-centered support programs for those individuals with developmental disabilities.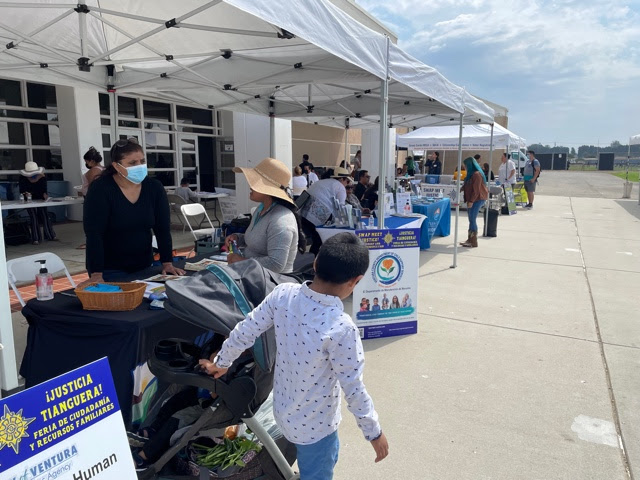 – MICOP: (±70) people discussed issues regarding supporting, organizing and empowering indigenous migrant communities.
– CAUSE: (5) new voter registrations, and numerous conversations regarding community issues facing the immigrant community, including housing and environmental justice, worker and immigrant rights, and investing in youth of color.
– Center for Employment Training (CET): Their representative was everywhere, interviewing volunteers and fairgoers, while helping out at our children's coloring table, which kept cool under the gym loggia.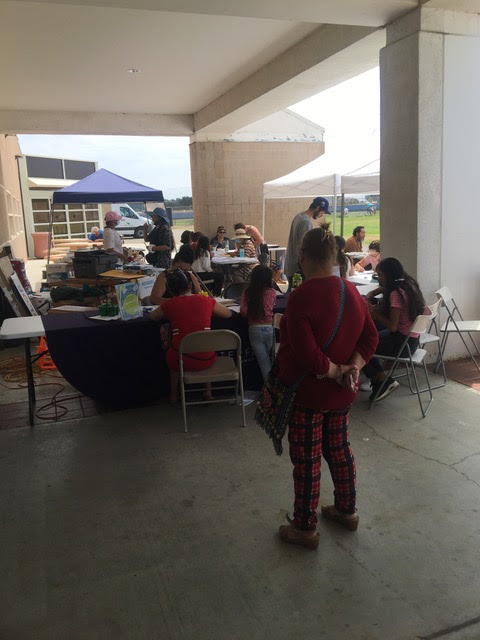 Some new resources we're hoping to join us this coming month:
– Community Action of Ventura County (https://www.ca-vc.org)
– Jubilee Legal (https://www.jubilee.legal) Lawyer Sparky Abraham will be provide free advice for those involved in issues concerning: debt collector harassment, credit report errors, identity theft, student debt assistance, Medical debt relief, foreclosure assistance, utility debt relief and property Assessed Clean Energy (PACE). Mr. Abraham has worked as a legal services attorney in Oakland and Los Angeles, as an enforcement attorney for the federal Consumer Financial Protection Bureau, and has litigated economic and racial justice issues for the NAACP Legal Defense and Educational Fund.
Would you like to volunteer? https://swapmeetjustice.org/volunteer-voluntarios/
Are you able to donate? They are much appreciated! https://swapmeetjustice.org/donate-donar/
Phone banks, Text Banks, Postcards!
VOLUNTEER TO HELP ON PROP. 1 – Right to Reproductive Freedom AmendmentWhat's in the amendment? "The state shall not deny or interfere with an individual's reproductive freedom in their most intimate decisions, which includes their fundamental right to choose to have an abortion and their fundamental right to choose or refuse contraceptives." As of June 24, 2022, abortion was legal in California up to fetal viability and after viability if the procedure is necessary to protect the life or health of the mother."
– (https://ballotpedia.org/California_Proposition_1,_Right_to_Reproductive_Freedom_Amendment)
More information: Planned Parenthood's fact sheet (https://www.protectabortionca.com/wp-content/uploads/2022/07/220710-YesOn1-FactSheet.pdf).
Share this graphic everywhere! It takes you straight to the volunteer sign-in page! At the local level, our Planned Parenthood affiliate is planning canvassing, phonebanking, textbanking, and postcards campaigns, so there's something for everyone.
For those who dislike QR codes, go here: https://www.protectabortionca.com/act-now/#volunteer

Sign up to volunteer today!
Wednesday – 08/17/2022 – ONLINE PHONE BANK – " Bay Area Coalition Phonebanks – If it's Wednesday, we're calling Arizona voters" (5:00pm – 7:00pm PT)
We need your help talking to voters about Democrats up and down the ticket. A phone bank is a great way to reach voters and talk about issues we all care about.
With the importance placed on the Midterm elections, we need to reach out and talk to voters about crucial swing district and state races up and down the ballot so that we maintain control of the House, expand Democratic control of the Senate, and flip state legislatures to preserve democracy. Virtual phone banks have become an essential part of campaigns. Whether you're new to phonebanking or an expert, you have a place with our people-powered campaigns. The good news is, phone banking is easy to learn and can be done from the comfort of your own home.
On Wednesdays, we are calling Mission 4 Arizona to support Senator Kelly, Katie Hobbs for Governor, Adrian Fontes for Secretary of State The Nevada Senatorial race is considered one of the closest races in the United States. Help protect Senator Catherine Cortez Masto's seat. Volunteers like you can help Mission for Arizona unite Democrats across Arizona and build upon our historic success in 2020 to re-elect Mark Kelly and Democrats up and down the ticket. And we are offering phonebanks into the California Central Valley on behalf of Rudy Salas who is running for Congress in CD 22.
RSVP today and invite a friend to join us!
Bring your laptop or tablet. If you have never phonebanked before, we will train you.
Mobilize link: https://www.mobilize.us/swingleft/event/439302/
Wednesday – 08/17/2022 – ONLINE PHONEBANK – "Christie For Congress – Weekly Phone Bank" (6:00 pm – 8:00 pm PT)
Join Team Christy as we make calls to voters! This event will be virtual so you can join from the comfort of your home!
Let's talk to our neighbors about the importance of voting so we can flip CA-27 blue in 2022 — and why Christy is the best candidate to do so!
Mobilize link: https://www.mobilize.us/mobilize/event/476902/
JOIN THE POSTCARD BRIGADE!!
You Can Make a Difference! Do you want to help Democrats win in the 2022 elections? You can write Get Out The Vote (GOTV) postcards to help get Democratic voters to the polls! Studies have shown that receiving a colorful postcard with a short punchy message is the most effective way to persuade a voter to get to the polls.
One of Indivisible Ventura's members is working with Postcards to Swing States (PSS) to coordinate GOTV postcarding focused on Senate races in swing states. PSS identifies the campaigns, writes the message, and provides the voter names and addresses. She will provide the cards and, if needed, the stamps.
If you want to participate, please send an email to her at ivpostcards@gmail.com. She will add you to her writer roster and email you a description of the campaigns she is currently running. You decide which campaigns you want to join and specify the number of cards you want.  If you live locally, you may collect your supplies from her address in Ventura.  She can also will snail mail your packet to you

Resist every damn day! – Debby Millais, Postcard Wrangler

Please DONATE to the cause! 
Indivisible Ventura is completely volunteer run and your donation will support the direct costs of organizing in Ventura — things like expenses for Swap Meet Justice, posters, art supplies, stamps, transportation, and more! Although we've defeated Trump and taken back the Senate, we have to act urgently to save our democracy and enact other desperately needed reforms. Getting it done depends on all of us. Let's stand together, indivisible. Indivisible Ventura is one of 6,000 grassroots Indivisible groups across the country. Together, we will win. (https://secure.actblue.com/donate/ven383907253)

The usual caveats…
Keep ahead of us on our calendar scroll here: tinyurl.com/VC-calendar

• If we screw up a link, our apologies. You can find the original post here: tinyurl.com/VC-calendar
• We're putting up information on local protests and actions by others we're finding from informal sources. 

These listings are not endorsements nor guarantees as to time/place/type of protest or participant safety. Events can and have already been cancelled without notice. 
• Check ahead for future events there as well. We often miss morning event postings.
• If we screw up or miss information about an event, please send an email to indivisibleventura@gmail.com
View this email in your browser
---
DemCast is an advocacy-based 501(c)4 nonprofit. We have made the decision to build a media site free of outside influence. There are no ads. We do not get paid for clicks. If you appreciate our content, please consider a small monthly donation.
---