Starbucks denies abortion benefits to workers forming unions.
"In June, the company said it would reimburse abortion travel expenses for employees enrolled in its healthcare plan if there were no legal providers in the worker's state or within a 100 mile radius. Workers at the Independence store, however, claim that it shifted and said it couldn't "make promises of guarantees about any benefits" for unionized stores during bargaining." – VICE
Starbucks brags about offering health insurance to workers. But workers say the plans are unaffordable. Some face crippling medical debt. Others are on Medicaid. And some don't go to the doctor at all. Now Starbucks is threatening abortion and trans benefits to bust the union. – Perfect Union.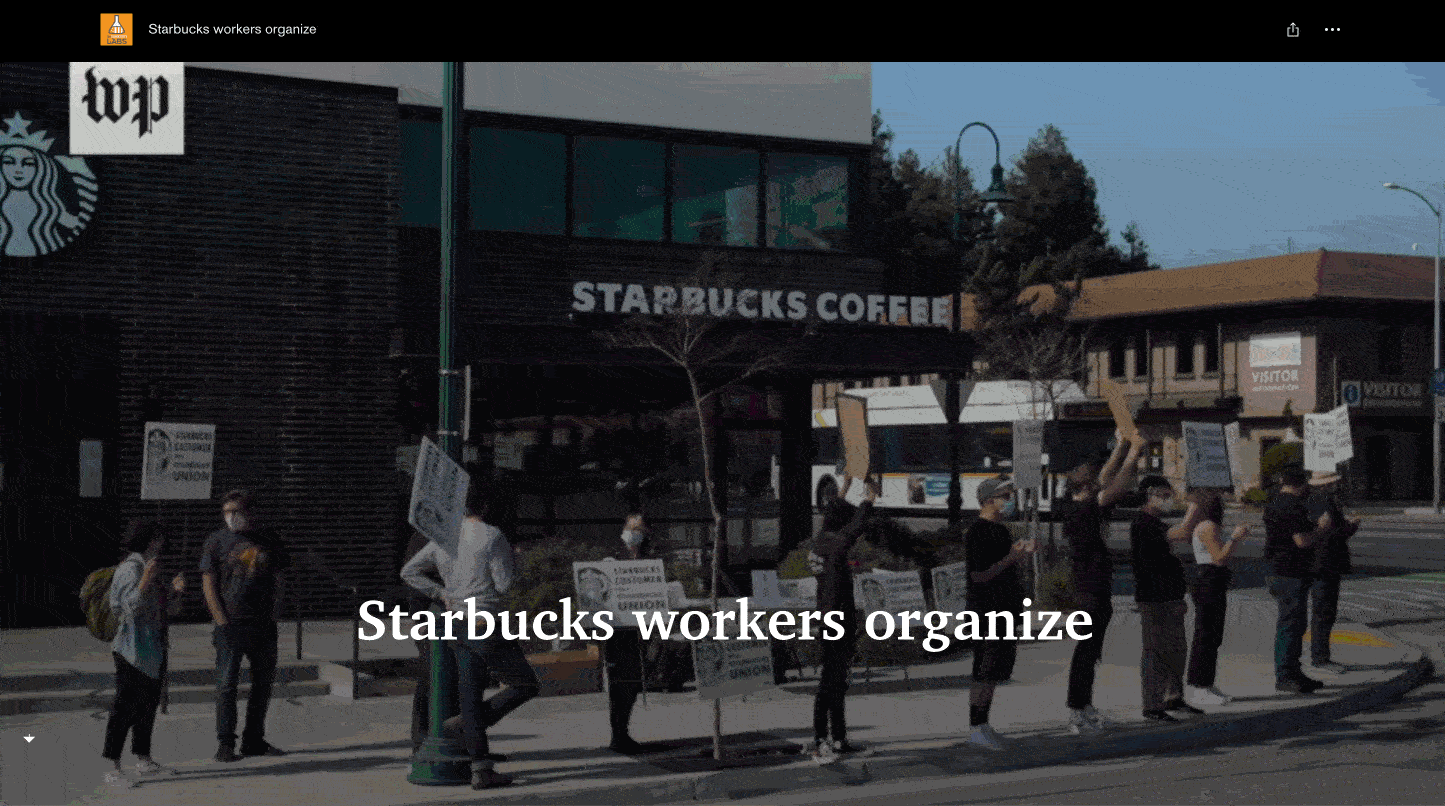 Starbuck workers organize
"The union drive has attracted national attention amid resurgent enthusiasm for organized labor in the United States. Bernie Sanders and Alexandria Ocasio-Cortez have visited the stores. Workers hope to begin bargaining with Starbucks for seniority pay, lower healthcare costs, credit card tipping, sick pay, an accountability system for grievances, and improved health and safety protocols. The victory for the union sends a message not only to Starbucks workers around the country, but also to workers in low-wage, high turnover industries such as restaurants, fast food, and retail that have long evaded unionization in the United States. Workers will join SB Workers United, which is part of Workers United, an affiliate of the Service Employees International Union, one of the largest unions in the United States. – VICE
The Empire Strikes Back
Meanwhile, Starbucks launched an aggressive counteroffensive to hamper pro-union sentiment, intimidate workers, and interfere with daily operations. The company held weekly mandatory anti-union meetings, temporarily closed unionizing stores, flooded stores with corporate executives, raised wages, and brought in Howard Schultz, the former CEO of Starbucks, to give an anti-union speech to workers in a hotel ballroom. – VICE
Closing Starbucks locations that unionize
Starbucks shut down three marquee stores in Seattle, including the First and Pike store, and reopened them as a "Heritage Market." Workers at those stores were told they could re-interview for their old jobs at the re-opened stores, but after they held a protest, only one union supporter was offered employment at the new configuration. The rest were offered the opportunity to transfer to new stores; some wound up at stores that were just shuttered on Monday. Members are now hanging in limbo, hoping to transfer to one of the four unionized stores in the district. – Perfect Union
Workers at the Bloomfield store are seeking to unionize with the Pennsylvania Joint Board, which is an affiliate of Workers United. "Workers United has over 80,000 members in North America, working in the laundry, hospitality, manufacturing, apparel and textile, distribution and food service industries including baristas, as well as some workers who are employed by nonprofits," the Pennsylvania Joint Board writes in a Feb. 11 release. "Pittsburgh is a union town," the Bloomfield organizers wrote, "it is our turn to join that history." –
Denying access to abortion care to intimidate organizing workers
Anti-Union billionaire
Schultz, long known as a virulently anti-union executive, has led Starbucks for most of the past 35 years. After pushing to decertify the UFCW union that some members of the company belonged to when he bought Starbucks, Schultz has been at the helm during several crackdowns on attempted union drives. In 2009, he lobbied the White House to kill the Employee Free Choice Act, which would have made it much easier for workers to unionize without threat of intimidation or firing. When Schultz left Starbucks to float his third "centrist" presidential run in 2016, he famously said, "unions are not the answer." – Perfect Union
"Howard Schultz talking about coal miners is a classic red herring. The reason that Starbucks baristas are unionizing is because even though Starbucks may pay above the minimum wage, the reality is that most frontline workers in the United States don't make enough money to take care of their families. And the reason that is, is because the minimum wage hasn't kept pace with inflation for the past 40-plus years." – Popular Info
National Labor Relations Board
The agency has also faced years of funding stagnation and has lost 30 percent of its staff in the last decade, HuffPost reported in March. "When you're talking about an agency whose funding levels are already lower than it feels is justified and has been for a long time, and you add in this big upsurge in activity… all these representation elections, [it] has a huge impact on everything else that each regional office has to deal with," Hirsch said. "You may even have some of these [unfair labor practices] cases that are getting kicked to the back of the line."
But in the few retaliation cases the board has handled so far, it has sided with workers: Earlier this month, the NLRB said Starbucks had illegally fired the Memphis workers, and that the agency would issue another complaint against the coffee company if it doesn't settle with them. – VICE
STARBUCKS WORKERS UNITED
Starbucks Workers United is a collective of Starbucks Partners across the United States who are organizing our workplaces with the support of Workers United Upstate, a union with experience building barista power. We believe that Starbucks should be a workplace where all workers have a democratic voice. Starbucks workers, current and former, should be recognized for making Starbucks the successful company it is today. Food service workers across the country deserve better working conditions, and our union's goal is advancing social and economic justice in our community. Our union's values will be inclusiveness, compassion, joy, creativity, respect, and solidarity.
Founded by immigrant garment workers, Workers United Upstate, SEIU, has a longtrack record of fighting for workers' rights. Today, Workers United represents workers across many industries — laundries and warehouses, textile factories and manufacturing plants, and restaurants and coffee shops. Our union believes in building power by organizing all of the workers in an industry, strengthening solidarity and power. We believe that an injury to one is an injury to all and that the only way to act on that value is to stand in solidarity with our coworkers and other workers in our industry. – Starbucks Workers United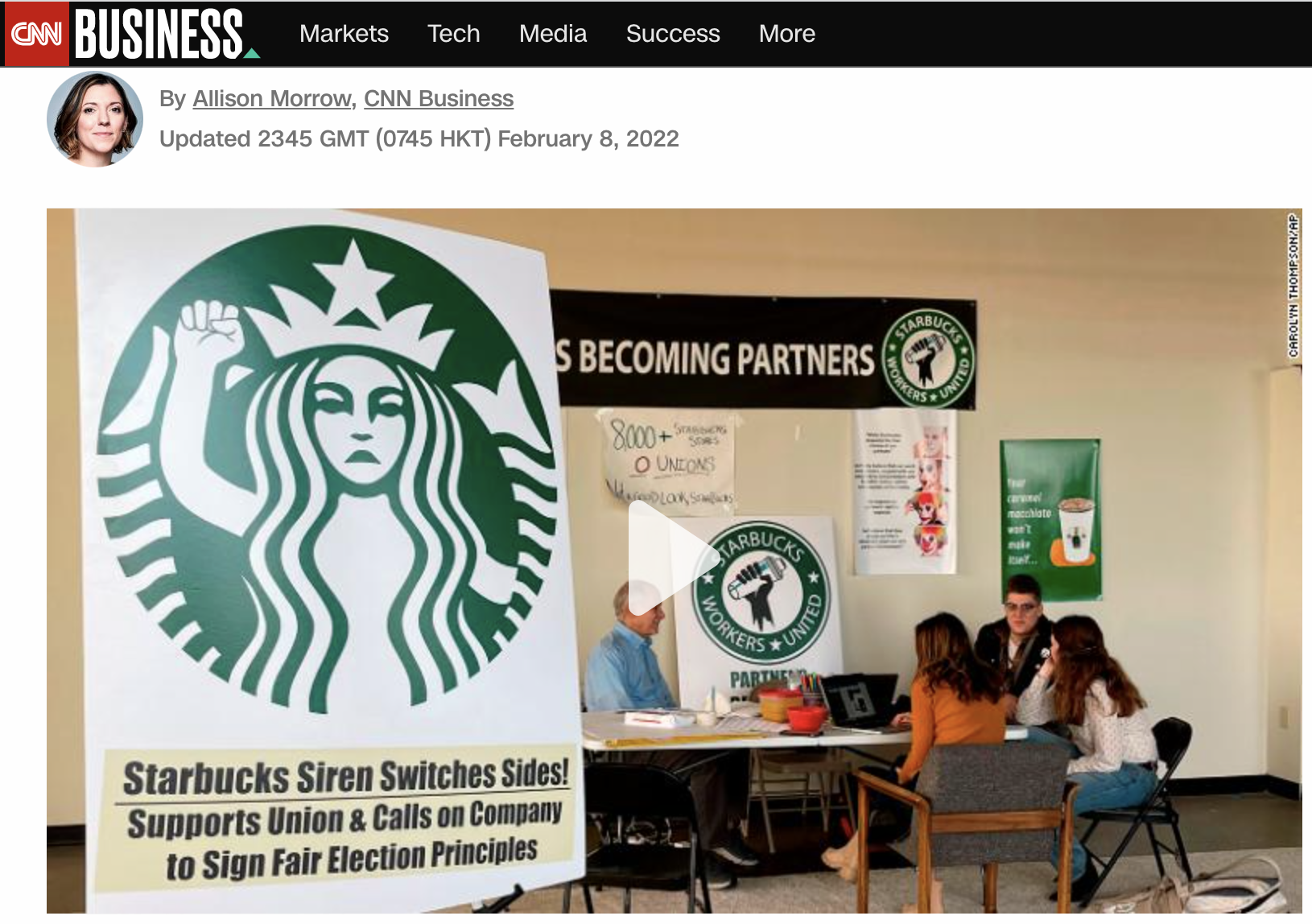 Why organize?
Belonging to a union gives us due process and our elected worker representatives (called shop stewards) a way to stand up for our interests. With a union, if we have a problem on the job, we can still go to management on our own and try to resolve it without filing a formal grievance. But if we aren't able to resolve it, then we will have the right to get the union involved and file a grievance and, if necessary, have a neutral judge, called an arbitrator, force the company to correct an unfair action. Without a union, Starbucks corporate has the final say and is essentially the judge and jury of their own case. – Starbucks Workers United
TakeAway: Organize. Mobilize. Vote.
Deepak
DemLabs
DISCLAIMER: ALTHOUGH THE DATA FOUND IN THIS BLOG AND INFOGRAPHIC HAS BEEN PRODUCED AND PROCESSED FROM SOURCES BELIEVED TO BE RELIABLE, NO WARRANTY EXPRESSED OR IMPLIED CAN BE MADE REGARDING THE ACCURACY, COMPLETENESS, LEGALITY OR RELIABILITY OF ANY SUCH INFORMATION. THIS DISCLAIMER APPLIES TO ANY USES OF THE INFORMATION WHETHER ISOLATED OR AGGREGATE USES THEREOF.
Read in browser »
Reposted from Democracy Labs with permission.
---
DemCast is an advocacy-based 501(c)4 nonprofit. We have made the decision to build a media site free of outside influence. There are no ads. We do not get paid for clicks. If you appreciate our content, please consider a small monthly donation.
---