In 2022, there have been 206 mass shootings as of May 25th, killing 236 Americans and injuring 888.
Mass shootings seem to occur so frequently that it's easy to get numb to the tragedy behind each statistic. These numbers are innocent school children, people praying and shopping for groceries.
Visualize the price Americans pay for the GOP filibuster of gun safety measures with these infographics created with data from the Gun Violence Archives.
How can an 18 year old buy a military style assault weapon without a background check or permit? How do they buy armor piercing bullets to kill others and bullet proof vests? Steve Kerr, coach of the Golden State Warriors called out Republican Senators for holding Americans hostage with their filibuster and refusal to even vote on a gun background check that has 90% public support.
2022 mass shootings map
This map was created with ArcGIS Online and shows mass shootings in time sequence for 2022. The size of each circle corresponds to the number of people killed. Click on any circle for details on that shooting.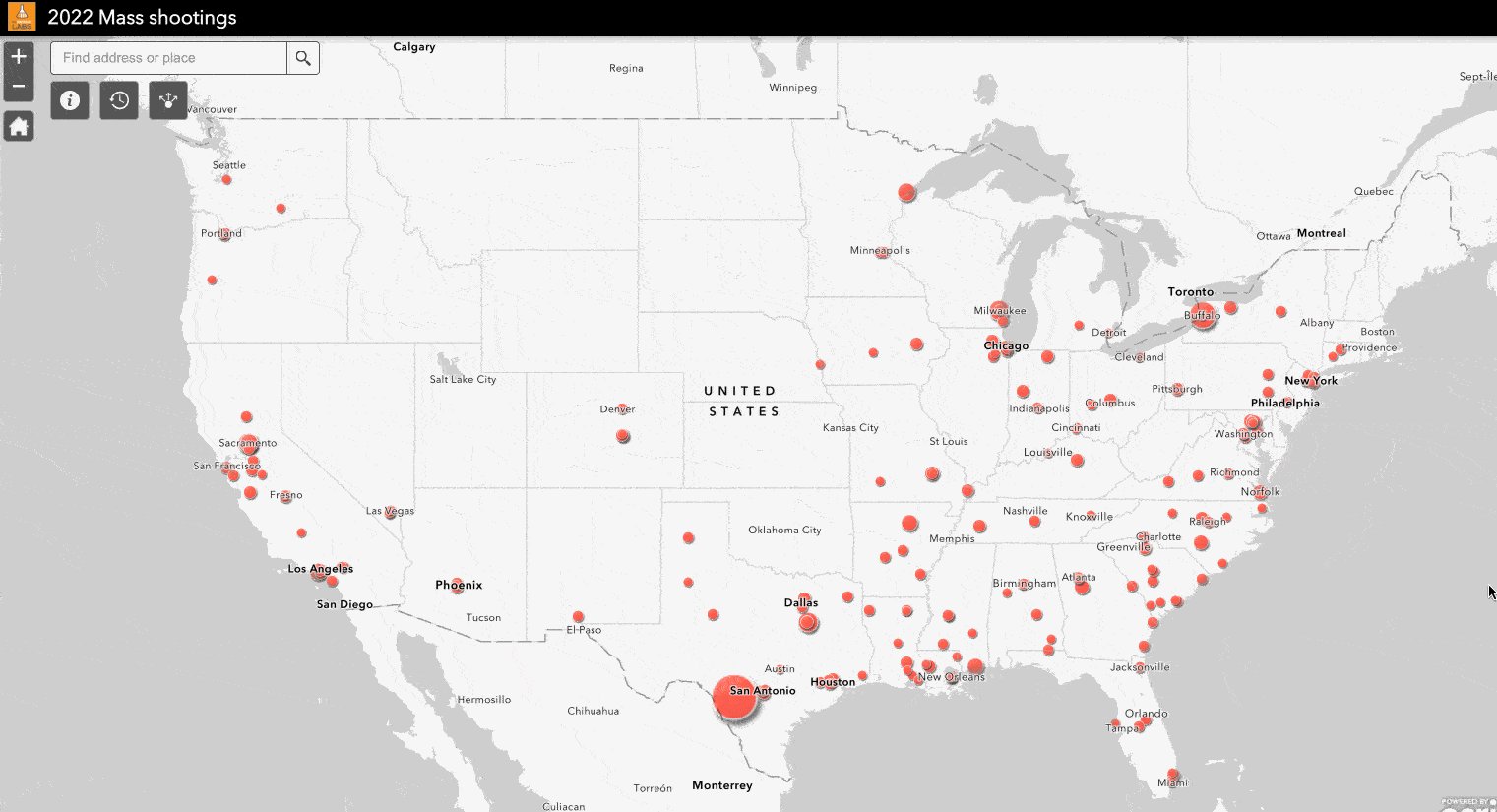 Steve Kerr – Golden State Warriors Head Coach
"In the last ten days, we've had elderly, black people killed in a supermarket in Buffalo. We've had Asian churchgoers killed in Southern California. And now we have children murdered at school. When are we going to do something? I want every person here, every person listening to this to think about your own child or grandchild or mother or father or sister, brother. How would you feel if this happened to you today? We can't get numb to this. I'm so tired. Excuse me. I'm sorry. I'm tired of the moments of silence.
ENOUGH! There's fifty senators right now who refuse to vote on HR 8, which is a background check rule that the house passed a couple years ago. It's been sitting there for two years and there's a reason they won't vote on it to hold on to power. So I ask you Mitch McConnell, ask all of you senators who refuse to do anything about the violence in school shootings. We are being held hostage by fifty senators in Washington who refuse to even put it to a vote. Despite what we, the American people want. They won't vote on it because they want to hold onto their own power. It's pathetic. I've had enough." – Steve Kerr press briefing
Senators who refuse to do anything about school shootings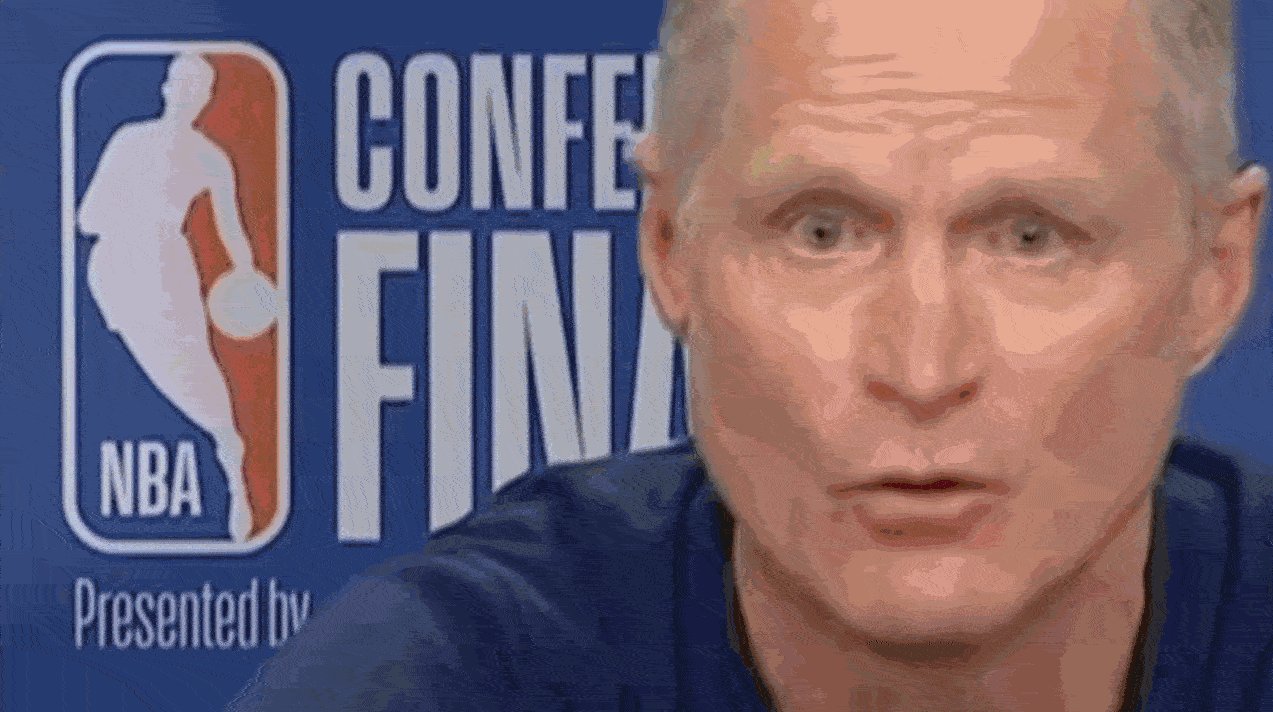 Edited video with captions and overlaid images
The video of Steve Kerr's comments were edited and overlaid with images using the free iMovie app. The 92 second video was uploaded to YouTube and also converted into a GIF.
Mass shooting dashboard with call to action
The Mass shootings map and GIF were combined into a dashboard with a call to action: Vote for Gun Safety. This dashboard presents information in a graphical, visually inviting form with links to what viewers can do to overcome the Republican stranglehold on gun safety reform through the filibuster.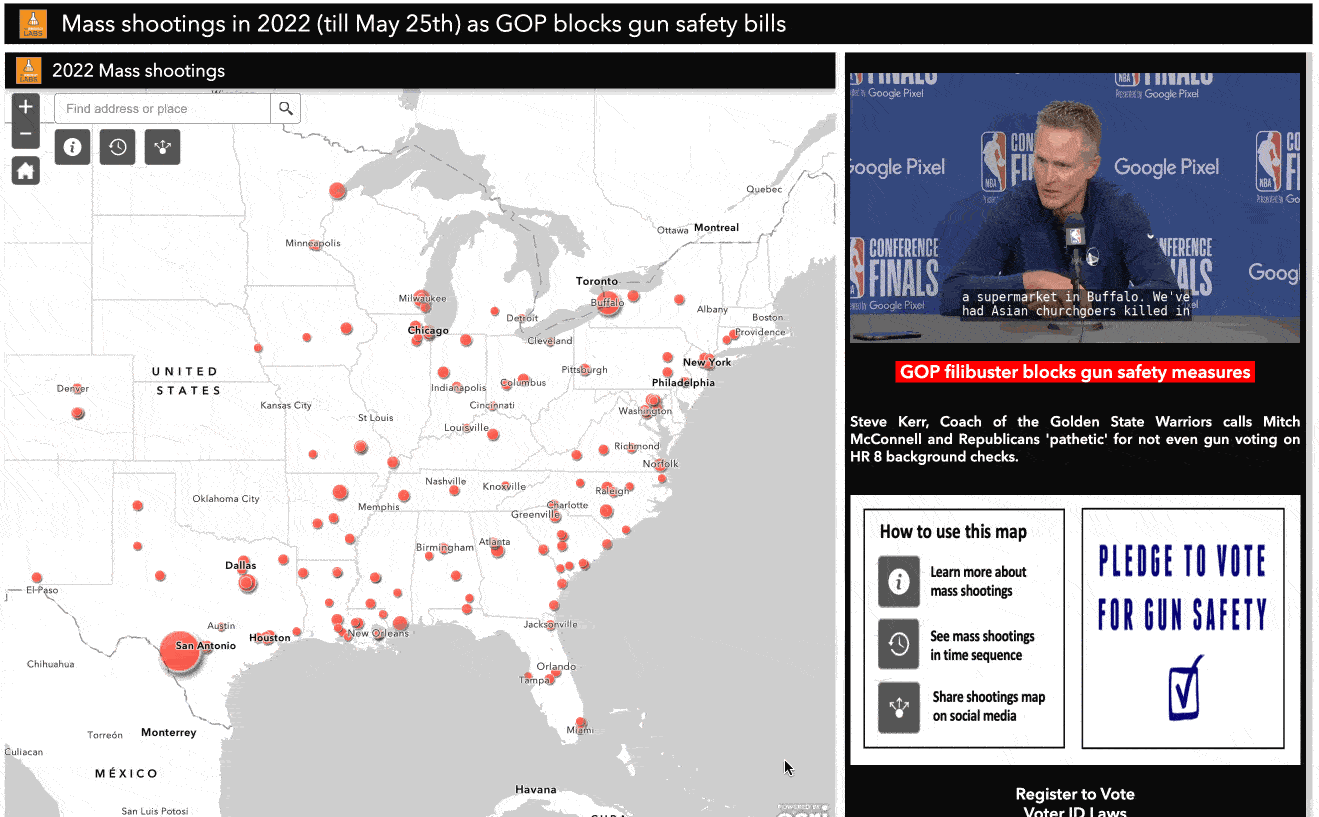 TakeAway: "Think about your own child or grandchild or mother or father or sister, brother. How would you feel if this happened to you today? We can't get numb to this." – Steve Kerr
Deepak
DemLabs
Reposted from Democracy Labs with permission.
---
DemCast is an advocacy-based 501(c)4 nonprofit. We have made the decision to build a media site free of outside influence. There are no ads. We do not get paid for clicks. If you appreciate our content, please consider a small monthly donation.
---