Happy National Blueberry Popover Day, National Pack Your Lunch Day, National Women and Girls HIV/AIDS Awareness Day, Popcorn Lover's Day, and Harriet Tubman Day. If you want more choices, you can find plenty more on-line.
We have another fabulous Friday Power Lunch (3/11/202) this week with some returning favorites and some new friends that we know you'll find fascinating with important information and insight.
The weekend and the week ahead are full of events and parties with important business thrown in too.
Let's get it done,
Stair
Network NOVA recently issued our support of 2022 Virginia Delegate elections based on the newly redistricted state legislative district maps.
"Network NOVA supports and joins the Virginia State Conference NAACP, along with the ACLU of Virginia, the League of Women Voters of Virginia, the Virginia NAACP, and a host of other organizations, groups, individuals to call on the courts to order elections based on the redistricted maps.
"This is an opportunity to right the wrongs of gerrymandered districts, which distort our democratic process by either artificially inflating or constricting population counts in a deliberate attempt to silence or devalue the vote of Virginians", stated President Rev. Cozy Bailey.
We know that gerrymandering has a profound impact on voters being fairly represented and their voice heard. We ask that the court order House of Delegate elections to be held this year under the newly redistricted state legislative district maps."
Join us on Friday for something old (Putin's continuing aggression), something new (how new chairs are revitalizing local Democratic committees), something borrowed (what we can learn from the Abolitionist movement), and something blue (how to use data strategically).
Congressman Gerry Connolly (CD11) will kick off the show with a Special Report on Ukraine after his weekend visit to the Poland-Ukraine border.
Linda Hirshman, Legal scholar, cultural historian, and author discusses her new book, "The Color of Abolition: How a Printer, a Prophet and a Contessa Moved a Nation." Hirshman will share both the good and bad lessons we can learn from the Abolition movement applicable today.
Sandy Marks, the new Chair of the Alexandria Democratic Committee, will join us for a discussion on how we re-energize and revitalize local Democratic Committees so they are welcoming, inclusive and responsive to today's crazy political environment.
Becca Blais, Executive Director of Bluebonnet Data, will give us an update on what they saw and learned in Virginia in 2021.
NWPC Symposium — Equitable News Coverage: The National Crisis of Missing Women of Color Saturday March 12, 2022 at 2:00pm ET – Virtual 
This symposium will focus on the disproportionate effects of the lack of equitable news coverage, cross-departmental interagency work involving Missing Women of Color. We need equitable media coverage, and inclusive media practices with news outlets across the industry, when it comes to coverage of Missing Women of Color. We must work towards equity, safety, and access for all. 
The goal is not only to educate women from across the United States on this issue, but also to educate women on how they can assemble and organize long-term political strategies, create policy, and fight for Missing Women of Color. It's not just stating the problem, but it is inspiring women to come together and engage in long-term effective solutions and legislation.  
Lake Barcroft Meet and Greet with Don Beyer
Please join us for a glorious Spring afternoon on the shores of Lake Barcroft to meet the amazing Congressman Don Beyer. We will be serving  Jake's Ice Cream sodas and Spring tea snacks.  Hosted by Stair Calhoun, Holly Hazard and Robin Rinearson. There is no charge.
14th Annual Mount Vernon Democrats Mardi Gras Celebration & Straw Poll Saturday, March 12th, 6:00pm to 9:00pm 
Come for the music, food and fun! Enjoy New Orleans-style Gumbo, Beignets, King Cakes, and other delicious food. Listen to great live New Orleans jazz music from a six-piece dixieland jazz band, and hear from our great elected officials and candidates. Participate in the annual straw poll, and cast your ballot for your favorite Congressional candidate!
For the first time in 14 years, the event will be in the South County region of Fairfax County. Enjoy our new venue, the Lorton Workhouse Arts Center, where you can not only view amazing art, but also interact with the amazing artists who will be presenting their art on March 12th. Also, the Suffragette Museum will be open for all event attendees to view.
Stand and Deliver Virginia Rally
Tinner Hill Historic Site, Falls Church, VA 22042
Join concerned educators who want to stand up against the false narrative and attacks on public education being led by politicians in Richmond and across the nation. Join and help us deliver a loud and clear message that public educators are committed to the inclusive and respectful education of our children.  There will be speakers, voter registration, and tables with organizations that are concerned for their communities and need your help
Virginia Redistricting Discussion
Newly-designed district lines for House of Delegates, State Senate and Congress call for strategy in our work to win and defend Democratic seats in Virginia. Join the Arlington Democrats to explore where good opportunities for volunteering exist and what the numbers mean. Sam Shirazi, who has been studying redistricting issues from the last and now this recent drawing of lines will be the presenter.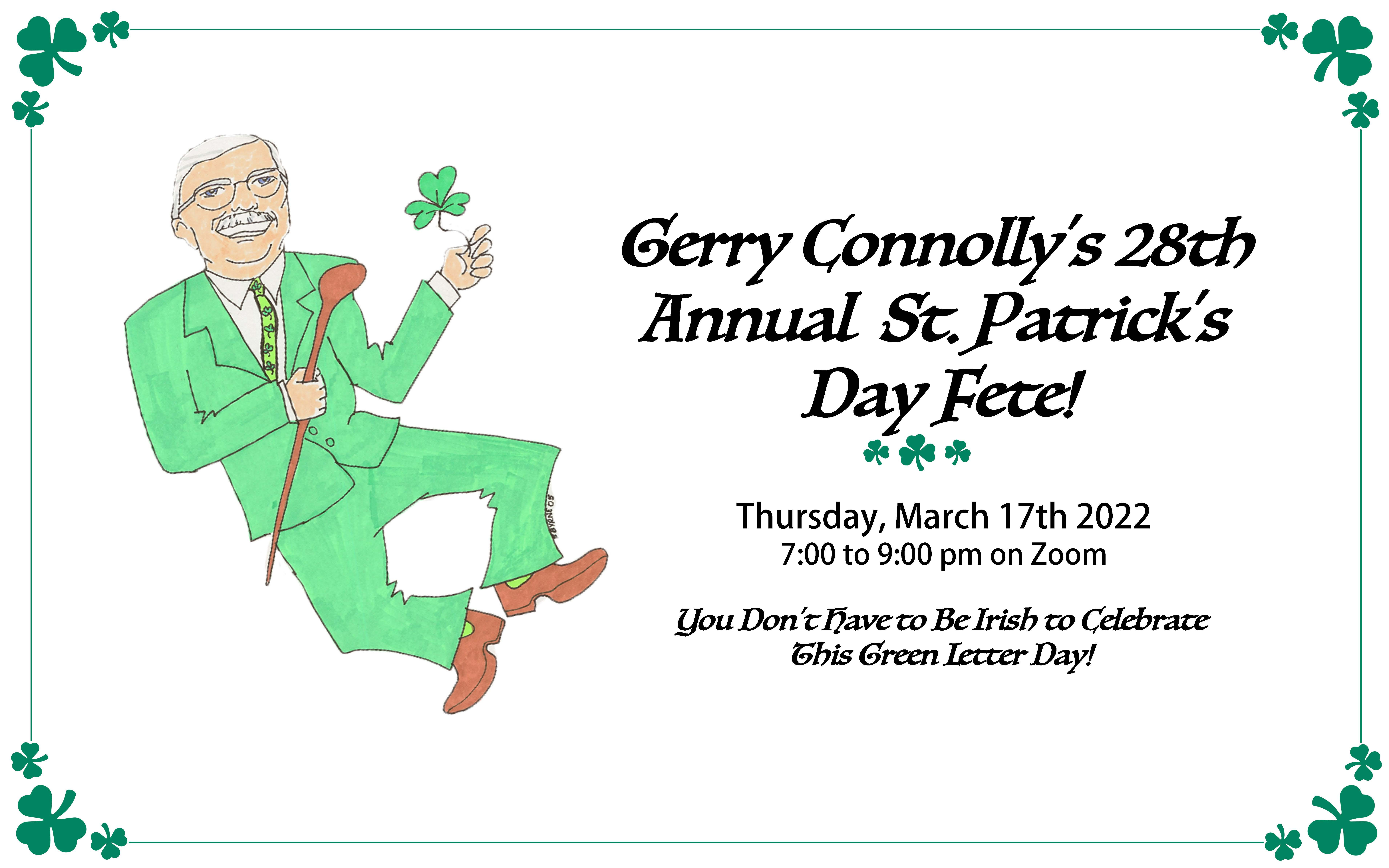 Congressman Connolly's 28th Annual St. Patrick's Day Fete!
Thursday, March 17th, 7:00 – 9:00 PM
Please join Congressman Connolly and our special guests for a virtual St. Patrick's Day celebration! While we still may not be able to gather together in person, we can still celebrate the Holiest Day of the year with Irish music and fare, and with speeches from elected officials and friends.
Evening in Support of Jennifer Wexton
Come support Congresswoman Jennifer Wexton with the Virginia Grassroots at their favorite fundraiser venue, Nadja Golding's canopy kitchen!
Celebrating Champions of Equality: The Time is Now
100 years since introduction, 50 years since passage! There is no time limit on equality. The ERA Coalition and the Fund for Women's Equality are working passionately to get the ERA published to the Constitution and create a more equal future for all.
Join to honor: Carol Jenkins, Chairwoman Carolyn Maloney, Representative Jackie Speier and the late Senator Birch Bayh
Featuring: Margaret Anadu, Gloria Steinem and Fran Zone.
43460 Loudoun Reserve Dr, Ashburn
Because knowledge is the first step in fighting for equality and justice for all. Join community organizers, leaders, activists, politicians, writers, and YOU! Sign Up!
---
DemCast is an advocacy-based 501(c)4 nonprofit. We have made the decision to build a media site free of outside influence. There are no ads. We do not get paid for clicks. If you appreciate our content, please consider a small monthly donation.
---