Dear Friends,
Welcome to March and Women's History Month! We have some celebrating and gratitude to share.
Next week get ready to join us in Richmond for the Rev'd Up for ERA & Equality Rally (March 9-10) for two exciting days of community gatherings and actions with a Rally at the Bell Tower and visits to our legislators and the galleries. Check out the new agenda below! And sign up for the legislative breakfast today.
Let's get it done,
Stair
---
All Rev'd Up For EqualityMarch 9-10 – UPDATED AGENDA Join ERA activists, advocates, and elected that worked tirelessly to ratify the ERA in Virginia on March 9 and 10, 2022 at the epicenter of lawmaking in Richmond. Details and signup
---
Virginia Grassroots Coalition MeetingMarch 6, 4:00pm – VirtualJoin the monthly meeting and hear the latest efforts to get it done in Virginia.
---
Climate & Clean Energy Working Group MeetingMonday, March 7th, 7:00-8:00pm The guest speaker will be Del. Rip Sullivan, champion of the Virginia Clean Economy Act and other climate and clean energy initiatives.  Rip will summarize the session to date, the remaining challenges for this session, and address potential damaging appointments by the Youngkin administration. Contact Sharon Shutler shutlersharon@gmail.com or Amy Bergner abbergner@gmail.com for more information.
---
Bringing Global Feminism HomeTuesday, March 8, 7pm – Virtual Join Charlottesville NOW on International's Women's Day. Kolieka Seigle, DemocraShe and Jan Strout, Montana NOW and Bozeman Cities for CEDAW Initiative, will reveal the intersection of domestic policy and international policy on women's human rights worldwide.
---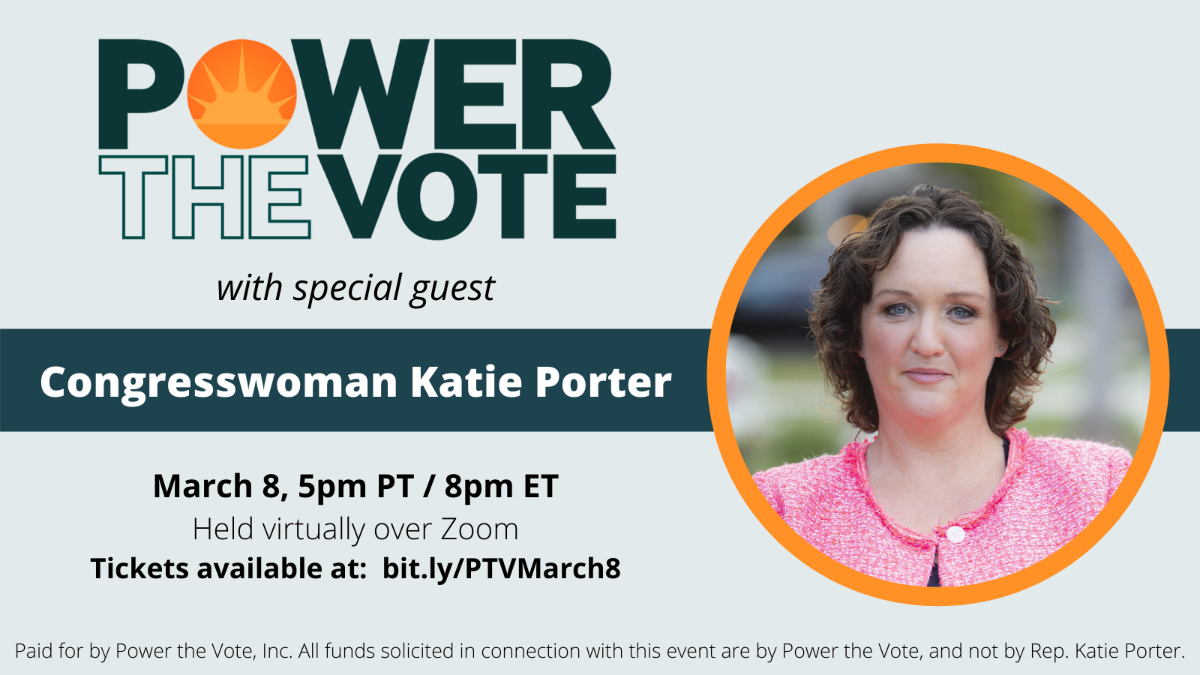 Call with Congresswoman Katie Porter.Tuesday, March 8, 8:00 p.m. ET Virtual Join a virtual voting rights call with Rep. Katie Porter (D-CA), hosted by Power the Vote. We'll discuss the impacts of recent voter suppression laws in battleground states and how all of us can mobilize to fight for voting rights in 2022.
---
League of Women Voters' Legislative RoundtableWednesday, March 9th, 8:30am – 9:30amTopic: Final Legislative Push 
---
 Hear from Anat Shenker-Osorio, host of the "Words to Win By" podcast and Principal of ASO Communications, on why certain messages falter when others deliver. Learn research-based tools to be more persuasive when talking and writing for progressive candidates and causes! If you've ever wondered what to write in a letter, what to say on the phone, how to talk to a voter at their door or even relatives across a table, this event is for you.  
---
14th Annual Mount Vernon Democrats Mardi Gras Celebration & Straw PollSaturday, March 12th, 6:00pm to 9:00pm Come for the music, food and fun! Enjoy New Orleans-style Gumbo, Beignets, King Cakes, and other delicious food. Listen to great live New Orleans jazz music from a six-piece dixieland jazz band, and hear from our great elected officials and candidates. For the first time in 14 years, the event will be in the South County region of Fairfax County. Enjoy our new venue, the Lorton Workhouse Arts Center, where you can not only view amazing art, but also interact with the amazing artists who will be presenting their art on March 12th. Also, the Suffragette Museum will be open for all event attendees to view.
---
Virginia Redistricting DiscussionSunday, March 13th, 4:00pm Newly-designed district lines for House of Delegates, State Senate and Congress call for strategy in our work to win and defend Democratic seats in Virginia. Join the Arlington Democrats to explore where good opportunities for volunteering exist and what the numbers mean. Sam Shirazi, who has been studying redistricting issues from the last and now this recent drawing of lines will be the presenter. 
---
NWPC Symposium — Equitable News Coverage: The National Crisis of Missing Women of Color Saturday March 12, 2022 at 2:00pm ET – Virtual This symposium will focus on the disproportionate effects of the lack of equitable news coverage, cross-departmental interagency work involving Missing Women of Color. We need equitable media coverage, and inclusive media practices with news outlets across the industry, when it comes to coverage of Missing Women of Color. We must work towards equity, safety, and access for all. The goal is not only to educate women from across the United States on this issue, but also to educate women on how they can assemble and organize long-term political strategies, create policy, and fight for Missing Women of Color. It's not just stating the problem, but it is inspiring women to come together and engage in long-term effective solutions and legislation. 
---
Congressman Connolly's 28th Annual St. Patrick's Day Fete!Thursday, March 17th, 7:00 – 9:00 PM Please join Congressman Connolly and our special guests for a virtual St. Patrick's Day celebration! While we still may not be able to gather together in person, we can still celebrate the Holiest Day of the year with Irish music and fare, and with speeches from elected officials and friends.
---
Celebrating Champions of Equality: The Time is NowTuesday, March 22, 7pm ET 100 years since introduction, 50 years since passage! There is no time limit on equality. The ERA Coalition and the Fund for Women's Equality are working passionately to get the ERA published to the Constitution and create a more equal future for all. Join to honor: Carol Jenkins, Chairwoman Carolyn Maloney, Representative Jackie Speier and the late Senator Birch Bayh Featuring: Margaret Anadu, Gloria Steinem and Fran Zone. Please say ERA YES and join!
---
"Rise To" Summit 2022Saturday, March 26th9:30am – 3:00pm43460 Loudoun Reserve Dr, Ashburn Because knowledge is the first step in fighting for equality and justice for all. Join community organizers, leaders, activists, politicians, writers, and YOU! The Summit will consist of 
Keynote Address by author, Amy Reed.
Voting Panel with: Krysta Jones, Senator Boysko, and Jennifer Carroll Foy.
Breakout Sessions with: Network NOVA, Moms Demand Action, Loudoun4All, Safe Space NOVA, Whole Woman's HealthAlliance and others.
Lunch
---
DemCast is an advocacy-based 501(c)4 nonprofit. We have made the decision to build a media site free of outside influence. There are no ads. We do not get paid for clicks. If you appreciate our content, please consider a small monthly donation.
---