IC-SS Weekly Update: Feb. 7, 2022
TONIGHT: Hear from Ezra Levin
Tonight, Monday, Feb 7th, 8:30 pm CT, meet Ezra Levin, co-founder of national Indivisible. He will be the special guest at the statewide Indivisible Illinois's Vote By Mail (VBM) Task Force meeting via Zoom.
Ezra will discuss what's next on voting rights now that the Freedom to Vote: John R. Lewis Act is blocked. He'll also answer questions from meeting attendees. Register here.
---
Will You Be an IC-SS Voting Member?
We invite you to become a voting member of Indivisible Chicago-South Side.  As IC-SS prepares for possible candidate endorsements for the 2022 midterms, we invite you to become or remain a voting member to have a voice in our group's leadership, endorsement, and governance decisions. 
 
To become a voting member of IC-SS, please register via this voting member registration form as soon as possible and no later than 5:00 pm, Sunday, February 13, 2022. You qualify if you have been active with our group in any way.
Notes:
Youqualify to become a voting member if you've been active with our group in any way.
If you become a voting member now (or confirm your voting membership), you can vote in any endorsement meeting IC-SS may hold in 2022.
IC-SS will hold an endorsement meeting via Zoom on the evening of Wed, Feb 16, to consider making one or more endorsements before the Illinois primary. Invitations with the Zoom link will be sent to anyone who becomes a new voting member or confirms their continuing membership by Feb 13.
---
IC-SS Joins CAARPR in Van Dyke Demands
Indivisible Chicago-South Side joined a broad coalition of organizations demanding that the U.S. Attorney and the Department of Justice bring federal charges against then police officer Jason Van Dyke,who murdered 17-year-old Laquan McDonald in late 2014.
 
Cook County State's Attorney Kim Foxx released a statement that "if there's an ability to do something about it on the federal level then by all means something should be done." Senators Dick Durbin and Tammy Duckworth sent a letter to Attorney General Merrick Garland requesting a status update on the federal investigation.
On February 3rd, Van Dyke was released from prison after serving less than four years of a six-year, nine-month sentence. That afternoon, the coalition, led by CAARPR and Rainbow PUSH, held a press conference at the Dirksen building after delivering an open letter to U.S. Attorney John Lausch. Individuals and organizations can still sign onto the open letter.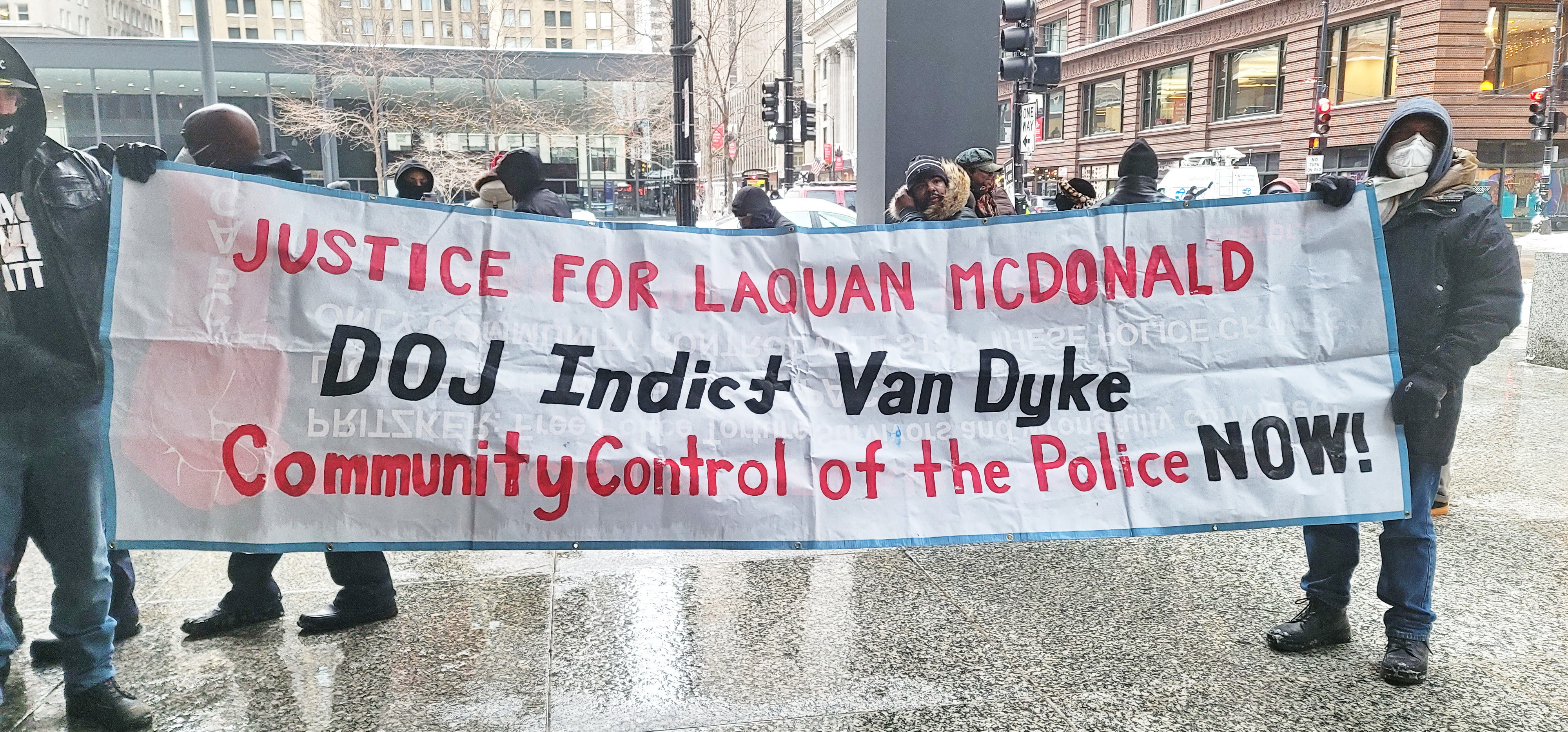 IC-SS Co-Leader Teri Watkins attended CAARPR organizing meetings for the press conference, and she gathered signatures from organizations on the letter of demand. Thanks to Teri, Steven Dornbusch, Michael Aaron, Betsy Rubin, and other IC-SS members for attending the press conference and rally.
ACT
Sign on to the CAARPR letter to U.S. Attorney John Lausch, demanding federal charges: Sign here.
---
Work for Wisconsin
 
Wisconsin is at the frontline in the fight for democracy. Wisconsin election dates to keep in mind:
WI spring primary (local): Feb 15
WI spring election (local): April 5
WI partisan primary: Aug 9
US midterm elections: Nov 8
Saturday Phonebanks, 4:00-5:30 pm
Fun phonebanks! Call likely Democratic voters in South Milwaukee to let them know about their absentee voting (Vote By Mail) options. The goal? Increase voter turnout. From your home, join WisDems and Indivisible Illinois via Zoom this coming Saturday – or every week:
Sat, Feb 12, 4:00pm–5:30pm CST
Sat, Feb 19, 4:00pm–5:30pm CST
Sat, Feb 26, 4:00pm–5:30pm CST
Interested in Being a Poll Observer in WI on April 5?
To help ensure a strong, healthy democracy, Wisconsin Democrats (WisDems) is seeking poll observers for the local election on Tues April 5th. Show your interest here.

WisDems writes:Are you interested in being a poll observer in Wisconsin? Poll observers are the eyes and ears for the Voter Protection Team inside polling locations across the state.
On Wisconsin's Spring Election Day, Tuesday April 5th, there are many local races on the ballot — like judges in nearly every county, mayors, school board, and city and town council members.
Poll observers can choose a full-day or part-day shift, and will be assigned to a polling place for the duration of their shift. You don't need to be a Wisconsin resident to be a poll observer here!
Once you fill out this interest form, WisDems will contact you with more information about officially signing up to be a poll observer in Wisconsin for the April 5th election. Please note that this is an INTEREST FORM, and WisDems will follow up with you with the official signup form for the program.
Fill in the Wisconsin Poll Observer Interest Form to get more info!
More On Voter Protection in Wisconsin
One way to make a difference in Wisconsin: help ensure that every Wisconsin citizen is free to register, to vote, and to have their vote count. You can help the WI Voter Protection efforts (VoPro) via in-person and remote options: poll observing, phonebanking to recruit volunteers, working on the voter protection hotline, and more.
LEARN MORE – GET INVOLVED
---
Postcards, Letters, Messaging to GOTV
Get in the winter frame of mind. Grab the cocoa, find a fuzzy friend, write letters to voters to help turn out the vote in key elections.
ACT: Choose a way to write to voters: Vote Forward + Postcards for Climate + Postcards to Swing States (a Progressive Turnout Project effort).
---
Sue Avila Speaks Out for Immigrant Justice
On February 1st, Sue Avila, RN, MPH, of the Collaborative for Health Equity Cook County (CHE) spoke at a rally at the U.S. Immigration and Customs Enforcement (ICE) Chicago Field Office. Sue and others called on ICE to release immigrants currently being detained in dangerous, inhumane conditions in McHenry and Kankakee county jails.
The Illinois Way Forward Act, signed into law last year, ended the practice of detaining undocumented immigrants while they are fighting their ICE cases. CHE, ICIRR, and other immigrant rights organizations are demanding that the Illinois detainees currently held in McHenry and Kankakee be released to their families while their cases are pending rather than being transferred far away to out-of-state facilities.
In her statement, Sue Avila said, "As public health professionals and advocates we believe that the present ICE policies violate basic human rights."
LEARN AND ACT
Read/Watch:
Make a call this week:

Phone the national ICE Office of Public Affairs at (202) 732-4242
"My name is (state your name) and I'm calling as part of the Free Them All Campaign to urge you to fully release and not transfer everyone that is still currently detained at both McHenry and Kankakee county ICE detention facilities in Illinois. Transferring people potentially hundreds of miles away from their community, in another state, when they could be released to fight their immigration case at home near their family and loved ones is inhumane and unnecessary. With the current COVID outbreaks, and lack of health and safety precautions, transfers are dangerous and will affect the long term health of everyone involved. It's time to free them all!"
We are grateful that Sue Avila of CHE is also a member of Indivisible Chicago-South Side. Thanks for keeping us informed on immigrant justice!
---
Organizations & Opportunities
Indivisible Chicago-South Side shares information and action announcements from other organizations on issues important in our country, state, city, and communities
Online Forum Feb 9: Intersection of Racism and HIV 
This Wednesday, February 9th, 11:00 an – 1:00 pm, attend the online National Dialogue on the Intersection of Racism and HIV as a Public Health Crisis, organized by the International Association of Providers of AIDS Care (IAPAC) and Howard Brown Health. Get more info and sign up here.
Community Control of Police: Join the Fight!
This summer, the Empowering Communities for Public Safety ordinance (ECPS) was passed in the Chicago City Council. This legislation gives Chicago residents some of the most comprehensive accountability over city police in the nation. The struggle for police accountability, however, is not done.
Now we need the City Council to put a referendum on the ballot, so Chicago residents can vote for even further control.
ACT:
Join CAARPR at the ECPS Zoom workshop, every Saturday at 10 AM. Learn about the next stage in the struggle for community control of the police. Then choose to do some phone banking or find out other ways to get involved. Get info/sign up
---
DemCast is an advocacy-based 501(c)4 nonprofit. We have made the decision to build a media site free of outside influence. There are no ads. We do not get paid for clicks. If you appreciate our content, please consider a small monthly donation.
---