Saturday, January 8, 2022
Dear Friends,
I hope you have had a day of remembrance and action to move forward and recommit to our fight for democracy & truth. Onward warriors!
Today's Briefing will include Congressman Gerry Connolly's riveting account of the events in the House Chamber on 1/6/2021, Governor Northam Statement on the Anniversary of the January 6 Insurrection, the kickoff of the Friday Power Lunch, 2022: Paving a Way Forward, CTAs, and more for next week and beyond.
Please spread the love for our democracy,
Stair
---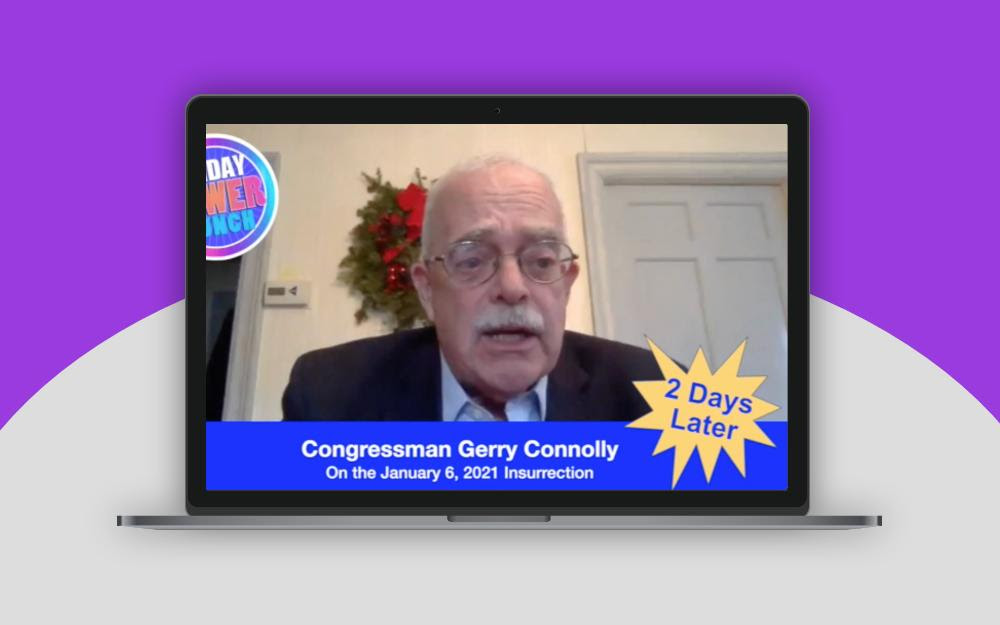 "Danger was very close…The world was watching…and we fulfilled our Congressional duty."
Thank you Congressman Gerry Connolly​, we must all stand up to threats to our democracy and truth. Please take a moment and reflect with Gerry. 3-minute account.  
"We are in serious danger of losing our democracy…It can only be contained by a return to the truth and to democratic principles."
Thank you Governor Ralph Northam!
Governor Northam Statement on the Anniversary of the January 6 Insurrection
We will not let this fester in Virginia!
---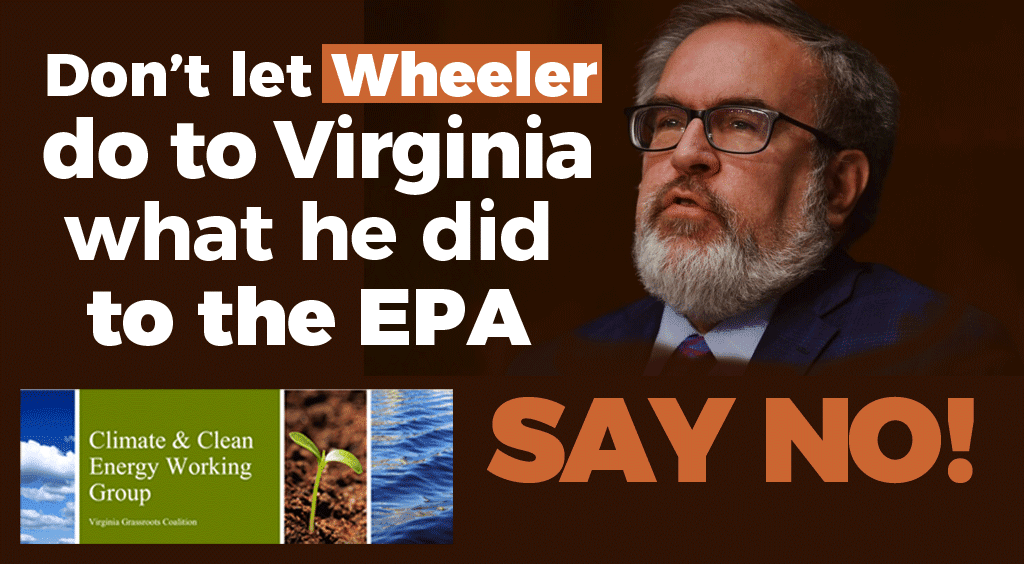 Send a letter to your Virginia Senator & to all the Democratic* Virginia Senators
Please take action and write 2 letters to Virginia Senators now. Both are easy one clicks (with the opportunity to personalize, which makes a lot of difference when you speak to your own Senator and/or the full body). Let our Democratic Senators know we are counting on them to hold the line on this most appalling pick of Andrew Wheeler to be Virginia's next Secretary of Natural Resources. A former coal lobbyist, Wheeler was head of the EPA under former President Trump where he worked to undermine years of bipartisan progress to protect our environment. We can't let this happen in Virginia!
Learn More and Take the Actions to #RejectWheeler:
Send a letter to your Senator – http://tinyurl.com/senators2022
Send a letter to all Democratic Senators – VirginiaGrassroots.org
---
Environmental Justice for Virginia Petition
Tell Governor-elect Glenn Youngkin to keep Virginia in the Regional Greenhouse Gas Initiative and expand funding for environmental justice communities. It's time to repair the harm that has been done by pollution. We can't afford to wait.
---
New Maps, New Opportunities: Running for Office in VA
7:00pmET, Monday, January 10, 2022
Register here
Join local advocates and future-forward thinkers to learn how to run for office in the Commonwealth of Virginia. The new legislative maps open up opportunities for new leadership and vision for the Commonwealth. This training will cover the basics of how to run for office and how to tap into national and state resources.
Register here
---
January 11, 11:30 a.m.: VLAW General Assembly Legislative Review 2022 
Remember the Inaugural Women's Equality Summit in 2020? The event kicked off with the Women's Skydiving Network. VAratifyERA Director Kati Hornung and NWPC-VA President Andrea Miller then led the session in which eight legislators shared bills related to women and equality. This year NWPC-VA will hold a similar summit on Zoom–without the skydivers. Five legislators each will present a bill related to women and equality and recommend actions from NWPC-VA.  We strive to build public support and increase awareness around issues and legislation which are important to Virginia women. We are inviting legislators from each side of the aisle to encourage women in elected office to work together to build a better commonwealth for women and families.   Make sure you register to learn how you can raise your voice during Virginia's General Assembly 2022. 
---
Change The Ref fundraiser
3PM on January 15th at Clare and Don's Beach Shack! $50
Sign up here
---
Prepare to Advocate!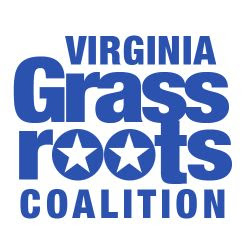 The Virginia Grassroots Coalition is developing a Power Map​ to track groups and individuals by legislative districts for advocacy purposes.  Please let us know where you are by clicking here​.
Please join the conversations at the Virginia Grassroots Coalition Meeting 
Sunday, January 9, 4pm.  Register here.
---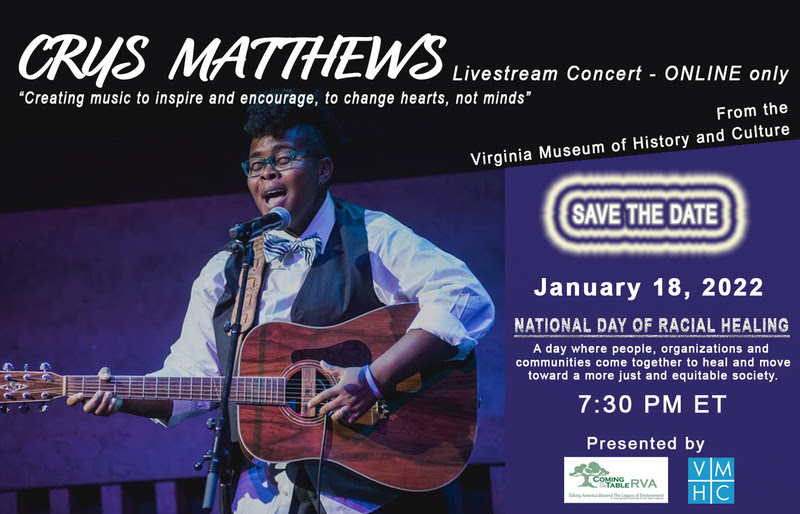 NATIONAL DAY OF RACIAL HEALING: SOCIAL-ACTIVIST SINGER-SONGWRITER CRYS MATTHEWS IN CONCERT! 
January 18, 2022 – 7:30 pm ET / 4:30 pm PT
More info here 
The National Day of Racial Healing (NDRH) was originated in 2017 under W.K. Kellogg Foundation's Truth, Racial Healing and Transformation efforts, which serves as a community and national based process to determine and bring about transformational and sustainable change in addition to talking about the historical and contemporary effects of racism in U.S. society.
---
Lobby with Clean Virginia, Virginia Organizing, Virginia Interfaith Power & Light & Appalachian Voices on January 20, 2022  Register here
---
Be a BADASS, Explore Network NOVA's LinkTree
---
DemCast is an advocacy-based 501(c)4 nonprofit. We have made the decision to build a media site free of outside influence. There are no ads. We do not get paid for clicks. If you appreciate our content, please consider a small monthly donation.
---