16 Dec 2021
We Need Volunteers!
Now is the time to plan and organize for the next cycle. We need your help to ensure we can continue to make the world better for ALL of us, not a select few.
Come join us.
---
The Communications Team is gearing up, joining a groundswell of local activism determined to trumpet the Democratic message far and wide. How many times have you read, "The Dems don't know how to message" or "Why doesn't anyone know what our legislation is doing for them?" or, (see below), "Don't people see the danger of the push away from Democracy?"
To get our message out effectively, we are looking for writers, graphic artists, photographers, videographers, content monitors, and information activists willing to share their skills and donate between 2 and 10 hours a month from February through November. If you would like to join us, reach out to communications@washtenawdems.org
Check out the Jobs Board. There are many other ways you can join forces as Dems to ensure that the 2022 election returns our bulwark, our "Women from Michigan", to the Executive and solidifies our leadership at all levels. WCDP leaders are working hard to build strong teams in many areas, and we've created a new Volunteer Jobs Board to help match you with opportunities to be part of this effort. We can only succeed if we unite, each doing what we can. Please visit us at https://www.washtenawdems.org/volunteer/ for a sample of the many ways you can contribute!
And if you have an idea we aren't mentioning, please let us know. We have a Party, we have resources, we have passion, we have smarts– let's make it work for us. ALLof us.
Need Motivation to Volunteer?
As Democrats, we're less susceptible to fear-based messaging. We prefer to operate on sound facts and build responsible policies. But the alarm bells are ringing everywhere. How will we respond?
Brian Williams, from his final broadcast with NBC News December 9th
"The truth is I am not a liberal or a conservative," he said. "I am an institutionalist. I believe in this place, and in my love of country I yield to no one. But the darkness on the edge of town has spread to the main roads and highways and neighborhoods. It is now at the local bar and the bowling alley, at the school board and the grocery store. And it must be acknowledged and answered for. Grown men and women, who swore an oath to our Constitution — elected by their constituents, possessing the kind of college degrees I could only dream of — have decided to join the mob and become something they are not, while hoping we somehow forget who they were. They've decided to burn it all down with us inside. That should scare you to no end."
MI Secretary of State Jocelyn Benson, in the New York Times
"This is a five-alarm fire. If people in general, leaders and citizens, aren't taking this as the most important issue of our time and acting accordingly, then we may not be able to ensure democracy prevails again in '24."
---
What are they talking about?
The Slow Motion Coup.
Per the New Your Times: "Many believers in Trump's stolen-election conspiracy theories or even people who traveled to Washington on Jan. 6 are winning or the early favorites for a number of key vote-counting positions for 2022 and 2024, from the new judge of elections in the small town of Mt. Joy, Pa., to the powerful secretaries of state in the battlegrounds that cost Trump the presidency last year."
Atlantic journalist Bart Gellman says the Republican party is increasingly unwilling to accept defeat and, in fact, is "prepared to win by sacrificing the essential elements of democracy."
Read / listen to his interview with Terry Gross on Fresh Air here.
Jennifer Rubin from the Washington Post
"…the failure of President Biden, Democrats and the media to make this the top story looks even more inexcusable in light of the depth of evidence. Given the number of people involved in the coup attempt and how perilously close we came to constitutional disaster, the scheme amounts to the most astounding political story in our lifetimes (or perhaps in history)."
Read it here (paywall).

The Media generally slow walks the Slow Motion Coup story about the PowerPoint power grab.
Read / Listen here.

The former President knew what was happening and did nothing.
That was the PLAN.
As part of the January 6th committee hearings, Liz Cheney read texts from Fox News hosts Laura Ingraham, Sean Hannity, Brian Kilmeade, and even Donald Trump Jr. urging former President Trump to act while he sat around and did nothing for hours during the insurrection. He did nothing because that was the plan.
---
Normal is not coming back soon.
As much as we would like it to, it isn't happening. The landscape has changed, and we have to change with it.
No one expects you to arm-wrestle Tucker Carlson. But you can poll watch. Make phone calls. Knock doors. Talk with your neighbors. Speak out at meetings. Let your Representatives know that passing Voter Protection laws is THE most important thing. You can find a way to lend your unique skills and passions to the cause.
Take some time this holiday season to think about what YOU can do, to ensure democracy prevails. Because that's what this is about. And democracy is worth it.
---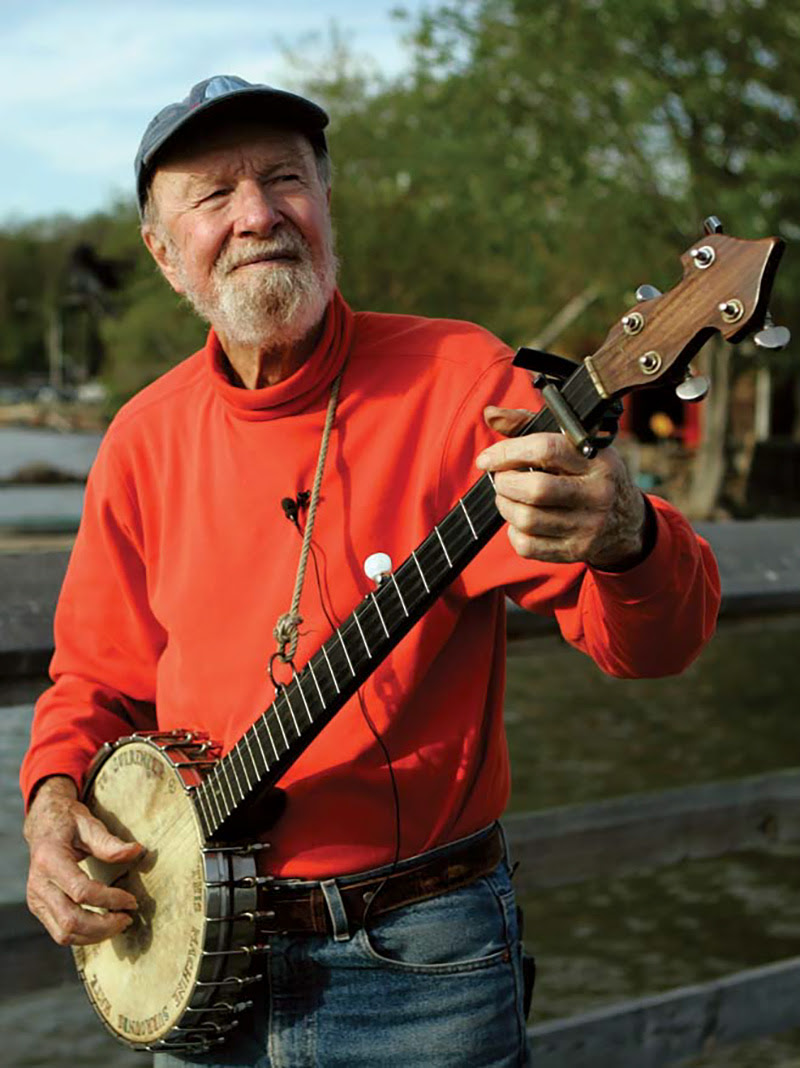 And, because we're Democrats, and we run less on fear than hope, here's a story from newmexicobear on Daily Kos:
"In the 1970s, Pete Seeger was invited to sing in Barcelona, Spain. Francisco Franco's fascist government, the last of the dictatorships that started World War II, was still in power but declining. A pro-democracy movement was gaining strength and to prove it, they invited America's best-known freedom singer to Spain. More than a hundred thousand people were in the stadium, where rock bands had played all day. But the crowd had come for Seeger. As Pete prepared to go on, government officials handed him a list of songs he was not allowed to sing. Pete studied it mournfully, saying it looked an awful lot like his set list. But they insisted: he must not sing any of these songs.
"Pete took the government's list of banned songs and strolled on stage. He held up the paper and said, "I've been told that I'm not allowed to sing these songs." He grinned at the crowd and said, "So I'll just play the chords; maybe you know the words. They didn't say anything about you singing them." He strummed his banjo to one song after another, and they all sang. A hundred thousand defiant freedom singers breaking the law with Pete Seeger, filling the stadium with words their government did not want them to hear, words they all knew and had sung together, in secret circles, for years. What could the government do? Arrest a hundred thousand singers?"

Let's become a hundred thousand singers.
Let's find a way to do a hundred thousand small acts that change the world.
Let's do it with joy in our hearts AND our hair on fire.

Let's volunteer.
---
Comment on Maps
The Commission (MICRC) has settled on its final set of maps, and will be voting on them at the end of December. Now is our chance to weigh in.
The path to fair maps runs right through Washtenaw County. The Redistricting Commission has narrowed the field of draft maps, and some options give us a more level playing field than what we've had before, while others condemn us to the minority for the next decade.
We have until Dec. 27 to get good comments in! Can we call for further revision? Yes, but the timing is tight. Sooner is better.
---
Speak in Person at the next MICRC Meeting
Thursday, December 16 beginning at 10am
Sign up in person starting at 9am
Cadillac Place, L-150 (former GM Headquarters)
3044 W Grand Boulevard, Detroit, MI.
Public comment will start shortly after 10am.
Each person's comment is limited to 60 seconds.
 
Speak Virtually at the next MICRC Meeting
After all the in-person speakers have presented, people who have signed up to speak virtually will be able to present.

You have to sign up BEFORE 9AM on Thursday, December 16th to speak virtually. You won't get a confirmation email until Thursday morning.

Signup to speak virtually at this link.
Each person's comment is limited to 60 seconds.
---
Comment directly on the maps
https://www.michigan-mapping.org/#submit
The collaborative maps the Commission has created are named for trees, while the individual Commissioners' maps carry their names. They hope to vote on a collaborative map, but if none passes in the first round, they will include the individual ones in a Ranked Choice vote. So we are commenting on them as well.
---
Which maps are fair?
US Congress
Birch and Szetela are the fairest maps.
Birch reflects statewide voting patterns very well, and covers many Communities of Interest.
Commissioner Szetela's map is even better, offering the most competitive districts of any proposed Senate map.
Chestnut is also acceptable.
We don't recommend Lange.
State Senate
In the State Senate, Linden and Cherry both unpack Washtenaw, making them much better in terms of partisan fairness. Tell the Commission where you're from and that you support the Linden and Cherry maps.
Both maps are significantly better than Palm. Palm has a high Republican bias, and would create an unfair playing field. It packs Democrats by putting Ann Arbor and Ypsi in one district and is the most unfair map in front of the Commission.
MI State House
In the House, Hickory has the best partisan fairness scores of the three
options and the most majority-Black districts. BUT – All of the House maps have
too much Republican bias. The alternatives — Magnolia and Pine — are worse. They contain substantial partisan bias and do not adequately reflect communities of interest.
---
DO NOT copy and paste these points, but
DO speak to them in your own words!

Partisan Fairness
The people of Michigan passed prop 2 because we wanted independent commissioners to draw fair maps.

All of the Commission's state House maps lean to the right, giving Republicans an unfair advantage. Your job isn't done until you fix that. Partisan fairness is not a nice thing to have if you can get it — it is your Constitutional duty.

Under your House maps, Republicans are winning before ballots are even counted.

How is any map fair in which one party can win a majority of the seats while losing a majority of the votes?

Voting Rights Act
The Voting Rights Act is meant to help voters of color elect representatives of their choice, so that those representatives can make a difference in the legislature. Cracking Black communities and tilting the playing field toward the Republican Party fail on both counts.

Racial justice and partisan fairness go hand in hand. You need to do better on both.

Vote No on Unfair Maps
VOTE NO ON PALM! The Palm Senate map is the worst choice in front of you. It is extremely biased and unfair.

None of you should vote to approve ANY map that has a disproportionate advantage to a political party. Please veto unfair maps — vote NO on anything but the fairest map on December 30th.

---
MDP Redistricting Toolkit (and Meeting Schedule)
MICRC's Public Comment Portal
MICRC's Website
MICRC's maps
——————————-
Want some more resources on what to say and how to say it? Here they are.
League of Women Voters – Redistricting
Voters Not Politicians – Redistricting
Redistricting Actions YOU Can Take
Events
Not much happening before the holidays, just one event, but you can pencil a couple in in on your calendar for the New Year…
Saturday, December 18th 4pm
Riverside Park, Ypsilanti
Washtenaw County Stands with Oxford
"We Must Keep Our Children Safe"
Hosted by Survivors Speak and Celeste Lynn.
"We are gathering, in this healing space, to stand with Oxford and those suffering due to the tragedy of the Oxford school shooting. Whether it's school shootings or our youth shooting each other, we have a problem with safety.
We are coming together to process this tragedy together and talk about how we can keep our youth safe. We hope you'll join us!!"
Saturday, January 8th 9:30am
Washtenaw Dems Monthly Meeting (via Zoom)
Responding to Climate Change in Ann Arbor
Mayor Christopher Taylor will speak about  promoting energy efficiency, recycling, and environmental justice with funds from a proposed new millage.

The National Democratic Party's plans to Combat Climate Change
Michelle Deatrick, National Chair, DNC Council on the Environment and Climate Crisis, former Washtenaw County Commissioner

Taking Fear Seriously in Western Washtenaw County
Responding with hope when School Board and municipal elections are met with fear-based political strategies.  Speakers will include Chelsea Mayor Jane Pacheco and Dexter Community Schools Board of Education Member Jennifer Kangas.
And coming up in February…
THE FINAL WORD
---
STAY IN TOUCH WITH YOUR MICHIGAN REPS
Find your county commissioner here.
State Senator Jeff Irwin has a regular Virtual Coffee Hour — To receive the Zoom access code and the next date, please fill out this form:https://senatedems.com/irwin/coffee-hour-sign-up/State Rep. Yousef Rabhi, 53rd House district: yousefrabhi@house.mi.gov, Phone: (517) 373-2577. https://housedems.com/yousef-rabhi/.
Typically discussions are 10 am on the 4th Saturday of the month and 6 pm on the 2nd Monday of the month. Click to register:Monday coffee hoursSaturday coffee hoursState Rep. Ronnie Peterson, 54th House district: ronniepeterson@house.mi.gov Phone: (517) 373-1771 | Toll-Free: (855) 347-8054, https://housedems.com/ronnie-peterson/
State Rep. Donna Lasinski, 52nd House district: donnalasinski@house.mi.gov, Phone: (517) 373-0828 | Toll-Free: (855) 627-5052, https://housedems.com/donna-lasinski/ (sign up for emails here).
State Rep. Felicia Brabec, 55th House district: FeliciaBrabec@house.mi.gov, Phone: (517) 373-1792, https://housedems.com/felicia-brabec/.
---
DemCast is an advocacy-based 501(c)4 nonprofit. We have made the decision to build a media site free of outside influence. There are no ads. We do not get paid for clicks. If you appreciate our content, please consider a small monthly donation.
---