Let's start off with some good news! And follow with Calls To Action and events to Protect Our Democracy and more.
GOOD NEWS:
This would be the largest increase over a 15-year span. With the help of local fund matches, the proposed raise would put Virginia teacher pay above the national average.
You can thank Governor Ralph Northam here on Twitter with:
#virginiaschools – #supportteachers – #Americans4Democracy
Working Virginians could effectively get a pay increase thanks to the healthcare savings in President Joe Biden's Build Back Better bill. The only folks who'll pay more? The top 1% of earners and corporations!
Tell Joe and others we appreciate his work here with:
#Americans4Democracy #buildbackbetter with #healthcare 
Thanks to the bipartisan infrastructure law, over 
 1 BILLION 
 dollars is headed to 14 transit systems across Virginia.
And over the next five years, at least $7 billion more will be headed our way to repair and improve Virginia highways, bridges, and electric vehicle charging stations
Let Oprah know you appreciate her voice here with:
#Americans4Democracy #buildbackbetter w/ #infrastructure & #oprah
---
Commercial Break
Holiday Shopping to Support Our Work
While you reflect and take action, please browse @BADASS Boutique and use CodeBADASS to enjoy 10% discount until Friday's Power Lunch when other opportunities/deep discounts may arise.
---
Key Opportunities to Advance High-Quality Education for Every Virginia Student
Thursday, December 9, 2021 4:00pm ET – Virtual
Register here
In recent years, we've made progress in strengthening K-12 funding — both in adequacy and equity. Yet the pandemic has highlighted existing challenges and created new ones that impact students, parents, and the entire public school system. Our best response to these challenges is to focus on solutions and preserve public school funding. Policy experts and advocates will discuss ways to break down barriers and bring us closer to making sure that every student has access to a high-quality education.
---
Join Lawyers for Choice and learn how we can rise to meet this moment and prepare Virginia for the fight ahead. 
Thursday, December 9, 2021 6:30 pm ET – Virtual
---
Friday Power Lunch Early, Often & Ongoing: Investing in Democracy
12/10/2021, NOON
Register here
Since 2017 we've used our grassroots instincts and insights–built on listening and engaging with voters and working together–to great electoral success. The disappointments of the 2021 election gave truth that work needs to be done. Introspection and learning will help us work together to fix these deep rooted problems. 

Please join Network NOVA's Friday Power Lunch, as we have a conversation on the importance of investing in DEMOCRACY – early, often, and ongoing!

Senator Jennifer McClellan will talk with us about policy issues, the current political landscape post-election, and what we can do now to prepare for the 2022 legislative session and the 2022 election.
The 2021 election made it crystal clear we cannot win a statewide election without reaching out and working with all communities throughout the state. Tram Nguyen (Co-Executive Director, New Virginia Majority) will tell us about New Virginia Majority's long-term work to build the power of marginalized communities across the state and how we can work together to expand on this critical ongoing effort.
We will end with a conversation with Khenia Haro-Perez (Executive Director) and Delegate Jay Jones (Founder) of Meet our Moment (MOM), a new organization that recruits and trains minority Democratic candidates to run for state and local office in Virginia. Their first training cohort will meet Dec. 11 in Richmond where they will not only gain skills that address the unique needs of minority candidates but also be connected to the community of minority vendors and consultants.

#Americans4Democracy – #ProtectingOurDemocracy – 
at the @FriPowerLunch

Please copy/paste above and:Share our Facebook Post – Amplify our Tweet – Love our Instagram
---
Pressing Forward
Thursday, December 9 7pm – Virtual
The change in Virginia's lawmakers from the recent election brings much uncertainty. What's next for our priorities? Join Charlottesville NOW to hear from Senator Jennifer McClellan, Delegate Hala Ayala, and Delegate Sally Hudson as we chart a path forward.

Register here
---
CALL TO ACTION
The pressure is mounting on Senators to drop paid leave from Build Back Better. Please add your name to CFF's petition to show Senators Warner and Kaine that you want and need the Build Back Better Act to pass in the Senate with paid leave intact and that Virginians see paid leave as a warranted and necessary policy. Sign here.
---
Let's work together now in a creative manner to reject MVP's request for a new 401 Water Quality Certification from Virginia.

Register for the Violation Vigil Project here. After registering, you will be assigned one of the 350+ violations that Mountain Valley Pipeline has committed in Virginia against our water ways. The visual interpretation of the violation, a large poster, will be provided to you. These images will be part of the visuals for an in-person rally on December 11, 2021 in Richmond, VA. You will bring your sign with you to Richmond that day for the event – which lasts from 1-4pm. You will receive more details and updates will be available after registration.

Join and share the Facebook Event here.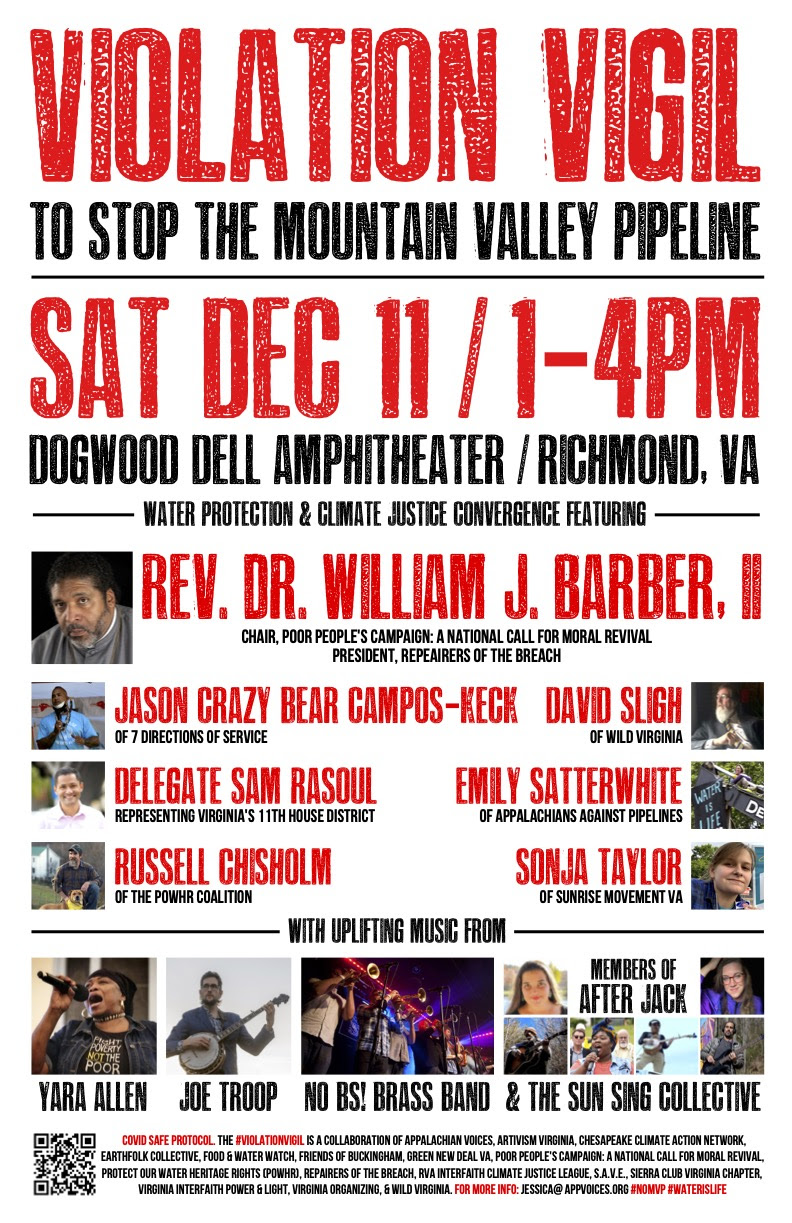 Gather in Richmond on December 11, 1pm with fabulous speakers and musicians.Dogwood Dell Amphitheater – Byrd Park – 600 South Boulevard
Speakers:
Rev. Dr. William J. Barber II – the Poor People's Campaign & Repairers of the Breach
Jason Campos-Keck – 7 Directions of Service
VA Delegate Sam Rasoul
David Sligh – Wild Virginia
Sonya Taylor – Sunrise VA
Emily Satterwhite – the POWHR Coalition
Russell Chisholm – the POWHR Coalition
Musicians:
Yara Allen
No BS! Brass Band
Joe Troop
Members of the SUN SiNG Collective & of After Jack
Collaborators:
7 Directions of Service
Appalachian Voices
ARTivism Virginia
Chesapeake Climate Action Network
Earthfolk Collective
Food & Water Watch
Friends of Buckingham
Green New Deal VA
POWHR Coalition
Richmond Interfaith Climate Justice League
S.A.V.E.
Sierra Club Virginia
Virginia Interfaith Power & Light
Virginia Organizing
Wild Virginia
---
Virginia Grassroots Coalition Meeting
Sunday, December 12, 4:00pm
---
Supporting Rural Democrats: Creative Solutions Strategy Session
Tuesday, December 14th, 6:30pm – 8:00pm
With the post-election focus on rural Virginia, please join this special meeting with Senator Tim Kaine and Representatives Beyer and Spanberger to review the challenges in running competitive rural elections and actively engaging rural democratic voters in 2022 races. In this session, speakers, including former candidates, Together Virginia, Rural Ground Game and the Rural Caucus will outline their views on regaining loss opportunities, building rural Democratic constituencies, and enabling successful Democratic races in rural Virginia now and in the future. You won't want to miss this informative session and learn how you can help right now.
Please use this link (https://bit.ly/31g4Mmt) to register for the event and to share within your networks.
---
Wednesday, December 15, 5:30pm – Virtual
Lotte Lieb Dula, founder of the www.reparations4slavery.com portal, will describe the circumstances that led her to join the reparations movement, her goals in designing the R4S portal, the five reparations curricula she has designed, and how these can be used to bring more White people into the movement.
---
Join Sierra Club Phone Banking to Ensure Passage of Critical Democracy Reforms
Tuesdays, Starting January 11, 2022 6 – 8pm EST
Register here.
Join Tuesdays this January for a phone banking series to call Sierra Club members and supporters in target states to encourage them to call their Senators urging them to pass voting rights legislation now!

The Freedom to Vote Act and the John Lewis Voting Rights Advancement Act are critically needed however, they are at a crossroads as an outdated procedural rule called the filibuster is holding it up.
---
DemCast is an advocacy-based 501(c)4 nonprofit. We have made the decision to build a media site free of outside influence. There are no ads. We do not get paid for clicks. If you appreciate our content, please consider a small monthly donation.
---