IC-SS Weekly Update: November 29, 2021
Holiday Songs & Actions
 We hope you're enjoying the holiday season and finding time to rest and recharge. Even during time off, we can find easy actions to do to make our community, city, and country a better place for all. Find the actions that work for YOU – suggestions in this newsletter.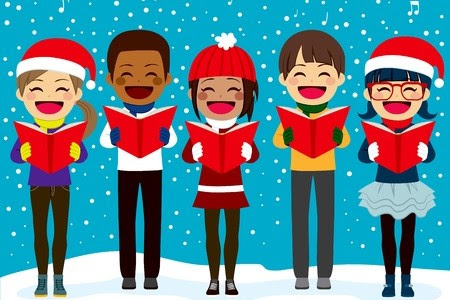 A heads-up: Watch for a chance to carol in the Loop for the Freedom to Vote Act with Indivisible Chicago at A Chorus for Us All on Wednesday evening, Dec 8th. We'll sing non-religious holiday songs with fun lyrics promoting democracy. Details soon.
---
Can You Gather with Us Thursday Dec 9th?
Our chance to join together in person! Can you join us on Thursday, December 9th, 7:00 pm?State Senator Robert Peters and IL-07 candidate Kina Collins will speak and answer your questions. 
Senator Peters (13th district) is Chair of the IL Senate Black Caucus. In his first year in office, he sponsored 13 bills, all signed by Gov. Pritzker. More recently, he ushered in Illinois's SAFE-T Act for public safety with justice, now signed into law.
Kina Collins, Democratic candidate for the US House in the 7th district, is a lifelong activist and gun violence prevention and health care advocate with a track record of policy making and coalition building. She is challenging longtime incumbent Danny Davis.
Event: Hear from Sen Robert Peters and Ms. Kina Collins
When: Thursday, Dec. 9th, 7:00-9:00 pm
Where: St. Paul and the Redeemer Church, 4945 S. Dorchester
Health precautions: All attendees must wear masks throughout the event. Our two special guests may remove their masks when addressing the group. We ask all attendees to be vaccinated.
Sign up: RSVP here.
---
TONIGHT: Promoting Equity Online Forum
Join Rainbow PUSH Coalition, local chapters of the League of Women Voters, and other organizations for a virtual town hall, Promoting Equity IL: Does My Vote Still Count? This online event takes place TONIGHT Monday, November 29th, from 7:00-8:30 pm.
Speakers include Dr. Barbara Arnwine, Esq.,Transformative Justice Coalition; Frederique Desrosiers, Chicago Votes; Jay Young, Common Cause Illinois; Ami Gandhi, Chicago Lawyers' Committee for Civil Rights. Moderator: Lance Gough, Former Executive Director, Chicago Board of Elections
To attend this Nov 29 online event, register here.
---
THIS WEEK: Join Us & Phone Voters
Time is getting short. Help pass theFreedom to Vote Act! Connect on Zoom with friendly Indivisible Chicago folks, who'll patiently guide you as you phone people in Arizona and other states and patch them through to the offices of their Democratic senators.
We're asking the folks we call to give their senators this message: do something about the filibuster so the Freedom to Vote Act can pass!
Tuesday, Nov 30:Phonebankto Arizona residents – Kyrsten Sinema territory – in support of the Freedom to Vote Act. Sign up for other Tuesdays, too. Via Indivisible Chicago, in partnership with Common Cause. Learn more/Sign up
Wednesday, Dec 1:Phonebankto residents of other statesin support of the Freedom to Vote Act. Sign up for other Wednesdays, too. Via Indivisible Chicago, in partnership with Common Cause. Learn more/Sign up
Choose your day: If you can't make the Indivisible Chicago phonebanks, choose a Common Cause phonebank to call other states on other days! Learn more/Sign up.
---
Save Dec 15 for Lauren Underwood
Join Team Underwood and Indivisible Illinois on Wed. December 15th in an organizing meeting for Rep Lauren Underwood (IL14). Learn about the new 14th District and plans to help Rep Underwood get re-elected in 2022.
Event: Welcome to the New 14th! Strategy Session (online)
Date/Time: Wed. December 15th, 6:00-7:00 pm
RSVP: Get info/Sign up
---
Postcards, Letters Get Out the Vote
Get in the winter frame of mind. Grab the cocoa, find a fuzzy friend, write letters to voters to help turn out the vote in key elections.
ACT: Write to voters in one or all of these ways: Vote Forward + Postcards to Swing States + Postcards for Climate
---
Stay Informed on Voting Rights
Stay informed on the urgent need to strengthen and defend our democracy – including voting rights, fair elections, and counteracting the filibuster loophole as an obstacle. Check the IC-SS Democracy Doc – new resources weekly: websites, articles, podcasts, videos, and more.
---
Organizations & Opportunities
Indivisible Chicago-South Side shares information and action announcements from other organizations on issues important in our country, state, city, and communities.
---
Close IL's Iroquois County Jail
From Color of Change: The Iroquois County Jail is a small facility, holding a maximum of 35 inmates and located in rural Illinois. This facility is responsible for escalating acts of negligence, abuse, and violence towards incarcerated community members that culminated in the tragic deaths of two men.
ACT
1. Read more and sign the petition to IL Attorney General Kwame Raoul, calling on him to close the jail.

2. Call Attorney General Kwame Raoul (217-782-1090) and demand that he shut down the Iroquois County Jail.
 
---
Community Control of Police: Join the Fight!
This summer, the Empowering Communities for Public Safety ordinance (ECPS) was passed in the Chicago City Council. This legislation gives Chicago residents some of the most comprehensive accountability over city police in the nation. The struggle for police accountability, however, is not done.
Now we need the City Council to put a referendum on the ballot, so Chicago residents can vote for even further control.
If there is a referendum, Chicagoans can vote to give civilians the power to directly elect a commission of community members who will have powers over the police superintendent, members of the police board, COPA Chief, and police union contracts. This will mean further safety from police violence for Chicagoans.
The first step: convincing the City Council. This means reaching voters in key wards and urging them to pressure their alders to agree to a referendum. We can help by working with CAARPR.
ACT: You can help encourage community members to notify their alders that Chicago needs the referendum. Please sign up to phonebank, drop literature, or table. Contact the CAARPR organization or IC-SS Co-Leader Teri Watkins
---
DemCast is an advocacy-based 501(c)4 nonprofit. We have made the decision to build a media site free of outside influence. There are no ads. We do not get paid for clicks. If you appreciate our content, please consider a small monthly donation.
---