IC-SS Weekly Update: November 22, 2021
Dec 9: We Host Sen Peters, Kina Collins

We're planning a big night. Can you join us on Thursday, December 9th, 7:00 pm?StateSenator Robert Peters and IL-07 candidate Kina Collins will speak and answer your questions. RSVP here.
Senator Peters (13th district) is Chair of the IL Senate Black Caucus. In his first year in office, he sponsored 13 bills, all signed by Gov. Pritzker. More recently, he ushered in Illinois's SAFE-T Act for public safety with justice, now signed into law.
Kina Collins, Democratic candidate for the US House in the 7th district, is a lifelong activist and gun violence prevention and health care advocate with a track record of policy making and coalition building. She is challenging longtime incumbent Danny Davis.
Event: Hear from Sen Robert Peters and Ms. Kina Collins
When: Thursday, Dec. 9th, 7:00-9:00 pm
Where: St. Paul and the Redeemer Church, 4945 S. Dorchester
Health precautions: All attendees must wear masks throughout the event. Our two special guests may remove their masks when addressing the group. We ask all attendees to be vaccinated.
Sign up: RSVP here.
---
Missed our November event? We got you!
---
Tomorrow! Join Us & Phone Voters
Time is getting short. Help pass the Freedom to Vote Act! Connect on Zoom with friendly Indivisible Chicago folks, who'll patiently guide you as you phone voters in Arizona and patch them through to Senator Kyrsten Sinema's office. The message: do something about the filibuster so the Freedom to Vote Act can pass!
Tuesday, Nov 23:Phonebankto Arizona voters – Kyrsten Sinema territory – in support of the Freedom to Vote Act. Tuesday, Nov. 16th, 3:00 pm and other dates. Via Indivisible Chicago, in partnership with Common Cause. Learn more/Sign up
Choose your day: If you can't make the Arizona phonebank, choose a Common Cause phonebank to call other states on other days! Learn more/Sign up.
---
Expand the Court Town Hall
On November 19th, five of us from Indivisible Chicago-South Side were among a dozen 1st District constituents attending a Demand Justice town hall with Lauren Citron, Legislative Director for Rep Bobby Rush.
The event was organized by Demand Justice as part of their nationwide effort to pass the Judiciary Act, which would add four justices to the US Supreme Court.
Demand Justice notes that the Judiciary Act would be "a constitutional, straight-forward way to restore balance to the Supreme Court," especially needed as voting rights are being eroded. Learn more in Demand Justice's meeting prep document.
At the meeting, several of us spoke up to ask Rep Rush to co-sponsor the Judiciary Act. We asked him to actively champion the bill and play a leading role in defending voting rights and democracy.
In IL-01 and want to add your voice? Contact Rep Bobby Rush here.
---
Stop White Supremacy Rally

"We live in a world where Kyle Rittenhouse can go to a protest with a gun and kill 2 people without facing any accountability," writes CAARPR. "The whole damn system is guilty as hell. We can't stand for it!"
On Saturday, over a thousand people gathered in Federal Plaza and marched with CAARPR, which had planned the Stop White Supremacy Rally in advance, whatever the verdict was to be. Members of the Indivisible Chicago Alliance, including Indivisible Chicago-South Side and Indivisible Downtown Chicago, joined in the protest against white supremacy and vigilantism.
---
Does My Vote Still Count? Nov 29 Town Hall
Join Rainbow PUSH Coalition, local chapters of the League of Women Voters, and other organizations for a virtual town hall, Promoting Equity IL: Does My Vote Still Count? This online event will take place Monday, November 29th, from 7:00-8:30 pm.
Speakers include Dr. Barbara Arnwine, Esq.,Transformative Justice Coalition; Frederique Desrosiers, Chicago Votes; Jay Young, Common Cause Illinois; Ami Gandhi, Chicago Lawyers' Committee for Civil Rights. Moderator: Lance Gough, Former Executive Director, Chicago Board of Elections. To attend this Nov 29 online event, register here.
---
Listening Session on Gun Violence
We are all deeply affected when members of our community lose their lives in gun violence – or are threatened by it.
Last Thursday evening at Philz Coffee in Hyde Park, Jahmal Cole, Democratic candidate for IL-01, held a coffee and conversation session on gun violence. Tre Nowaczynski and Jen Duran, mental health workers at Healing Hurt People spoke, and Mr. Cole invited attendees to share their own experiences with gun violence and their perspectives on ending it.
---
Save Dec 15 for Lauren Underwood
Join Team Underwood and Indivisible Illinois on Wed. December 15th in an organizing meeting for Rep Lauren Underwood (IL14). Learn about the new 14th District and plans to help Rep Underwood get re-elected in 2022.

Event: Welcome to the New 14th! Strategy Session (online)
Date/Time: Wed. December 15th, 6:00-7:00 pm
RSVP: Get info/Sign up
---
Indivisible Illinois Convening
Recording now available! At Indivisible Illinois's four-hour virtual event on Nov 13, we heard from leaders affiliated with Indivisible Illinois, national Indivisible, and the Poor People's Campaign, as well as national advisors to progressive organizations. Watch the recording.
If you missed the event, get caught up here:
---
Postcards, Letters Get Out the Vote
Get in the winter frame of mind. Grab the cocoa, find a fuzzy friend, write letters to voters to help turn out the vote in key elections.

ACT: Write to voters in one or all of these ways: Vote Forward + Postcards to Swing States + Postcards for Climate.
---
Stay Informed on Voting Rights
Stay Informed on Voting Rights
Stay informed on the urgent need to strengthen and defend our democracy – including voting rights, fair elections, and counteracting the filibuster loophole as an obstacle. Check the IC-SS Democracy Doc – new resources weekly: websites, articles, podcasts, videos, and more.
---
Organizations & Opportunities
Indivisible Chicago-South Side shares information and action announcements from other organizations on issues important in our country, state, city, and communities.

Hear Melody Angel, Saturday, Nov 27th

Singer/songwriter and activist Melody Angel will perform Saturday, November 27th at 7:30 at Epiphany, 201 S. Ashland – in-person tickets (and livestream option) here.
Melody Angel has worked in partnership with Indivisible Chicago and will be uplifting democracy and voting rights messages through her performance.
Support the People's Map for Chicago Wards
From the Chicago Advisory Redistricting Commission: It's time for a Chicago ward map for the people, by the people. Throughout the summer and early fall of 2021, the Chicago Advisory Redistricting Commission held open public meetings to listen to everyday Chicagoans talk about their communities and how they should be represented in City Council for the next ten years.

In a historic community-led-and-driven ward remap process that featured hundreds of testimonies from all over the city, the commission created a ward map that aims to empower residents and keep communities whole.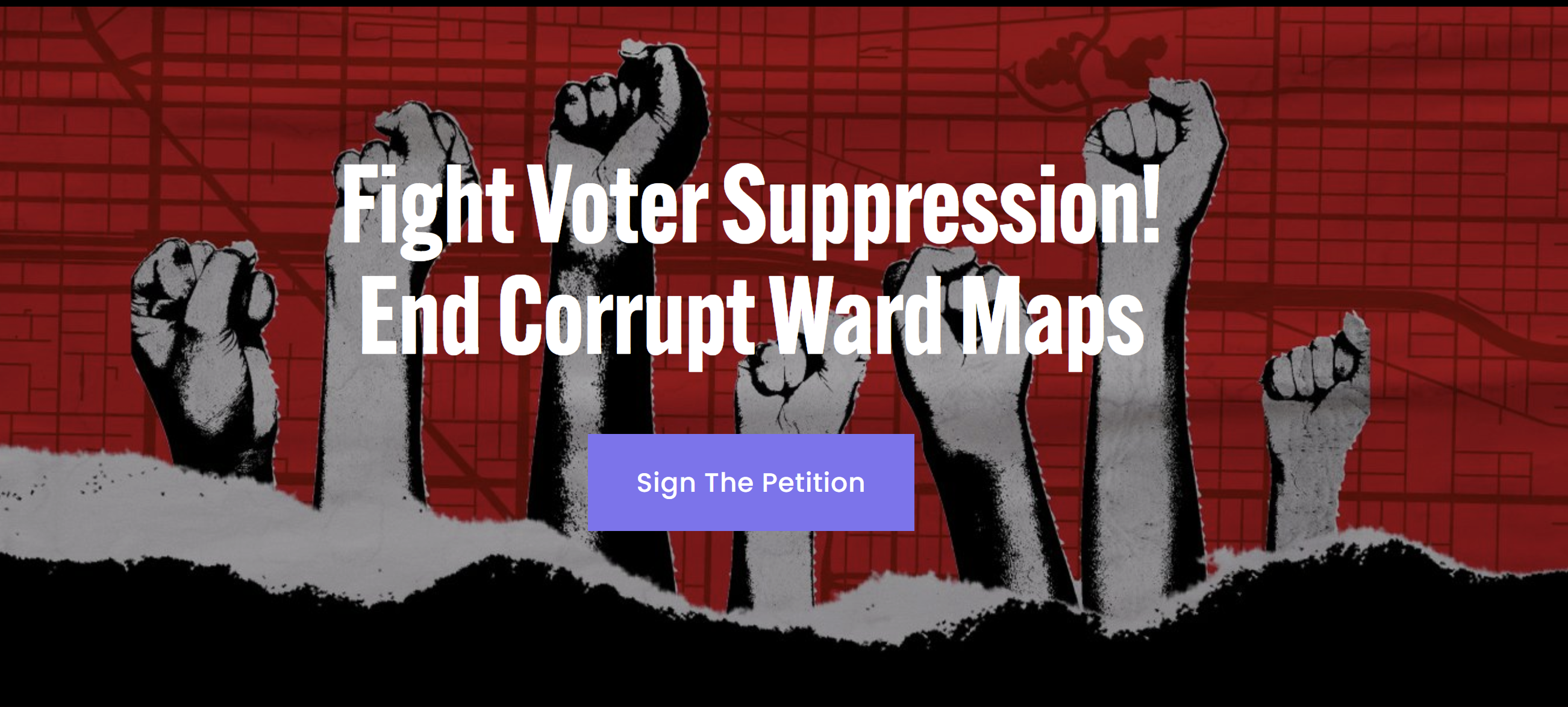 LEARN: Get all the info on the People's Map here.
ACT: Show your support for the People's Map by signing this petition.
Community Control of Police: Join the Fight!
This summer, the Empowering Communities for Public Safety ordinance (ECPS) was passed in the Chicago City Council. This legislation gives Chicago residents some of the most comprehensive accountability over city police in the nation. The struggle for police accountability, however, is not done.
Now we need the City Council to put a referendum on the ballot, so Chicago residents can vote for even further control.
If there is a referendum, Chicagoans can vote to give civilians the power to directly elect a commission of community members who will have powers over the police superintendent, members of the police board, COPA Chief, and police union contracts. This will mean further safety from police violence for Chicagoans.
The first step: convincing the City Council. This means reaching voters in key wards and urging them to pressure their alders to agree to a referendum. We can help by working with CAARPR.
ACT: You can help encourage community members to notify their alders that Chicago needs the referendum. Please sign up to phonebank, drop literature, or table. Contact the CAARPR organization or IC-SS Co-LeaderTeri Watkins
---
DemCast is an advocacy-based 501(c)4 nonprofit. We have made the decision to build a media site free of outside influence. There are no ads. We do not get paid for clicks. If you appreciate our content, please consider a small monthly donation.
---