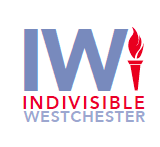 Early Voting Starts This Saturday
Vote Early (Sat. 10/23 – Sun. 10/31): Make a plan to VOTE! Voters may visit ANY of the Countywide Early Voting centers during the dates and times listed.
Vote on Election Day (Tues. 11/2, 6 am – 9 pm): Voters are assigned to one poll site only. Find your site here.
County Executive George Latimer, county legislators, and the county clerk are all running for reelection – many face Trump Republicans in November. There is also a race for NY Supreme Court and local elections.
Flip Your Ballot & Vote YESThe 2021 Statewide Ballot Proposals are the culmination of years of work. The Legislature has voted to approve these changes to the state constitution for the past two years and now it's our turn. A simple majority of people must VOTE YES in order for them to pass.
Read more about the proposals here
Our New Look
Be sure to check out our new and improved website for up to date information on actions, events, and news across Westchester County.
Help Ida Storm Victims
Local organizations helping the most vulnerable storm victims need donations!
Filibuster Friday
On Thursday, President Biden talked about "altering the filibuster" one day after Senate Republicans blocked the Freedom to Vote Act.
For Filibuster Friday, let's turn up the heat about why we need to kill the filibuster once and for all. Click here for this week's toolkit. 
---
DemCast is an advocacy-based 501(c)4 nonprofit. We have made the decision to build a media site free of outside influence. There are no ads. We do not get paid for clicks. If you appreciate our content, please consider a small monthly donation.
---