IC-SS Weekly Update: Sept 27, 2021
IC-SS Socials: Better Together
We get together to share and to encourage. Join us!
Last Week's Social: Postcards, Impact, Fun
Thanks to the thirteen friends and members of Indivisible Chicago-South Side who gathered for fellowship and delicious fare at The Nile last week for our September Social. We exchanged resources and information about activism and welcomed special guest Reid McCollumof Postcards to Swing States, and Postcards for Climate.
Reid told us about the impact of postcards:
Volunteers wrote 21 million postcards with Postcards to Swing States in 2020 (including 4.5 million for the Georgia runoffs).
We know with certainty that those postcards added thousands of votes for Biden and Democrats in key states, because we used large randomized controlled experiments to measure their impact.
Postcards for Climate can increase turnout among those who get our postcards by several percentage points, because there's a lot more upside in "quieter" elections — nationally, only about 15% of eligible voters participate in local elections.
At our gathering, we all wrote some postcards and many of us will work on more at home. Thanks to everyone who shared resources and opportunities to act!
Our next Social: Oct 13 bonfire at the Point
Join us for our next IC-South Side Social for a bonfire at the Point (Promontory Point). On Wednesday, October 13th, we'll roast hot dogs, veggie dogs, and marshmallows. Co-leaders will be out there from 5:30-  8:00 pm (or later!) — hope
you can be there too. Watch for more info in the next newsletter. Meanwhile, mark your calendar.
---
Postcards, Postcards, and More
You've written postcards to turn out voters in key districts — keep at it! And, now, you can add in postcards to climate voters.
Postcards to climate voters
Write postcards to make sure people who care about the climate crisis VOTE. This new project starts with cities that have elections this November — cities where climate progress is possible, but only if climate voters show up! Get info and sign up at the Postcards for Climate website.
Postcards to get out the vote
Via Postcards to Swing States, write postcards to encourage voting in key states. FAQs here + sign up here.
Sep 29: Webinar on postcards & voter turnout actions
From Progressive Turnout Project: Are you one of the countless volunteers and activists who powered Democratic 2020 electoral wins, writing postcards, sending texts or knocking on doors?
On Wed, Sept 29th, 7:00 pm CT,join Progressive Turnout Project to discuss results from the Postcards to Swing States program and compare the turnout methods associated with all your hard work. Get info/Sign up
---
Our Democracy Crisis
Even conservatives are warning about the dire situation that we the people are in.
"We are already in a constitutional crisis." writes Robert Kagan in a Washington Post opinion piece. "The destruction of democracy might not come until November 2024, but critical steps in that direction are happening now. In a little more than a year, it may become impossible to pass legislation to protect the electoral process in 2024."
What you can do NOW:
1. Call our senators regularly. Contact Senator Durbin + Senator Duckworth regularly to urge them to do something about the filibuster so that voting rights and fair elections bills can pass, especially the Freedom to Vote Act + the John Lewis Voting Rights Advancement Act.
2. Get voters around the country to call their senators. Phonebank with friendly, supportive Indivisible Chicago folks and Common Cause to patch voters in Arizona and West Virginia through to their senators about democracy bills and the filibuster (Indivisible Chicago + Common Cause).
Even if you've skipped phonebanking in the past, please consider phonebanking now to defend our democracy!
Stay informed on voting rights and fair elections
Stay informed on the urgent need to strengthen and defend our democracy. Check the IC-SS Democracy Doc – new resources weekly: websites, articles, podcasts, videos, and more.
Updated with info on the NEW bill — the Freedom to Vote Act
Phoning Voters for Democracy
Join Sarah, Teri, Betsy, and others from our group in one of these weekly events. Connect to day-of training and constant friendly support via Zoom. All you need is your laptop and a phone.

 Constituent calls count. Last Wednesday, our phonebank crew patched 44 Arizonans through to Senator Sinema's office to ask her help pass the Freedom to Vote Act by fixing the filibuster. Now is the time to step outside our comfort zone to get voters to push their senators to save our democracy! ~Betsy Rubin, IC-SS Co-Leader
Tuesday:Phonebankto West Virginia voters – Joe Manchin territory – in support of the new bill, the Freedom to Vote Act. Tuesday, Sept 28th, 4:30 pm and every Tuesday. Via Indivisible Chicago, in partnership with Common Cause. Learn more/Sign up
Wednesday:Phonebank to voters in various states in support of the Freedom to Vote Act. September 29th, 5:00 pm and every Wednesday with alternating start times at 3:00 pm or 5:00 pm. Via Indivisible Chicago, in partnership with Common Cause. Learn more/Sign up
Choose your day: If you can't make the above phonebanks, choose a Common Cause phonebank on another day! Learn more/Sign up.
---
Vote Forward: Sept 30 Webinar

Are you writing letters to voters via Vote Forward? If not, join in – all you need is a printer, paper, envelopes, stamps, and a pen!
But, you may ask, do letters to voters WORK*? Find out how well the 2020 Vote Forward letter campaigns worked in turning out voters — sign up for the Vote Forward webinar:
Webinar: The Big Send 2020 Results webinar
Date/Time: Thurs Sept 30th, 7:00 pm Central (8:00 Eastern)
RSVP: Get info/Sign up
Help Register Voters on the South Side
ILVOTE invites Indivisible Chicago-South Side members to volunteer – find many opportunities to register, inform, and motivate voters! Join IC-SS member Julia Kline, who organizes many of these efforts with ILVOTE and Neighbors Who Vote. For South Side voter registration efforts, Get info/Sign up.
---
Organizations & Opportunities
Indivisible Chicago-South Side shares information and action announcements from other organizations on issues important in our country, state, city, and communities.
Rally for Reproductive Rights – Sat October 2nd
From Planned Parenthood Illinois Action: The Supreme Court has failed millions of Texans. In the dead of the night, the Supreme Court turned its back on 50 years of precedent, rendering Roe v. Wade effectively meaningless in the state. This is unprecedented and we can't let it stand.
Join Planned Parenthood and a coalition of other groups, including citywide Indivisible Chicago, downtown on Saturday, October 2, when Planned Parenthood and more than 90 other organizations march in all 50 states.
Event: March to Defend Abortion Access
Date/Time: Saturday, October 2nd, 11:30 am
Place: Downtown Chicago, location TBA
Get info/Sign up: Facebook event + optional RSVP here.
Injustice Watch Virtual Town Hall – Wed Sep 29
From Injustice Watch: The criminal justice reform bill passed by the Illinois legislature and signed by Gov. Pritzker this year includes changes to almost every area of the justice system.

This virtual town hall – Criminal Justice Reform in Illinois – aims to provide accurate information about what's in the law, and its implications for communities. Speakers: IL State Senators Robert Peters and Patricia Van Pelt and Cook County Public Defender Sharone Mitchell.
Gun Possession in Chicago Symposium – Sept 30
From the Northwestern Pritzker School of Law Alumni Association:
Join us September 30th for the Bluhm Legal Clinic's inaugural Lawyering and Race in the 21st Century symposium: Gun Possession in Chicago, What the Headlines Don't Tell You.
Register to attend in person for one, two or all three of the panels, or attend remotely by zoom. Get info/Sign up
Event:  Gun Possession in Chicago, What the Headlines Don't Tell You
Date/Time:  Thurs, Sept 30th, 12:00-4:00 pm
Place: Northwestern Pritzker School of Law, 375 E Chicago Ave, Lincoln Hall – LM104, Chicago, IL 60611 =OR= virtual via Zoom
Get info/Sign up: Info/Register
Virtual Town Hall on Obama Center – Sept 30
From the Obama CBA Coalition: Come make your voice heard and be a part of crafting demands that we need in our South Shore ordinance in order to stop displacement & improve living conditions in South Shore. This virtual town hall will be happening on Thursday Sep. 30th, 2021 from 6:30pm-8:00pm. RSVP: bit.ly/CBASShore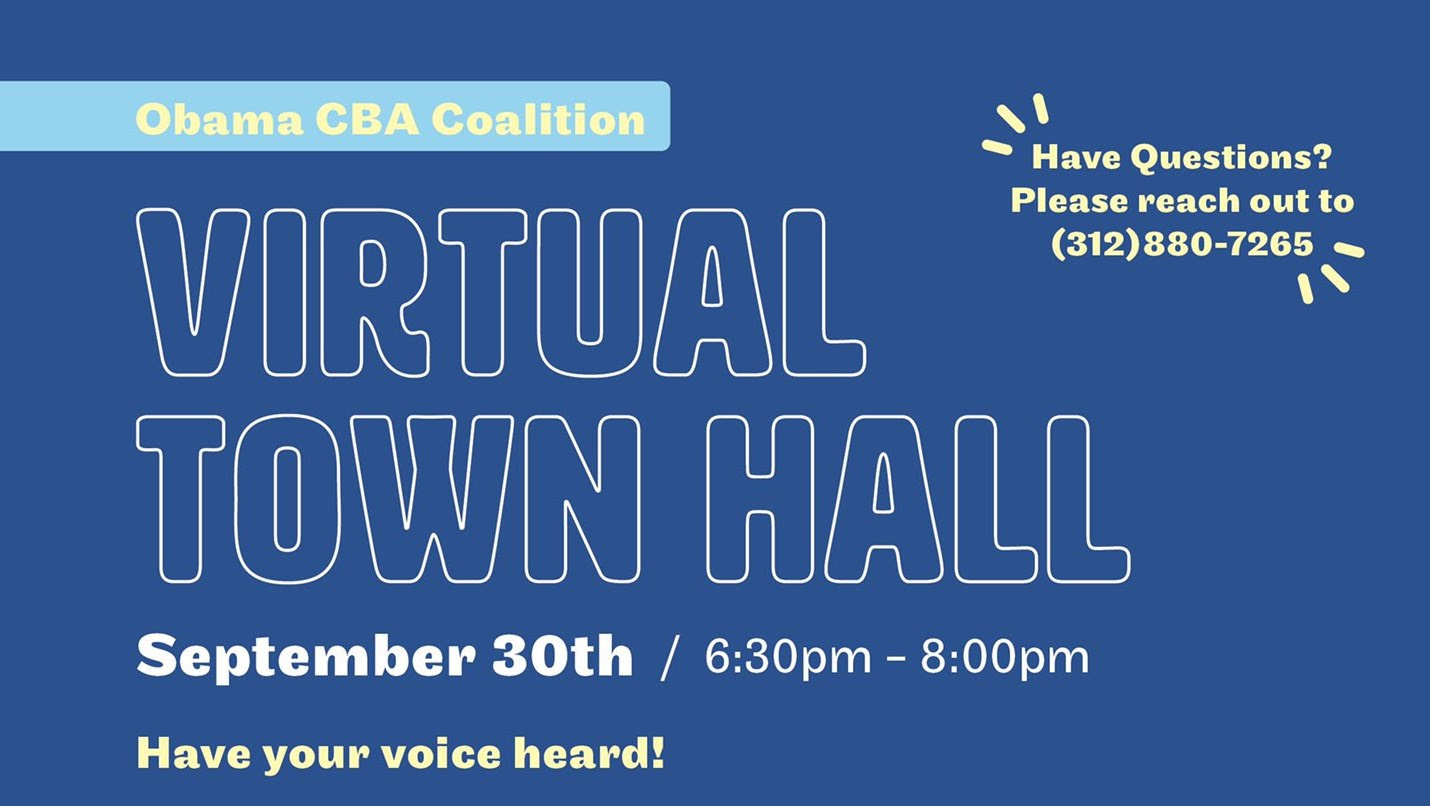 Canvass Launch with Marie Newman – Sat Oct 2
From our friend Nick Uniejewski, Campaign Mgr, Marie Newman for Congress: We're heading into the neighborhoods to knock on doors this weekend! Meet us in Oak Lawn on Saturday, October 2nd at 10:00a for a canvass launch with Congresswoman Marie Newman. We'll provide a quick training and all the materials you need. Please download the app MiniVAN in advance and ensure your phone is charged. Be sure to also dress for the weather!
Event: Canvass to re-elect Rep Marie Newman, IL-03
Date/Time: Saturday, Oct 2nd, 10:00 am- 1:00 pm
Place: 5135 W 95th St, Oak Lawn
Get info/Sign up: Get info/Sign up
---
DemCast is an advocacy-based 501(c)4 nonprofit. We have made the decision to build a media site free of outside influence. There are no ads. We do not get paid for clicks. If you appreciate our content, please consider a small monthly donation.
---