CONTENT TO SHARE THIS WEEK ON SOCIAL
THIS WEEK'S PRIORITIES:
1. FREEDOM TO VOTE ACT
2. DEMS ARE THE GUARDIANS OF DEMOCRACY
#1. FREEDOM TO VOTE ACT — Push the Senate to pass the Freedom to Vote Act. This package, proposed by Joe Manchin, includes equal access to the ballot for all Americans, protection against election sabotage, and voter empowerment in the form of fair districting and campaign finance reform.
Sample Messages:
"Americans want the policies Dems promote: freedom to make decisions about our own bodies, freedom to vote for our leaders, and freedom from fear of vigilantes taking the law into their own hands." #DemocratsDeliver
"Just as we rose up to vote in record numbers in the midst of the pandemic last year, we now demand that our leaders exercise their majority and pass the Freedom to Vote Act that sets national standards to freely cast our ballots, ensure every vote is counted, and elect people who will deliver for us." #FreedomtoVote
"The Freedom to Vote Act is a transformative step in ensuring equal access to the ballot and stopping the MAGA Faction's naked power grabs/election sabotage."#FreedomtoVote
#2. DEMOCRATS ARE THE GUARDIANS OF DEMOCRACY — Last week, California voters stopped the recall of Gov. Gavin Newsom in a landslide. They led the nation in beating back the MAGA faction's campaign against America.
The unpatriotic MAGA Faction is determined to break American democracy and turn us into a country of vigilantes, as the Texas Abortion Ban makes clear. The Faction pushes vigilante action in "stand your ground" laws, the proliferation of guns without commonsense regulation, and the rejection of mask and vaccine mandates.
Also, as SCOTUS prepares to rule on the Mississippi anti-abortion bill, the architect of TX's ban has filed an amicus brief that invites the Court to overrule Roe & Casey AND Lawrence & Obergefell. The MAGA/Christian Fundamentalist Faction wants to reach into our homes, our lives, and our bodies and curtail our most fundamental freedoms. We must #DefendDemocracy.
Sample Messages:
"As we saw in California, the majority of Americans reject the MAGA Faction's power grabs." #DemocratsDeliver #DefendDemocracy
"One in 8 voters in this country lives in California. Last week they called forcefully for science-based pandemic management and competent governance by Dems. #DemocratsDeliver"
"Dems are Patriots. We reject attempts to control women's bodies and to enforce illegal policies with vigilante bounties. The MAGA faction is anti-American and wants to turn this country into an authoritarian state in which power is reserved for White Christian heterosexual men." #DefendDemocracy
---
1. FREEDOM TO VOTE ACT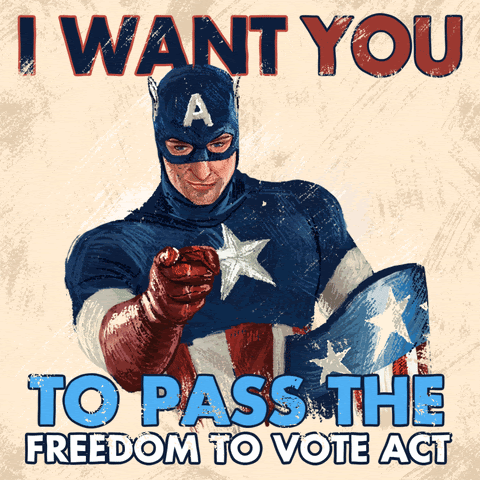 2. GUARDIANS OF DEMOCRACY
You can also find this content in easy click-to-share format.
Thank you to everyone who helped Gavin Newsom beat back the Republican power grab. We must repeat California's rejection of the MAGA faction all over the country!
Thank you also to More Perfect Democracy graphic artists and the artists at IntoAct!on.
---
DemCast is an advocacy-based 501(c)4 nonprofit. We have made the decision to build a media site free of outside influence. There are no ads. We do not get paid for clicks. If you appreciate our content, please consider a small monthly donation.
---