Our Senators need to pass the For the People Act!
Hi Indivisibles,

Thank you to everyone who showed up for the rally to protect voting rights last Thursday!

Over a hundred people gathered near the downtown Davis office of Congressman John Garamendi (D-CA3) on Thursday evening to rally in support of the For the People Act, Senate Bill 1 (S.1). The bill was passed in the House in March (H.R.1) and has yet to be taken up in the Senate.

S.1 seeks to protect and expand voting rights, change campaign finance laws in order to reduce the influence of money in elections, address partisan gerrymandering and create ethics rules for federal officeholders. Supporters are urging Congress to pass the bill to counter voter suppression efforts taking place all over the country. Fair voting laws and eliminating dark money are supported by a majority of people across the political spectrum.

Garamendi, a cosponsor of H.R.1, was on hand to address the crowd. He stressed the importance of passing the bill in the Senate and getting a final bill to President Biden's desk.

Other speakers included Kelly Wilkerson, local organizer for Sister District CA-3; Kolieka Seigle, President of the California National Organization for Women (NOW); Komal Hak, Davis League of Women Voters; Jennifer Roberts, Indivisible Colusa; and Megan and Steve Murphy, organizers from Indivisible Yolo.

We spent the recess rallying and calling on our Senators to pass S.1. Now that the Senate is back in session, we need to let them know- it's now or never, and never can't be the answer!
Check out our event calendar at https://indivisibleyolo.org/calendar/for virtual events and actions and the linktree for example scripts and more.
---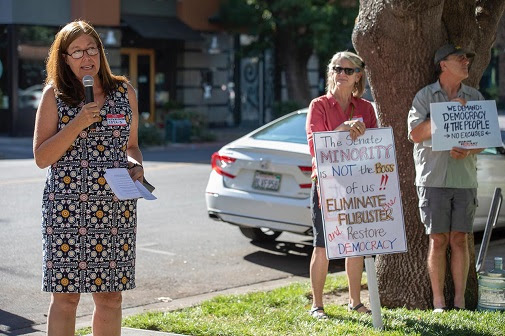 ---
Tell our Senators: Back to work! We MUST Pass S-1. Keep S-1 strong
And ask your friends to contact their Senators too- you can find resources for "friendbanking" at https://linktr.ee/dothework2020 (including some sample scripts for texting a friend!).

Sample Call Script for Sen. Feinstein:
Hello, my name is [YOUR NAME]. I'm a California voter from [CITY, zip code] and I'm a member of Indivisible Yolo.

I am calling today to ensure that the Senate does not abandon voting rights!

We must pass S.1 – For the People Act. Letting the Republicans filibuster even debating the bill is unacceptable.

I'm calling to insist that Senator Feinstein do everything in her power to bring voting rights back to a vote as soon as the brief Senate recess is over. It's now or never — and never can't be the answer. We cannot let the filibuster prevent the essential elements of this act from becoming law.

Don't let a minority of Senators use the filibuster diminish the rights of our most vulnerable voters. Thank you.
Sample Call Script for Sen. Padilla:
Hello, my name is [YOUR NAME]. I'm a California voter from [CITY, zip code].
I'm calling to thank Senator Padilla for his consistent support for S1- the For the People Act.
I urge the Senator to use his influence to keep the bill strong, don't let it be stripped of key, very popular provisions, and get it passed in the Senate this month.
The Senate still needs to pass S1 to protect future Federal elections. This is no time to compromise Democracy! Thank you.
---
DemCast is an advocacy-based 501(c)4 nonprofit. We have made the decision to build a media site free of outside influence. There are no ads. We do not get paid for clicks. If you appreciate our content, please consider a small monthly donation.
---