Voting Rights Reform:
Senator Leahy is home. He needs to hear from us NOW!
Lean Left is joining with the Vermont Indivisible Network in a national, all-hands-on-deck action initiative for the For the People Act. This once in a generation voting rights reform must be passed by the end of July to be effective for the 2022 elections.
Sign up here for the last four days of action
where you'll find these urgent actions:
Call Vermont Senator Patrick Leahy. The Senator co-sponsored the legislation but is not committed to modifying the filibuster in order to pass it. Let Senator Leahy know we are counting on him to use all his powers to do whatever it takes to pass the For the People Act before it's too late.
Join a vigil on Thursday, July 8 from 4:00 to 5:00 PM and on Saturday July 10th from 11:00 am to noon.
IF YOU CAN ONLY DO ONE THING:
Please call Senator Leahy's office at 802-863-2525 and leave a message to let him know you are counting on him to protect our democracy and our voting rights by using all his powers to pass S.1, the For the People Act, now.
For more actions go to our
Federal Actions page.
Live from the
Frontlines of the Fight for Voting Rights
Discussion
Wednesday, July 7, 7:00-8:00 PM ET
Senior Reporter for Mother Jones and
Author of Give Us the Ballot
Ari Berman
Learn what's at stake, how we got here, and up to the minute news on the fight to defend voting rights.
Register here and help spread the word on social media.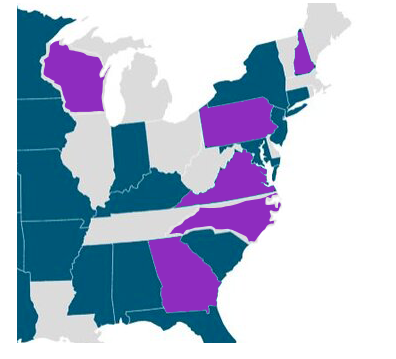 States Matter The Path to 2022 Starts Now!
Learn What's at Stake in
Pennsylvania, Wisconsin, & Virginia Discussion
Join us for an informal information session on July 13th at 6:00PM via Zoom to discuss what is at stake in Pennsylvania and Wisconsin in 2022. More importantly, we will talk about how you can get involved now. There is plenty of work to be done in 2021! We will also talk a bit about Virginia and Lean Left's Sister District candidates. Sign up HERE!
Postcards for North Carolina Asian Community
Lean Left is writing postcards with North Carolina Asian Americans Together, a nonprofit organization dedicated to building progressive political power among Asian Americans through voter education and advocacy. North Carolina recently purged 391,000+ from the NC voter files, about 6,000 of which self-identified as Asian American. We will be writing to these voters to provide them with information to re-register. You'll supply your own postcards and stamps; we'll supply the messaging. We are limited to the number of addresses, so this is first come, first served! Read through the specifics and sign up here.
Virginia's Statewide Election Is 4 Months Away!
Phone Banks Are Open and Volunteers Needed for VA Delegates Lashrecse Aird and Wendy Gooditis!
Please join our fellow Sister District teams in New Jersey, New York, California and Southern Vermont to call voters to help our great VA Delegates Lashrecse Aird and Wendy Gooditis! Each phonebank includes an optional training, check-ins, and is led by a veteran phone bank leader. Phone banking is our best remote volunteering option for voter contact. Sign up HERE!
Have questions? Need support?
Get in touch with us here.

https://facebook.us17.list-manage.com/track/click?u=3da660ea815802f102d874095&id=d450a0a730&e=b6ae574eb5
Our mailing address is:
Lean Left Vermont77 Main StreetMontpelier, VT 05602
---
DemCast is an advocacy-based 501(c)4 nonprofit. We have made the decision to build a media site free of outside influence. There are no ads. We do not get paid for clicks. If you appreciate our content, please consider a small monthly donation.
---