NO PROFILES IN COURAGE. This week's top political cartoons.
The top ten Political Cartoons this week best capture the Republican hypocrisy and cowardice on display.
John F. Kennedy described political bravery in his Pulitzer Prize winning book, "Profiles In Courage". Not much to write about this week with Republican Senators scrambling for cover.
Use cartoons, GIFs and videos to reach more people
Some people like to read. Others prefer GIFs. Some love videos. Reach them all across Twitter, Facebook, Instagram and YouTube by converting the same content into GIFs and videos. We created a GIF with this selection of cartoons licensed from Political Cartoons and overlaid them with an appropriate soundtrack to create a 35 second video using the free iMovie app. Reach more people by delivering your content in the format and the platform they prefer.
Deepak
DemLabs
Senatorial chickens (GIF)
Republican cowardice (video with soundtrack)
---
FREE SCREECH – Steve Sack
---
Non Judicious Thinking Place – Monte Wolverton
---
Remember This Day – Pat Byrnes
---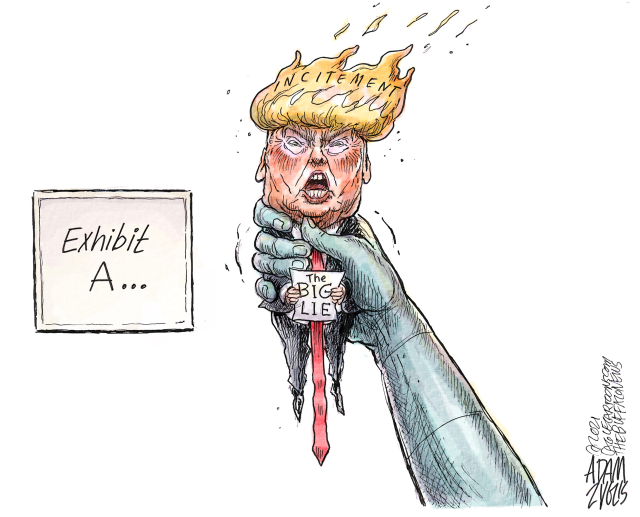 INCITEMENT OF INSURRECTION – Adam Zyglis
---
AVOIDING CONVICTION – Adam Zyglis
---
WHO'S REALLY ON TRIAL? John Darkow
---
IMPEACHMENT UNMASKED – Dave Whamond
---
SENATE ANATOMY – Bill Day
---
Senator Josh Hawley Disrespects Impeachment Trial – R.J. Matson
---
Senate Zoom Filters – Kevin Siers
---
DemCast is an advocacy-based 501(c)4 nonprofit. We have made the decision to build a media site free of outside influence. There are no ads. We do not get paid for clicks. If you appreciate our content, please consider a small monthly donation.
---