Join us Thursday night to watch Joe Biden accept the Democratic nomination for president. www.facebook.com/IndivisibleWestchester
#BidenHarris2020 #ByeDon

The 2020 Democratic Convention starts today. There are many coalition and partner events during the convention that you can join virtually. Click here to learn more and register for events and see who is listed to speak each night. 
---
Get your Ridin with Biden t-shirt while they last.  They come in athletic or fitted cut (there are no fitted smalls left). Please email us @ communications@indivisiblewestchester.org for more info about how to order.
---
#WeHaveHerBack is gaining traction on Twitter and social media accounts around the country are tweeting and amplifying this hashtag.
Translation: We have Kamala Harris's back and we are not going to allow what happened in 2016 to happen again.
Click here for resources to make sure #WeHaveHerBack courtesy disarmdisinfo.com.
---
Trump is undermining the post office in an attempt to increase his chances of winning reelection by railroading voting by mail.
Text USPS to 50409 and Resistbot will send a letter to your representatives asking them to fight to secure much needed funding for the USPS.
Click here for information about how to send a message to the USPS Board of Directors.
Buying postage for postcards helps the USPS and postcarding helps us reach voters in key states. Email us at IWPostcarding@gmail.com and we will get you set up with cards and lists. Looking for other ways to get involved? The Indivisible Westchester website has a ton of ideas. Flip the West, Open Progress, Westchester for Biden and more are all here in once place. Click here to take action now! 
---
Winning swing states – Arizona, Florida, Michigan, Pennsylvania, North Carolina, and Wisconsin – is crucial to a Biden victory and the twin goal of flipping the US Senate. Click here to adopt one of these states thanks to Vote Save America. "No matter where you live, you can directly support the work of organizers, volunteers, and candidates in the six key battleground states that will be most important to delivering a progressive majority in 2020. Just pick a state below, sign up, and we'll get you everything you need to make a big difference this November."
---
People registering voters in Georgia need masks for safety. There is a local group looking for donated supplies or sewers to help with this project. Email us at communications@indivisiblewestchester.org to find out more.  
---
The Westchester Board of Legislators released a report by the Election Information Gathering Task Force outlining recommendations regarding how to avoid a repeat of the problems in November that plagued the June primary.
Click here to read the report.
Stay tuned for more information about early voting and voting by mail.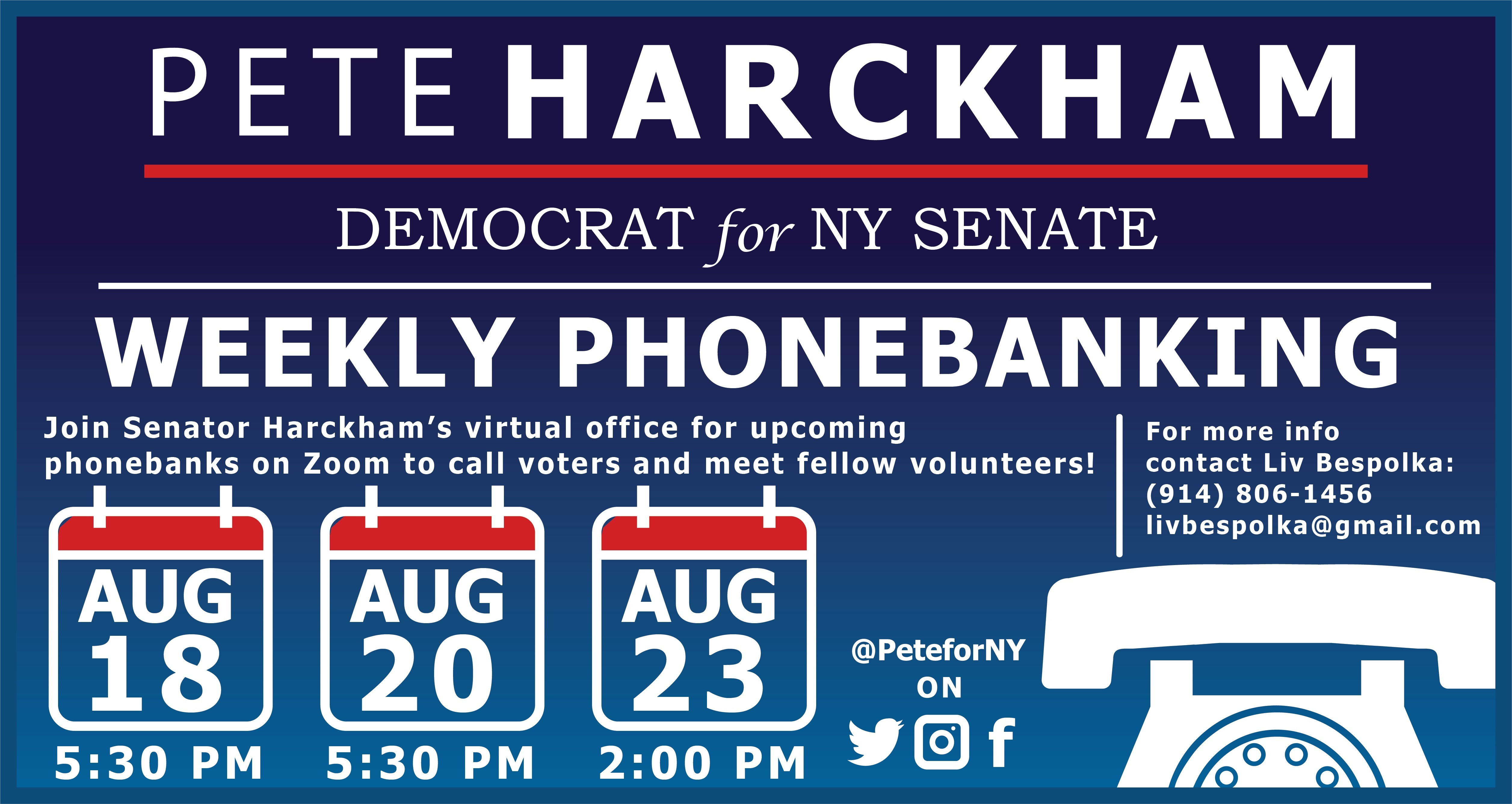 The Westchester County Police Reform and Reimagining Task Force will hold a virtual public forum on Tuesday, August 18 from 6 – 8:30 pm.
To register to speak, please send an email to PoliceReformTF@Westchestergov.com
For more information, please visit https://bit.ly/30RE54V
Census Red Alert

The Census Bureau is halting efforts on September 30th, a full month earlier than planned. Trump thinks cutting the time needed to count all residents will help him politically. But an undercount will hurt states like NY, which could loose crucial federal aid along with up to two Congressional seats.
Now more than ever, it's crucial that you fill out a Census form and ask that all your friends, relatives, neighbors and others do the same.
Click here to get started.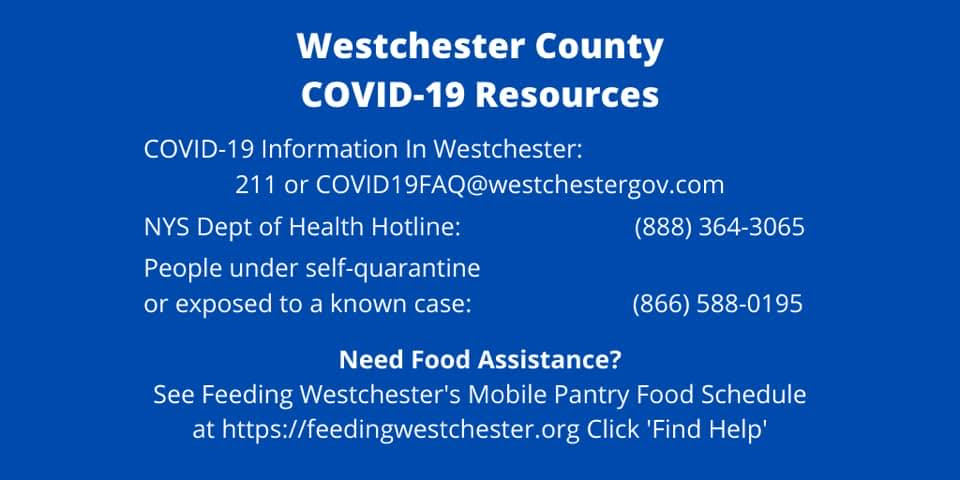 Ways To Help Those In Need:
Masks are in short supply. Help out @ www.sewforny.org
Call (914) 849-GIVE or email wphcmail@wphospital.org to contribute to White Plains Hospital's COVID-19 Relief Fund
New York-Presbyterian Hospital, in addition to accepting masks, gloves and protective eyewear, would also accept funds for food for the health care workers and old iPads to help patients in hospitals stay connected with loved ones. You can email NYP at masks@NYP.net
Greenwich Hospital has created a donation page for financial donations. Http://giving.greenhosp.org/giving/covid-19/support/funds/
Here are some Domestic Violence hotlines and resources:
Westchester County

Hope's Door, Inc. (888) 438-8700 – Provides both residential and non-residential domestic violence services. OCFS Licensed and Approved.
My Sisters' Place (800) 298-SAFE/7233 – Provides both residential and non-residential domestic violence services. OCFS Licensed and Approved.
Westchester County Office for Women– Provides non-residential domestic violence services. OCFS Licensed and Approved Family Helpline/Hotline weekdays 9am – 5pm (914) 995-5972
Weekend and after hours (914) 995-2099
Spanish Language (White Plains) (914) 995–6581
Spanish Language (Yonkers) (914) 231-2882
Together, we stand Indivisible against the Trump administration.
---
DemCast is an advocacy-based 501(c)4 nonprofit. We have made the decision to build a media site free of outside influence. There are no ads. We do not get paid for clicks. If you appreciate our content, please consider a small monthly donation.
---