---
Click here to watch a recap of our successful Bootcamps on Disinformation and Social Media. We must fight social media messages that vote by mail is fraudulent and amplify the message that Joe Biden is fighting to restore democracy.
Between now and November, educating ourselves about how social media works and how easily disinformation spreads is critical. Below is just one example, courtesy of Kim Snyder of Indivisible New Rochelle.
Amplifying The Wrong Stuff
A friend reached out, perplexed at how a "Coke Nazi" post asking for ANTIFA members to follow a Reddit group ended up in his newsfeed. This post could not be further from who he is.
A possible reason was that one of his friends reacted to the post. He/she could have made a comment of disgust, or have been one of the 92 people to react with an emoji. Also, this post was sponsored, so the Coke Nazi could have been targeting a wide demographic.
But there's a good probability that a reaction is how it ended up in my friend's feed. When our friends react to a post – negatively or positively – that boosts the posts ranking. It becomes more sticky. My friends are more likely to see it.
The takeaway: Resist responding, unless you want to boost the post.
---
We must stop Trumpism here at home. Please support Sen. Pete Harckham in his reelection race against #RolexRob Astorino,Trump's number one supporter in Westchester.
Phone Banks:
Tuesday, 7/21 @ 5:30PM w/special guest Mondaire Jones!
Thursday, 7/23 @ 5:30PM
Sunday, 7/26 @ 2PM
To phone bank, email livbespolka@gmail.com or aidanbode@gmail.com
---
Click here to join Team Joe in New York! And be sure to check out the newly launched New York for Biden 2020 Website!
---
Help us reach voters in Wisconsin, Pennsylvania and Iowa. Email us at IWPostcarding@gmail.com and we will get you set up with cards and lists.
Looking for other ways to get involved from your home? The Indivisible Westchester website has a ton of ideas. Flip the West, Open Progress, Westchester for Biden and more are all here in once place. Click here to take action now!
---
We need Congress to pass the next COVID relief package NOW!
Help our Union Friends at CWA phonebank into Ohio to help the latest COVID relief legislation pass the Senate. With cases dramatically rising, Mitch McConnell signaled he might be open to coming back to the negotiating table – so it's important for us to PUSH for passage of the HEROES Act in the Senate NOW.
The plan: getting union-friendly general voters in Ohio to call their Senator to get him to support the HEROES Act. Why Ohio? Because calls to Ohio are more meaningful than calls to Sens. Schumer and Gillibrand who are already on board.
Click here for the link to sign up to start making calls.
---
Improve Absentee Voting
Let NY Vote asks that the State Legislature immediately pass legislation to keep and improve upon expanded absentee voting provisions for the November election. A list of the bills can be found here.
Read this NYT article for background on the challenges New York faces when it comes to absentee voting and why improvements are needed. Please call your state lawmaker today and ask them to support this legislation.
---
Registration/RSVP Link: bit.ly/WCSpeaksOut
Co-Hosted by: Center for Community Alternatives, Community Voices Heard, Irvington Activists, Jews For Racial & Economic Justice, Westchester Coalition for Police Reform, Westchester For Change, Sustainable Port Chester Alliance, Westchester Women's Agenda & VOCAL-NY's Westchester Chapter.
---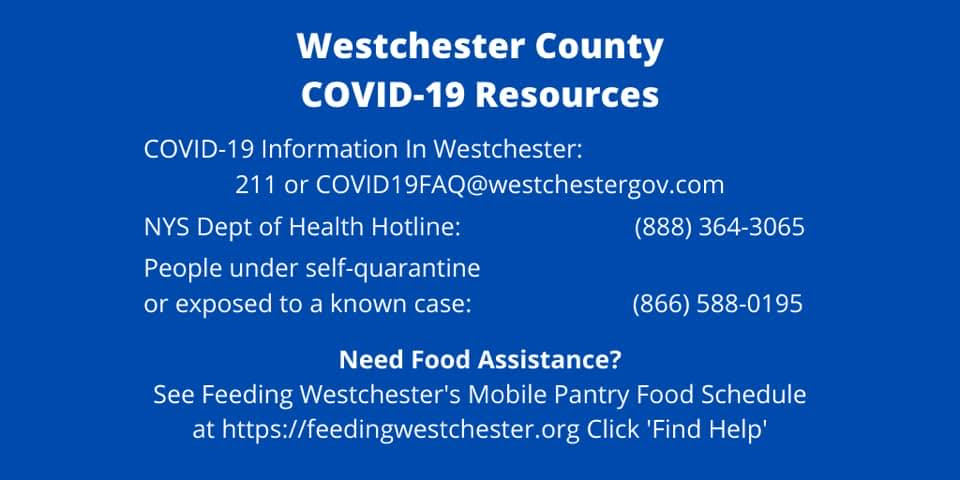 Ways To Help Those In Need:
Masks are in short supply. Help out @ www.sewforny.org
Call (914) 849-GIVE or email wphcmail@wphospital.org to contribute to White Plains Hospital's COVID-19 Relief Fund
New York-Presbyterian Hospital, in addition to accepting masks, gloves and protective eyewear, would also accept funds for food for the health care workers and old iPads to help patients in hospitals stay connected with loved ones. You can email NYP at masks@NYP.net
Greenwich Hospital has created a donation page for financial donations. Http://giving.greenhosp.org/giving/covid-19/support/funds/
Here are some Domestic Violence hotlines and resources:
Westchester County
Hope's Door, Inc. (888) 438-8700 – Provides both residential and non-residential domestic violence services. OCFS Licensed and Approved.
My Sisters' Place (800) 298-SAFE/7233 – Provides both residential and non-residential domestic violence services. OCFS Licensed and Approved.
Westchester County Office for Women– Provides non-residential domestic violence services. OCFS Licensed and Approved

Family Helpline/Hotline weekdays 9am – 5pm (914) 995-5972

Weekend and after hours (914) 995-2099
Spanish Language (White Plains) (914) 995–6581
Spanish Language (Yonkers) (914) 231-2882
---
Get a Complete Count
Make sure to fill out your Census form today – click here to get started. Many Westchester towns are lagging below their 2010 response rates. It's imperative that we all fill out the Census. Please check with your family, friends and neighbors to make sure they've filled out the Census. Email, call or text them a friendly reminder!
---
Together, we stand Indivisible against the Trump administration.
---
Indivisible Westchester
PO Box 214
Larchmont, NY 10538
---
DemCast is an advocacy-based 501(c)4 nonprofit. We have made the decision to build a media site free of outside influence. There are no ads. We do not get paid for clicks. If you appreciate our content, please consider a small monthly donation.
---