Message from the Chair
It feels like our country is on fire right now. Privileged white people protest dressed in military garb and carrying military weaponry in front of the Capitol Building and inside our state legislature! At the same moment, black people are being harassed and murdered by police officers who should be protecting them. All of this is happening at a moment when we are all living with ongoing anxiety about COVID-19 that is disproportionately killing people of color.
It's easy to lose hope.
But there is hope. Not that long ago, a group of school-aged kids began holding a protest with signs supporting racial equality and justice for George Floyd right in the middle of our quiet, nearly all-white town of Dexter. The air was filled with their chanting and the sounds of horns honking in support.
When even the white kids of Dexter are rising up to say change must come NOW, there is hope. The change won't come easy. It won't be without pain and blood and loss. But it can come if we all seize the moment and make ourselves heard. In the coming days and months, I hope you'll do whatever you can to rise up and push our country toward the change we so desperately need. If we ALL work collectively to demand justice and equality, there is hope.

– Chris Savage, WCDP Chair
---
General Membership Meeting
The last Community Forum and General Membership Meeting from June 6 featured a packed schedule of candidate introductions, updates from our legislators, updates from the Precinct Organizing Committee, and a featured panel of experts addressing the effects of COVID-19 on the African American community and how it strengthens the case for reparations. If you missed the meeting, you can view it here.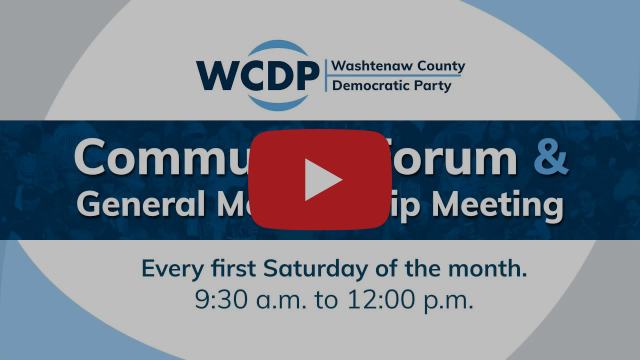 Allow Early Absentee Ballot Processing
Michigan Senate Bill SB 0757 would amend State Election Law to allow city or township clerks with larger municipalities to pre-process absentee ballots the day before elections. With absentee ballot requests up by 70%, it is unacceptable that Senate Republicans are delaying this bill. Read more about this bill and what you can do to help it pass.
---
Ann Arbor City Council Candidate Forums
Ann Arbor Dems will continue to host Facebook Live forums for City Council candidates. Visit the Ann Arbor Dems Facebook page for more information. All of the forums take place at 7:00 p.m. on the following days:
6/11 – Ward 4: Jack Eaton, Jen Eyer, and Mozhgan Savabieasfahani
6/17 – Ward 5: Erica Briggs, Dan Michniewicz, and David Silkworth
6/18 – Ward 1: Anne Bannister and Lisa Disch
---
---
DemCast is an advocacy-based 501(c)4 nonprofit. We have made the decision to build a media site free of outside influence. There are no ads. We do not get paid for clicks. If you appreciate our content, please consider a small monthly donation.
---