IC-SS Weekly Update: June 1, 2020
---
HPKCC Forum – Tues, June 2, 6:00 pm:
Working Toward Justice in Our Community
The Hyde Park-Kenwood Community Conference invites you to an online emergency community forum on Tuesday, June 2nd, 6:00-8:00 pm. In the forum, you can:
Share your experiences around the country's response to the murder of George Floyd
Voice your ideas about what we can do as a community to move forward
Hear updates and get questions answered from local representatives
Register here for this important Zoom event from HPKCC
---
Free Them All/Day of Action, May 30
The Free Them All/Day of Action, long planned for May 30, took on even greater significance in light of COVID-19 and the recent acts of police violence against black men and women. The Chicago Alliance Against Racist and Political Repression (CAARPR), in partnership with Black Lives Matter/Chicago and Pueblo Sin Fronteras/Familia Latina Unida, organized the event to demand justice for survivors of police violence and to call for mass release of those in prisons, jails, and detention centers.
The Day of Action was made up of car caravans, socially distanced rallies, and online actions. CAARPR's constant communication with participants via text and video platforms was much appreciated by members of local Indivisible groups who participated in the protest.
We do not have the full story on how police responded to any aspect of the protests. We do know that the property damage and violence that followed the day's events downtown and in neighborhoods were not planned by the Day of Action organizers. In any case, CAARPR and BLM Chicago took swift action to help people who were arrested or trapped by the city's sudden imposition of a curfew.
Those who are able can consider donating to the event organizers or to the following organizations:
---
Anti-Racist Resources
An Antiracist Reading List compiled in 2019 by Ibram X. Kendi in NY Times
Anti-racist resources compiled by Sarah Sophie Flicker and Alyssa Klein, May 2020: "This document is intended to serve as a resource to white people and parents to deepen our anti-racism work."
Coronavirus Is Making the Case for Black Reparations Clearer Than Ever | Opinion by William A. Darity, Jr., and A. Kirsten Mullen, May 5, 2020 in Newsweek  – recommended by Black Women Organizing for Power (BWOP)
---
Sign Up: June 11th & 23rd Zoom Parties
We're now meeting up online. IC-SS Co-Leader Esther Peters led our May 28 party for writing postcards to voters in Michigan and Wisconsin. Thanks to Deb Pratt, Kineret Jaffe, Michael Aaron, Lucy Lester, Lisa Rademacher, Barbara Roy, Mary Naftzger, Betsy Rubin, and Vicky Long for joining in, asking questions, and sharing ideas and resources. Most of the night's writers finished 20 postcards each and said they were inspired to do more.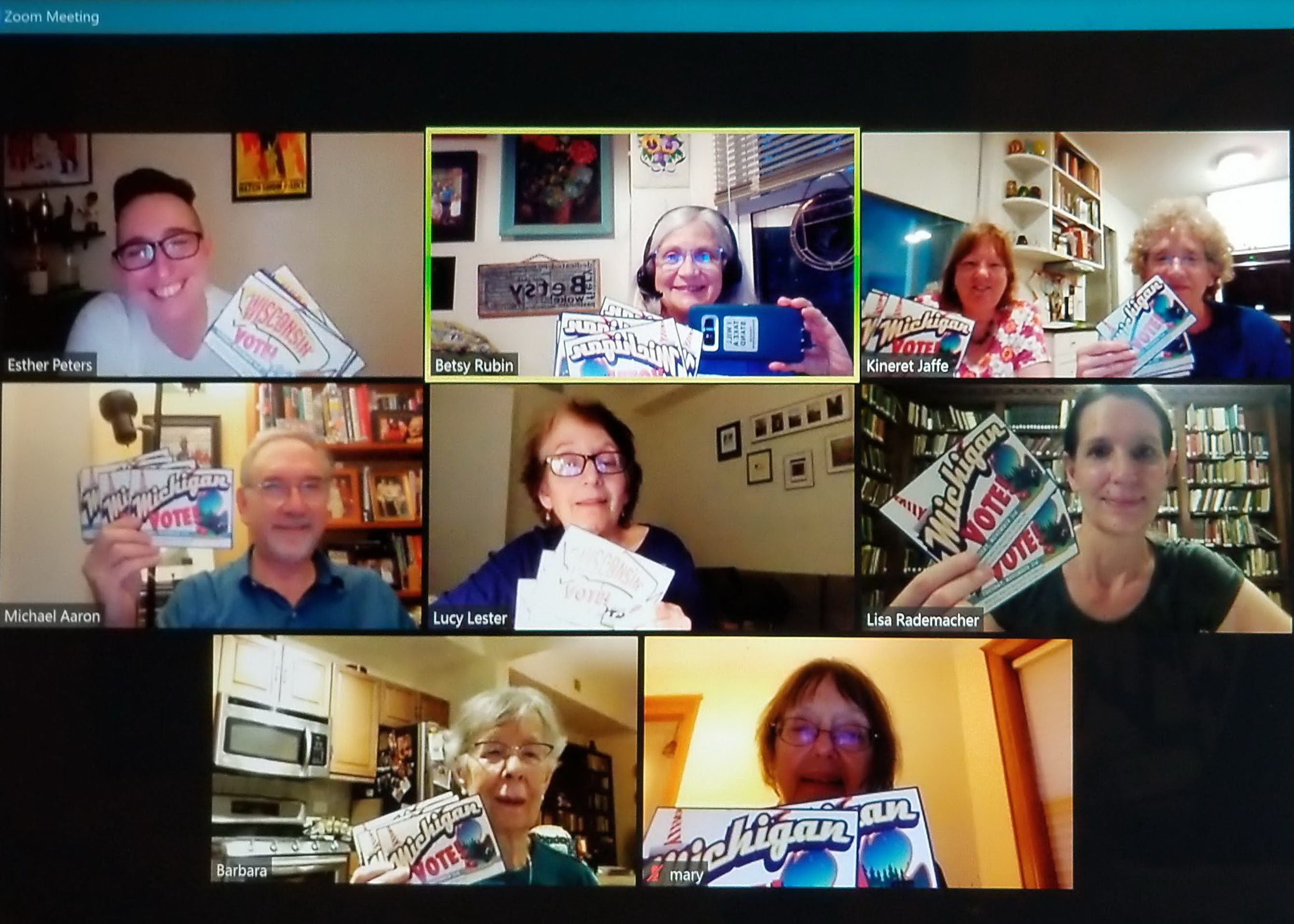 Please come to Indivisible Chicago-South Side's upcoming Zoom Postcard Parties, Thursday, June 11th and Tuesday, June 23rd, 7:30-9:00 pm (note new time). Learn more about our efforts, discuss news events & issues, and share resources.

RSVP by email to get the Zoom link –  be sure to say which date(s) you'll attend.

The Indivisible Chicago Alliance (ICA) will also be holding citywide Postcard Posse gatherings online. For more info about Indivisible Chicago-South Side's participation in the ICA postcard project, see below.
---
Take Part in ICA's Postcard Posse
Indivisible Chicago-South Side is participating in the citywide Indivisible Chicago Alliance's Postcard Posse. If you haven't yet started writing postcards to voters in Michigan or Wisconsin, here's what to do:
1. ORDER POSTCARDS. Fill in the form at the Postcard Posse order page. Ask for 100 or more (in increments of 100) and select HYDE PARK as your pickup/delivery point.
 2. REGISTER. Register at the Postcard Posse registration page. Sign up to write on your own, or choose one of our two teams (by zip code): South Side Scribes, Local 15 or 37.
 3. IF YOU CAN, BUY STAMPS. Youaren't required to stamp your own postcards, but if you can afford to, you can order online: Here's a link to postcard stamps at USPS.com.
QUESTIONS OR CONCERNS?
Contact us at Indivisible Chicago-South Side.
---
COVID-19 Resources
Places to donate on the South Side:
South Side Weekly resources:COVID-19 South Side Community Resource Guide
UChicago: Coronavirus Updates + Ways to help campus & community
UChicago Medicine: Information and Resources + Ways to help
Serve Illinois:Volunteer opportunities
City of Chicago:Chicago's Coronavirus Resource Center.
Cook County: Cook County Government's Information on COVID-19 page
State of Illinois: coronavirus.illinois.gov
Chicago Reporter:How is COVID-19 affecting your ZIP code in Illinois?
South Side Weekly's COVID-19 Tracker by ZIP Code, updated daily: SSW COVID-19 Live Tracker.
SHARE Network (South Side Healthy Aging Resource Experts): COVID-19 Resources for older adults and those who assist them: COVID-19 resources (find resources along left side of screen)
City Bureau: Chicago COVID Resource Finder
Got a local resource to recommend?Email us!
---
Indivisible Chicago-South Side
Email: Indiv.Chi.South@gmail.com
Follow IC-SS on Facebook and Twitter
---
DemCast is an advocacy-based 501(c)4 nonprofit. We have made the decision to build a media site free of outside influence. There are no ads. We do not get paid for clicks. If you appreciate our content, please consider a small monthly donation.
---