NEWS & UPDATES
An Indivisible FL-13 Facebook Live Event:
Get Ready To Vote / Protect Your Vote, and Why Voting By Mail Is Safe in Pinellas County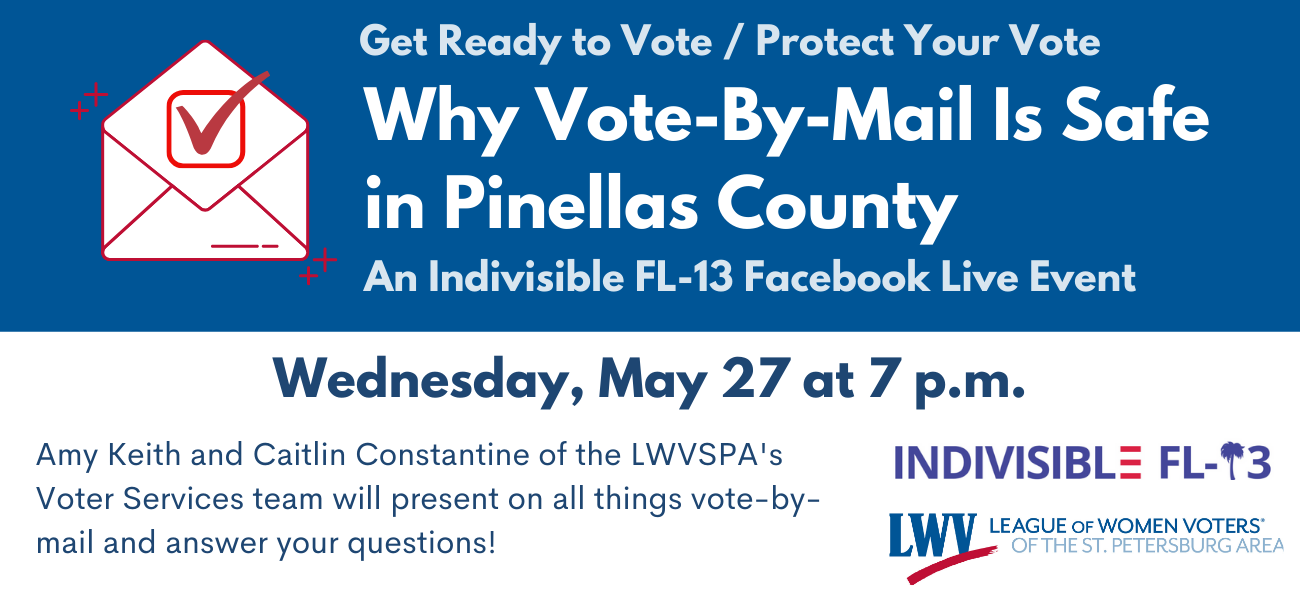 We hope you will join us for this Indivisible Florida 13 Facebook Live presentation and question and answer event.
Our presenters, Amy Keith And Caitlin Constantine are passionate advocates for protecting voting rights. They are the Pinellas County leads for the nationwide Election Protection Coalition, which fields poll monitors and voter assistance hotlines to help make sure everyone who turns out to vote gets their ballots counted.
Amy is the 2nd Vice President of the League of Woman Voters of St Pete. Caitlin is a Director Emeritus of the LWV of St Pete. We are fortunate to have them as presenters for this event!
This event is co-sponsored by the League Of Women Voters of the St. Pete Area and will be moderated by Rev. Andy Oliver of Allendale United Methodist Church.
Please let us know you plan to attend on our Facebook event page: https://www.facebook.com/events/553806061995169/
The event will be broadcast on our Facebook page feed at:  https://www.facebook.com/IndivisibleFL13/
---
Commetary By Indivisible FL-13 Organizer Scott Brown
The US, with a population of 328.2 million people and a population density of 93 people per square mile has had 1.643 million confirmed coronavirus cases and 97,722 deaths. That is a rate of infection equal to 5,008 per million and a death rate of 298 per million. Were bumping along at about 20,000 new cases per day with NY metro declining in new cases while the rest of the nation is on the rise.
Trump gives himself a "10" for his handling of the pandemic and says, if he had it to do over, he wouldn't change a thing. Jared Kushner calls the Administration's response "a success story."
Let's see how other countries have fared. Taiwan, right next to China, with a population of 23.8 million and a population density of 1,672 people per square mile has had 56 confirmed coronavirus cases and 7 deaths. That is a rate of infection of 2 people per million and 0.29 deaths per million.
Fluke? Hong Kong with a population of 7.5 million and a population density of 17,311 people per square mile has had 1,066 coronavirus cases and 4 deaths. This is a rate of infection of 143 people per million and a death rate of 1 person per million.
Trump supporters! Please snap out of it! The pandemic response in the U.S. is being bungled in Biblical proportions. Trump continues to manage the pandemic like it is a public relations problem.
The Stormy Daniels response– hush money and a nondisclosure agreement– will not stop the virus.
Saying he is taking hydroxychloroquine– will not stop the virus.
Firing Inspectors General will not stop the virus.
Accusing Joe Scarborough of murder will not stop the virus.
Backing out of treaties– will not stop the virus.
These distraction will clog up the news cycle so people won't focus on the pandemic.
Trump is encouraging us to go back to church and enjoy the Memorial Day weekend at beaches, parks and community pools. Now, if in the aftermath of our weekend activities the outbreak spikes, rest assured that Trump will blame the governors.
Today, 43% of Americans APPROVE of Trump's handling of the coronavirus.
All I can do is sit back and scratch my head.
---
Take Action: Save The Post Office!
In Pinellas County, the Pinellas DSA and the two postal unions are asking all of our supporters to call our representatives demanding support for saving the post office.
Please urge them to support Congress providing financial support for the U.S. Post Office, especially considering the increased importance of Vote by Mail this fall.
Senator Marco Rubio (R):                DC (202)224-3041 
Senator Rick Scott (R):                    DC (202) 224-5274 
Representative Charlie Crist (D):     DC (202) 225-5961 
---
Weekly Demonstrations Go Virtual During Pandemic
Contact John Stewart at sjstew@gte.net for information on the weekly virtual demonstration. Every Monday or Tuesday he is sending out the current week's topic and virtual protest signs to his direct contacts.
Or just contact your Senators every Tuesday with your current concerns:
Below is contact information for the Senators' offices in the federal courthouse in downtown Tampa where we protest every Tuesday. Once a week you help stage a virtual demonstration by contacting the offices by phone and/or e-mail to let them know your concerns. You can let them know this is part of the Tuesday morning virtual demonstration.
We can keep a regular presence on line, even if we don't in the flesh.
One request: the staff in the two offices have always been professional and courteous to us.  No matter what you think of their bosses' morals and policies, please be polite to the staff when you communicate.  We have nothing to gain by being hostile or rude.
Here is the contact information:
Senator Rubio's office: (813) 853-1099
Taylor_Sanchez@rubio.senate.gov
Senator Scott's office: (813) 225-7040
luis_laracuente@rickscott.senate.gov
This will be a great way to keep active and, once the crisis has passed, to amplify the voices of those demonstrating. Not everyone has the ability or inclination to demonstrate, so we can let the senators know that there are countless people who agree with those who are in front of their offices every week.
Stay safe. 
via John Stewart
sjstew@gte.net
---
Indivisible FL-13 Contact Information:

Indivisible FL-13 on Facebook
Indivisible FL-13 on Twitter
Email Indivisible FL-13 at info@indivisiblefl13.com
---
Useful Tools:
Pinellas County Progressive Calendar
Resist Bot, fax your representatives via text message. Text RESIST to 50409
Fax your congressperson for free at FaxZero.com
Get action alerts from Countable.us
Register to vote, vote by mail!
---
Florida 13 Congressperson Phone Numbers:
Senator Marco Rubio (R): DC (202)224-3041 Local (813)287-5035
Senator Rick Scott (R): DC (202) 224-5274
Representative Charlie Crist (D): DC (202) 225-5961 Local (888)205-5569
---
DemCast is an advocacy-based 501(c)4 nonprofit. We have made the decision to build a media site free of outside influence. There are no ads. We do not get paid for clicks. If you appreciate our content, please consider a small monthly donation.
---