IC-SS Weekly Update: May 25, 2020
Join Our Postcard Party Online: Thurs, May 28, 7 pm
Get your glass (or mug), gather your postcards, and come to Indivisible Chicago-South Side'sZoom Postcard Party, Thursday, May 28, 7:00-8:30 pm. Rep your postcard team or just yourself. And, be assured, postcards aren't required. Join in, learn more about our efforts, say hi to friends old and new. RSVP by email to get the Zoom link.
Note: Indivisible Chicago Alliance will be holding citywide Zoom Postcard Posse socials. Watch for those too! For more info about Indivisible Chicago-South Side's participation in the Indivisible Chicago Alliance postcard project, see the box below.
---
A Head Start or a Late Start? It's All Good
Are you already writing postcards to voters in Michigan or Wisconsin? Fantastic – thanks!
But if you're thinking, Dang, I never ordered those postcards, it's OK – you still can:
1. ORDER POSTCARDS. Fill in the form at the Postcard Posse order page. Ask for 100 or more (in increments of 100) and select HYDE PARK as your pickup/delivery point.
 2. REGISTER. Register at the Postcard Posse registration page. Sign up to write on your own, or choose one of our two teams (by zip code): South Side Scribes, Local 15 or 37.
 3. IF YOU CAN, BUY STAMPS. Youaren't required to stamp your own postcards, but if you can afford to, you can order online: Here's a link to postcard stamps at USPS.com.
QUESTIONS OR CONCERNS?
Contact us at Indivisible Chicago-South Side.
---
Michigan Mondays & Other Days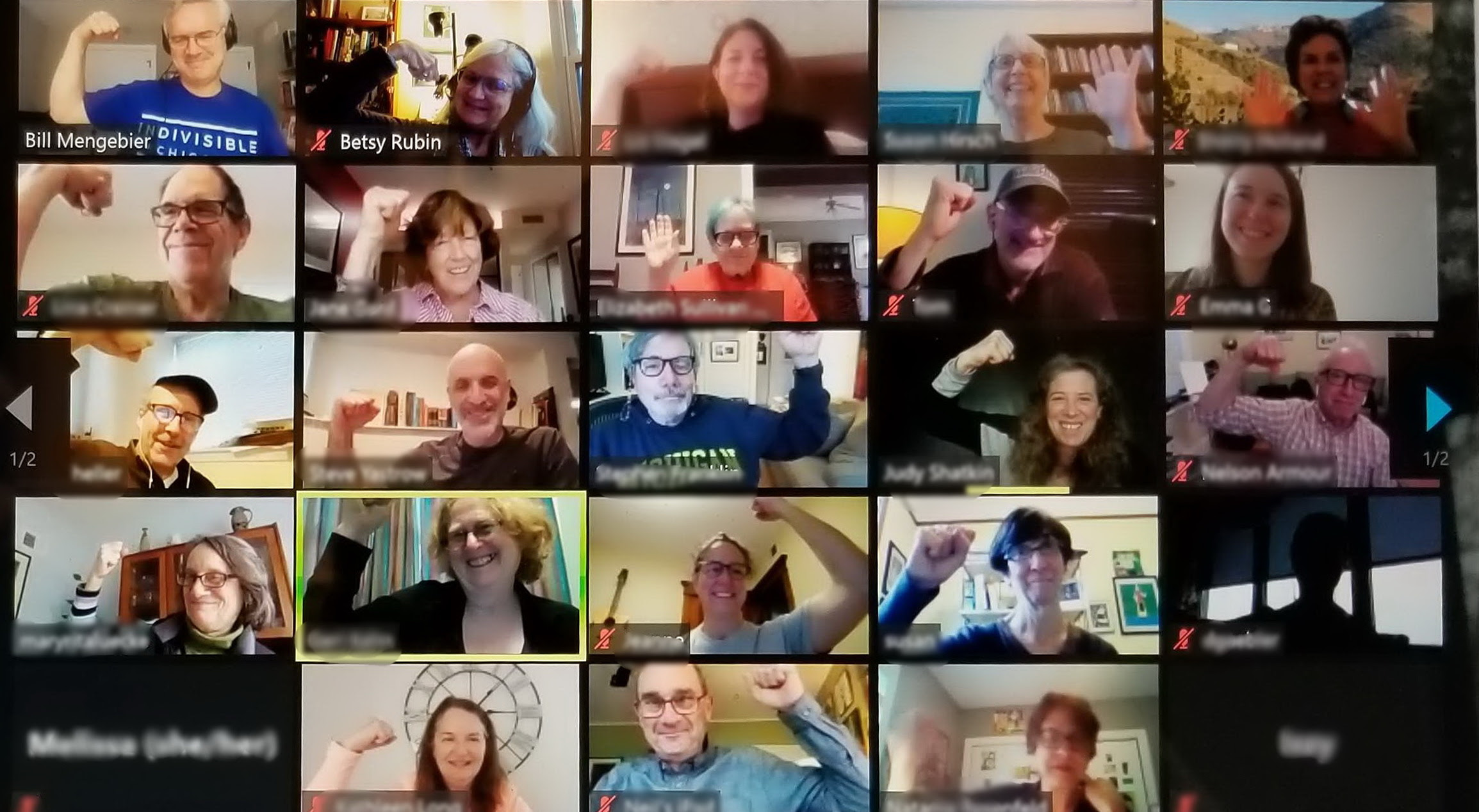 Pick up your phone, turn Michigan blue. Zoom into a pre-phonebank orientation, make your calls to Michigan voters, and rejoin Zoom to share at the end. Join Indivisible Chicago Alliance to call voters on "Michigan Mondays" – and other days of the week too. Sign up for Michigan Mondays or WEEKEND phonebanking and/or volunteer recruiting.
New to phonebanking? Attend a free, 30-minute training from the phonebank experts at Indivisible Chicago Alliance. At the end, you have the option to go straight into the phonebanking session that follows. Sign up for the Phonebank Training for Bashful Activists.
---
Learn about BLOC and Their Path to Win Wisconsin
Grassroots action. Responding to people's real lives. Empowering the community. Last week Indivisible Illinois-9th hosted an online salon "How Milwaukee Could Decide the Next President," featuring guest presenter Angela Lang, Executive Director of Milwaukee's Black Leaders Organizing for Communities (BLOC). Ms Lang was introduced by Deborah Harris, Executive Director of Chicago's Action Now. Missed it? Watch the recording of this inspiring and informative event here. 
---
Indivisible LIVE, May 27: Voting Must Be Safe and Easy
Elections are the heartbeat of our democracy. Americans shouldn't be forced to choose between voting this November and staying safe from the virus. National Indivisible is partnering with Elizabeth Warren to discuss how to protect our vote.
Join national Indivisible LIVE on Wed, May 27 at 3:30 PM CT:info about this online event.
---
Learn about Criminal Justice Reform in Illinois
Evan Freund, chair of the First Unitarian Criminal Justice Task Force, wrote, "I reported accomplishments of the justice reform community to the quarterly meeting of the Unitarian Universalists for Social Justice, our sponsoring organization on May 17th, video here."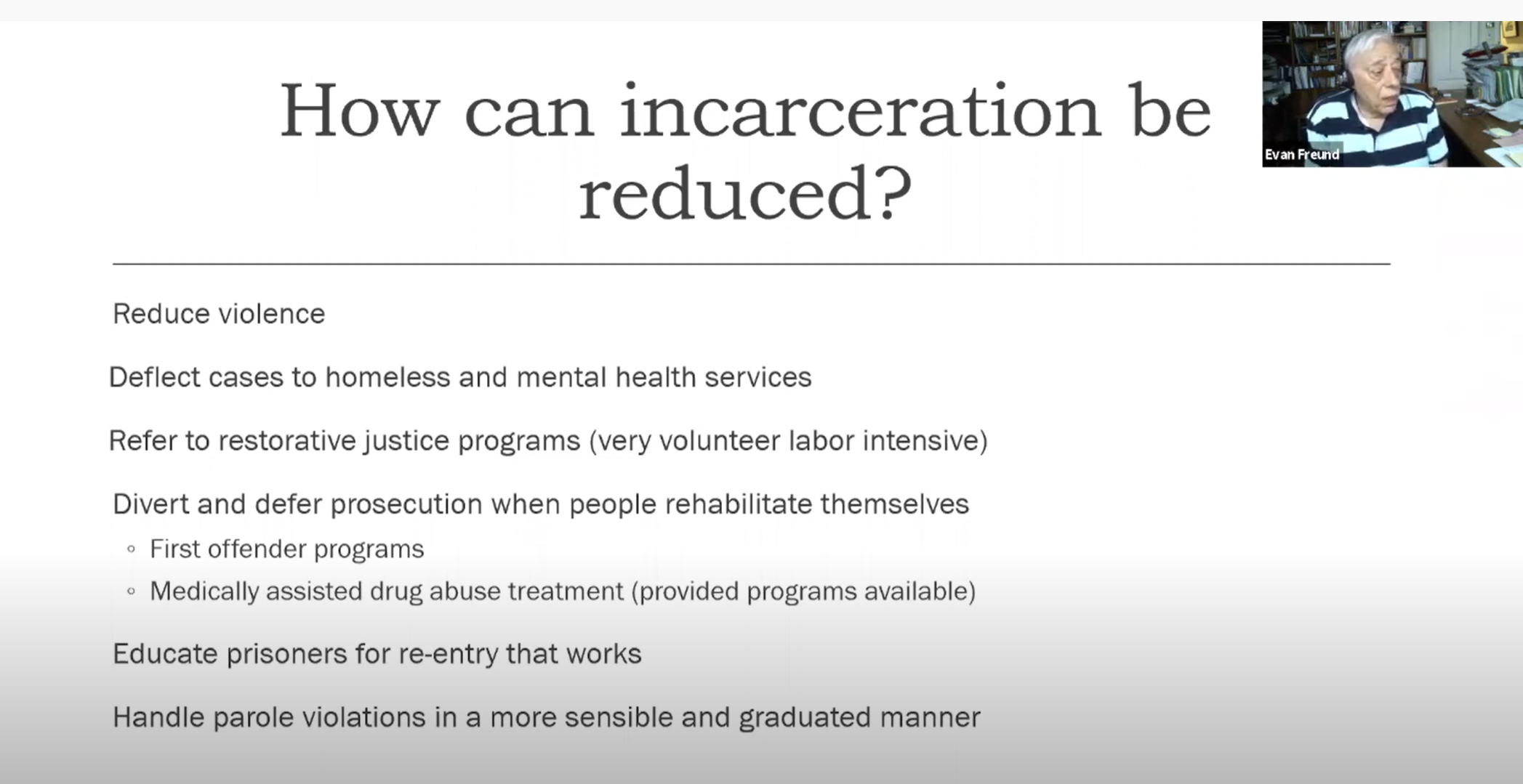 In the video, Evan discusses the injustices inherent in the criminal justice system – including money bail – and the changes needed to counter mass incarceration. He cites the April 2020 report of the Illinois Supreme Court Commission on Pretrial Practices, a groundbreaking document that provides important leverage to persuade the Illinois legislature, filled with former prosecutors, to enact reforms eliminating money bail.
There is a long way to go, but Evan says, "We can be proud of our roles in supporting the changes in the system of criminal justice that have taken place, and the dramatic changes still to come." Watch Evan's presentation here.
Indivisible Chicago-South Side partners with the Criminal Justice Task Force. To learn more about their work, email us here and we'll connect you with Evan Freund and the Task Force.
---
COVID-19 Resources
Places to donate on the South Side:
South Side Weekly resources:COVID-19 South Side Community Resource Guide
UChicago: Coronavirus Updates + Community Support + Ways to help campus & community
UChicago Medicine: Information and Resources + Ways to help
Serve Illinois:Volunteer opportunities
City of Chicago:Chicago's Coronavirus Resource Center.
Cook County: Cook County Government's Information on COVID-19 page
State of Illinois: coronavirus.illinois.gov. (And get updates via Governor Pritzker's website, Facebook and Twitter.)
Chicago Reporter:How is COVID-19 affecting your ZIP code in Illinois?
South Side Weekly's COVID-19 Tracker by ZIP Code, updated daily: SSW COVID-19 Live Tracker.
SHARE Network (South Side Healthy Aging Resource Experts): SHARE Network has compiled a tailored list of COVID-19 Resources for older adults, caregivers, healthcare providers, and the community at large: COVID-19 resources (find resources along left side of screen)
City Bureau: Chicago COVID Resource Finder
Illinois Call4Calm Text Line: If you or a loved one are struggling with stress related to the COVID-19 pandemic and need emotional support, text TALK to 552020 for English or HABLAR for Spanish. Free, available 24/7.
Crisis Text Line: If you are in crisis and don't know where to turn, you can text the word Home to 741741. Crisis Text Line serves anyone, in any type of crisis, offering 24/7 support via text. Get info on Crisis Text Line.
Got a local resource to recommend? Email us!
---
Indivisible Chicago-South Side
Email: Indiv.Chi.South@gmail.com
Follow IC-SS on Facebook and Twitter
---
DemCast is an advocacy-based 501(c)4 nonprofit. We have made the decision to build a media site free of outside influence. There are no ads. We do not get paid for clicks. If you appreciate our content, please consider a small monthly donation.
---