IC-SS Weekly Update: April 27, 2020
Take Our Survey & Get Ready to Postcard
Fill in our postcard survey here
We know from postcards. Over the years, Indivisible Chicago-South Side members have joined together to write to thousands of voters in swing states or key Illinois districts. Now we're moving the postcard writing to our own homes – but we can still team up.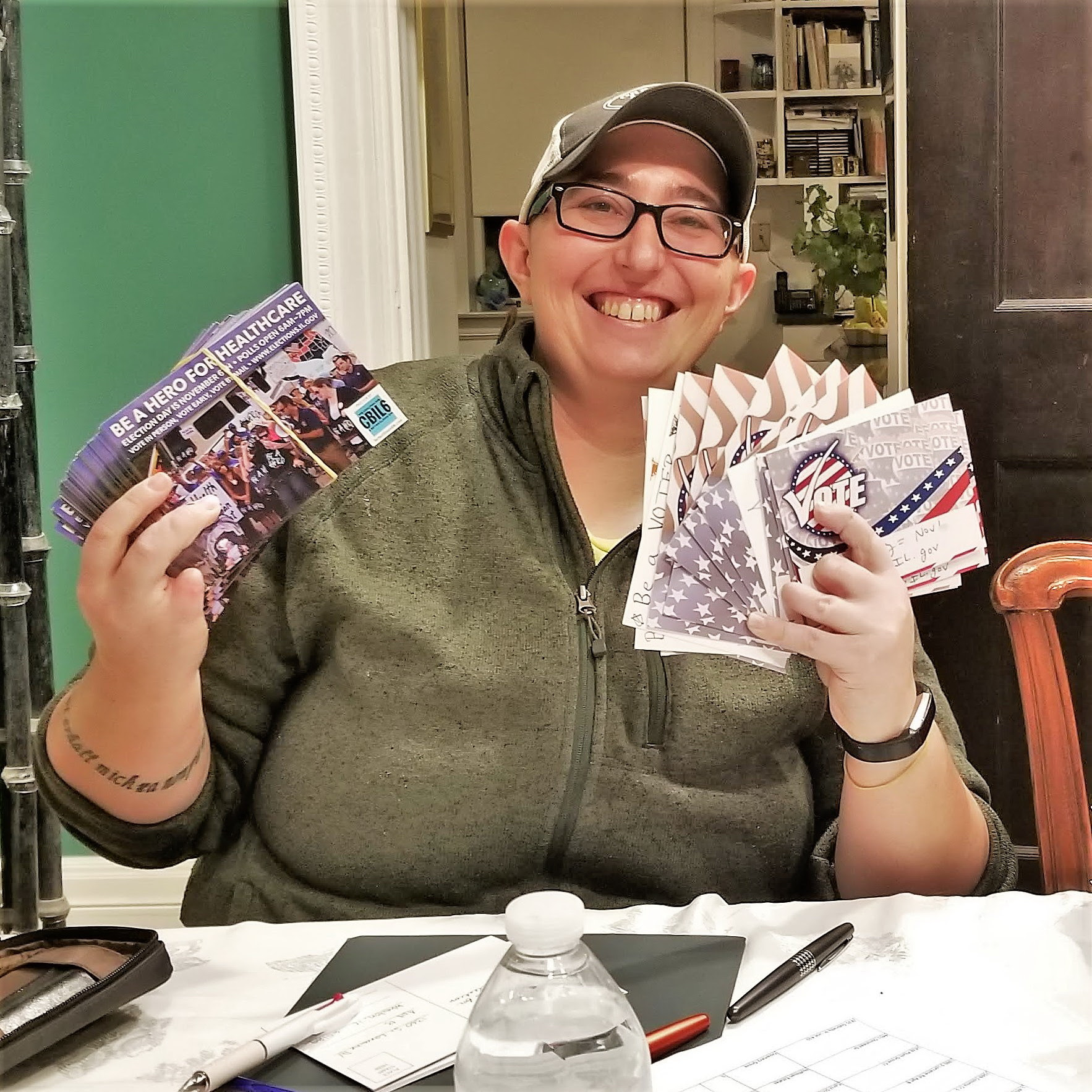 Indivisible Chicago-South Side is joining the regionwide effort to send 2 million postcards to voters in Wisconsin and Michigan. On May 1, Indivisible Chicago Alliance (ICA) will join the Postcards to Wisconsin & Michigan effort. And ICA will make it enjoyable to work from home via their Postcard Posse, with teams and standings and the chance for members to work together via online connectivity tools.
Want to write postcards from home with IC-South Side? There are many ways to take part in this fun and impactful effort. Please fill in this IC-South Side survey by Friday, May 1, to let us know how you'd like to help. 
Michigan Mondays – Phonebank from Home
We can't knock doors, but we can ring phones. Join Indivisible Chicago Alliance to call voters on "Michigan Mondays." Each session starts with a 30-minute orientation. Sign up for Michigan Mondays phonebanking on one or more of these dates: April 27 (today!) May 4, May 11, or May 18.
PS What if you're new to phonebanking? Or experienced but seeking tips? Attend a free, 30-minute training from the phonebank experts at Indivisible Chicago Alliance. At the end, you have the option to go straight into the phonebanking session that follows. Sign up for the Phonebank Training for Bashful Activists here – pick the date/time that works best for you.
Sign BWOP's COVID-19 Petition
Black Women Organizing for Power (BWOP) has created a petition to send to Mayor Lightfoot, Governor Pritzker, and their public health teams. The petition begins, As the coronavirus has a devastating impact throughout the nation, we are finding that this public health catastrophe has a particularly detrimental impact on black communities. It is time for our elected officials to take action in order to mitigate this crisis.
BWOP leader Raquel McGee invites Indivisible Chicago-South Side members and other Chicagoans to sign this petition. Read and sign here.
COVID-19 Community Forum – Recording Missed last week's Hyde Park-Kenwood Community Conference COVID-19 forum? Watch the recording here, and hear from community members, including Raquel McGee of BWOP and Tom Panelas, as well as elected officials State Senator Robert Peters, State Rep Curtis Tarver, State Rep Kam Buckner, Cook County Commissioner Bill Lowry, Ald Sophia King, Ald Leslie Hairston.
COVID-19 Resources
South Side COVID19 Resource Guide. South Side Weekly offers extensive listings of information, assistance, and volunteer resources on the South Side: COVID-19 South Side Community Resource Guide
South Side Weekly's COVID-19 Tracker by ZIP Code, showing how many deaths each Chicago community area has suffered; updated daily: SSW COVID-19 Live Tracker.
Chicago Reporter:How is COVID-19 affecting your ZIP code in Illinois?(New resource)
Block Club Chicago's List Of Coronavirus Resource
City of Chicago COVID-19 response. Resources and info at Chicago's Coronavirus Resource Center. And find answers to FAQs on Chicago's Stay at Home order.
Cook County COVID-19 response. Resources, info, and help at Cook County Government's Information on COVID-19 page. (New listing)
State of Illinois COVID-19 response. Resources and info at
coronavirus.illinois.gov. And get updates via Governor Pritzker's website, Facebook and Twitter.
Chicago Jobs Council.Resources regarding employment/unemployment, SNAP benefits, and COVID-19
Illinois Call4Calm Text Line: If you or a loved one are struggling with stress related to the COVID-19 pandemic and need emotional support, text TALK to 552020 for English or HABLAR for Spanish. This service is free and available 24/7.
Crisis Text Line, a nationwide service. If you are in crisis and don't know where to turn, you can text the word Home to 741741. Crisis Text Line serves anyone, in any type of crisis, offering 24/7 support via text. (Recommended at a City of Chicago forum hosted by South Shore Works.)Get info on Crisis Text Line. (New listing)
Serve Illinois – Volunteer opportunities
Greater Chicago Food Depository – Ways to help or get help
University of Chicago info & service resources:
Got a local resource to recommend?Email us!
---
DemCast is an advocacy-based 501(c)4 nonprofit. We have made the decision to build a media site free of outside influence. There are no ads. We do not get paid for clicks. If you appreciate our content, please consider a small monthly donation.
---