NEWS & UPDATES
Postcarding Update: Covid-19 Safety
Here are some improvements to make turning Pinellas BLUE safer for all of us:
We have modified our card parties at Allendale UMC.
Pick-Up Only
Every Monday 6PM-8PM
Allendale United Methodist Church
3803 Haines Rd. N.
St. Petersburg, FL 33703
PLEASE ORDER IN ADVANCE. Please let us know in advance how many 20-card packs you would like to pick up. That way, we can have them waiting for you and can put them right into your car without you having to get out of your car. Contact Scott Brown at sdbrown998@gmail.com.
STAY IN YOUR CAR. We want to minimize any chance of you getting sick. Come in the circular drive in front of the Rivera Room. We will be waiting with protective gear on.
DROP-OFFS IN TRUNK. If you are dropping off cards, we suggest that you put them in your trunk. When you get here, pop the trunk and we will take the finished cards and put into your trunk as many packs as you like.
TAKE MORE CARDS. We suggest that you double or even triple the number of cards that you take. We aren't going to do the mailing until August, so you have plenty of time to do your cards. Taking more cards means we will see you less but it also means you have less chance of getting sick. The Covid-19 virus cannot survive on cardboard for more than 24 hours. If you just leave the cards in your trunk for a few days you can be sure that they are safe.
Your work has never been more important! VBM is the BEST way to vote in the age of Covid-19.
We won't let Covid-19 stop us because
THIS IS WHAT DEMOCRACY LOOKS LIKE!
---
Donate to Allendlale UMC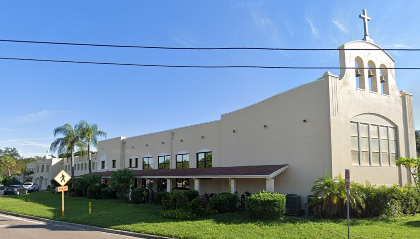 Allendale United Methodist Church has been a friend to Indivisible FL-13 and other progressive groups in the age of Trump. For nearly four years that I know of and probably longer they have been a safe and welcoming space for numerous progressive activist groups and causes.
In this time of Covid-19 they are struggling with decreasing offerings and donations. If you are able please visit their web site and make a donation of any size. Every little bit adds up. The give link is in the upper right or click here to go directly there.
Please mention Indivisible FL-13 in the optional comments field.  Thank you and thank Allendale United Methodist Church for their help and encouragement.
---
Weekly Demonstrations
DEMONSTRATION AT THE OFFICES OF SEN. RUBIO AND SEN. SCOTT
Every Tuesday from 10:30-11:30 AM
Sam M. Gibbons U.S. Court House
801 N. Florida Ave. Tampa, FL 33602
Indivisible and other local activist groups gather outside the offices of Senator Scott and Senator Rubio in the Sam M. Gibbons U.S. Court House in Tampa every Tuesday morning. This weekly demonstration began in 2017 outside Rubio's office on Kennedy Boulevard after Rubio's refusal to meet with his constituents. Each week activists call the Senators' office staffs to relate their focus for that demonstration, and e-mail pictures of the signs for that week to the staff. Activists will have signs available. FMI: (727) 894-2832.
PEACE FIRST MARCH LOCATION
22nd Avenue and 9th Street North in St. Petersburg
4:30-5:30 PM
Every Wednesday in March
Join Peace First at demonstration for peace and justice that has been active on the streets of Pinellas County every week since 2002.  For the month of March they will gather at the intersection of 22nd Avenue and 9th Street North in St. Petersburg. This is a heavily travelled intersection, with a 7-11 store and Shell gas station on two of the corners.  FMI, and to get on a mailing list of Peace First news and updates, send a request to sjstew@gte.net.
---
Indivisible FL-13 Contact Information:

Indivisible FL-13 on Facebook
Indivisible FL-13 on Twitter
Email Indivisible FL-13 at info@indivisiblefl13.com
---
Useful Tools:
Pinellas County Progressive Calendar
Resist Bot, fax your representatives via text message. Text RESIST to 50409
Fax your congressperson for free at FaxZero.com
Get action alerts from Countable.us
Register to vote, vote by mail!
---
Florida 13 Congressperson Phone Numbers:
Senator Marco Rubio (R): DC (202)224-3041 Local (813)287-5035
Senator Rick Scott (R): DC (202) 224-5274
Representative Charlie Crist (D): DC (202) 225-5961 Local (888)205-5569
---
DemCast is an advocacy-based 501(c)4 nonprofit. We have made the decision to build a media site free of outside influence. There are no ads. We do not get paid for clicks. If you appreciate our content, please consider a small monthly donation.
---