Presidential Preference Election
If you normally get your ballot by mail, you should have it now. Election Day is March 17 and all ballots must be returned to a polling place or an Elections Office by 7 pm that day. In-person Early Voting is now available. A list of Early Voting sites is available here.
Once you cast your ballot, it can't be changed.

The Early Ballots were printed by the Secretary of State's office in December of 2019. Since that time some of the candidates on the ballot have suspended their campaigns or formally withdrawn.
The candidates below are listed on your ballot and are no longer running for office.
Deval Patrick
Michael Bennet
Andrew Yang
John Delaney
Marianne Williamson
Cory Booker
Julián Castro
Tom Steyer
Pete Buttigieg – (unofficial 3/1)
Amy Klobuchar – (unofficial 3/2)
​Keep your eyes on the news and on the official list of suspended campaigns on the Secretary of State's website

Questions about how the PPE influences the selection of the Democratic nominee? Here are some answers.
---
Working to Elect Democrats Up and Down the Ballot
Our mission is to elect Democrats — up and down the ballot — and we're working harder than ever before to accomplish that. At the City Council level, our party leadership has consulted with Democratic candidates as well as offered opportunities to speak at our meetings. At the County and LD-6 Legislative level, we've made several opportunities for candidates to appear and speak. Two candidates for Corporation Commission have appeared at our events as have candidates for Congress District 1 and U.S. Senate. We will hear more in the coming months!
The most important thing we do for candidates, however, is register voters and motivate them to vote. On the voter registration front, we've been doing community-based canvassing every weekend since last September. This past weekend, we had five shifts for canvassers in the Flagstaff area. During that same time period, we've sent interns and community members onto the NAU campus to register voters twice each week that classes have been in session. In February, we added community-member voter registration at the Coconino Community College Lonetree campus. These activities will continue through the Spring Semester. (Over 1200 people registered in Coconino County in the last two days before the PPE voter registration deadline.)
We have paid organizers in the LatinX and Navajo communities. Our Tuba City Democrats organizer registers voters every week and, with volunteers, maintains a booth every Friday at the Tuba City flea market. Our LatinX Voter Committee meets monthly at Killip school and continues to grow. It sponsored a neighborhood canvass to help candidates get signatures on their nominating petitions in February. Our Tuba City Democrats meet monthly. We're reaching out to the Leupp Chapter House in March for a first organizing meeting of the cycle on March 13. We're cooperating with the Northeast Arizona Democrats to bring in the votes to elect Mark Kelly to the U.S. Senate and to hold Congressional District 1 in Democratic hands. This week we will mail the first issue of a print newsletter to voters in the Navajo areas of our County. 
The prize we really have our eyes on is flipping LD-6, defeating Republicans Sylvia Allen and Walt Blackman (Bob Thorpe is termed out and is daring to run for County Supervisor — we're on that race, too). We have two great candidates in Col.(ret'd) Felicia French who is running for Arizona Senate and Mayor Coral Evans who is running for AZ House.  In February our canvassers joined forces with  Felicia French and her staff to canvass the Kachina Village neighborhood and this past Sunday we teamed up with the Patrice Horstman for Supervisor supporters and Coral Evans to canvass the Cheshire neighborhood. The canvassers worked for both candidates and we plan to do more and more of this joint work to win LD-6. On April 11, we'll host a four-county training summit in Flagstaff in order to improve the work of our volunteers throughout LD-6 – Save the Date – Details coming soon. 
Photos of our morning and afternoon shifts for the February 16 Kachina Village canvass with AZ Senate Candidate Felicia French:
So far this year, we've had weekly phonebanks targeting voters who may be interested in working with us or attending one of our events. This phone banking effort will continue and expand. In addition to phone banking and canvassing, we have lots of other work going on. Join us if you're not already working with us!
---
20th Annual Roosevelt-Kennedy Dinner
Please support our actions by attending our major fundraising event of the year! Or, if the date is not right for you, give anyway by becoming an Event Sponsor for $850, or in an amount that is comfortable for you. Tickets are selling fast — don't wait. Tickets are $85 each until March 21 when we must raise the price to $100 to cover late fees by the hotel. The dinner is March 28 at Little America Hotel in Flagstaff.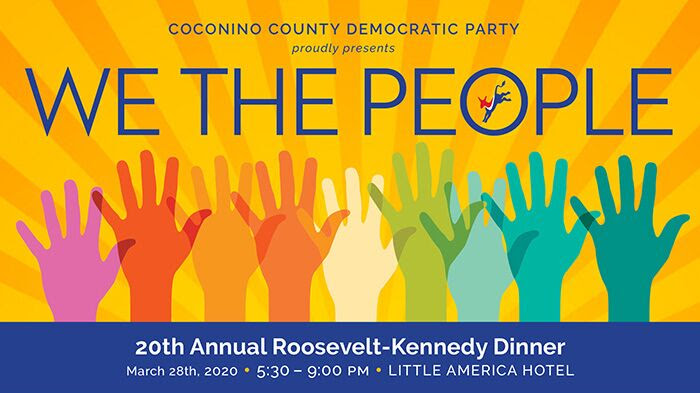 Or make a donation instead — at that same link. THANK YOU!
---
Volunteer to Be a Poll Worker on March 17
The County Elections Office is looking for Election Board Workers for the March 17 election!
To Be an Election Board Worker, you must:
Attend a one-hour pre-election meeting on the Monday prior to Election Day (March 16)
Attend a three-hour training class prior to the election
Be at least 18 years of age
Must be a registered voter (unless participating in student program)
Read, write, and speak English
We are especially in need of Spanish and Navajo bilingual persons to volunteer.
You can apply online or call the Elections Office at (928) 679-7860 or (800) 793-6181.
On Election Day, Election Board Workers must remain at the polling place the entire day. The hours are 5:30 AM to 8:00 PM. Election Board Workers are paid $90 for the election day, $20 for attending the three-hour training session, and $10 for the one-hour pre setup meeting.
---
Redmon Elected Vice-Chair of ADP Council of Chairs
Congratulations to our County Party Chair Shannah Redmon who was elected by other County Chairs to the position of Vice-Chair of the Council of Chairs of the Arizona Democratic Party.
---
Opportunities to Meet our County Candidates
Thanks to our Region 9 (North Flagstaff Rural) leaders for hosting a successful event at Horsemen Lodge on Leap Day. Nearly 50 people attended to hear from some of our County Officers and Candidates. Pictured below are guests Bryan Bates (candidate for County Supervisor, District 4), County Attorney Bill Ring, Sheriff Jim Driscoll, Assessor Armando Ruiz, and County Superintendent of Schools Tommy Lewis.
Region 9 hopes to have another event before the primary election on August 4 which will include other candidates. Region 3 (the Flagstaff Country Club area) has started a monthly Coffee with the Candidates at the Toasted Owl. Watch our website calendar for events throughout the county.

Tommy Lewis and County Recorder Patty Hansen and County Treasurer Sarah Benatar spoke at our Democratic Politics lunch on February 20.
---
Legislative Alerts
Shout out to Executive Committee Member and Legislative Chair Darrell Boomgaarden. He provides a steady voice for our leadership and also — with help from a dedicated group of volunteers — churns our Legislative Alerts each week the Legislature is in session. The committee distills evaluations from a variety of sources and makes recommendations for you to call, email, and RTS our legislators.
Legislative Alerts for the Week of March 1, 2020
---
Supporter Housing
Every election cycle people come temporarily to Flagstaff to do election work. Sometimes for just a weekend. Sometimes for months. We're a battleground state for the Presidency with a winnable Senate race and a Legislature that is so close to being flipped that we can taste it — and people from across the country are noticing. Sedona/Cottonwood/Verde Valley absorbed seventy for a weekend of canvassing two weeks ago. As the weather warms up, we're going to be asked to do that more than once.
If you can take in a volunteer or lowly paid campaign worker for a weekend or a month or more, let us know by writing into@CoconinoDemocrats.org.
We're also looking for someone to be our "Hospitality Coordinator" to field requests and organize placements. We've got the spreadsheet started. If that's your forte, we'd love to hear from you.
---
In Case You Missed This News
For the most current posts, follow us on Facebook and Twitter as well as checking the Latest News on our website.
---
Training Opportunities
We encourage all PCs and volunteers to attend one of our weekly orientation sessions. These explain the party structure and give you an opportunity to learn how you can contribute. PLEASE RSVP for the next session by calling the office at 928-214-0393 or by emailing info@coconinodemocrats.org. We seem to always have new folks coming in, so we haven't canceled one in a while, but as a courtesy to the volunteers who are leading the training, we ask that you let us know that you are coming!
If we have no RSVPs, the event will not be held!
If you're struggling with MIniVan, social media, or RTS, get in touch and we'll arrange an individual training session.
---
DemCast is an advocacy-based 501(c)4 nonprofit. We have made the decision to build a media site free of outside influence. There are no ads. We do not get paid for clicks. If you appreciate our content, please consider a small monthly donation.
---