Click on the headline to go to the full article.
Brunner, now a state appellate judge in Franklin County, joins Cuyahoga County Common Pleas Judge John P. O'Donnell in the Democratic field challenging two seats currently held by Republicans Justices Sharon Kennedy and Judith French. Were Democrats to win both seats, they would seize control of Ohio's top court, currently a 5-2 majority for Republicans, for the first time in a generation. Read the full article here. Editor's Note: Judge John P. O'Donnell will be one of the guest speakers at the Quin-T Fall dinner on October 3, 2019.

A federal appeals court ruled late Tuesday (August 20, 2019) that presidential electors who cast the actual ballots for president and vice president are free to vote as they wish and cannot be required to follow the results of the popular vote in their states. The decision could give a single elector the power to decide the outcome of a presidential election — if the popular vote results in an apparent Electoral College tie. Read the full article here.
Senate Republicans have chosen former state Rep. Terry Johnson to fill a Senate seat vacated last month by Sen. Joe Uecker. Johnson is a physician and retired military officer who lives in McDermott. Johnson was elected to the Ohio House in 2010 and served the maximum four terms, leaving in December 2018. Read the full article here.
The Democratic National Committee will hold its October presidential debate in Ohio, another indication that the Buckeye State is in play for 2020. "As is happening across the nation, Democrats are energized, formerly Republican suburbs are trending blue and voters across the state are waking up to Donald Trump's many broken promises," said Ohio Democratic Party Chair David Pepper. "Those are some of the numerous reasons that the president's approval numbers in Ohio have tumbled 20 points since he took office." Read the full article here.
Ohioans for Energy Security, a new entity blanketing Ohio with a wave of television ads defending the bailout of FirstEnergy Solutions, is brought to you by the same people who campaigned for the controversial bailout plan. Read the full article here.
---
A WORD FROM OUR PARTY CHAIR – RAYMOND LEMBKE
Democracy? Democracy means giving voters a choice. We don't like to do that in Clermont County.

This November, we will be electing our city, village, and township officers. In eight of our fourteen townships, only one person is running for trustee. No township has a contested race for fiscal officer. Five of thirteen villages do not have a contested race for council. In over half of the villages, there is no contested race for Mayor. Remember that the candidate with the most votes wins. In an uncontested race, one vote is all it takes. Candidates don't have to persuade anyone that she or he is the right person for the job so long as they vote for themselves. READ MORE


---
In 2017, Ohio suffered nearly 1600 gun-related deaths, and Ohio's firearm death rate increased over 30% since 2014. Beginning in 2015, Ohio's gun death rate surged ahead of the overall US rate and has been increasing faster than the US rate for the last three years. Experts agree background checks are among the most effective legislative steps available to impact gun violence. In the 20 states that have acted to strengthen background checks, gun violence is significantly reduced. Moreover, public support for stronger background checks is consistently as high as 90% or more.

#EnoughIsEnough

Ohioans For Gun Safety has drafted language and are collecting signatures to put background checks for gun safety on the ballot as early as 2020 and no later than 2021. Between now and the December 31st filing deadline, nearly 133,000 signatures need to be collected to put this issue in front of the Ohio Legislature. CCDP has petitions to sign and/or circulate. Contact us at clermontdems@clermontdems.org or call 513-732-2378
Contact Your Ohio Republican Lawmakers
We all know the resistance to gun reform is coming largely from conservative lawmakers who are beholden to the NRA. Phone calls can make a difference. Tell our lawmakers we need gun reform now.
Sen. Rob Portman: (202) 224-3353
Gov. Mike DeWine: (614) 644-4357
OH House Speaker Larry Householder: (614) 466-2500
OH Senate Speaker Larry Obhof: (614) 466-7505
---
Clermont County Democratic Party Chili Cook-off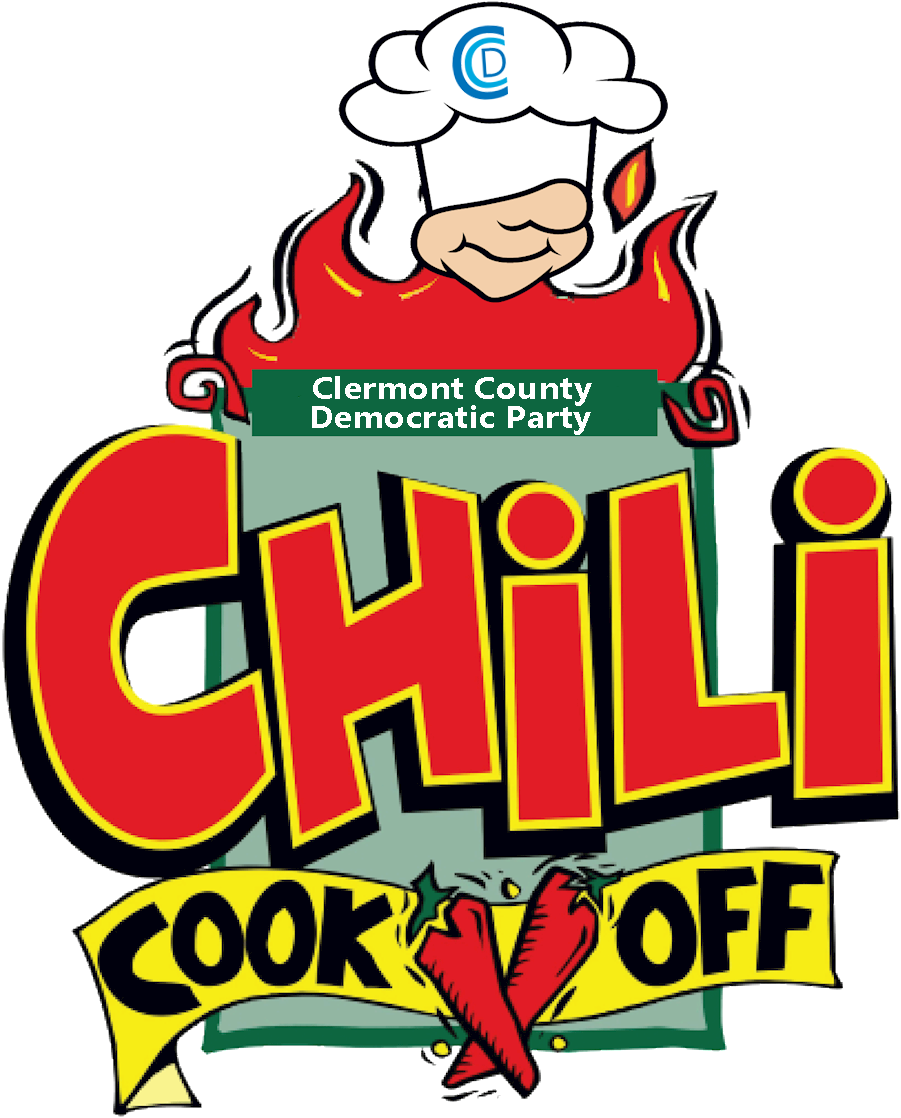 Game on! Who makes the best chili in Clermont County?! Bring your best pot of chili and let the crowd decide.
Back by popular demand the Clermont County Democratic party will host another fall chili cook-off on Saturday, September 21. All are welcome! Com'on out and bring your neighbors. It's just chili, people. Nobody's asking you to run for office. The event will be held at the Batavia Swim Club, 715 E. Main St. in Batavia, Ohio. Admission is $20. You may purchase tickets online here or pay at the door.
Come to eat or come to compete. With your $20 admission you will receive 5 tickets so you can vote for your favorite chili – or chilis. You get all the chili you can eat, soft drinks, & water. We will also have crackers, cheese, and hot sauce for those who like SPICY!
Schedule
3:00 PM -Arrival – Contestants set up Chili and general socializing
4:30 PM – Begin Eating!
6:00 PM – Final call for votes
6:15 PM – Tally Votes
6:30 PM – Announce Winners and award fabulous prizes!
---
Quin-T Fall Dinner
The Quin-T Democrat Club is hosting its annual fall dinner on Thursday, October 3 at the Grant Career Center, 718 W Plane St, Bethel, OH 45106

Social time is from 6:00 p.m. to 6:30 p.m. Dinner served at 6:30 p.m. Menu includes your choice of chicken or beef, potatoes, green beans, corn, salad, dinner roll, water, tea or coffee and dessert.

The guest speakers this year are Cuyahoga County Common Pleas Judge John P. O'Donnell, candidate for 2020 Ohio Supreme Court, and Emilia Sykes, Ohio House Minority Leader.RSVP deadline is Friday, September 27. You may purchase your tickets in advance for $25. If you RSVP by the deadline you may pay $25 at the door. Tickets will be $30 the day of the event without an advance RSVP. There is no ticket required for children under 12.
To RSVP send a check made out to "Quin-T Democrat Club" and sent to PO Box 26, Moscow, OH 45153. You may also RSVP by emailing to qtdemclub13@gmail.com or by responding to our event on Facebook.

---
Save the Date
ODP State Dinner
Sunday, October 13th
Will feature many of our 2020 presidential candidates!
---
For a complete listing of upcoming events and meetings please check out our calendar at clermontdems.org
---
Saturday, September 14, 2019 at 10 AM – 12 PM
Junior League of Cincinnati
3500 Columbia Pkwy, Cincinnati 45226
Rachel Coyle, former Statehouse staffer, will join the Junior League of Cincinnati for discussion on how community members can engage to advocate for legislation at the state level. You will better understand how bills are suggested to legislators, how you can become actively involved to testify for or against a bill, sit in committee, and generally stay engaged in the legislative process. More specifically, we will look at legislation supporting the removal of sales tax for feminine hygiene products and disposable diapers among others which align to the Junior League of Cincinnati's mission and strengthening childhood environments. RSVP here.

A Precinct Election Official (PEO) helps to ensure that all elections are conducted in a fair, honest and transparent manner in an effort to help safeguard the integrity of the election process. Duties include preparing the precinct voting location by setting up voting equipment, greeting voters, verifying the registration and identification of the voters and ensuring the voters are provided the appropriate ballot. At the end of the day, the PEOs close the precinct and prepare the ballots and other election materials for delivery back to the County Board of Elections on election night.
You will earn a base pay of $125 plus $30 for training for a minimum of $155. (If you are the person returning the ballots and election supplies to the Board of Elections on election night you will also receive compensation for your travel costs. Persons driving longer distances will earn up to $185. For more information or to sign up contact Democratic Precinct Election Manager – Leann Helton (732-7488) email: lhelton@clermontcountyohio.gov
The Warren County Democratic Party is having a meeting on October 16, 2019 at 7:00 p.m. with Ohio Democratic Party Secretary Bill DeMora. Bill will discuss procedures for selection of the national convention delegates. WCDP headquarters is located at 1975 North Route 42, Lebanon, OH 45036. Please pass this information on to anyone who might be interested in being a delegate to the national nominating convention in Milwaukee next summer.
An individual can qualify as a candidate for district-level delegate or alternate to the 2020 Democratic National Convention by properly filing the Ohio Democratic Party "Declaration of Candidacy and Consent" form including a signed pledge of support. This form must be filed with the Ohio Democratic Party, 340 E. Fulton,Columbus, Ohio 43215 by 5:00 PM on December 31, 2019. The Democratic Party "Declaration of Candidacy and Consent" forms may be obtained from the Ohio Democratic Party by emailing to info@ohiodems.org or calling the party at 614-221-6563, by asking their local county party chair for a copy, or by asking the registered authorized representatives of the presidential candidates.
---
REMINDER: Declarations of candidacy for partisan candidates running in 2020 must be filed by 4 p.m. December 18, 2019 at the Board of Elections. We NEED good Democrats to run!
Candidate Training
Saturday, Sep 28, 2019
10:00am–4:30pm EDTOhio Democratic Party
340 E Fulton St.
Columbus, OH 43215
Have you ever thought about running for office? Have you considered a career in political campaigns? Do you want to see change happen in your community? If you answered yes to any of these questions, the Ohio Democratic Party has a training that can help you meet these goals! Join us for our Bench-Building Bootcamp where we will train potential leaders on the best and latest practices for winning up and down the ballot!
This full-day intensive training will go over the ins and outs of running for office — everything from tips on raising money, advice on organizing in your community and the basics of digital advertising. You'll walk away from the day with a new set of skills and a broad network of fellow Democratic candidates running for office all across the state. RSVP HERE
Columbus, Ohio: October 19 – October 20

These free trainings will cover the A to Z's of running for office, including pivoting to core message from curveball questions, having presence in the room, expanding your donor list, hiring experienced staff, winning local endorsements, earning great press, motivating volunteers, polling, and more. Attendees must apply here. Or if you know of someone you would like to nominate for the training you may do so here.

---
The deadline for filing to run for office in the 2019 General Election has passed. Now is the time to educate yourself about the 2019 candidates who are running. Candidates who have filed petitions and are certified to the ballot are listed at the Clermont County Board of Elections website and the PDF file can be downloaded here. Do your homework. Research your candidates so you can make an informed decision at the ballot box on November 5, 2019. MOST IMPORTANTLY SHOW UP AND VOTE!
---
ATTEND A MEETING
Clermont County has many Democratic clubs, social and progressive activist groups who meet regularly in the north, south and middle of Clermont county. Come to share ideas, discuss the latest political issues and learn how you can make a difference in your community. Meeting information is below. Click on the club name and it will take you to the club Facebook page.
Please check the calendar at clermontdems.org for specific times and dates.
---
ATTEND CLERMONT COUNTY DEMOCRATIC PARTY MEETINGS
Everyone is welcome.
The next regular Executive and Central committee meetings will be Thursday, September 26.
Executive Committee
6 PM, Fourth Thursday of every month at CCDP Headquarters
174 E Main Street, Batavia, OH 45103
Central Committee
7 PM, Immediately following the Executive Committee meeting.
Please check the calendar at clermontdems.org for specific times and dates.

---
SUPPORT THE CLERMONT COUNTY DEMOCRATIC PARTY
Consider joining the Clermont County Donkey Club today. Your membership will help us build the Democratic Party in Clermont County, support our Democratic candidates and fund our outreach to voters. Whether it's a one-time contribution or a recurring monthly contribution we appreciate your support. #VoteBlue You can join by mailing a check made out to CCDP to PO Box 475, Batavia, Ohio 45103 or join online here.
---
STAY CONNECTED
Visit our Facebook, Twitter, and Instagram accounts.
Like, share, comment and retweet.
Use the hashtags #OHDems #ClermontOHDems
Visit our website at ClermontDems.org

---
FINAL THOUGHTS
This is YOUR newsletter. Please forward to your friends and encourage them to sign up for our bi-weekly newsletter at clermontdems.org. Tell us what you want the world to know. Let us know about upcoming events. Send us pictures. Tell us about your favorite activist group. What's your club been up to? Point us to a current news item you think is important. Deadline for submissions for the next issue is September 20, 2019. Next issue will be published September 24, 2019. Send info to: clermontdems@clermontdems.org

Clermont County Democratic Party
174 E. Main Street
P.O. Box 475
Batavia, OH, 45103
513-732-2378
---
DemCast is an advocacy-based 501(c)4 nonprofit. We have made the decision to build a media site free of outside influence. There are no ads. We do not get paid for clicks. If you appreciate our content, please consider a small monthly donation.
---