"Mike Johnson insists that if only women were compelled to bring more "able-bodied workers" into the world, Republicans wouldn't need to slash Social Security and Medicare."
It's scarily close to the Handmaid's Tale. In Margaret Atwood's fictional novel, the United States government has been overthrown and replaced by a totalitarian Christian regime called the Republic of Gilead. Offred, one of society's few remaining fertile women, who is forced to produce children for the ruling class of men and their wives—dubbed a "handmaid."
There are other parallels with MAGA Republican policies: banning abortions and contraceptives. Blocking freedom of movement and expression. Persecuting the LGBTQ… Especially rich is Johnson's claim that women are to blame for Republicans slashing Social Security and Medicare!
Compare Mike Johnson's white Christian extremism with the horrors in the Handmaid's Tale using this StoryMap. Remember to vote to protect your freedoms in the upcoming Virginia and Ohio elections where abortion rights are on the ballot.
White Christian Nationalism
"Like other adherents of Christian nationalism, Johnson appears to reject the central premise of democracy: that we have a right to be treated equally before the law... He appears to reject the idea we have the right to a say in our government. In 2021, Johnson was a key player in the congressional attempt to overturn the lawful results of the 2020 presidential election. – Letters From An American
Johnson has asserted that we do not live in a democracy but in a "Biblical republic."
Johnson is staunchly against abortion rights and gay rights, including same-sex marriage, and says that immigration is "the true existential threat to the country."
He preached that attempts to address climate change, for example, are an attempt to destroy capitalism.
In his rejection of democracy, Johnson echoes authoritarian leaders like Russia's Vladimir Putin and Hungary's Viktor Orbán, both of whom have the loyal support of America's far right.
Such leaders claim that the multiculturalism at the heart of democracy ruins nations.
The welcoming of various races and ethnicities through immigration or affirmative action undermines national purity, they say, while the equality of LGBTQ+ individuals and women undermines morality.
Johnson has direct ties to these regimes: his 2018 campaign accepted money from a group of Russian nationals, and he has said he does not support additional funding for Ukraine in its fight against Russian aggression.
Handmaid's Tale worth watching to understand MAGA Republican's scheme
"Margaret Atwood once said when writing The Handmaids Tale, she never dreamed the story her mind concocted would become anything close to reality… If Mike Johnson stays Speaker for long enough, The Handmaid's Tale is going to become a documentary, isn't it?" – Newsweek
TakeAway: Vote for Democrats in the upcoming Virginia and Ohio elections to block White Christian Nationalists from stealing your freedoms.
Deepak
DemLabs
DISCLAIMER: ALTHOUGH THE DATA FOUND IN THIS BLOG AND INFOGRAPHIC HAS BEEN PRODUCED AND PROCESSED FROM SOURCES BELIEVED TO BE RELIABLE, NO WARRANTY EXPRESSED OR IMPLIED CAN BE MADE REGARDING THE ACCURACY, COMPLETENESS, LEGALITY OR RELIABILITY OF ANY SUCH INFORMATION. THIS DISCLAIMER APPLIES TO ANY USES OF THE INFORMATION WHETHER ISOLATED OR AGGREGATE USES THEREOF.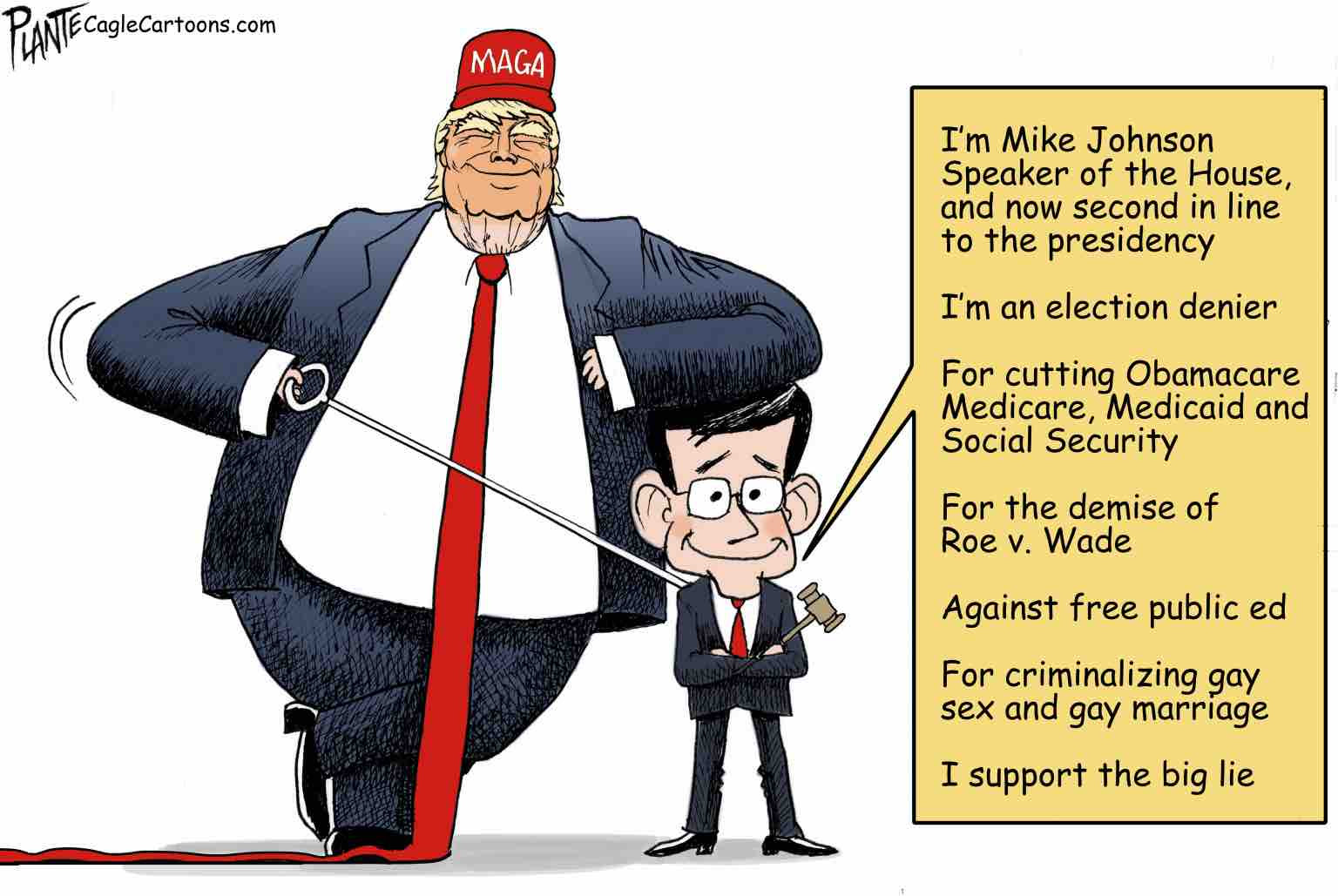 Reposted from Democracy Labs with permission.
---
DemCast is an advocacy-based 501(c)4 nonprofit. We have made the decision to build a media site free of outside influence. There are no ads. We do not get paid for clicks. If you appreciate our content, please consider a small monthly donation.
---