Media billionaires shape your reality through the news you get.
Follow the money to see how media billionaires and their funders shape your reality through the news you get.
Billionaires and their funders have their own agendas which they push through their media platforms to shape public opinion. Your interests may not be the same as what billionaires would have you believe or the politicians they promote.
"The super-rich have long sought to buy newspapers to help push their agendas… It's another sign that the super-wealthy wish to control assets that give them an extra level of power. Whatever they may say, that's the reason why they buy them." said Claire Enders, founder of Enders Analysis in the Guardian
Follow the money to understand media manipulation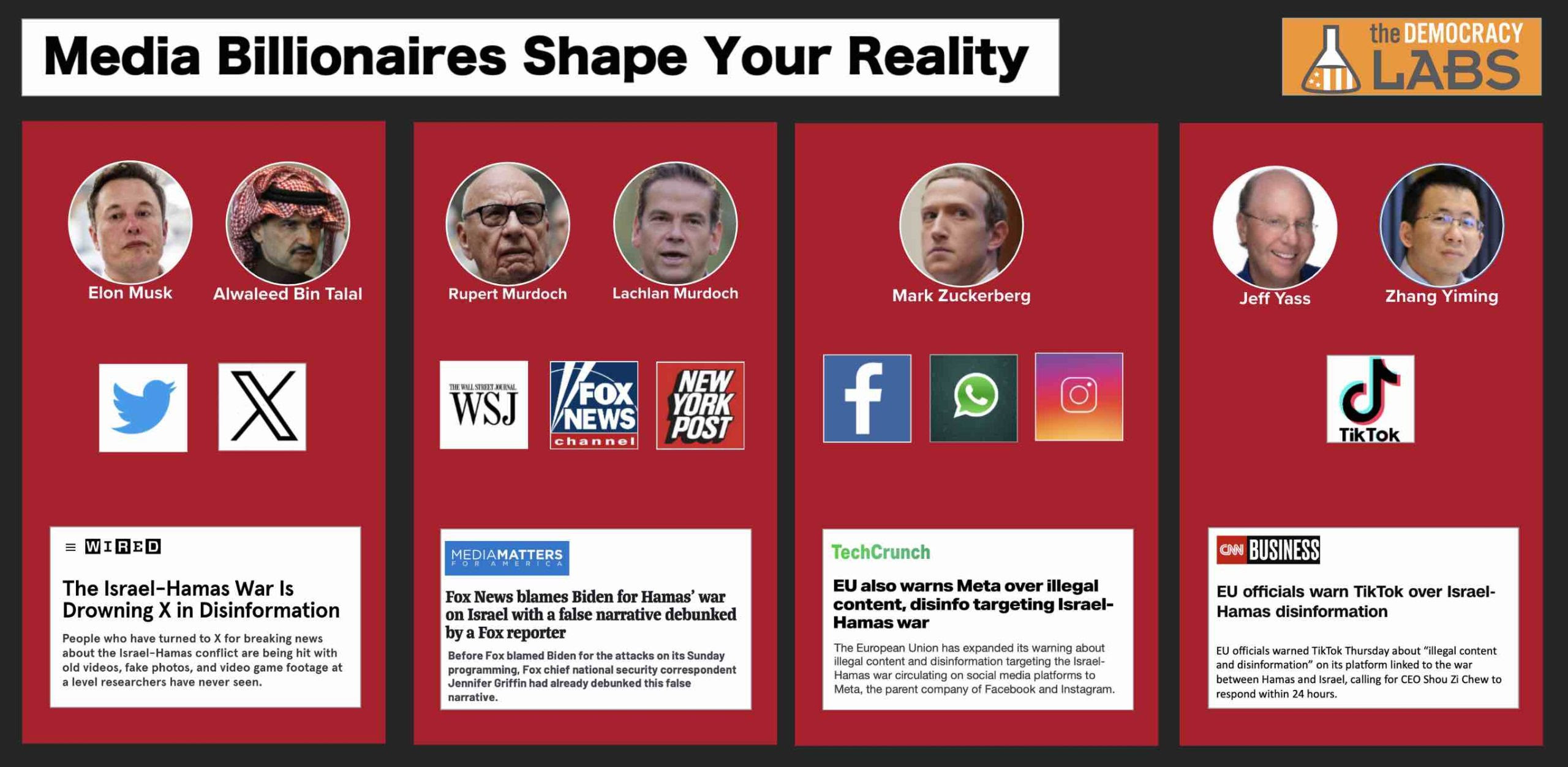 Flood of disinformation
IN THE WAKE of Hamas' deadly attacks on Israel this weekend—and the Israeli military's response—journalists, researchers, open source intelligence (OSINT) experts, and fact-checkers rushed to verify the deluge of raw video footage and images being shared online by people on the ground. But users of X (formerly Twitter) seeking information on the conflict faced a flood of disinformation.
"For many reasons, this is the hardest time I've ever had covering a crisis on here," Justin Peden, an OSINT researcher from Alabama known online as the Intel Crab, posted on X. "Credible links are now photos. On the ground news outlets struggle to reach audiences without an expensive blue check mark. Xenophobic goons are boosted by the platform's CEO. End times, folks." – Wired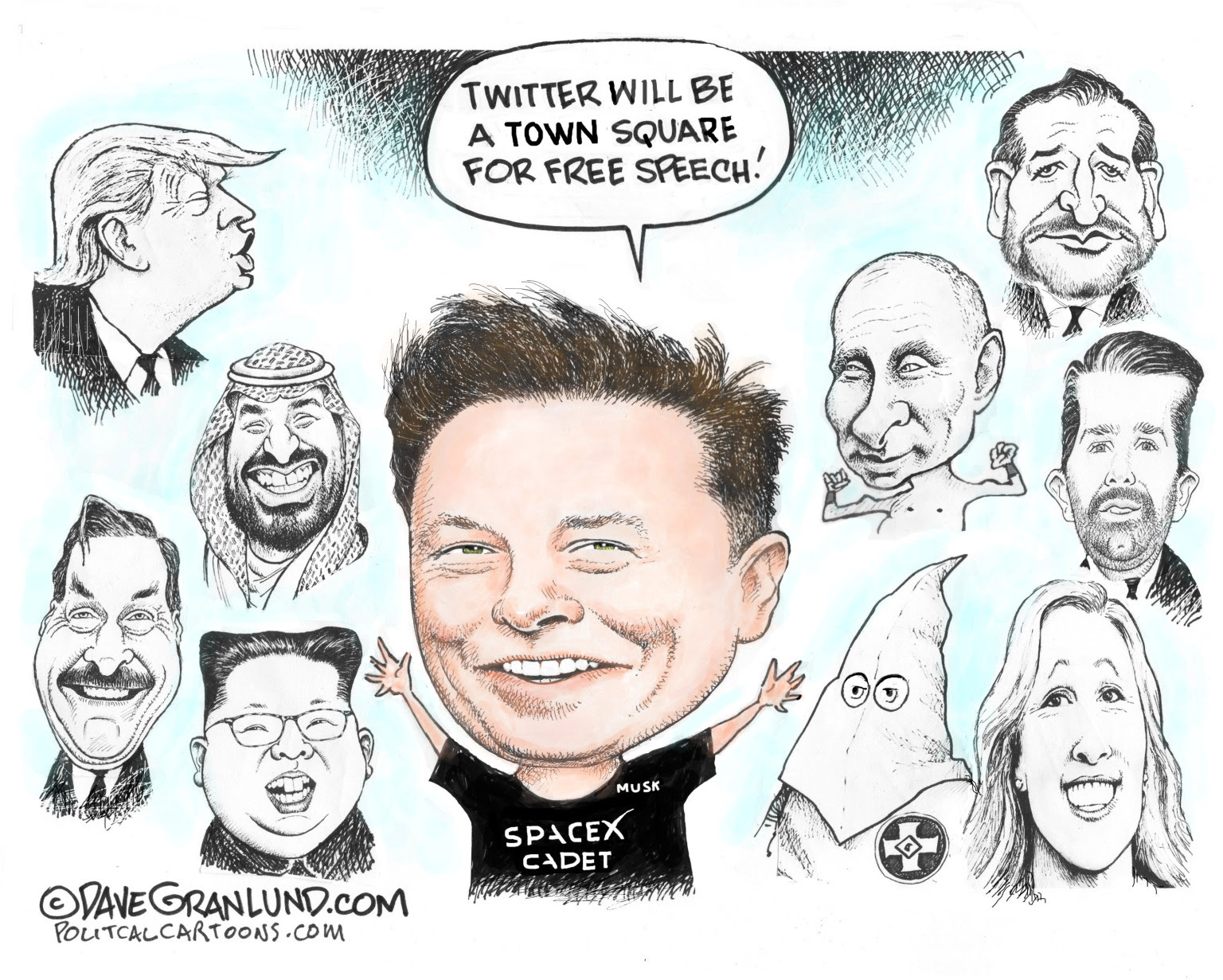 Murdoch media empire
"Fox News blames Biden for Hamas' war on Israel with a false narrative debunked by a Fox reporter. Following the terrorist organization Hamas' surprise attacks on Israel, multiple Fox News figures have claimed that President Joe Biden is at fault for a recent prisoner exchange with Iran, referencing that country's history of supporting Hamas.
But before Fox blamed Biden for the attacks on its Sunday programming, Fox chief national security correspondent Jennifer Griffin had already debunked this false narrative. In a series of social media posts, Griffin explained that none of that money has even been spent yet and pointed out that the Trump administration had set up similar funds for Iran." – Media Matters
Don't advertise on disinformation platforms
More than a third of Twitter's top 100 marketers have not advertised on the social media network, an indication of the extent of skittishness among advertisers about billionaire Elon Musk's control of the company. – Washington Post
Advertisers don't place ads on the internet themselves. They use ad exchanges — technology companies that run ads for them. Ad exchanges don't work with just anyone. They choose which websites to work with and which ones to drop. They have standards to protect advertisers from funding violence. This is so important to advertisers that they have it written into their contracts.
When Fox News promoted the January 6th insurrection, it was violent. We all saw it — but ad exchange executives pretended it didn't happen. Since then, Fox News has just gotten worse. So here's the plan: we need to tell ad exchanges to block their ads from FoxNews.com now. – Check My Ads
A progressive veterans group has commissioned a new ad calling for Fox News to be banned on military bases, citing recent revelations made as part of a legal fight the network faces over its coverage of the 2020 election. The two-minuted ad from group VoteVets blasts the network for its leading hosts' public embrace of former President Trump's false claims of voter fraud despite their private acknowledgement the claims were false.
A narrator for the ad says Fox engaged in "information warfare that divides the troops, hurts unit cohesion, weakens our readiness and threatens our national security. There's no excuse for allowing anti-American, anti-democracy anti-military disinformation in the barracks, in the chow hall or anywhere our troops serve." – The Hill
TakeAway: Don't believe everything you see on billionaire controlled media. They are pushing their agenda, not yours.
Deepak
DemLabs
DISCLAIMER: ALTHOUGH THE DATA FOUND IN THIS BLOG AND INFOGRAPHIC HAS BEEN PRODUCED AND PROCESSED FROM SOURCES BELIEVED TO BE RELIABLE, NO WARRANTY EXPRESSED OR IMPLIED CAN BE MADE REGARDING THE ACCURACY, COMPLETENESS, LEGALITY OR RELIABILITY OF ANY SUCH INFORMATION. THIS DISCLAIMER APPLIES TO ANY USES OF THE INFORMATION WHETHER ISOLATED OR AGGREGATE USES THEREOF.
Read in browser »
Reposted from Democracy Labs with permission.
---
DemCast is an advocacy-based 501(c)4 nonprofit. We have made the decision to build a media site free of outside influence. There are no ads. We do not get paid for clicks. If you appreciate our content, please consider a small monthly donation.
---